Kyoto Kawadoko
See information on Kawadoko dining, Kyoto: decks set up behind restaurants along the Kamogawa River from May to September.
Dining on the Decks: Kyoto Kawadoko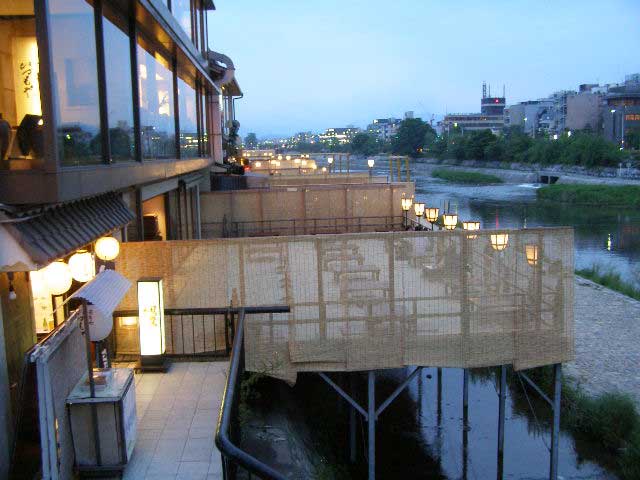 Kawadoko Outdoor Dining in Kyoto in Summer
Kyoto is unique among Japanese cities in that it has embraced its rivers. It has not avoided the Ministry of Construction-sponsored concreting of its waterways; however, unlike Tokyo and Osaka and other cities, Kyoto never turned away from its waters.
The Kamogawa River, which flows through central Kyoto, is where Kyotoites go to play and enjoy, romance and dine. From just south of the downtown area all the way north of Imadegawa Street, the river banks are thronged with people.
Lovers sit at intervals a stone's throw from the bars and nightlife of Shijo and Sanjo. Young mothers bring their children to play in the shallow waters near Imadegawa. Medical students relax and play tennis behind the Kyoto Prefectural Hospital.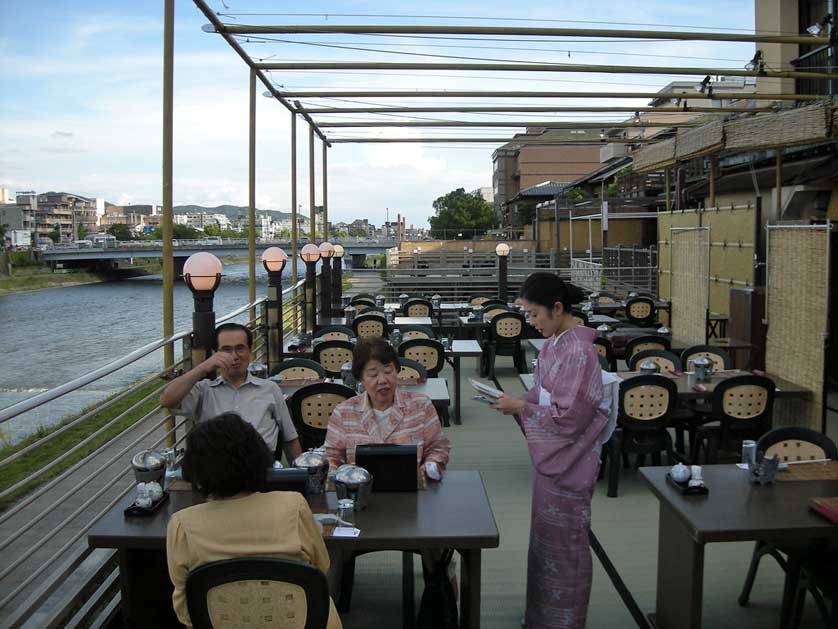 Dining at a Kyoto kawadoko restaurant
And, from early May until September, residents and tourists eat and drink on decks known as "kawadoko" set up overlooking the river.
Restaurants along Pontocho and, in places north of Sanjo and south of Shijo, Kiyamachi face the Kamogawa River. From about Gojo (fifth street) up until Oike, these restaurants have decks--on stilts above the river--erected from the back of their buildings.
Some set up tables with chairs, others lay out goza mats and have low tables around which customers sit on the floor and eat.
An annual news "event" that all Kyoto media are sure to cover is opening night on the decks. The requisite photos of geisha and salarymen in suits raising a mug of beer to toast the evening are the top story.
That notwithstanding, the decks are wonderful for an evening of eating out. Most of the restaurants feature simple izakaya or slightly more upmarket food--though often at not such simple prices--and the view and breeze and ambience are worth almost any price.
The deck pictured above was photographed from the west side of the river on the north side of Shijo-Ohashi (fourth street bridge) at sunset before the decks filled up. The restaurants are situated along Pontocho, which is behind the buildings on the left. In the distance are the mountains, and to your right on the opposite side of the river is Gion.
How To Get To Kawadoko
The restaurants are all accessible from Pontocho, which is a narrow alley full of bars and restaurants that runs from Shijo-Ohashi up almost to Sanjo Street, or Kiyamachi south of Shijo and north of Sanjo. Shijo-Ohashi is a one-minute walk from the Hankyu train's Kawaramachi Station, or Keihan train's Shijo Station.
Note: Unless you go just as restaurants are opening, at 6, it is highly advisable to have reservations. On weekends in mid-summer, it can be very difficult to get in.
C. Ogawa
Kyoto kawadoko restaurants
All the themes of the city