Matchmaking in Japan
Matchmaking in Japan: Nakodo, Nakodo (Matchmaker, Matchmaker)
Jennifer May
It was not that long ago parents of young Japanese men and women arranged marriages themselves, or with the use of a matchmaker called a "nakodo."
These marriages were arranged more for political or wealth reasons rather than for love and attraction. The two people being set-up had no, or little, say in the choosing of their spouse.
Things are different today. After World War II, western traditions and romantic notions spread throughout Japan, and more people wanted to rely on true love rather than a financial arrangement. This was a strange notion for Japanese to accept because their view on love, and quite possibly correct, is that it is flimsy and won't last. Love isn't something to build a serious relationship on, and certainly not a marriage. After all, love fades and doesn't last forever.
The arranged marriage, or "omiai" went through small changes before becoming what it is in modern Japan. "Omiai" literally means "to look at each other." It is a formal meeting with the objective of arranging marriage. "Omiai" has changed from being a forced marriage to being an arranged marriage that was strongly recommended by the parents, to an introduction that allowed men to decide if they would accept the daughters being offered as wives.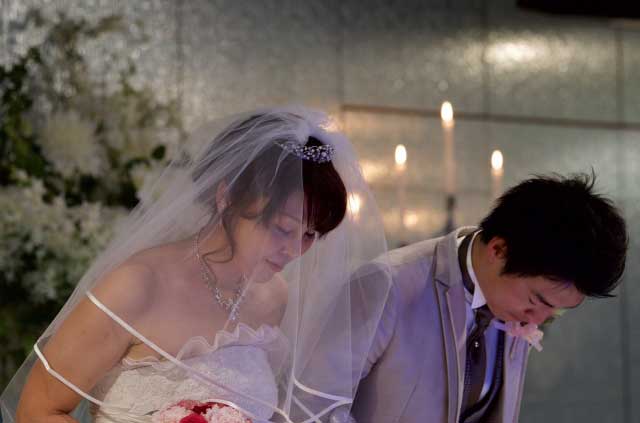 Modern Japanese Wedding Ceremony in a Western-style chapel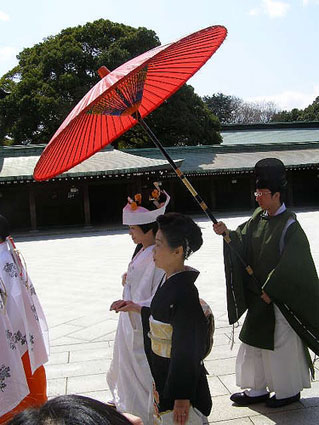 Traditional Japanese Wedding Ceremony at a Shinto Shrine
A Japanese woman I met in Omaha, Nebraska in 1999 was a candidate for one of these more traditional "omiai." She is an intelligent, independent pharmacist, so you can imagine my surprise when she explained the meeting. Her parents were concerned about her because she was over the usual age of marriage, 25, and didn't seem to be doing much about finding a spouse. Her mother dressed her in kimono, and a possible match was invited to their home to meet her in a formal atmosphere. She wasn't interested in marrying the man, and went to Omaha to improve her English for career development.
The age limit for eligible women has been rising, too. With the Japanese economy as it is, and more women needed in the work force as the Japanese population descreases, more women focus on having a career. Women in their early thirties have become more acceptable as possible wives. This causes a problem for some Japanese men because, according to matchmaking services, Japanese men want pretty, young women. The women focus on high salaries and height in choosing a future husband. Are things really so different from the times of traditional "omiai?"
Omiai
Today, "omiai" is usually more casual. It is more of a blind date, and friends, family, co-workers, or employers might set-up the introduction. And that is all it is - an introduction. Many times people will introduce two friends by going out as a group. If the two being introduced like each other, they will go out on their own. If not, no one loses face, and it was just a fun night out on the town.
Several of my co-workers were introduced by the school principal or vice principal. With all of the mandatory parties employees attend in any work environment, it is easy to see why many couples have been introduced by their employers. The day of the wedding these "nakodo" are the first to speak at the wedding party and wish the couple a happy marriage.
A very good friend of my family who is actually considered part of our family was introduced to a very nice lady for marriage. The courtship didn't last long, and they were married, what seemed to be, immediately. Although they are a happily married couple now, after a few years of getting to know each other, the beginning of their relationship was very rough.
There was a lot of tension between the two of them, and it seemed they hated each other. Friends held an intervention to help the relationship along, and now they are happily married and a wonderful couple to be around. "Omiai" can certainly work.
If friends, family, and employers aren't successful, there are professional services to turn to for help in finding a future spouse. I must warn you, some of these services come at a very high price. While several services are very much like western dating services, others rely on the "omiai" system and have the main objective of making marriages happen. Long courtships may occur, but usually the clients dont mess around with all of that dating and get right into the marriage.
There is a National Matchmaking Association, Zenkoku Nakodo Rengokai. This service provides one-on-one consultation to people who are looking to get married. It follows the "nakodo" role more closely than some other services. The matchmakers give advice to their clients such as "lower your standards," "change your appearance," and "adjust your lifestyle." The National Matchmaking Association combines the traditional "nakodo" with the more modern database to arrange meetings between clients. These matchmakers meet with each client for about an hour at a time to go through possible future spouses and draw up shortlists from which the meetings will be scheduled.
Other match-making internet sites are more similar to western web-based dating sites. Tokyo-based M's Bridal is such a site where only those looking to wed are encouraged to become members. Clients complete registration forms, what they want in a spouse, and information about themselves including family medical history and other very personal details.
With a 100,000 yen (USD 825) registration fee and a 200,000 yen (USD 1650) marriage completion fee, these matches should turn out to be super spouses. M's also organizes singles parties that restrict the guests by age (women) and income (men).
Don't get me wrong, they cater to everyone and include "high class," "fresh," "nice middle," and "want to re-marry." Other services offered by M's include classes on flirting and attracting people at their parties to give the shyer clients some confidence.
Online matchmaking
Yet another type of matchmaker online, now out of business, included Intercultures, Co, Ltd. Intercultures was an example of a service that targeted male clients looking for brides. It charged 52,500 yen (USD 433) as a registration fee plus 472,500 yen (USD 3,896) for a retainer for a female Japanese spouse. Retainers varied according to the women's nationality. Men of any nationality living in any country were eligible, but the first "omiai" had to take place in Japan.
Books on Japanese Weddings
The Japanese wedding: a representation of the wedding ceremony in Japanese high life: Arranged as a costume pantomime for public performance at church: school exhibitions, social gatherings, etc.
Japanese wedding ceremonies: Old and new
Japan Articles by Jennifer May
Having Surgery in Japan
Tanabata Star Festival
Iwakuni Castle
Kamikochi Hiking Guide
Oze National Park Guide
Japanese Weddings
Purikura
Match making and arranged marriages in Japan. Read about the Japanese practice of nakodo and omiai, match-making past and present.
All the themes of the city