Sesshu Toyo
Sesshu Toyo (1420-1506): read a biography of Sesshu Toyo one of Japan's greatest artists and garden designers, known for his Chinese style ink paintings.
Sesshu Toyo (1420-1506) 雪舟等楊
After Hokusai, Sesshu Toyo is probably the Japanese artist most well-known outside of Japan. Sesshu was influenced by Chinese Song Dynasty landscape painting, which he adapted and enriched using his own techniques.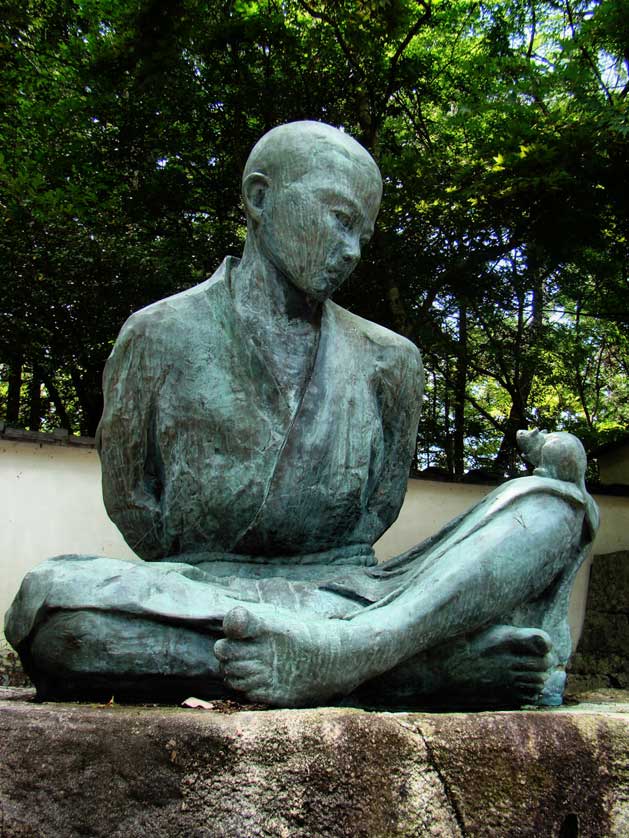 Statue of Sesshu and the rat, Iyama Hofuku-ji Temple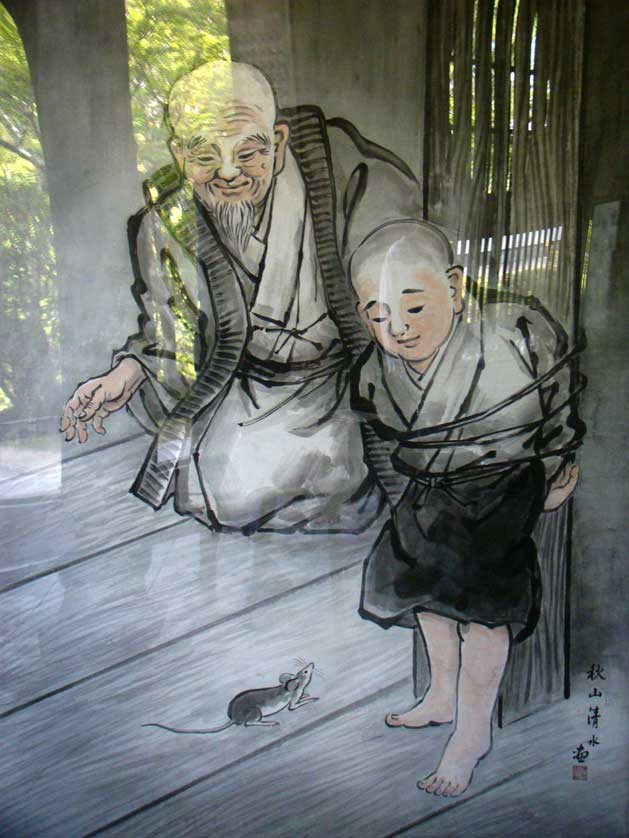 Painting of Sesshu and the rat legend, Iyama Hofuku-ji Temple
Early Life
Sesshu was born in Bitchu province, present-day Okayama Prefecture in 1420 into a lower-ranking samurai family. As a youth he became a Zen monk at a local temple - Hofuku-ji, and as a young man he moved to Kyoto and studied under the greatest Japanese painter of the time, Tensho Shubun, while a monk at Shokokuji.
In his middle-age Sesshu moved to what is now Yamaguchi Prefecture, and made an important visit to Ming Dynasty China in 1468-9.
On his return from China, Sesshu opened a studio in what is now Oita in Kyushu before later moving to Masuda in Shimane where a couple of his gardens still exist, before finally returning to Yamaguchi where most of the still extant of his works were produced, such as Sesshutei Garden.
Sesshu was based at his studio in Yamaguchi in his later life, but also spent some time in nearby Masuda in Shimane Prefecture. Sesshu died in 1506 at the age of 87 in Masuda, though historians are undecided exactly where. Masuda claims he died there, and has built a memorial museum next to his reputed tomb.
At Hofuku-ji there are a couple of statues and a painting that illustrate what is probably the most famous story about Sesshu, although how much of the story is actually true will never be known.
According to the legend he was not a particularly good novice monk, preferring to spend his time drawing rather than memorizing sutras, and one day as a punishment for some infraction he was tied to a post in one of the temple buildings and left there.
His tears fell to the floor and with his toe he drew a rat on the floor with his tears. When the abbot returned he was taken aback by what he thought was a real rat at the boy's feet but which turned out to be a drawing.
From then on Sesshu was allowed to continue with his art studies. In the way of legends, the story has been exaggerated and one version now has the drawing being so lifelike that the drawing came to life and chewed through the ropes to free Sesshu.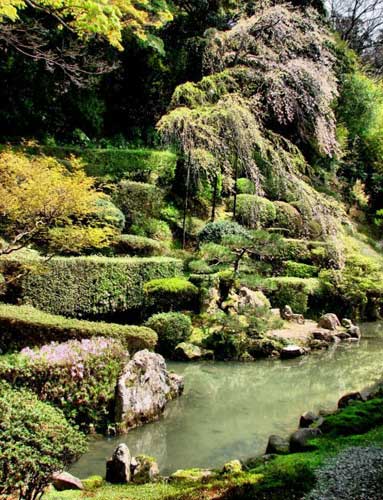 Ikoji Temple garden, designed by the priest Sesshu, Masuda
Achievements
Known mostly for his monochromatic ink paintings, Sesshu was also an accomplished garden designer, and what is considered one of his best gardens remains at Iko-ji Temple in Masuda, where he was head priest for a while.
Sesshu built another garden at nearby Mampuku-ji temple, though this garden is simpler and more austere. The Sesshu Memorial Hall has several examples of his paintings, other items from his life, and a modern garden.
In Kyoto, Sesshuji is thought to have designed the garden at Funda-in (Sesshuji), a sub-temple of Tofukuji.
A number of Sesshu's paintings can be seen in Tokyo's National Museum in Ueno Park.
Sesshu's most famous work is the Long Scroll of Landscapes (Sansui Chokan): a 50-feet (15m) scroll depicting the four seasons in the sequence spring; summer; autumn; winter.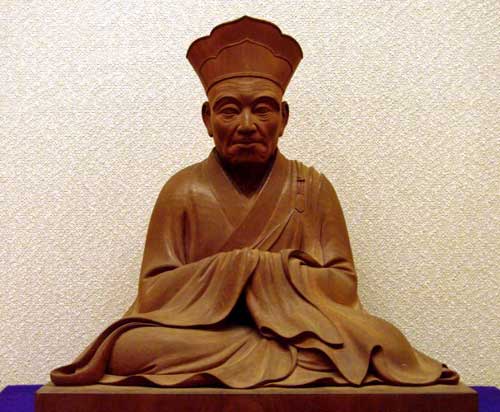 Sesshu - one of the greatest painters in Japanese history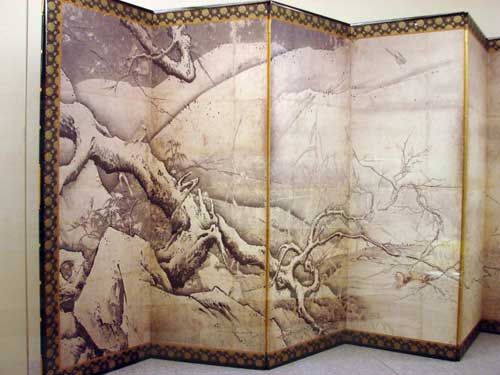 Sesshu painted screen (byobu)
Book Hotel Accommodation in Tokyo Japan
All the themes of the city