The Japanese Top League
ジャパンラグビートップリーグ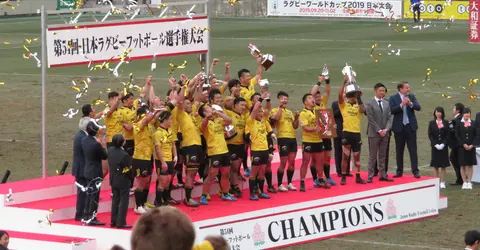 The Japanese rugby championship
The Top League is the national rugby championship of Japan, where the sport enjoys an ever-increasing popularity, espacilally with the organization of the Rugby World Cup in 2019.
A recent history
If rugby came to Japan during the Meiji era (1868-1912) with the founding of the Keio University Club, the "Japanese Top League", the official name of the Japanese National Rugby Championship, was created much more recently, in 2013. It replaced the former regional competitions, as well as the Japan Company Rugby Football Championship, that ran between 1948 and 2013. This was done to improve the overall level of play and strengthen the Japanese national team, in order for it to shine in international competitions. Remember, the next Rugby World Cup will be held in Japan in 2019.
On 9 September 2013, the match between Suntory Sungoliath and Kobelco teams kicked off the first ever season of the Japanese Top League.
How the Top League works
The Japanese Top League includes the top 16 teams in the country. The clubs compete on a total of thirteen days between the end of August and the end of December. The matches attract up to 30,000 spectators in the stadiums (Toyota in particular), and many more watch the matches on television.
At the end of the championship, the first in the standings is crowned champion. The top four qualify for the Top League Play-off. The 16th and last team is relegated to the lower division, the Top Challenge, and is replaced by the previous champion of this division. The 13th, 14th and 15th ranking teams then play a playoff with the 2nd, 3rd and 4th of the Top Challenge to determine the final rankings.
The top 16 rugby clubs in Japan
Here are the 16 teams vying for the 2017-2018 season of the Japanese Top League, with the corresponding cities and the year they were founded, in the ranking order of the previous season. The names of the clubs can be surprising at first, as they are very commercial! The practice of naming, aiming for a company to sponsor a sports club or a stadium by using its name, is very common in Japan.
Suntory Sungoliath (Fuchu, 1980)
Yamaha Jubilo (Iwata, 1984)
Panasonic Wild Knights (Ota, 1960)
Kobe Steel Kobelco Steelers (Kobe, 1928)
NTT Shining Arcs (Chiba, 1976)
Ricoh Black Rams (Tokyo, 1953)
Canon Eagles (Machida, 1980)
Toyota Verblitz (Toyota, 1941)
Toshiba Brave Lupus (Fuchi, 1948)
NEC Green Rockets (Abiko, 1985)
Munakata Sanix Blues (Munakata, 1994)
Kubota Spears (Abiko, 1978)
Kintetsu Liners (Higashi-Osaka, 1929)
Coca Cola Red Sparks West (Fukuoka, 1966)
Toyota Industries Shuttles (Kariya, 1984)
NTT Docomo Red Hurricanes (Osaka, 1994)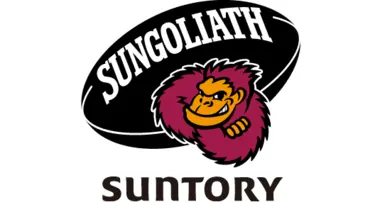 Top League winners
Here are the winners of the first 14 seasons of the Japanese Top League:
2003-04 : Kobe Steel Kobelco Steelers
2004-05 : Toshiba Brave Lupus
2005-06 : Toshiba Brave Lupus
2006-07 : Toshiba Brave Lupus
2007-08 : Suntory Sungoliath
2008-09 : Toshiba Brave Lupus
2009-10 : Toshiba Brave Lupus
2010-11 : Sanyo Wild Knights
2011-12 : Suntory Sungoliath
2012-13 : Suntory Sungoliath
2013-14 : Panasonic Wild Knights
2014-15 : Panasonic Wild Knights
2015-16 : Panasonic Wild Knights
2016-17 : Suntory Sungoliath
Total Victories By Team
Toshiba Brave Lupus: 5
Suntory Sungoliath: 4
Panasonic Wild Knights: 3
Sanyo Wild Knights: 1
Kobe Steel Kobelco Steelers: 1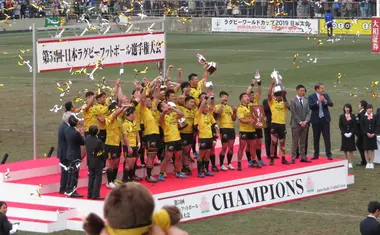 More information on rugby in Japan:
Follow the Japan team during the World Cup
All the themes of the city