Yanai Goldfish Lantern Festival
Yanai Goldfish Lantern Festival (Yanai Kingyo Chochin Matsuri) is a colorful lantern festival featuring unique goldfish lanterns in Yanai, an old merchant town in Yanai, Yamaguchi Prefecture.
Yanai Kingyo Chochin Matsuri 柳井金魚ちょうちん祭り
Jake Davies
Lantern festivals take place throughout Japan in the summertime, most often around Obon, when the souls of the ancestors return for a visit. In some regions Obon takes place around mid-July, but in others, like Yanai in Yamaguchi Prefecture, it is around mid August.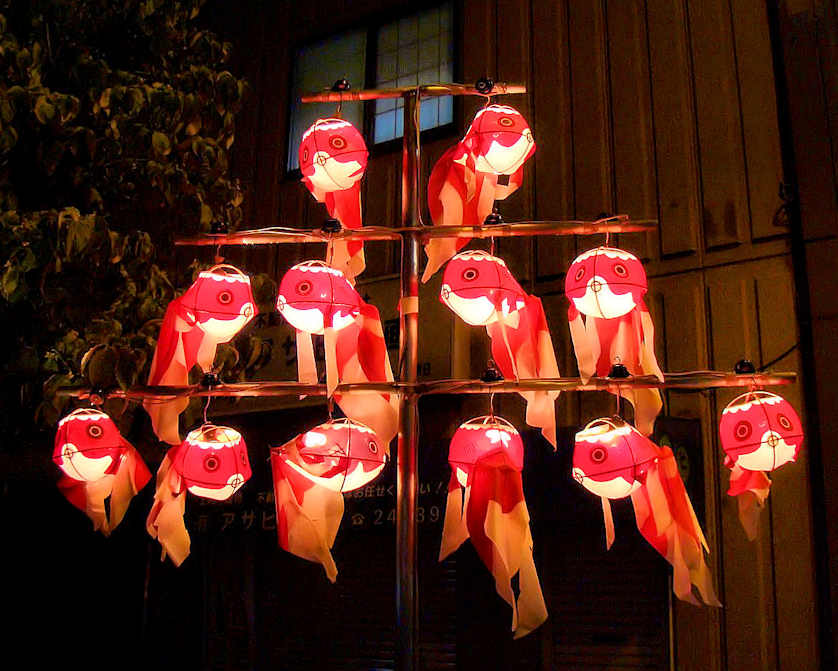 Yanai Goldfish Lantern (Kingyo Chochin) Festival, Yamaguchi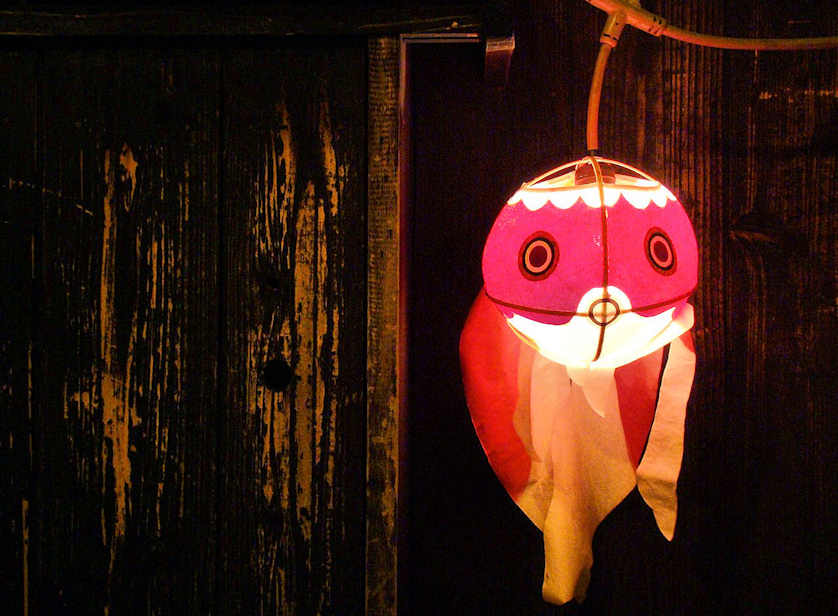 Yanai Goldfish Lantern Festival
Kingyo Chochin
The lantern festival in Yanai takes place on August 13th and features lanterns that are unique to Yanai. These are Kingyo Chochin, and are shaped like goldfish. Made out of washi - Japanese paper - and bamboo, the idea for the lanterns is said to originate with an Edo Period merchant named Kumatani Rinzaburo who was inspired by the Nebuta ornaments of Aomori.
The old merchant district in Yanai, where the festival takes place, is lined with old, historic, white-walled, merchant homes (such as the huge Muroya-no-Sono Merchant Museum) and storehouses and is a popular tourist destination.
The goldfish lanterns line the streets year round, but as August 13th approaches their numbers increase and around the riverside large arrangements of them are put up along with other paper lanterns.
The festival is accompanied by many stalls selling festival food and Bon dances take place. The highlight of the festival are large floats with giant versions of the goldfish lanterns pulled by teams from different districts accompanied by taiko drumming. The festival ends with a fireworks display.
Many shops sell the goldfish lanterns and there is a workshop where you can try your hand at making one yourself.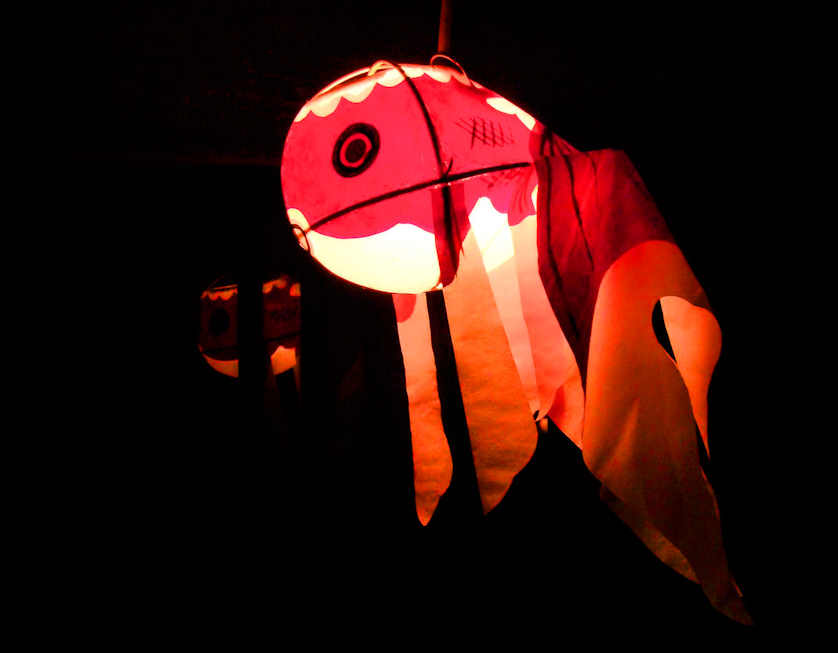 Kingyo Chochin, Yanai Goldfish Lantern Festival, Yamaguchi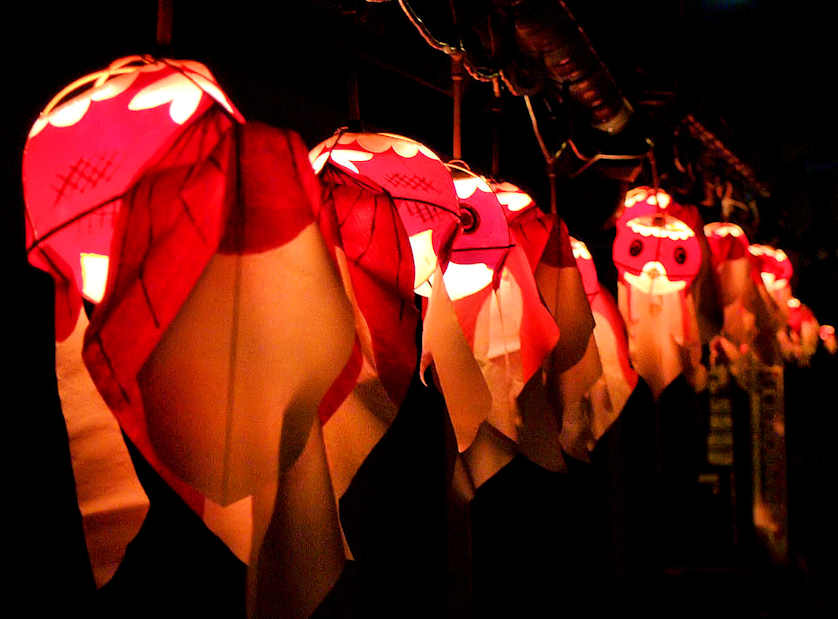 Row of Kingyo Chochin, Yanai Goldfish Lantern Festival
Access - Getting To Yanai
Yanai Station is on the Sanyo Main Line, 90 minutes from Hiroshima Station, or one hour from Shin Yamaguchi, both Sanyo Shinkansen stations. From Iwakuni, Yanai is 30 minutes.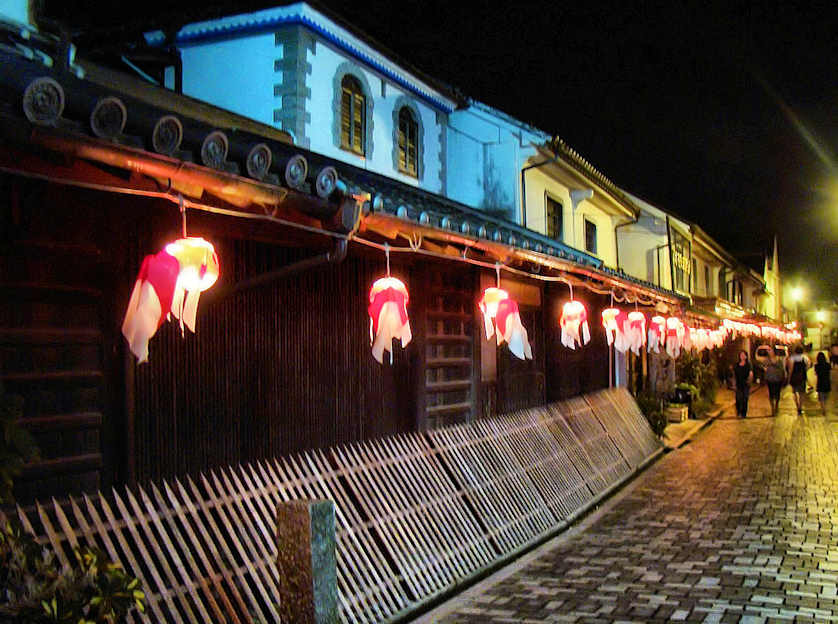 Old merchant district in Yanai, Yanai Goldfish Lantern Festival, Yamaguchi

Yanai Goldfish Lantern Festival, Yamaguchi Prefecture
All the themes of the city