Yuki-gakoi & Yuki-tsuri
Yuki-gakoi and Yuki-tsuri are traditional methods of protecting trees in Japanese gardens from heavy snowfall.
Yuki-gakoi and Yuki-tsuri
Mark Brazil
Each autumn the urban and suburban landscape of central and northern Japan sprouts strange new 'sculptures' Yuki-gakoi and Yuki-tsuri.
To the uninitiated, it is as if some courtesy wrapping service at a department store has gone crazy and broken out into a cross between landscape wrapping and art, with a sculptured theme.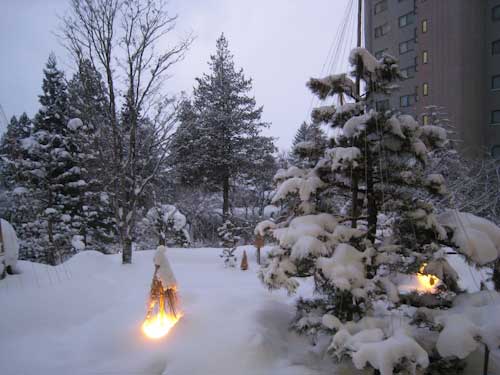 In the garden of Senjukaku Ryokan, Kambayashi Onsen, straw capes (Yuki-gakoi) protect and decorate the garden lamps
To understand the significance of this seasonal wrapping frenzy (no it's not related to Christmas or year end gifts) you need to understand the extremes of the Japanese climate. Particularly in the central regions of Honshu, the Sea of Japan coast, northern Honshu and Hokkaido, the annual range in temperatures is dramatic and these regions trade hot, humid summers for cool, cold, or even frigid winters with varying amounts of snowfall.
Historically, the prefectures along the Sea of Japan coast, and those on that far side of the mountainous spine of Honshu, and the northern prefectures, all experienced local or widespread blizzards that would routinely dump great depths of snow in very short periods and accumulate to considerable depths over the course of the winter.
In the remoter valleys, styles of architecture were developed to cope with the weight of winter snow, as for example in the World Heritage Site villages of Shirakawa-go and Gokayama.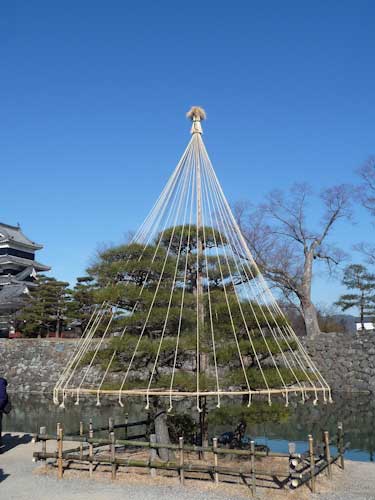 Beside the moat at Matsumoto Castle, a pine is protected from the winter's snow by a central pole, suspended straw ropes, and a cane ring, typical Yuki-tsuri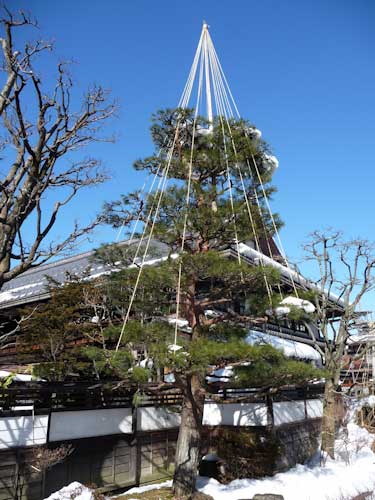 Yuki-tsuri protects a garden pine in Takayama, with straw ropes attached supporting its main branches from above
Elsewhere, houses were fitted with a second floor doorway for use during the snow season, and many used sliding shutters, or at least planks fitted into brackets, widely spaced across windows to protect them from being crushed by snow banks while allowing some light through.
It was not unusual for people to tunnel out from their front doors through the snow to reach the street and roads that seem amply broad and smoothly paved in summer quickly become narrow and bumpy as an accumulation of snow coats and partly blocks them.
Travel country back roads and you will find old, abandoned houses and buildings that have been crushed down by snow. Clearing the roofs of older, and weaker, houses and garages that are still in use of the build up of snow, claims lives annually as the elderly and not so elderly clamber up and spend hours pushing off the snow. Some of those deaths are due to unaccustomed over-exertion, but others are the result of people without safety ropes sliding off with the snow they are clearing and being unable to extricate themselves from the resulting avalanche - hypothermia does the rest.
If that weight of snow threatens lives and houses, then imagine what it can do in the forests and mountains. There the heavy weight of wet spring snow slumping down slopes actually dictates the growth form of many young trees - forcing their lower trunks into distinctive (down slope) curves before they eventually straighten.
Older trees and their limbs are often smashed down by the snow, which accumulates in immense pillows and blankets high in their canopies. Then wind, combined with hard frosts drives ice-wedges into cracks and cavities and daytime thawing allows the water to penetrate further where it does more damage during the next freeze. The smaller plants in heavy snow areas are adapted to the crushing weight and literally spring up once the snow layer melts away after winter. What happens in the mountains is mirrored in gardens, parks and public spaces - or at least it would be without the timely ministration of Japan's army of professional gardeners for it is they that are out doing the seasonal wrapping.
Yuki-gakoi
In its simplest form, Yuki-gakoi works on the basis of 'if one branch is weak then a bundle of them together will be strong'. It involves gathering in the vulnerable branches of garden shrubs that might be crushed or broken and the use of straw rope to bind them up into a tight living bundle.
In more extreme forms, these bundles are then wrapped in loose straw matting to give more extensive covering, and the modern form of this is to use blue or green plastic netting instead. This wrapping may be taken to the extreme and whole trees may be fenced in and surrounded by netting in an attempt to stop the snow blowing on to the tree and accumulating. Where gardeners are truly creative they form straw caps and decorations at the peaks of their bundles making their resulting work attractive and artistic - when it isn't buried with snow.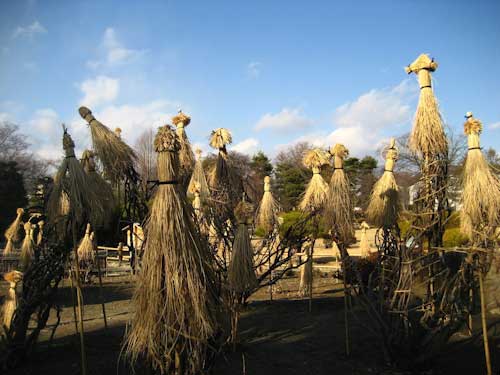 Like a gathering of strange creatures, shrubs in the garden of Matsumoto Castle are protected by Yuki-gakoi with the addition of straw caps

Yuki-tsuri
Yuki-tsuri is a related, though slightly different, tradition of supporting trees through the most destructive period of the year. Park and garden trees are commonly groomed by gardeners over decades and centuries into shapes that appear almost entirely, but in fact are in no way, natural.
These artistic creations convey the age, beauty, and resilience of trees one might encounter in the mountains, but can only do so if they can weather the worst of each winter. To help them in this endeavour, gardeners raise bamboo or wooden poles beside a tree's trunk so that it protrudes way above the tree's crown. A spider's web of ropes is then suspended from the top of the pole, like ribbons from a May Pole.
Unlike those ribbons, which are grasped by dancers and woven into a pattern, the ropes are attached to the ends of the tree's longer branches. Those branches may be further supported by beams, braces, and brackets and combined with the ropes protect the tree from winter damage.
In snow country, roadside shrubs, the better placed mature trees in municipal parks, and the finer plantings in traditional gardens are all protected in this way, but the finest examples of Yuki-tsuri in Japan are to be found in the splendid garden, Kenroku-en, in Kanazawa.
Fascinating at any time of year, if you can time a visit to be there when the gardeners are putting up the supports for the trees you will be enthralled. Thereafter, through the winter the garden resembles and immense sculpture park, where the media of sculpture are wood, bamboo and straw rope.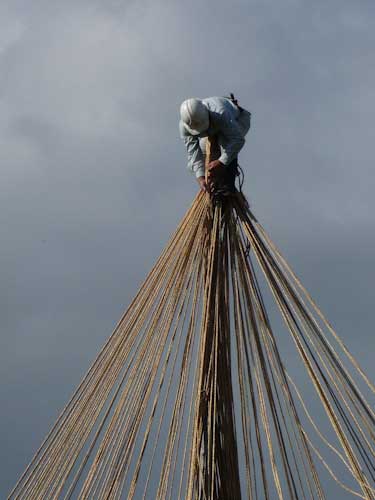 Like an acrobat atop a pole a gardener is preparing ropes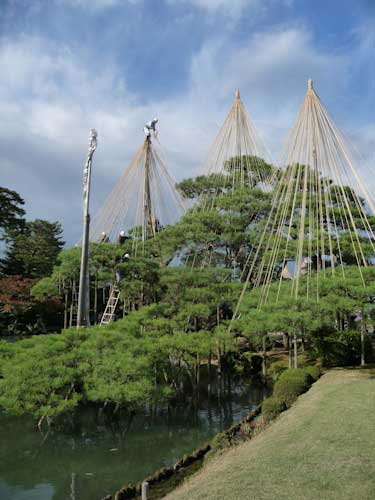 Each November gardeners in Kenroku-en, Kanazawa, create what amounts to a series of outdoor art pieces as they raise poles and suspend ropes to protect the most important of the garden's trees with Yuki-tsuri

Related Articles on Japan
About JapanThe Sense of Mystery and the Borrowed View
Stepping StonesStone Lanterns
Rainchains (Kusari-doi)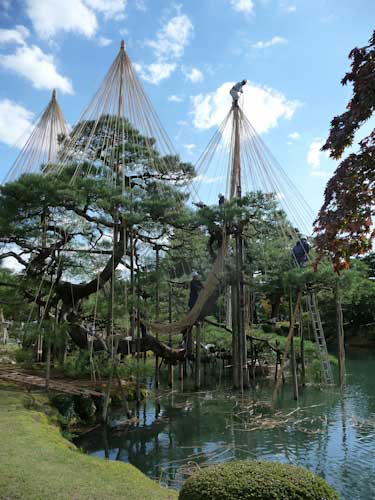 Yuki-tsuri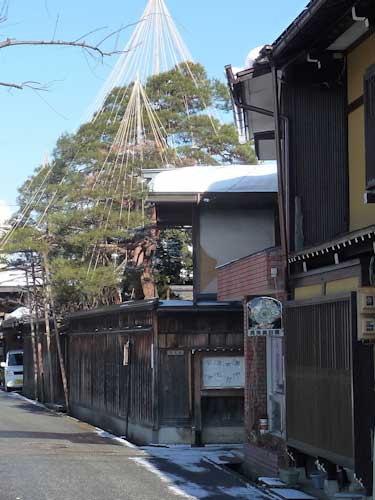 Yuki-tsuri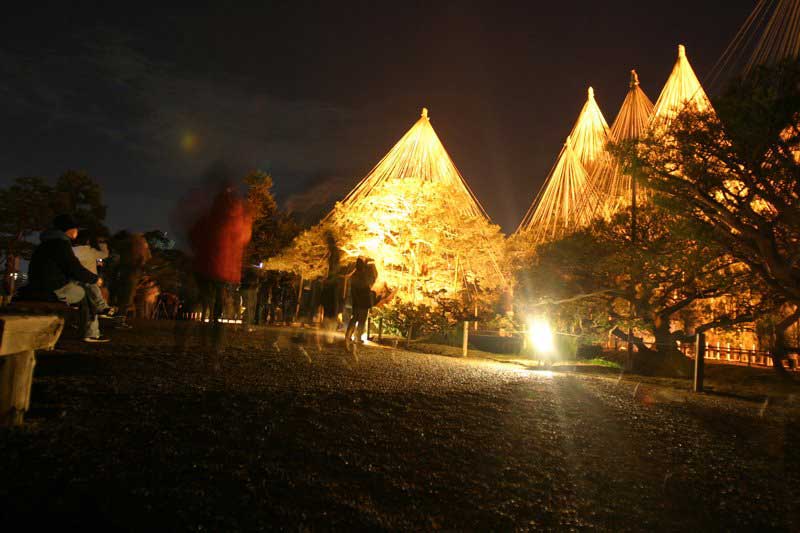 Yuki-tsuri illuminated at night in Kenroku-en Garden, Kanazawa

All the themes of the city