Hamamatsucho Station Tokyo
浜松町駅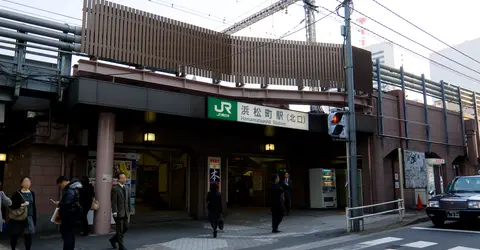 Hamamatsucho Station Tokyo 浜松町駅 is a busy station on the Yamanote Line and the Keihin-Tohoku Line as well as connecting to the Tokyo Monorail for Haneda.
Hamamatsucho Station in Tokyo is a busy station on the Yamanote Line and the Keihin-Tohoku Line, which runs from Yokohama to Omiya in Saitama via Urawa, Nippori, Ueno, Shinagawa and Kawasaki.
Tokyo Monorail
Hamamatsu Station is also the city-end terminus of the Tokyo Monorail to Haneda Airport. Originally, the monorail was intended to extend all the way to the city center. However, the shinkansen line constructed between Tokyo and Osaka in time for the 1964 Olympics (in spite of no events being held in Osaka) had run astronomically over budget. This meant there was not enough money left to buy the needed land to extend the monorail to the center of Tokyo. The entrance to the Tokyo Monorail is in a separate building just outside the JR station. The JR station building includes a number of shops as well as coin lockers.
Bus
There is also a bus station at Hamamatsucho with Flower buses to Tokyo Big Sight (40 minutes). The World Trade Center is also very close to Hamamatsucho Station.
History
Hamamatsu Station is relatively old in Tokyo station terms having opened in 1909. Throughout the station there are motifs of the Manneken Pis, the famous Brussels landmark. On one of the platforms is a fully operating miniature statue of Manneken Pis, which like the original changes his clothing throughout the year.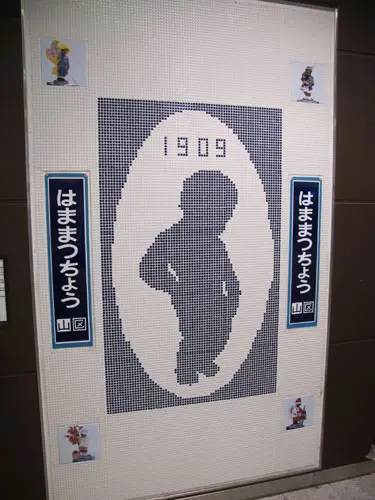 All the themes of the city