Tokyo
東京



Local Time 06:59
Symbol : sunny_cloudy

Temp : 8.2°C

Date : Today

Symbol : sunny

Temp : 9.3°C

Date : Tomorrow

Symbol : cloudy

Temp : 11.1°C

Date : Monday

Symbol : cloudy_rainy

Temp : 10.5°C

Date : Tuesday
What to see in Tokyo? Unmissable activities and sights
Find all you need to know about Tokyo, Japan's bustling capital: Tokyo area guides, Tokyo parks, Tokyo museums and the city's restaurants and bars.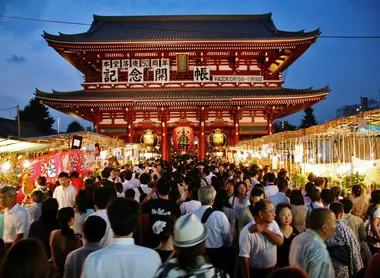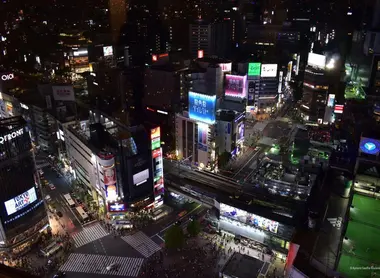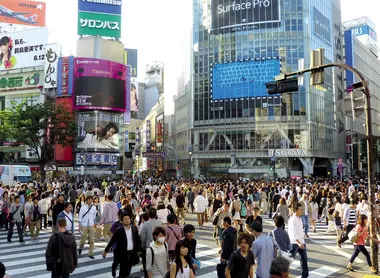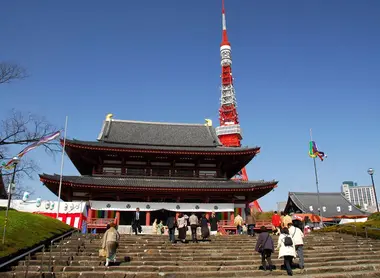 Tokyo Travel Guide
Furiously contemporary, Tokyo, formerly called Edo, is a constantly changing city. Tokyo means "Capital of the east": it replaced Kyoto as the capital of Japan in 1868, at the start of the Meiji Era. Tokyo constitutes the heart of the country: it houses most of the country's institutions such as the Emperor's residence, the Parliament, ministries and all embassies. It is also the country's economic center and for good reason: the city is immense, with its urbanized area extending over nearly 2,190 km2.
Its urbanised area is unsurprisingly the most highly populated in the world, with 13 million people living there. Fortunately the city is organised in such a way that it rarely feels stifling, unlike other capital cities. Walking and travelling around Tokyo remains a pleasure even if you don't know your way around very well...
History of Tokyo
Edo was originally a fishing village. It later became the residence of the shogun Tokugawa Ieyasu at the end of the 16th century and administrative center of Japan. Until the 1860's the Emperor exercised only symbolic rule from his palace in Kyoto, while those at the apex of the warrior class ran the country from their castle in Tokyo. In other words, Kyoto was the repository of tradition, Tokyo the seat of power, an arrangement that persists to this day. Emperor Meiji made it the official capital in 1868 and the city continued its rapid development.
It was during the 20th century that the capital suffered most: there was a major earthquake in 1923 (which killed more than 100,000 people and devastated the city), and the American bombings during the Second World War set the city alight, but it always knows how to bounce back. You can find out more about the history of Tokyo at the excellent Edo Tokyo Museum.
After 1945, the city became a world-class metropolis and its population increased tenfold in the space of 50 years. It hosted the Olympic Games in 1964 and will host them again in 2021.
Tokyo - A City of Villages
Although Tokyo remains the administrative and political center of Japan not to mention having also become its cultural center stray only meters off the yellow brick roads' lined with skyscrapers and peopled with perfectly-turned-out creatures off the catwalks, and you will find that the metropolis also has its very down-home side.
Enormous Tokyo has rightly been called a city of villages. In total, the conurbation is overwhelming and disorienting: a sea of streets, buildings, overhead highways and telephone wires. On closer inspection, though, Tokyo is a web of interconnected "villages," dominated by little old women who clean and gossip, water plants and keep a close eye on all who pass. These villages have become train stops or whole wards and cities, but still retain a local flavor defined by the shotengai, or high street, that is the center of activity. A good introduction to the high-tech center of the universe and its 13 million-plus inhabitants is a ride on the Japan Rail Yamanote loop line. An hour or so of Tokyo from the train will give you a feel for Tokyo: both its grandeur and its clutter of mostly 2-3 storey architecture. Just avoid rush hour!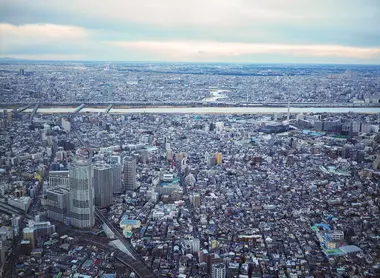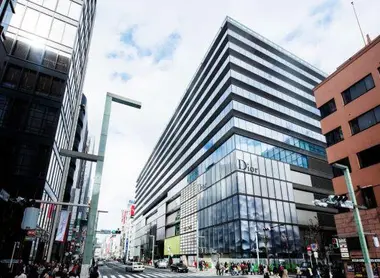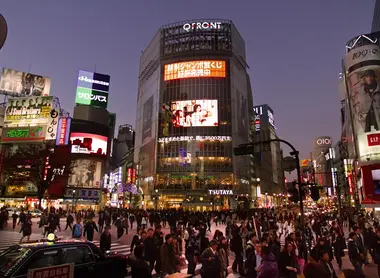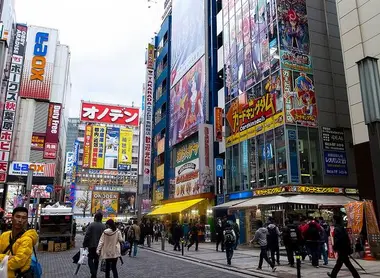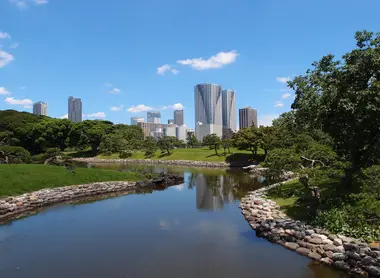 Tokyo a city that is always changing and evolving
Its urban landscape is fascinating and disconcerting. Architects will have a field day here. Everyone can do as they choose and there is something for everyone here. A visit to the museum, a getaway to a park or garden, a gourmet visit to the underground levels of a major shop, a wander around the streets with their ever more innovative contemporary architecture, the discovery of a Shinto shrine or a Buddhist temple, the spectacle of noh theatre or a sumo tournament... tourism in Tokyo appears to be unlimited.
To travel around with ease, nothing could be better than the many metro lines and trains, using the Hyperdia application to help you, for instance. There are also plenty of taxis (although they are much more expensive!), even at night.
The Best Districts in Tokyo
One thing is certain: visiting Tokyo is intense and each district has its own style and customs. The different districts of this fascinating capital tell a pluralist and universal story. Tokyo possesses and builds a unique atmosphere, a human ants nest where safety is guaranteed.
Here, a hint of nature always mixes in with modern life, one of the specificities of a trip to Tokyo that always surprises travelers. An old willow tree stands guard over an alley festooned with electrical wires. The cherry trees are the first to announce springtime with the hanami. Wild grasses find refuge among the gaps in a building, and flower pots stand at the foot of buildings. The ocean spray constitutes a reminder that Tokyo, the "Capital of the East" is a coastal city on the shore of the Pacific Ocean. Tokyo Bay and the river Sumida can be admired with joy at twilight, where the romantic side of Tokyo springs to life.
So, visiting Tokyo is best-done district by district. This is both the most practical way in terms of public transport and the most straightforward way in terms of organization and for immersing yourself in the various atmospheres. The Yamanote metro line is ready-made for the exploration of these different districts due to its circular route.
You should not miss exploring every inch of the famous Shinjuku, Shibuya, Harajuku and Yoyogi districts but also the other major centers of the city such as Ikebukuro, Ueno, Ginza or Akihabara. A youthful shopping atmosphere in Shibuya, the monumental buildings in Shinjuku, luxury in Ginza, a passion for electronics in Akihabara, or traditional cafés and restaurants in Ueno... there is something for everyone.
Do not hesitate to lose yourself in some of the more residential districts, which are further from the center and full of charm to explore daily life in Tokyo. Some areas off the beaten track will provide you with a complete change of scenery, even for those who know the city well. We are specifically thinking of Yanaka, Shimo-kitazawa and Ikenoue, Naka-Meguro, Komagome or Koenji and Nakano.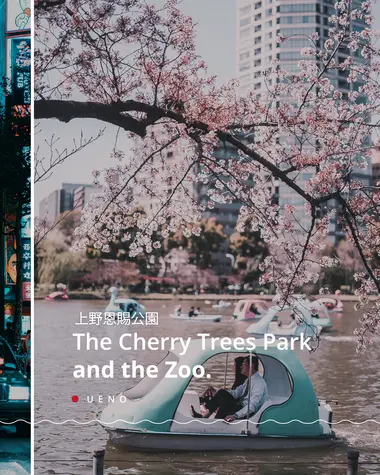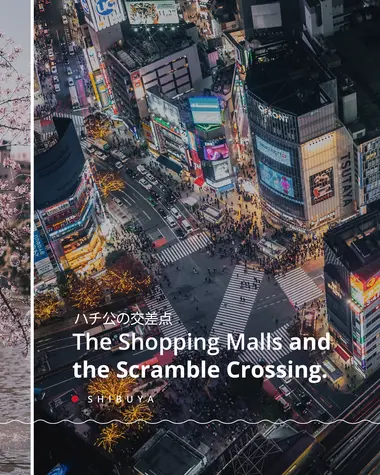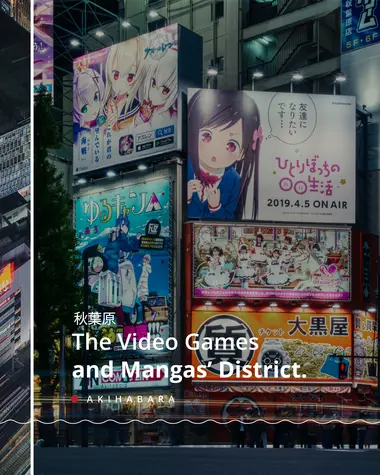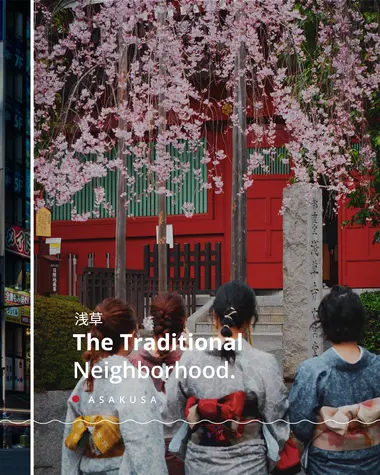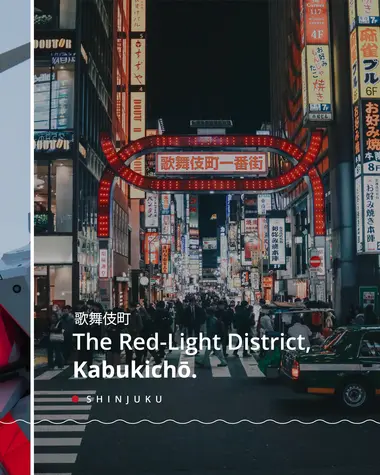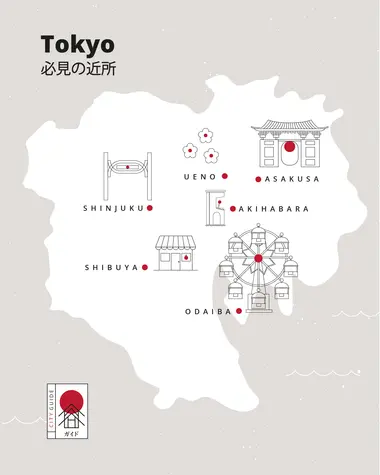 Sightseeing: Things to see and do in Tokyo
Drawing up a complete list of all the things to see in Tokyo is virtually impossible. However, there are some unmissable places, districts or monuments when you are visiting, even for a short time.
The Districts of Tokyo to Visit:
Tokyo Museums Not to Be Missed: 
The Nezu Museum and its splendid garden: 6 Chome-5-1, Minamiaoyama, Minato, Tokyo 107-0062
The National Museum Tokyo: 13-9 Ueno-koen, Taito, Tokyo 110-8712
Sumida Hokusai Museum: 2 Chome-7-2 Kamezawa, Sumida, Tokyo 130-0014 T
The Most Beautiful Monuments, Attractions, Gardens and Temples in Tokyo:
Meiji-Jingu shrine: 1-1 Yoyogikamizonocho, Shibuya City, Tokyo 151-8557
Senjo-ji temple in Asakusa : 2 Chome-3-1 Asakusa, Taito City, Tokyo 111-0032
Tokyo Tower: 4 Chome-2-8 Shibakoen, Minato City, Tokyo 105-0011
Tokyo Skytree: 1 Chome-1-2 Oshiage, Sumida City, Tokyo 131-0045
Hama-Rikyu Garden: 1-1 Hamarikyuteien, Chuo City, Tokyo 104-0046
Shinjuku Gyoen Park: 11 Naitomachi, Shinjuku City, Tokyo 160-0014
Japan National Stadium : 10-1 Kasumigaokamachi, Shinjuku City, Tokyo 160-0013
Tokyo Disneyland: 1-1 Maihama, Urayasu, Chiba 279-0031
Tokyo does have a multitude of other exciting places and activities for you to discover and explore. When you visit the capital, it would be unthinkable to leave without trying out the local cuisine or spending a night in izakaya or singing along to your favorite song in one of the many karaoke bars in the city.
Getting Around in Tokyo
The circular JR Yamanote Line connects with most major Tokyo stations. If you are staying in Tokyo for any length of time consider buying a subway pass or a Grutt Pass that offers free entry or a discount to museums, galleries, and other attractions in Tokyo. Trains and buses stop operating in the city between midnight and 6 am.
Access: How to get to Tokyo?
Narita International Airport and Tokyo International Airport (commonly called "Haneda Airport") are Tokyo's main international airports. Haneda Airport is located in Tokyo itself, so is more convenient for the traveler to Tokyo than the more distant Narita Airport.
Airport Shuttle Buses - services to certain city center hotels from about 2,800 yen.
Trains from Narita -JR Narita Express (NEX) 53 minutes. -JR Airport Liner 80 minutes. -Keisei Skyliner and Tokkyu trains 60 to 75 minutes to Ueno station in Tokyo. The Keikyu Line runs between Narita and Haneda Airports and takes around 1 hour 45 minutes.
Taxis from Narita - are expensive around 20,000 yen (1-2 hours).
Trains from Haneda -monorail from Haneda to Hamamatsucho Station on the Yamanote Line (approx. 20 minutes).
Buses from Haneda -limousine buses from Haneda to Tokyo City Air Terminal (TCAT) at Suitengumae Station on the Hanzomon Line, Tokyo Station, Ikebukuro, Shinjuku and other destinations.
Taxis from Haneda - are reasonable around 6,000 yen.
All mainline JR trains radiate from Tokyo Station connecting the capital via the Tokaido and Sanyo Shinkansen lines to Shizuoka, Nagoya, Kyoto, Osaka, Kobe, Hiroshima and Fukuoka to the south and west and the Tohoku Shinkansen line to Sendai and Morioka in the north. The Joetsu Shinkansen line runs to Niigata on the Japan Sea coast. 
In Tokyo Long distance and night buses to many cities throughout Japan leave from Tokyo Station, Shinjuku Station (Busta Shinjuku), Ikebukuro & Shinagawa.
From Tokyo There are ferries from Tokyo to Kushiro and Tomakomai in Hokkaido, Tokushima in Shikoku and also to Kitakyushu in Kyushu and Nara in Okinawa. Getting Around in Tokyo The circular JR Yamanote Line connects with most major Tokyo stations. If you are staying in Tokyo for any length of time consider buying a subway pass or a Grutt Pass that offers free entry or a discount to museums, galleries, and other attractions in Tokyo. trains and buses stop operating in the city between midnight and 6 am.
All the themes of the city
Interested by Tokyo
Discover other cities to explore