How to go from Sapporo to Asahikawa with a Japan Rail Pass ? 

Travel in Hokkaido with the Limited Express Kamui or Limited Express Lilac
Trains from Sapporo to Asahikawa are quite frequent. Let's go north !
From Sapporo to Asahikawa
Trains from Sapporo to Asahikawa are quite frequent (Limited Express Kamui and Limited Express Lilac). Views at the beginning of the journey are not so impressive, as it takes some time to leave Sapporo, but then you will begin to see the open spaces once again.
The fastest journey time to Asahikawa is 85 minutes by Kamui, Lilac or Ohkotsk LEX.  

0 KM - Sapporo Station
41 KM - 0H25 - Iwamizawa Station
It lies along the levee of the Ikushunbetsu River. Iwamizawa developed around the railway station built on the levee in 1882. With the opening of three other railway lines by 1914, the town became an important transportation center connected with the nearby Ishikari Coalfield. Despite the decline in the coal-mining industry, the city continues to be a prosperous local administrative and commercial center. Food processing, brewing, and ceramics manufacturing are the city's main industries.
84 KM - 0H52 - Takikawa Station
The town is conveniently situated at the point at which the Ishikari River, Japan's third longest river, merges with the Sorachi River, making it a sought after destination for all manner of water sports. This small city is known for its heavy snowfall in winter.
Change here to reach Furano.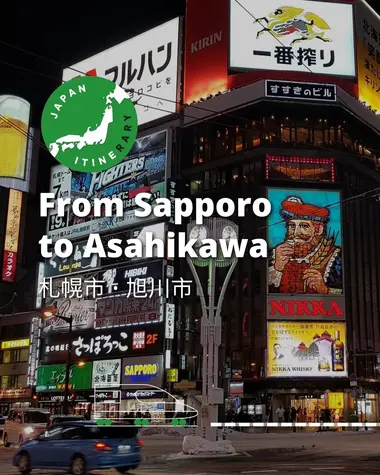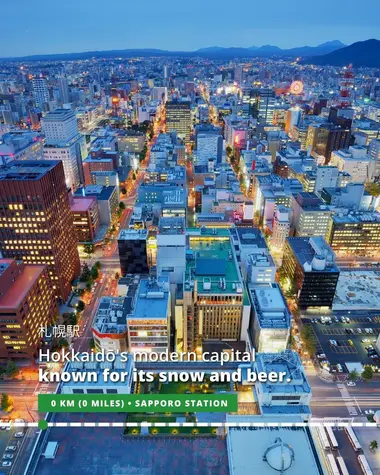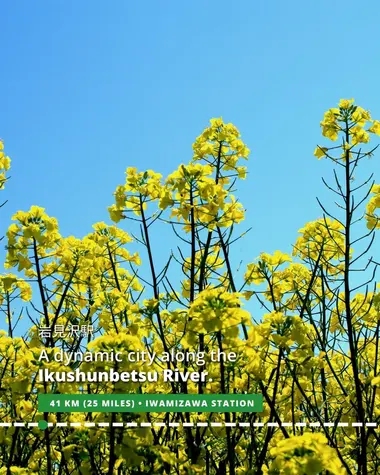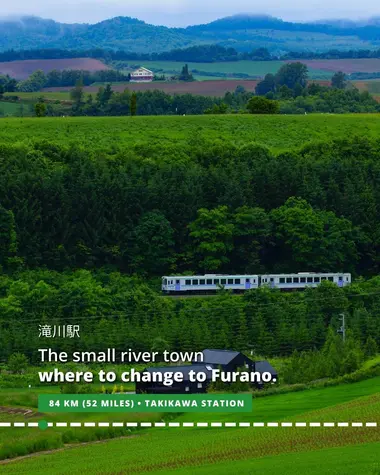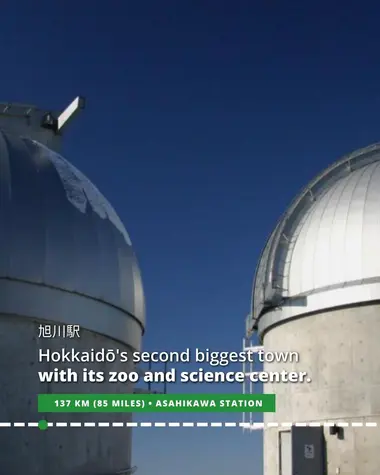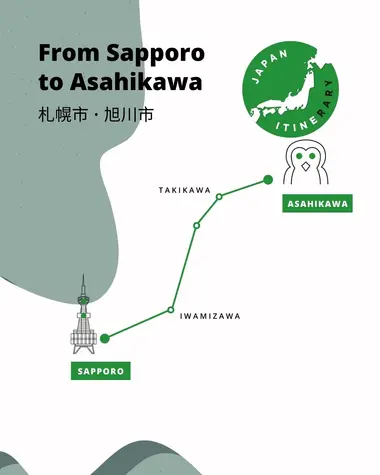 107 KM - 1H05 - Fukagawa Station
Most visitors stop here to access Mt. Kamui, a popular ski resort, technically in Asahikawa, but only minutes away from Fukagawa by car or bus.
137 KM - 1H25 - Asahikawa Station
In Asahikawa, you can go north to Wakkanai, east to Abashiri or reach Biei famous for the beautiful lavender fields in summer.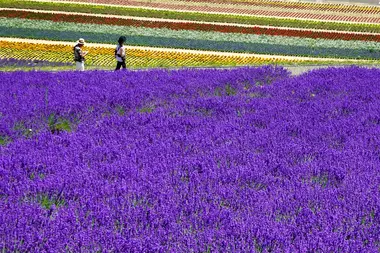 ---
Discover Asahikawa
What to see ?
Asahiyama Zoo
The zoo is located just outside Asahikawa. A bus service runs from the station. The zoo is a good place to see animals native to Hokkaido, such as brown bears, deer and eagles. It is popular as it allows visitors to view the animals from different angles. Highlights include a glass tunnel through the penguin pool and a transparent dome in the middle of the polar bear enclosure. Late Apr-mid-Oct, daily, 9:30 a.m. to 5:15 p.m.; Nov- early Apr, Fri-Tues, 10.30 a.m. to 3:30 p.m., closed early April, ¥820.
Asahikawa Science Center
Also known as Sci-pal, the center opened in 2005 and includes modern interactive exhibitions and a planetarium. You can also experience zero gravity. Tues-Sun, 9:30 a.m. to 5 p.m., ¥400, planetarium ¥300, both ¥500.
Where to stay ?
Asahikawa Super Hotel スーパーホテル旭川 Reasonable price, 5 minutes from the station on foot. You can also enjoy a natural hot spring at the hotel. 11-767-3 Miyashita-dori, Asahikawa, Hokkaido, 070-0030
Tel : 01-6621-9000 / www.superhoteljapan.com/en/s-hotels/asahikawa
Senshoen 扇松園 A very well-known ryokan in Asahikawa. Famous for providing authentic Japanese hospitality and ambiance at a reasonable price. Enjoy their meals prepared using local produce. 3-8-3 Takasagodai, Asahikawa, Hokkaido, 070-8061
Tel : 01-6661-5154 / http://www.sensyoen.co.jp/english/index.html
Where to eat ?
Aoba 旭川らぅめんあ青葉本店
Asahikawa's take on ramen, with a soy sauce broth and topped with a generous slice of nori seaweed. From exit one of Asahikawa Station, walk up Midoribashi- dori; Aoba will be on your left. Open daily, 9:30 a.m. to 7:50 p.m.
Tel : 01-6623-2820 / www5b.biglobe.ne.jp/~aoba1948/
Taisetsu Brewery Beer Hall 大雪地ビール館
The local microbrewery's restaurant, set in a brick building, with a Western vibe.
Open daily, 11 a.m. to 10 p.m.
Tel : 01-6625-0400 / www.ji-beer.com
---
Extend your trip and explore Shiretoko
All the themes of the city