Different types of Shinkansen Cars
新幹線車の種類
The Shinkansen Bullet Train is one of the most populars ways of traveling across Japan and hosts a number of types of cars with varying features that cater to travelers of all needs. 
Riding the Shinkansen
The Shinkansen is likely Japan's most well-known form of transportation. Associated as much with its sense of luxury as its convenience, Japan's world-renowned high-speed rail serves as a distinct and efficient means of travel for both residents and travelers of Japan alike. Furthering the Shinkansen's distinct nature as a form of elevated train travel, there are a number of different car types to best fit the needs of the rail system's many commuters. The most regularly found ones are that of the Ordinary Car, the Green Car, and the Gran Class Car. But on occasion, more distinct offerings such as the dedicated Tele-Work Cars or the recently retired, art-installation based Genbi Shinkansen.
Ordinary Cars
Implied by its namesake, the Shinkansen Ordinary Car is the most general-access with bullet-train-travel. These cars offer the more standard amenities.
The Shinkansen is inherently a more elevated form of rail travel within Japan, so these standard amenities are still a cut above the features found on the more standard lines found throughout the country. These include things such as electrical outlets for charging devices such as phones and computers, overhead storage for luggage and other belongings, a coat hook for hanging outerwear, reversible chairs to be used by travelers that can be arranged in a way to face other members in the traveling party, and a number of other features that may vary by train. 
Since Shinkansen trains are intended for longer, more extensive travel, they naturally come with more plush chairs and additional leg room compared to local trains to accommodate for such.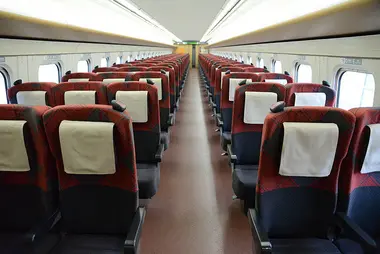 Reserved vs Non-Reserved
These Cars are usually separated by reserved and non-reserved cars. With the popularity of the Shinkansen, choosing to book seats prior to boarding is highly recommended, especially during the busy seasons and if traveling to and from popular destinations such as Tokyo, Kyoto, Osaka, Fukuoka, etc. 
Whether a car has reserved seats or is free-seating will be noted on the inside of the Shinkansen. If you have any issues identifying such, feel free to ask the Shinkansen attendants on board. Reserving a seat can be done at a station office or one of the ticket reservation kiosks located at a number of stations.
As opposed to a reserved seat ticket, tickets for free seating are available. With this type of seating, any open seats inside of a non-reserved car can be used by travelers, but they operate on a first-come-first-serve basis.
Green Cars
A step up in luxury from the Ordinary Car is that of the Green Car. Unlike the more standard offerings which have both reserved and non-reserved options, all these seats must be reserved prior to boarding. These more luxurious offering have all of the typical amenities offered by the general cars (electrical outlets, coat hooks, deployable trays, etc),
but with additional luxuries such as extra leg space, storage space, a reading light, complimentary snacks and drinks (depending on the line), and a more luxurious seat.
This seat boasts a more plush headrest and a deeper recline. The inside is often divided into 2x2 seating or 2x1 depending on the train. 
These added luxuries do add to the price, of course, and while pricing varies depending on which Shinkansen and a number of other factors, one can typically see an up-charge of around 30% from the base price. 
Green Cars are not only limited to that of the Shinkansen, however, as Express Trains such as that of the Narita Express and even some local trains have Green Cars, though the amenities vary by each train variety.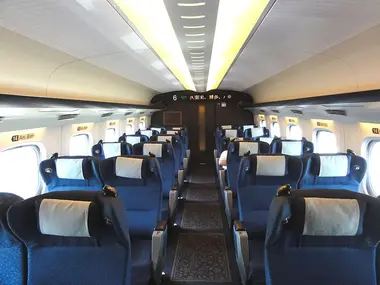 Gran Class Cars
Another step up from the Shinkansen Green Cars is that of the Gran Class Cars, the ultimate means of luxury within Japan's train system. On the Gran Class Cars, there are even further amenities added to even that of the Green Cars, with even further reclining and luxurious seats and even more leg space. Gran Class Cars are often formatted in a 2x1 seating arrangement so that each passenger either has easy aisle access or an individual seat. Passengers will often be treated to complimentary snacks and drinks as well.
Note that these exclusive Cars are only available on a select number of Shinkansen, namely the Tohoku, Hokkaido, and Hokuriku Shinkansen. 
Naturally, the Gran Class Cars are often the most expensive option when riding the Shinkansen. For example, without a JR Pass, a Gran Class Car seat from Tokyo Station to Shin-Hakodate-Hokuto Station in Hokkaido will cost around 40,000 yen, while the Green Car costs around 32,000 yen, and a standard reserved seat will be at a price of around 23,000 yen.
This increase in price may be worth the price to travelers who plan to go on longer trips, such as ones from Tokyo to Hokkaido or Tokyo to Kyushu, where one is likely to want to be as comfortable as possible during transit.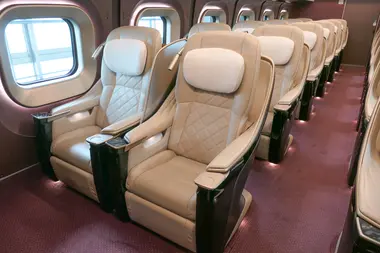 Other Types of Cars
Though travelers may be familiar with the Ordinary Car, Green Car, and Gran Class Car, there are a few unique cars that are occasionally available on certain trains, though they are often temporary, rare, or both. 
Tele-Work Cars
An example of such is the Tele-Work Cars available on JR East Shinkansen Trains. In response to the growing popularity of remote work amidst the COVID-19 pandemic, JR East issued that car number 8 on certain Shinkansen trains are designated as Tele-Work Cars for travelers who are still required to travel for work yet conduct much of their business from personal computers. 
Within these cars commuters are able to make phone calls, participate in online meetings, things largely discouraged on other Shinkansen cars. Sometimes, there is also access to other amenities designed to promote a working environment and productivity. This service is not available on weekends and only on certain trains. Be sure to inquire with train and station staff if a particular train has access to a Tele-Work Car.  
Art Installation Cars
Another example of a unique variation on the Shinkansen is that of the Genbi Shinkansen that traveled between Echigo-Yuzawa and Niigata. Though it is no longer operational as of 2020, the Genbi Shinkansen was issued in 2016 touted as "the world's fastest art experience." The Shinkansen was set up in which every car was decorated and contained art pieces/art installations from a number of artists for passengers to enjoy as they traveled. As previously stated, the Genbi Shinkansen is no longer in operation, but its presence and positive reception are representative of the many types of Shinkansen cars that were, and may later on become, available.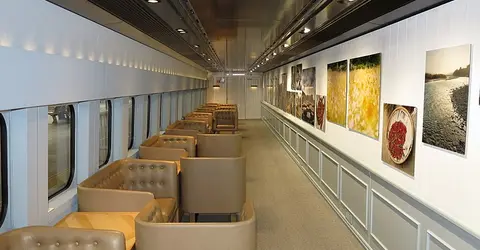 Luggage Reservation/Seat Reservations 
As of 2020, new regulations have been put in place for travelers with oversized baggage (Luggage with overall dimensions between 161 cm and 250 cm).
For these travelers, it is required to book a seat next to the oversized luggage area, so be wary of this before deciding to board a Shinkansen train with intentions to use one of the non-reserved Ordinary Cars. If one intends to ride the more luxurious cars, they will require a reservation regardless, so just notify the office representative of your oversized baggage or designated such when reserving seats at the ticket kiosk. More information on oversized luggage reservations can be found here. For further information on train seat reservations, check out the article here.
Access with the JR Pass
The popular Japan Rail Pass is a specialized ticket that allows for unlimited rides on JR Train Lines, the only exception being the Nozomi Shinkansen. A standard JR Pass allows travelers to board the Ordinary Cars freely and also to make reservations on those same cars at no additional cost. However, if a traveler wishes to upgrade to a Green Car or Gran Class Car, they need to reserve seats on these cars prior to boarding and pay an additional fee which differs depending on the destination. Additionally, a Green Car JR Pass is available for purchase that allows full access to Green Cars on each Shinkansen, but as usual, one will need to reserve these seats prior to boarding.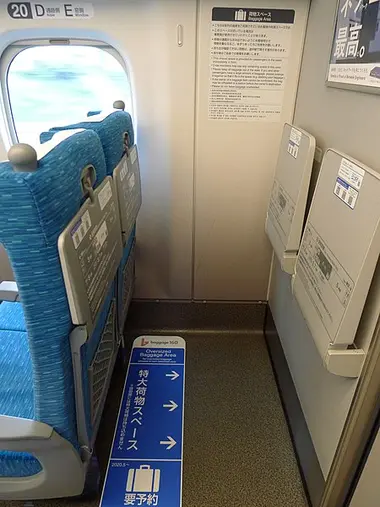 Buy your Japan Rail Pass now and enjoy unlimited rides on Shinkansen!
All the themes of the city