The Shinkansen network

Which name for which Shinkansen ?
Here is a map of the shinkansen network in Japan - accessible with a Japan Rail Pass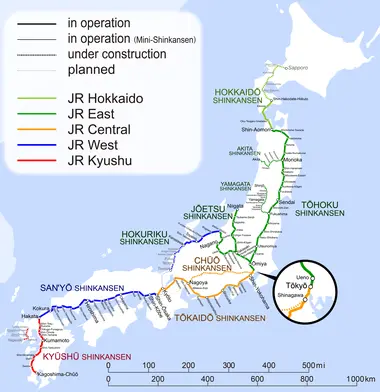 Going to the north
The Hokuriku Shinkansen have four different types of shinkansen. Travel to Kanazawa in just 2h30 ! The Asama runs between Tokyo and Nagano, The Kagayaki and Hakutaka between Tokyo and Kanazawa ( kagayaki being the faster), and the Tsurugi between Toyama and Kanazawa.
The Joetsu Shinkansen has two different types of  shinkansen : the Toki is the fastest between Tokyo and Niigata (about 2h). Some Toki use 2-story train sets and are known as MAX Toki. The Tanigawa is serving all stations between Tokyo and Echigo-Yuzawa station. During the winter, some trains serve Gala Yukawa station ( access to Gala Yukawa ski resort).
The Yamagata Shinkansen has only one category of train called Tsubasa, running between Tokyo and Shin-jo in 3h30. The Torei-yu Tsubasa in a very unique train running mainly on week -ends between Fukushima and Shinjo.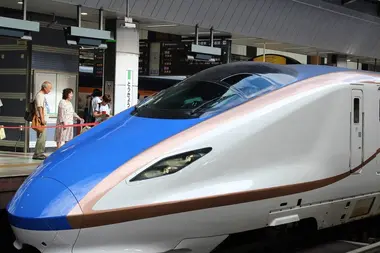 The Akita Shinkansen has only one category of train called Komachi, which is only with reserved seat.
The Tohoku shinkansen has two different shinkansen : the Yamabiko is the fastest running as far north as Morioka, although some terminate at Sendai. The Nasuno is the slowest one and serves all the station between Tokyo and Koriyama.
The Hokkaido Shinkansen has two different shinkansen : the Hayabusa reach Shin Hakodate and Hokkaido in 4 hours and 2 minutes with the fastest train and all seats has to be reserved. The Hayate operates one return service per day between Morioka and Shin Hakodate and one return service between Shin Aomori and Shin Hakodate.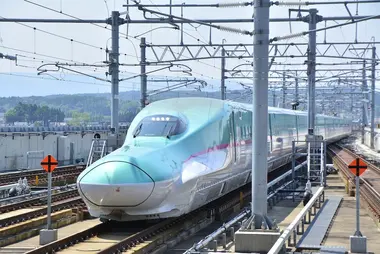 Going to the south
The Tokaido Shinkansen has three types of trains. The Nozomi is the fastest train and reach Kyoto from Tokyo in 2h40 ( only stopping at Shinagawa, Shin Yokohama, Nagoya, Kyoto ans Shin Osaka).
Along Sanyo Shinkansen Nozomi connects Hakata and Hiroshima.
The Hikari is the second fastest bullet trains, taking about  three hours from Tokyo to Shin Osaka. One 16 car Hikari train from Tokyo continues along the Sanyo Shinkansen Line as far as Okayama each hour. The Kodama is the slowest train as it stopped at every stations between Tokyo and Shin Osaka.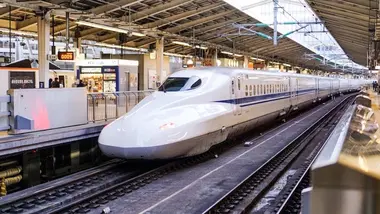 To reach the island of Kyushu, you may need to connect with the Kyushu Shinkansen, which has three types of Shinkansen.
The Mizuho is the fastest train category, stopping at Hakata, Kumamoto and Kagoshima-Chuo. it provides though service to the Sanyo Shinkansen starting from Shin-Osaka.
The two other one are called Sakura and Tsubame, the latter stopping at all stations.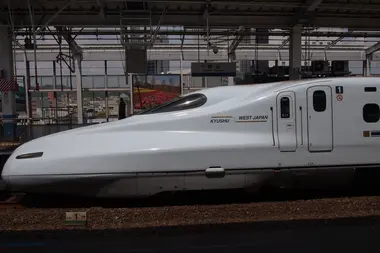 All the themes of the city