Kyoto Districts
Kyoto District Guides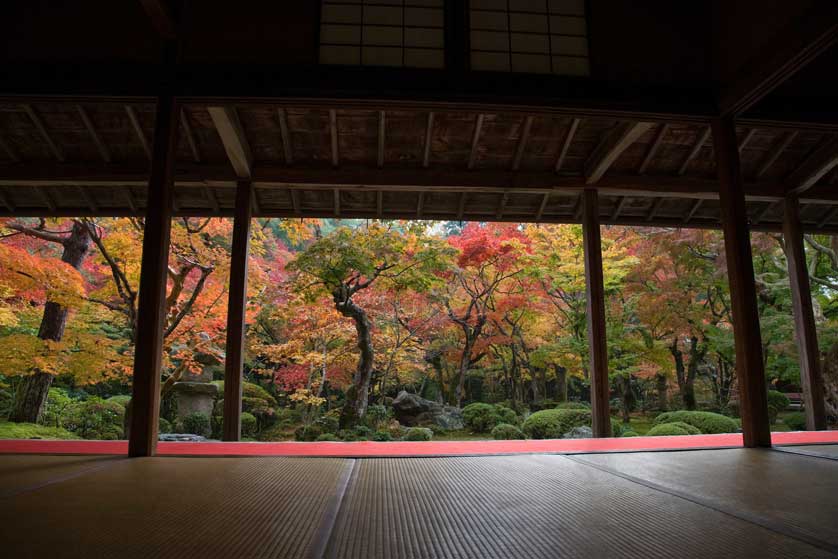 Enkoji Temple & Garden, Higashiyama, Kyoto © John Lander
Kyoto, Japan's most fascinating city, is made up of many different districts each with its own distinctive atmosphere, charm and history.
Many of Kyoto's districts reflect the various Japanese arts, crafts and trades that have traditionally thrived for centuries in that area.
You'll still find kimono weaving in the Nishijin area in the west of the city and Geisha hurrying to their appointments in the teahouses of Pontocho and Gion downtown, just as they also have for hundreds of years.
Kyoto Areas 京都
The eastern hills of Higashiyama are famous for their many historic temples and shrines such as Ginkakuji, Nanzenji and Enkoji. The western, less populated, side of the city is known for the Zen temples and gardens of Kinkakuji, Ryoanji and Myoshinji.
Further north are the mountain retreats of Kibune and Kurama and to the north east the imposing Mount Hiei, home to the mountain monks of Enryakuji.
Kyoto is best seen on foot or by bicycle, though if you need to move around more quickly use the cross-shaped subway, jump on a bus or hail a ubiquitous taxi.
The Kamogawa and Takanogawa rivers form a 'Y-shape' through the middle of the city, with their confluence at Demachiyanagi. Cycle down the banks of the river to the main shopping areas of Shijo Kawaramachi, Sanjo and Teramachi. If you are in Kyoto near the end of the month, don't miss the thriving temple markets of Toji Temple, south of Kyoto Station, on the 21st and Kitano Tenmangu, to the west of town, on the 25th of each month.
"Oide Yasu" (welcome) as they say in Kyoto!




































Recommended Reading on Kyoto
Two of Diane Durston's books on Kyoto make for a great introduction to the city: Old Kyoto and Kyoto: Seven Paths to the Heart of the City.
Also recommended are The Hidden Gardens of Kyoto by Masaaki Ono, Seeing Kyoto by Juliet Winter Carpenter, Judith Clancy's excellent book Exploring Kyoto: On Foot in the Ancient Capital and for the historical background to the sights Kyoto: A Cultural History by John Dougill.
Book Hotel Accommodation in Kyoto Japan
Kyoto districts: read guides to the various areas and districts of Kyoto including Gion, Higashiyama, Ohara, Kurama, Okazaki and Fushimi.
All the themes of the city