Tokyo in a Day
Tokyo in a Day 一日の東京
How do you best sample Tokyo in just one day? Tokyo is one of the world's biggest metropolis's with over 13 million people, and a huge number of scenes and things to see and do. So, if you're in Tokyo just for a day or two, the following is a recommended "Iconic Tokyo" whirlwind tour. Featuring the typical "must-sees" of Tokyo, it will provide a stimulating and memorable sample of the huge scope and variegated atmospheres and landscapes that Tokyo's vast urban conglomeration has to offer.
The following article provides directions. For full information, click each destination's link.
However, the first thing to do is buy a Tokyo 1-Day Ticket (called the "Tokyo Free Kippu" in Japanese): 1,590 yen for adults, 800 yen for children, which allows unlimited use of all JR lines and subway lines in Tokyo's 23 wards, as well as the Nippori-Toneri Liner, Tokyo Toei streetcars, and Toei buses. The Tokyo 1-Day Ticket can be purchased from the JR ticket office (Midori-no-Madoguchi) at most major JR East stations, and at View Plaza travel service centers.
Alternatively, if you will be travelling elsewhere in Japan, you could buy an IC prepaid smartcard, which is not only good for nearly all means of public transport throughout Japan, but swipeable in convenience stores in lieu of cash.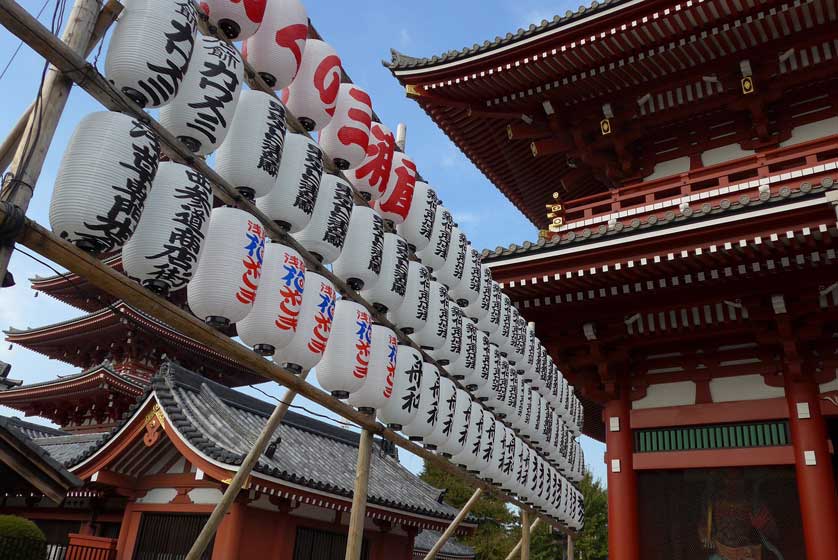 Pagoda, Sensoji Temple, Asakusa, Tokyo
Asakusa
Asakusa in the east end of Tokyo offers a taste of the freer and easier old time atmosphere of Tokyo, and has the ancient Sensoji Temple that buzzes with visitors. First call in to the distinctively designed Asakusa Cultural and Tourist Information Center in front of the temple's big red Kaminarimon Gate for a bird's eye view of the temple layout, and of the Sumida River that flows alongside Asakusa. From here you can also see the Tokyo Skytree on the other side of the Sumida River (just one-stop away by train from Asakusa if you want to go there too). Then walk through the Kaminarimon Gate, along the narrow Nakamise-dori avenue lined with stalls. Early morning Sensoji Temple offers the chance to savor this venerable temple's atmosphere before it gets too crowded.
To get to Asakusa from Shinjuku From Japan Rail (JR) Shinjuku Station, go to Platform 8, and take an orange Chuo-Sobu Line train as far as Ochanomizu. If possible, get on the second to front car. Get off, cross to the other side of the platform, and take the very front car of the next yellow Chuo-Sobu Line line train two stops to Asakusabashi. (Be prepared for some crowding on the train between the first stop, Akihabara Station, and the second, Asakusabashi!).
Note: Asakusabashi and Asakusa are completely different stations, over 2km from each other. Your final destination is Asakusa.
At Asakusabashi Station, go out the JR station, down the stairs to street level, then immediately take the stairs to your left going down to the underground Asakusabashi subway station. Take the Asakusa Subway line train departing from Platform 2 and go two stops to Asakusa. Take Exit 2A, take in the view of the Sumida River from the adjacent Komagatabashi Bridge, then walk the two blocks north to the middle of Asakusa. Your first stop should be the excellent Asakusa Cultural and Tourist Information Center where you can pick up information in English and get an elevated view of Sensoji Temple across the road before going in there. Rickshaw rides are available around the area. There are plenty of stores (see Asakusa shopping offering kimono for hire (and hakata for men), for a dyed in the wool Japanese experience of this old quarter of Tokyo.
2. Hamarikyu Garden
Hamarikyu Garden is an elegant strolling garden on the west bank of the Sumida River. From Asukusa you can take a cruise boat 35 minutes down to Hamarikyu Garden, passing under more than a dozen bridges of various design. Created in the mid-17th century, Hamarikyu Garden is an oasis of green, with the nearby office towers of the Shiodome area forming a futuristic backdrop to this traditionally landscaped park. Enjoy a cup of green tea in a genuine teahouse on the small island in the middle of the gardens.
To get to Hamarikyu garden from Asakusa From Kaminarimon Gate (with the Asakusa Cultural and Tourist Information Center just across the road from it) walk along the main street towards the Sumida River (i.e., towards the Tokyo Skytree). At the start of Azuma Bridge, to the left is the boarding point for the Tokyo Cruise Suijo Bus boats. (From the Kaminarimon Gate to Tokyo Cruise is only about 200 meters.) It is best to book a ticket in advance, but from here you can take a boat to Hamarikyu Garden. Read more about Sumida River cruises.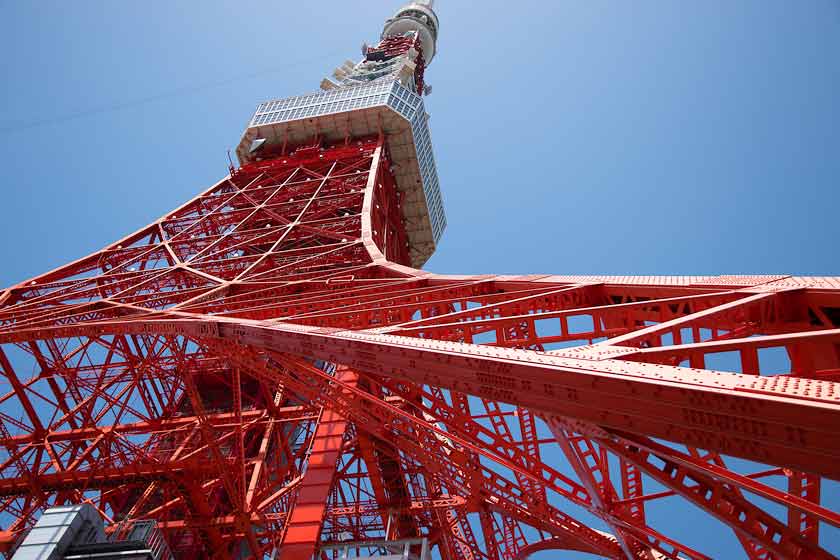 Tokyo Tower with its white, double-decked Main Observatory
3. Tokyo Tower
Tokyo Tower is a recently renovated old-time Tokyo attraction immortalized in the Godzilla movies. Tokyo Tower still stands out in Tokyo, is impressive up close, has observation decks and entertainment opportunities throughout, and is flanked by beautiful park grounds and temples.
To get to Tokyo tower from Hamarikyu garden Shiodome Station, on the Oedo Subway Line, is only 200 meters from the entrance of Hamrikyu Garden. Take the Oedo Subway Line just two stops to Akabanebashi Station. Go out the Akabanebashi Exit, and Tokyo Tower is a five minute walk away. You you can either go up to Tokyo Tower's observation deck, or just wander the pleasant environs, with Zozoji Temple very nearby, and save the big Tokyo view until you get to Shinjuku.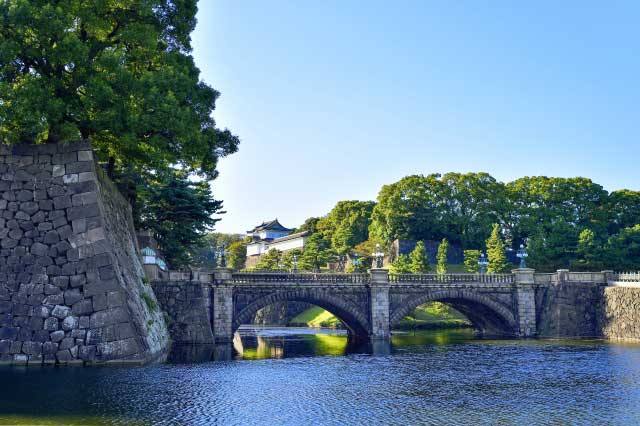 "Meganebashi" ("Spectacles Bridge"), Imperial Palace, Tokyo.
3. Imperial Palace Tokyo
The Imperial Palace forms the physical center of Tokyo and is the seat of the Japanese imperial family that has presided over Japan for millenia. Its moats, with the odd swan, are photogenic. Nearby is the chic Marunouchi district.
However, the weather may be unsuitable for the 45 minutes or so, spent all outside on quite bare terrain, that a trip to the Imperial Palace entails. Or you may just not be into the wide-open placidity of it all, especially if you have just been to Hamarikyu Gardens. In which case, you may want to skip the Imperial Palace and go straight from Tokyo Tower to Omotesando Boulevard instead.
To get to the Imperial Palace from Tokyo Tower Walk along the Tokyo Tower-dori Street that goes right in front of Tokyo Tower, towards Iigura intersection, turn right, and walk along Route 1 as far as Kamiyacho Station on the Hibiya Subway line (about an 8 minute walk). From Platform 2, get on the last car and take the Hibiya Subway line two stops to Hibiya Station. Take Exit A8 and cross the road. The moat of the Imperial Palace stretches out in two directions from the corner. Go right and take the first left at Babasakimon Gate and go ahead about 600 m where you will see the picturesque Nijubashi (Twin Bridges), also known as "Megane-bashi" ("Glasses Bridge") crossing the moat.
Just east of the Imperial Palace is the handsome brick Tokyo Station and the surrounding Marunouchi district, where you might want to stop a little for lunch.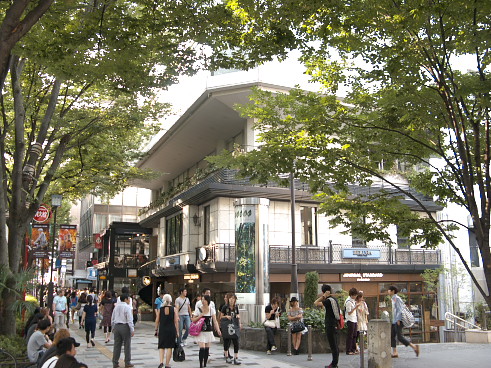 Omotesando Boulevard, Tokyo
4. Omotesando Boulevard
Omotesando is one of Tokyo's most pleasant shopping streets, and you can get a taste of both Omotesando's elegance and the more hardcore youth fashion vibe of Harajuku with its Takeshita Street running parallel to Omotesando, just 200 meters north. Another nearby sight that may be of interest is the sprawling, forested Meiji Shrine, a short walk from the top end (i.e., the Harajuku end) of Omotesando boulevard.
To get to Omotesando Boulevard from the Imperial Palace Go back to Hibiya Station and take the Chiyoda Subway line train from Platform 5 five stops to Omotesando.
To get to Omotesando Boulevard from Tokyo Tower From Platform 2 of Kamiyacho Station, take the Hibiya Subway line to Kasumigaseki, then go to Platform 5 and get a Chiyoda Subway line train to Omotesando Station.
If you want to see the fabled all-glass Prada building in Omotesando - take Exit A5 when you arrive and go right out of the exit for a minute or two, then back the way you came and cross the main road. Or, to skip the Prada building, take Exit A3 or B4, and walk up the tree-lined Omotesando avenue.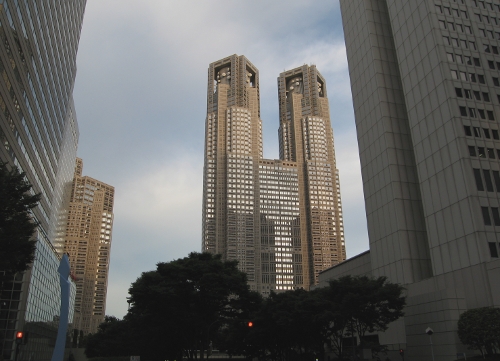 Tokyo Metropolitan Government Buildings
5. Shinjuku
Shinjuku is the closest thing Tokyo has to a center, especially since the Tokyo Metropolitan Government moved here in 1990. Shinjuku is a true cross-section of life in Tokyo, teeming with stores, restaurants and other businesses offering almost every kind of product and service imaginable, catering to every possible taste, and with a multitude of atmospheres to sample, from glitz to grot.
To get to Shinjuku from Omotesando Cute, antique-looking Harajuku Station is at the top of, and just a little north from, Omotesando Boulevard. From Platform 2 take the JR Yamanote line (an above-ground line) to Shinjuku Station. Take the West Exit of Shinjuku Station and head towards Tocho.
Tocho is the abbreviation for the Tokyo Metropolitan Government Office, and its mammoth twin towers are Shinjuku's most distinctive structure. Here you can get as good a panoramic view of Tokyo as at Tokyo Tower, but for free. Maybe now is a good time for lunch. Shinjuku is the ultimate urban beehive, chockablock with dining and Shinjuku shopping opportunities.
Shinjuku is also Tokyo's biggest nightlife area. LGBTQ visitors, in particular, may want to visit Shinjuku Ni-Chome, which is Tokyo's biggest gay and lesbian bar district.
Other Tokyo Tours
Book Hotel Accommodation in Tokyo
Tokyo in one day: get the most out of Tokyo on just a single day, whatever your interests.
All the themes of the city