The best free activities in Takayama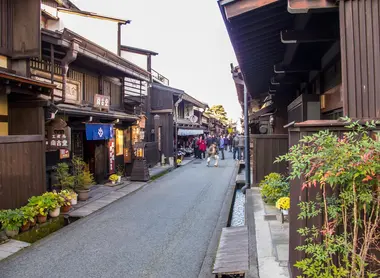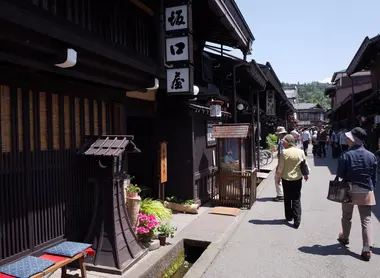 VISIT TAKAYAMA WITHOUT SPENDING A YEN
Got lost in Tokyo? Templed out in Kyoto? Want to visit a rural and picturesque area? Takayama is for you. This beautifully preserved city is located in the prefecture of Gifu and is the gateway to the Japanese Alps. Here's our guide to dicovering the city without spending a single yen.
The most beautiful areas of Takayama
San-machi suji
This is an old historic district which is reached by a red bridge over the Miyagawa River, and has three main streets. With buildings dating back to the Edo period (1603–1868) you can experience what the area was like when it was a prosperous trading city.
Its traditional houses now contain boutiques, cafes, restaurants, antique stores, artisan workshops and sake breweries (which can be recognized by a ball of cedar needles hanging outside). If you're observant, you'll be able to spot some storehouses where the imposing floats used for the famous Takayama Festivals are stored.
Address : 20 Kamisannomachi, Takayama, Gifu 506-0846
Access : 15 minutes on foot from JR Takayama station.
Higashiyama Teramachi
The Higashiyama Teramachi district is located in a wooded area, north of Takayama. Take the opportunity to visit Higashiyama Hakusan Shrine, which is the oldest in the city. Its construction dates back to the eighth century. 
Please note that there is often an entrance fee for temples, but not Shinto shrines. Exploring Higashiyama Teramachi is a good way to spend a relaxing couple of hours, away from the main attractions in town. 
Access : 20 minutes walk from San-machi Suji.
Free activities in Takayama
The Higashiyama Walkway
3.5 km long, it crosses Teramachi and leads to Shiroyama Park, located at the foot of the castle ruins. From the park, there is a beautiful view of the Japanese Alps.
Takayama markets
Visit one or both of the two of the renowned markets of the city: Takayama Jinya and Miyagawa.
The first has more than 300 years of history. The second is a larger market and located along the Miyagawa River. Local farmers come to sell their fresh produce (mainly vegetables and flowers and some local handicrafts). There are also stalls selling fruit and local products along the river.
Tip: go early (from 7am from April to November and 8am from December to March), the market closes at noon.
Access : 10 minutes on foot from Takayama station.
Hot springs in Takayama
A few foot baths, called ashiyu, line the city. These pools of hot spring water will certainly be appreciated by your tired feet during your sightseeing in the city, or on a cold winter day. Don't forget to bring a small towel to dry yourself with afterwards.
Sakura ashinoyu, for example, is just a 10-minute walk east of JR Takayama Station.
Journey into the past of ancient Japan
The Takayama Museum of History and Art
Here you can learn everything about the culture and history of Takayama and its region for free, including the famous Takayama Festival. It is housed in a restored old warehouse from the Edo period (1603-1868), which has been converted into exhibition rooms.
You can admire the paintings, scrolls, various documents and maps and local handicrafts, such as lacquers. You can also visit the museum's small garden.
Address : 75 Kamiichinomachi, Takayama, Gifu 506-0844
Hours : The exhibition halls are open from 09:00 to 19:00 and the garden from 07:00 to 21:00
Access : 15 minutes walk from JR Takayama station.
The Matsumoto residence
This is the oldest building in the city, and one of the few that escaped the terrible fire of 1875, which destroyed much of the city. It is a traditional house very representative of typical merchant residences in Takayama during the Edo period.
Address : 125 Kamikawaharamachi, Takayama, Gifu 506-0024
Hours : Free entry. Open from 09:00 to 16:30, only on weekends and public holidays. Closed from January 28 to December 4. It is sometimes open during the days of the Takayama Spring Festival.
Access : 20 minutes walk from JR Takayama station.
The Miyaji family residence
This too, is an old private house with a garden dating from the beginning of the Meiji era (1868-1912). Discover how people lived in every day merchant houses in Takayama during the Edo period. 
Address : 2-44 Oshinmachi, Takayama, Gifu
Hours : Free entry. Open from 09:00 to 16:30, only on weekends and public holidays and on days corresponding to the Takayama autumn festival. Closed from January 28 to December 4.
Access : 20 minutes walk from JR Takayama station.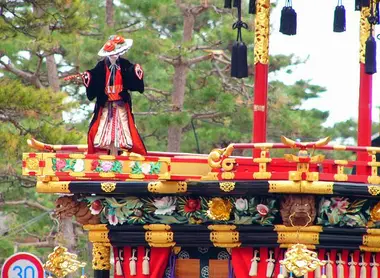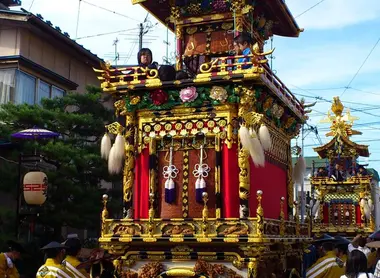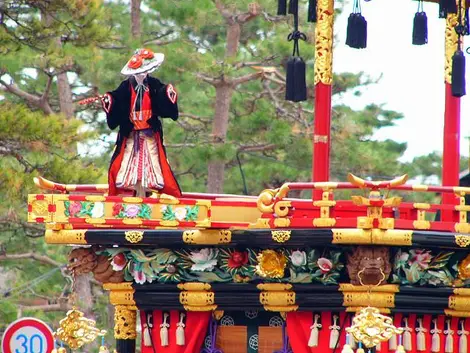 Takayama festival
Takayama is known for its magnificent festival, Takayama Matsuri, one of the three most beautiful in Japan, recently listed as World Heritage by UNESCO.
Takayama Festival takes place twice a year, on April 14 and 15 (Sanno Matsuri) to celebrate the arrival of spring and on October 9 and 10 (Hachiman Matsuri) to celebrate the fall harvest.
In spring, twelve floats, each with specific decorations, are paraded through the streets of the city while the autumn festival hosts eleven. There are also mikoshi (portable shrines) and a lion dance, among other festivities.
These two festivals are extremely popular, so expect big crowds. 
All the themes of the city