Himeji Castle
Himeji Castle 姫路城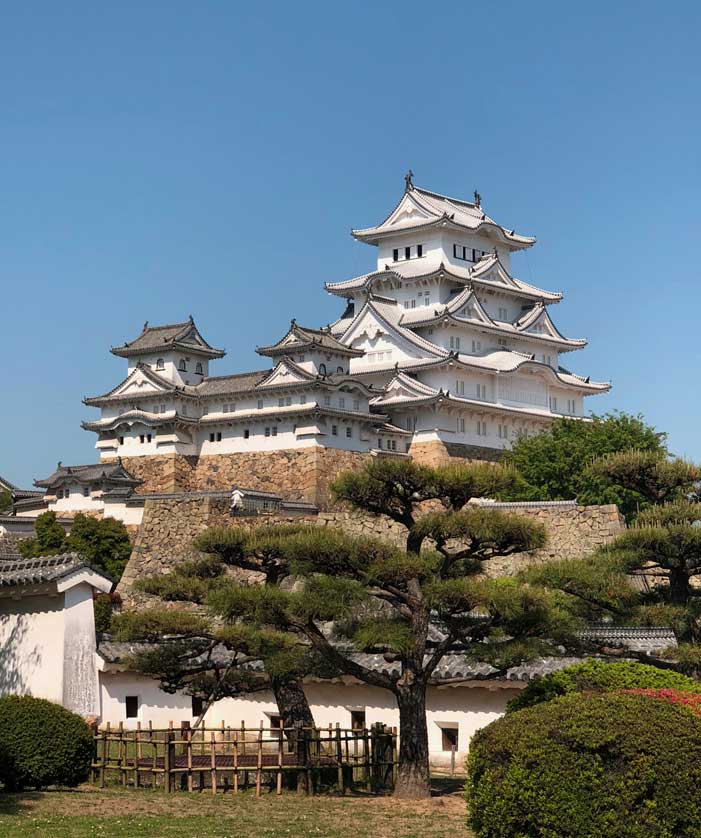 Himeji Castle, Hyogo Prefecture
Himeji Castle in Himeji in Hyogo Prefecture, not far from Kobe, is Japan's largest and most spectacular castle, and certainly its most visited.
A UNESCO World Heritage site (one of the first to be registered in Japan), Himeji Castle is also known as the Shirasagijo ("White Egret Castle") or Hakurojo ("White Heron Castle") due to its bird-like silhouette and white plaster walls. Himeji Castle is one of only twelve original Japanese castles still standing.
History of Himeji Castle
There has been a fortress on the existing site since the 14th century when Sadanori Akamatsu established the first castle here, but present-day Himeji Castle was begun by warlord Hideyoshi Toyotomi in 1581, when he constructed a three-story donjon (central keep) on the site of Himeyama Hill in the very center of present-day Himeji City.
Himeji Castle was later enlarged in 1608 to a five-story donjon and remodeled by Terumasa Ikeda (one of Hideyoshi's generals, who later changed sides and supported Ieyasu Tokugawa at the decisive battle of Sekigahara). The castle was further expanded a few years later to attain its present grand, impressive scale.
Himeji Castle Layout
Himeji Castle is a masterpiece of form and function and, although the castle was never besieged, it has a multitude of defensive walls and turrets. The wooden framework of the castle is made from huge pillars including a nearly 800-year-old cypress beam, which is thought to bestow good luck upon touching it.
Eighty-two castle buildings remain at Himeji Castle, including the imposing 46m-tall keep. The castle was originally encircled by three moats, two of which still survive. The castle was equipped with some of the best defensive technology of the day including triangular gun ports and rectangular arrow ports in the walls, from where defenders could fire their weapons.
The entrance to Himeji Castle also constitutes a veritable maze of walls, gates and baileys that constantly under-fire attackers would need to penetrate.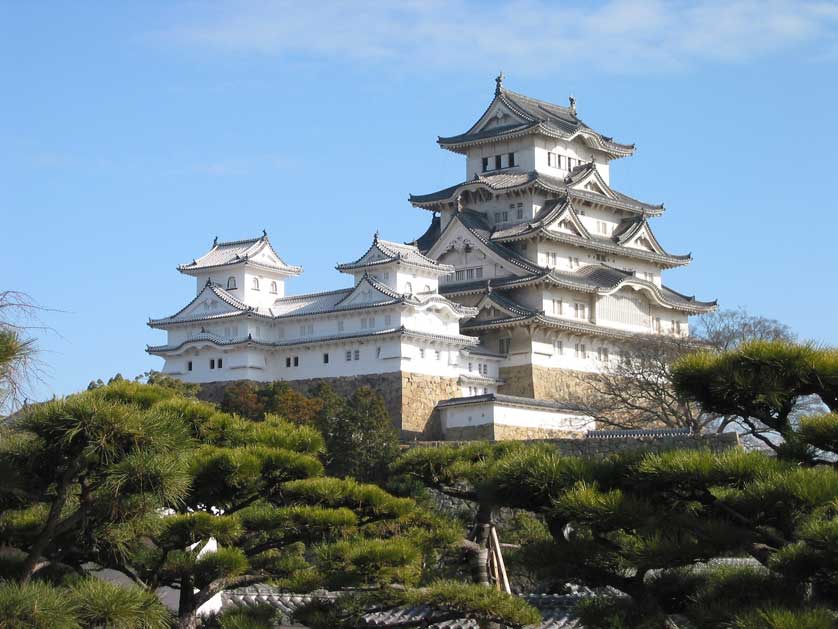 Himeji Castle, Hyogo Prefecture - one of Japan's most beautiful castles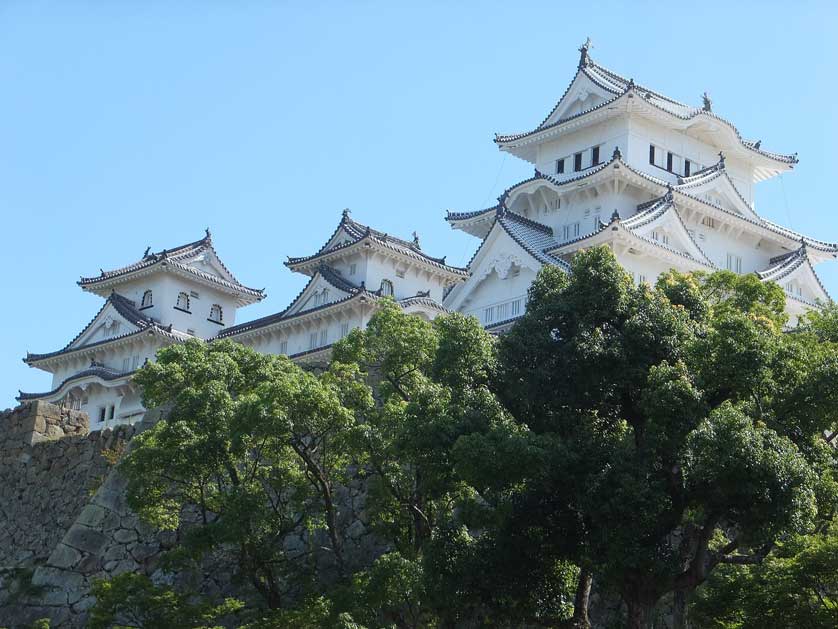 Himeji Castle, Hyogo Prefecture
There are magnificent views from from the top level of the castle over Himeji City and out to the Ejima Islands in the Inland Sea. The castle is particularly attractive in cherry blossom season when the hundreds of cherry trees in the castle grounds are in full pink bloom. The extensive castle park also has plum, peach, azalea and wisteria growing in the grounds.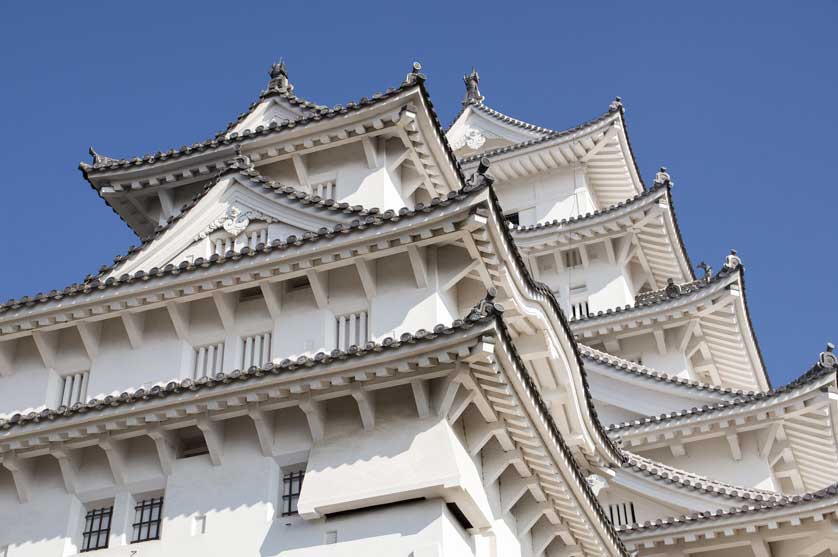 Himeji Castle, Hyogo Prefecture
The Himeji Castle Story
The story of Himeji Castle is intimately connected with Senhime, the oldest daughter of Tokugawa Hidetada, the second Shogun of the Tokugawa regime during Japan's Edo period of history. Senhime was married off at age only six by her grandfather, Ieyasu Tokugawa, to the son of his greatest enemy, Hideyoshi Toyotomi.
After the suicide of her first husband on the political defeat of the Toyotomi clan by Ieyasu, she was married off again to Honda Heihachiro Tadatoki, the daimyo of Himeji and lived in the castle for 10 years until the death of her husband, when she became a nun and passed the rest of her life in Tokyo. Readers of James Clavell's blockbuster Shogun may recognize some of the details and intrigue of the story.
Visiting Himeji Castle
There are guided tours of Himeji Castle available in English.
The castle is a 10-15 minute walk from Himeji Station north along Otemachi dori.
Himeji Castle - Admission fee 1,000 yen for adults, 300 yen for children.
Hours: 9 am-5 pm (last entry at 4 pm); but until 6 pm (last entry 5 pm) from late April to end of August; Closed December 29-31
Tel: 0792 85 1146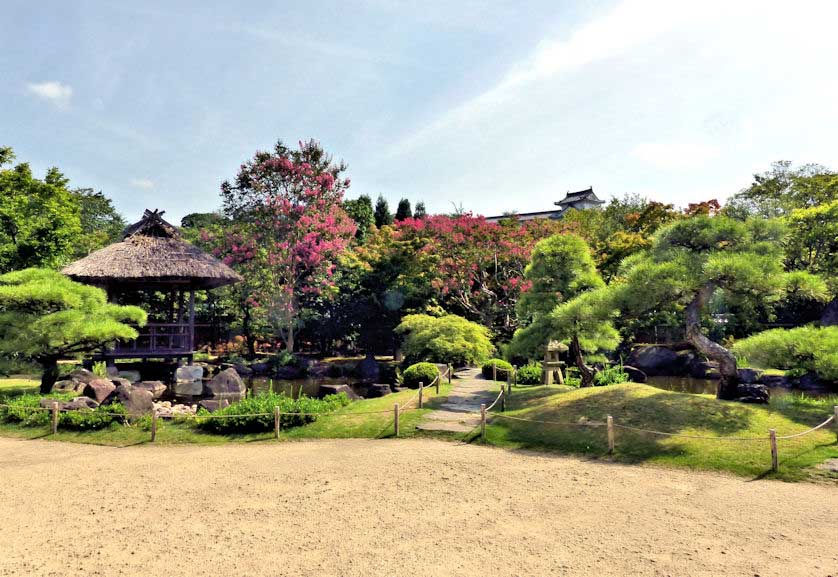 Koko-en garden with Himeji Castle in the background
Access - Getting to Himeji Castle
A 10-15 minute walk from JR Himeji Station along Otemae-dori. Alternatively take a bus or taxi.
Within the shadow of the castle is Koko-en Garden, nine gardens built in 1993 but modeled on traditional Edo Period gardens.
Books on Japanese Castles
Recommended books on Japanese castles are the beautifully illustrated hardcover Castles of the Samurai by Jennifer Mitchelhill and the knowledgeable paperback Japanese Castles 1540-1640 by Stephen Turnbull.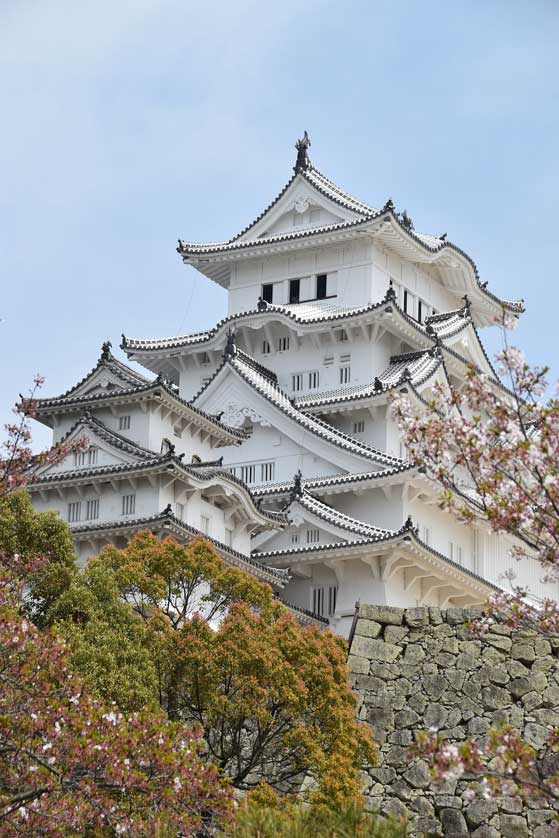 Himeji Castle, Hyogo Prefecture
Himeji Castle: read a guide to Himeji Castle, Japan's largest, most spectacular and most beautiful castle.
All the themes of the city