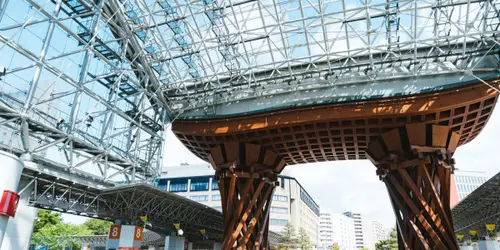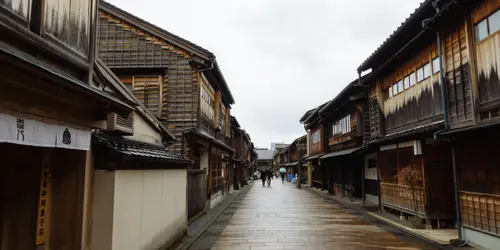 Kanazawa Discovery, full day
Discover the best of Kanazawa, the "Golden Swamp", a city of art and history, in one day.
Kanazawa, a little Kyoto, the new pearl of Japan
"Big, yet small, traditional, yet modern. Kanazawa is the place to see Japan off the beaten path. From garden viewing to samurai houses, sake tasting to kimono dyeing, gold leaf decorating to tea room encounters, you decide what Kanazawa will be for you. Take a full day tour, see almost the entire city, and experience all the best Kanazawa has to offer.
Tours usually start in the lobby of your hotel. Your guide will meet you at a mutually decided time, and sit down together for a few minutes to talk about the day. If there is anything special you want to see, do, buy, or eat, your guide will try to make it happen, all while giving his own ideas about the best places things to do that day. Together you will plan out a route for the day, and off you go.
Full day tours can include the following Kanazawa experiences…
Twisting around the streets of Kanazawa's samurai district, you will find old samurai houses, mud walls, canals, and a unique atmosphere. Many samurai lived in this area in the 17th and 18th centuries, but now normal citizens live in these fantastic houses, so the neighborhood feels very alive. You can see regular everyday life in Japan, like people on their way to work or Japanese school children on their way home from school, here is this traditional neighborhood. Our guides live close by here, and can give you many interesting facts about the area.
Heading out of the samurai district leads you to the beautiful Saigawa river. It is best during spring when the trees explode with white and pink cherry blossoms, but is a great walk any time of year. Strolling by the river you can see the mountains in the distance, and can feel how close Kanazawa is to nature.
From the Saigawa river, the D.T. Suzuki museum is something not every traveller sees, but would be a shame not to. D.T. Suzuki is a famous Zen philosopher, born in Kanazawa, and helped bring Zen to western cultures. Relax by the museum to take in the reflecting pool and the very peaceful atmosphere. From there, there are some cool private gardens and pockets in the hills that take you toward deeper into the city.
Lunch time! Kanazawa is famous for fish, but everything in the city is great. No matter what your in the mood for, your guide can help you find it. Whether you are looking for a sushi bar that serves great sake, a family run noodle shop, or vegan burgers, lunch will be a wonderful stop.
After lunch, make your way to the famous Kenroku-en garden. One of the three most famous gardens in Japan, you can't come to Kanazawa and not see Kenroku-en. Our guides have lots of knowledge on the garden, so you can enjoy the best spots and get some cool facts about it as well. If anybody in the group is in need of a break, there is a small tea house in the garden where women in kimono serve tea and you can enjoy the tea house's private garden.
After this, walk through narrow Japanese streets and enter an old geisha neighbourhood with cafés, 5-star restaurants, geisha houses, and also a wonderful woodblock printing atrio. Here you can find beautiful woodblock originals and calligraphy works by one of the most famous international woodblock artists.
Over the Asanogawa river, which is maybe one of the most beautiful views in the city, walk from one geisha district to the next. Here you can find one of the most popular streets in the city. Away from the crowds there is a beautiful gallery that has some of the nicest and most famous pieces of work from the Ishikawa region. If you are feeling up for it, there is also a geisha house that gives tours where you might not see any geisha, but can see and feel the space within which they work.
As the sun starts to set, we will discuss dinner and what you are interested in eating. Your guide will give you recommendations and be happy to make reservations for you. "
Private guided tour of Kanazawa with an English-speaking guide
Our guides have been living in Kanazawa for many years and enjoy sharing their experience of the area. Being fans of outings and outdoor activities, they will be able to advise you on a good restaurant or inform you about upcoming events and small authentic districts, Korinbo, Katamachi, Nagamachi and of course the Higashi-Chaya and Nishi-Chaya tea house districts.
Kanazawa is a beautiful city steeped in centuries of history. Spend a day with a private guide and discover both the city's major sites as well as those that only locals know. At the end of the tour, you will know how to make the most of the rest of your stay in Kanazawa, and understand why it is worth the diversion. 
A flexible, personalised tour
Your English-speaking guide will meet you in front of the Omicho market at 9 am to start the guided tour, which will last about 8 hours. Travel will be by public transport. You will also have lunch with your guide in a restaurant along the way, which will be recommended by your guide, according to your tastes.
As part of our discovery days, your guide will prepare the best itinerary for you, although we also offer the possibility of contacting your guide beforehand if you have specific requests (dietary restrictions, parts of the programme you would like to discuss, etc.).
Not included in the offer:
- Transport - Lunch - Paid admissions
Cancellation policy:
Up to 7 days before: 0%
Between 7 days before and 5:00 p.m.the previous day: 50%
After 5:00 p.m.the previous day and same day: 100%
Location
---
Kanazawa Discovery, full day