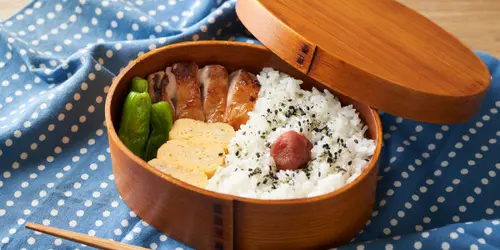 Bento cooking workshop
A must for foodies, this bento cooking workshop is held in a typical Japanese atmosphere.
The bento, the Japanese lunchbox
Would you like to learn the secrets of preparing bento, the Japanese lunchbox, and be able to reproduce what you have learned once you get home? Then this workshop is for you. This special bento cooking class will teach you how to cook the famous Japanese lunchbox, both practical and delicious at the same time. Your instructors will teach you the basic secrets of Japanese cooking, such as dashi and seasoning, so that you can learn how to make them at home.
In addition to that, they will also tell you all about the cultural and historical background of the famous bento, and how to take care of the presentation, because Japanese food is to be enjoyed with the taste buds as well as the eyes. 
A cooking class in a traditional house in Kyoto
The course will take place in a typical Japanese atmosphere, as the cooking studio is actually a machiya, a typical Kyoto wooden house. On the menu:
Gomaae Sesame Salad
Teriyaki Chicken
Egg Roll
Tempura
Sushi Roll
Miso Soup
At the end of the workshop, you can try what you have cooked. If you are vegetarian, please contact us, as meat can be replaced by other ingredients. Please also let us know if you can have the dashi broth.
Location
---
Bento cooking workshop
$74 per person