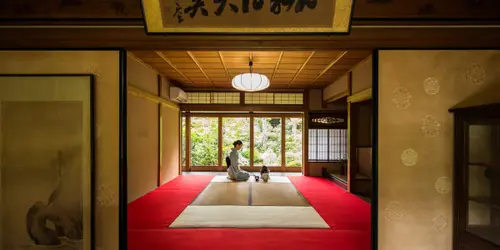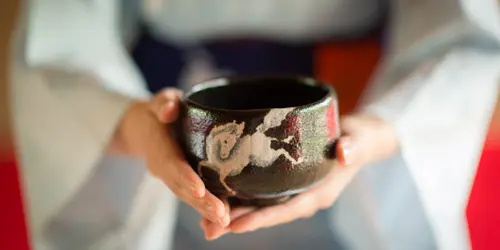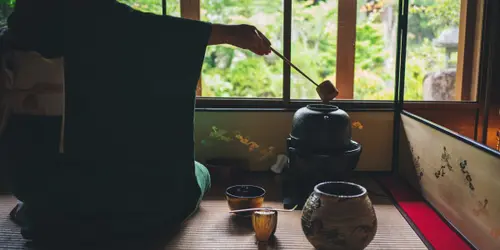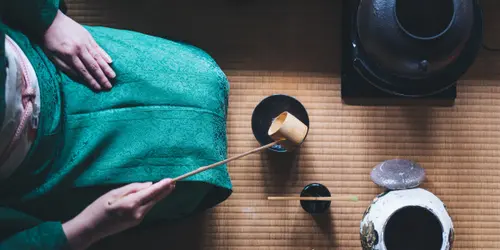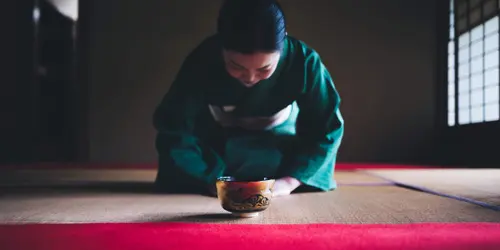 Tea Ceremony - private
A tradition made popular by the Samurai of the Sengoku era, the tea ceremony opens the doors to Japanese aesthetics and etiquette.
The ancestral art of tea
Japanese values cannot be fully understood without having participated at least once in the tea ceremony. More than just a tasting, this is a contemplation of the beauty of movement and an appreciation of the present moment that is elevated to a state of art. A moment of aesthetics and hospitality taken to perfection. The tea utensils, the works of art, the gestures, all the elements of the ceremony will be explained to you. 
In the footsteps of Sen no Rikyu and the Wabi Sabi
Sen no Rikyu, a key figure in understanding the art of tea, was born in Sakai in 1522. It was he who instituted and established the rules of this art which would be perpetuated to this day. While Japan was torn apart by multiple wars, he created this art as a haven of peace to forget the dangers of this then very violent world. His Wabi Sabi philosophy, derived from the principles of Zen Buddhism, has become one of the pillars of Japanese thought.
Tea tasting in a traditional environment
For this tea ceremony, you will be welcomed into an authentic machiya house, and served by elegant Japanese ladies who have made the tea ceremony their way of life. You will taste traditional Japanese pastries (wagashi) and tea will be served in specially made pots. The private ceremonies take place in the "Garden" house, and the group ceremonies in the "Flower" house.
Closest Bus Stop: Ryoanji-mae Bus Stop (Bus 59・JR Bus), JR Bus (Kyoto Station to Shuzan line)
Closest Train Station: Ryoanji Station: Keifuku Randen Tram Line
Nearby Attractions: Ryoan-ji temple・Ninna-ji temple・Myoshin-ji temple・Kinkaku-ji 'The Golden Pavilion'・Kitano Tenmangu shrine・Hirano-jinja shrine
Cancellation policy:
Up to 7 days before: 0%
Between 7 days before and 5:00 p.m. the previous day: 50%
After 5:00 p.m. the previous day and same day: 100%
You can also participate in a group tea ceremony. 
※ Especially during high season, as the number of tickets available is limited, we reserve the right to offer you an alternative date or alternative hour if the timing you request is not available. Please make sure that you check your email as we may contact you for suggestions. If we are unable to accommodate your request, we will cancel your order and issue a full refund.
Location
---
Tea Ceremony - private
$67 per person