Sorry, something went wrong. Please verify the information you have entered in the fields.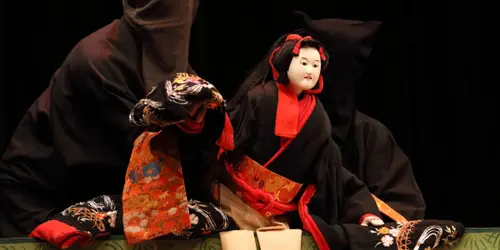 Bunraku, the traditional art of Japanese puppetry
Marvel at the age-old art of Japanese puppetry.
Bunraku, the Japanese puppet theatre
The art of Bunraku, or Japanese puppet show, as performed at the National Theatre, is nothing trivial. A centuries-old art form, it has been recognised as an intangible cultural heritage by UNESCO, and has been part of the Japanese performing arts heritage since the late 17th century.
A performance inherited from the "Joruri" storytelling tradition
It requires three people dressed in black, as they are present on stage, to activate these large wireless puppets, whose faces can also be moved (mouth, eyes, etc.). It is fascinating to see how the puppets come to life with a simple movement of the eyelids or a slight tilt of the head. It is an art of subtlety and skill. Much like Kabuki, Bunraku plots are often based on popular romantic, tragic or historical themes. A must-see for lovers of the performing arts.
Important information:
The show is in Japanese. A synopsis in English is available in the paid brochure.
Cannot be cancelled. ※ The time of order is an indication only. Depending on the show chosen, this time may change. We will inform you of the exact time when we send you your tickets.
※ As the number of tickets available is limited, we reserve the right to offer you an alternative date if the date you request is not available. If we are unable to accommodate your request, we will cancel your order and issue a full refund.
Location
---
Bunraku, the traditional art of Japanese puppetry