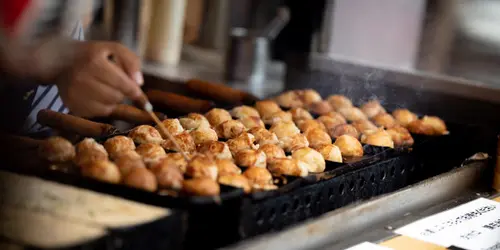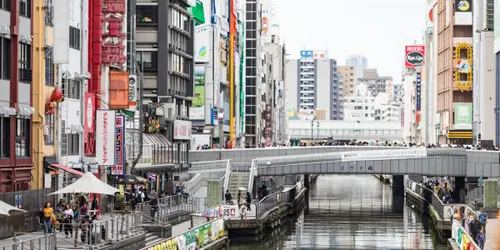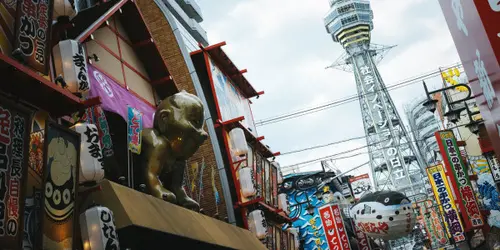 Osaka Discovery, Half day
Osaka is a bustling city that never disappoints travellers
The ideal package to discover Osaka's secrets
The capital of Kansai and the third largest city in Japan, Osaka is remarkable for its eccentricity. The districts of Dotonbori and Shinsekai, for example, plunge you into a very peculiar world, full of noise and colour, which will leave you with a lasting impression. A half-day tour with a local guide to enjoy the city's must-sees.
Osaka, city of Japanese gastronomy
Here we eat well, we laugh a lot and the physiognomy of the city is imbued with this warm atmosphere. Among its specialities are many simple but enjoyable dishes such as takoyaki, okonomiyaki, udon, sunfish, etc...
Osaka, a city of popular culture
Discover Shinsekai, Japan's popular retro district, with its smoky go game rooms and breaded kebab restaurants. Then head for Minami, with its colourful neon lights and covered galleries.
Osaka, a city with history
Osaka Castle, of course, stands as a landmark of the city. But also a must-visit, Shitennô-ji Temple, the oldest run temple in Japan, which dates back to the 6th century!
A flexible, personalised guided tour
Please meet with your guide in the lobby of the Cross Hotel Osaka at 9am or 2pm in order to start the guided tour, which will last about 4 hours. Travel will be by public transport, since thanks to the efficient rail network, the train and underground remain the best options for getting around Tokyo.
As part of our discovery days, your guide will prepare the best itinerary for you, although we also offer the possibility of contacting your guide beforehand if you have specific requests (parts of the programme you would like to discuss, etc.).
Not included in the offer:
- Transport - Paid admissions
Cancellation policy:
Up to 7 days before: 0%
Between 7 days before and 5:00 p.m.the previous day: 50%
After 5:00 p.m.the previous day and same day: 100%
Location
---
Osaka Discovery, Half day