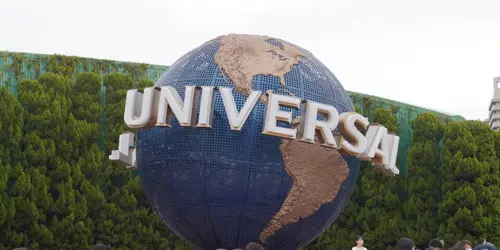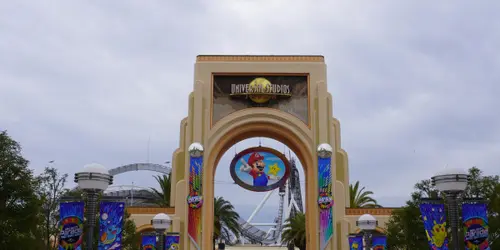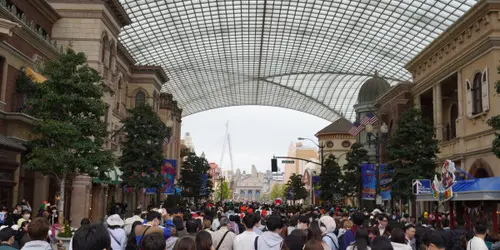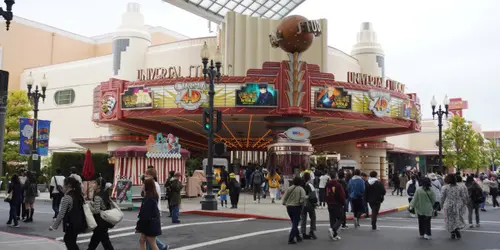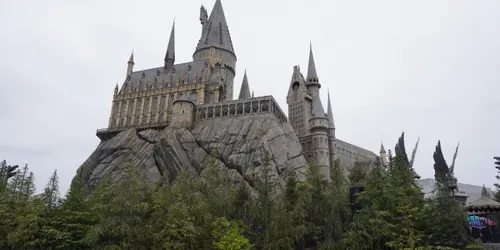 Universal Studio Japan
Everyone is familiar with Disney parks, but perhaps less so with Universal Studios. Take advantage of your trip to Japan to discover them. This is the number one attraction in Osaka.
This is the ticket for the park entrance. The express pass is sold on this page.
Cannot be cancelled.
One of the top theme parks in Japan
Universal Studios Japan (more commonly known as USJ) was the first Universal Studio branded park to be built outside the United States, and was an instant hit with theme park fans. Opened close to Osaka in 2001, it has since held the position of the most visited park after Tokyo Disney Resort. It's also the fifth most visited theme park in the world.
Film-themed for young and old alike
The theme: movies, blockbusters, cartoon characters that everyone loves, and more recently, retro Japanese video games with Super Nintendo World. There are 10 districts at USJ: Hollywood, New York, San Francisco, Jurassic Park, Waterworld, Amity Village, Universal Wonderland, Minion Park, The Wizarding World of Harry Potter, and lastly, opening in 2021, Super Nintendo World.
Visitors can enjoy the rides and attractions, but also have their photo taken in the setting of their favourite film (Spider-Man, Back to the Future, Terminator 2, Jurassic Park or Harry Potter) or chat to a Minion (you'll have to brush up on your Minionese basics first).
Don't miss The Amazing Adventures of Spider-Man, as it is one of the top 10 attractions in the world. At certain times, visitors also have access to temporary attractions, which are usually related to popular manga such as One Piece or Attack of the Titans.
Grand additions: Super Nintendo World
USJ's latest addition is of course Super Nintendo World. There, you can take part in a virtual Mario Kart race, go on a treasure hunt riding on Yoshi's back, visit Princess Peach's castle, or simply immerse yourself in a perfect Mario Kart recreation.
Area time entry
 Because of their popularity, some attractions like Super Nintendo World or the Wizarding World of Harry Potter require area timed tickets. 
You can download the Universal Studio Japan application, come very early and pray for your good luck, or you can guaranty your attraction visit by purchasing an express pass that includes the attraction that you want to see. 
Express passes
The Express Passes help you cut lines, and get area times tickets, making each experience even smoother, so you can make the most of your time at the park! 
Q: How to book your tickets?
A: Here are the steps to book your ticket. 
1. Choose a date
2. Choose the type of ticket (adult or child)
3. if you need an express pass, please purchase it afterward via this page. 
4. After your purchase, you will receive a confirmation from Japan Experience. This is NOT your ticket.
5. You will receive your e-ticket by email with a QR code to enter the park within one week after your purchase. 
※ Please note that is your order more than 2 months before the date, you will only receive your tickets about 2 months before the date. So please do not worry if you do not receive your ticket right away. 
Q: What type of ticket is it? 
A: It is an e-ticket with a QR code that you can use to enter the park. 
You can use it at any date during the 90 days period indicated on your ticket. (Only during the days with a similar entry price. For example, if you book for a weekday, you cannot enter with the ticket during a week end). 
There is one ticket per person. 
Q: Can you guaranty availability?
A: As the number of tickets available is limited, we reserve the right to offer you an alternative date if the date you request is not available. If we are unable to accommodate your request, we will cancel your order and issue a full refund.
Location
---