On the roof of Osaka Station
天空の農園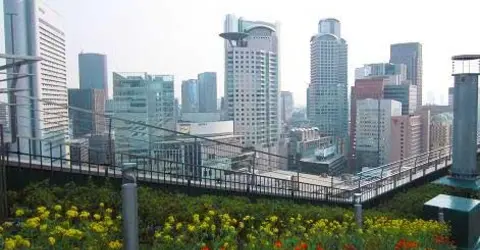 The Hanging Garden
Between the skyscrapers of Umeda, on top of a fourteen-story building, lies an oasis of freshness. This "floating garden" located on the roof of the North Building of Osaka Station awakens the senses with its aerial garden.
The idea emerged in 2010: a small garden on unused roof space to attract walkers and provide a rest point to customers between shopping sessions. The garden opened in 2012 in the Osaka Station City Complex, and the first school visitors came to plant vegetables, herbs, rice and fruit trees. Today, although the plants are still young, the paths are lined with pretty flowers and vegetables (cucumber, white radish, eggplant ...), which grow freely.
To access the garden, you need to take the stairs from the eleventh floor. All the installations of the vegetable garden run on solar energy and the plants are watered with rainwater, stored in a cistern. Vegetables produced in the garden are used in the restaurants in the building or given to people who have taken part in growing them. This small ecological nest offers a relaxing moment that can easily turn into an educational moment for children.
All the themes of the city