Osaka Monorail
Osaka Monorail at 21km was once the longest monorail in the world and runs from Osaka Itami Airport to Kadoma via Banpaku-Kinen-Koen.
Osaka Monorail 大阪モノレール
Until 2005, when it was surpassed by the monorail in Chongqing, China, the Osaka Monorail was the longest monorail in the world with a length of just over 21 kilometers.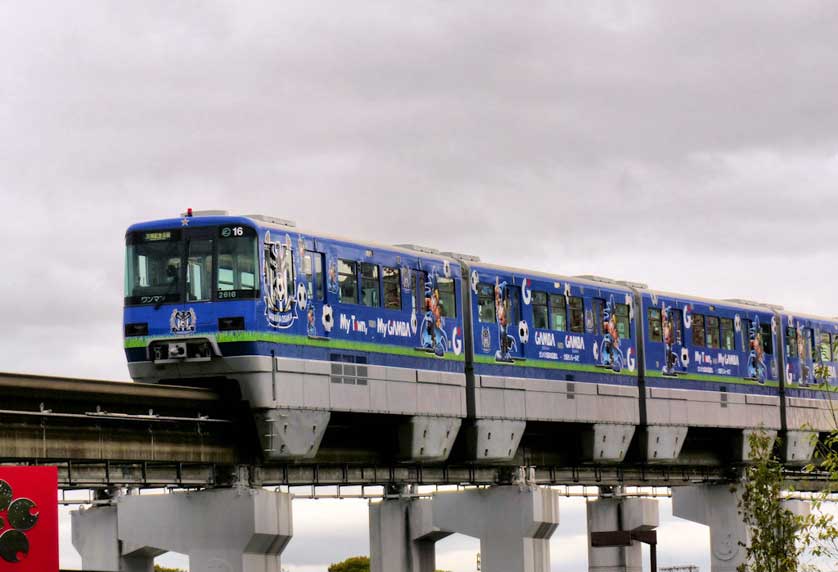 Osaka Monorail Train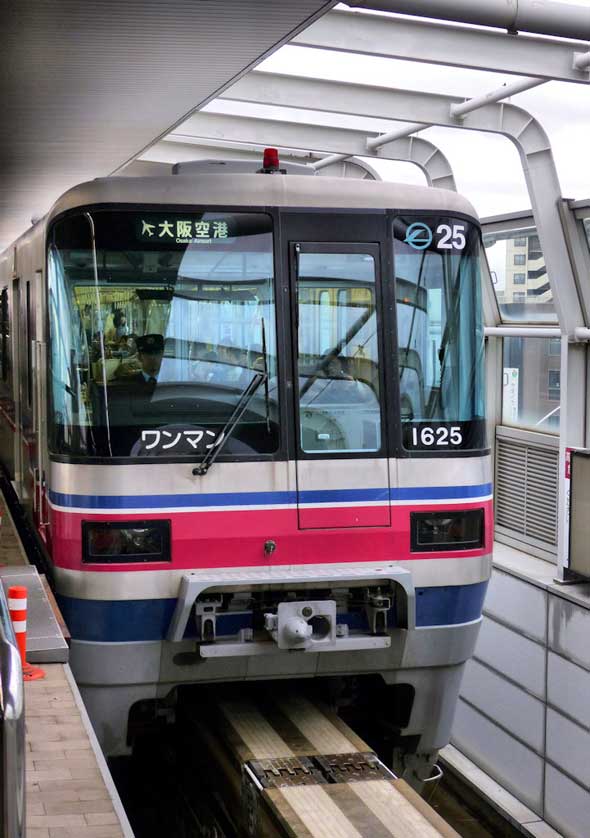 Osaka Monorail Train
History
The first section between Senri Chuo and Minami Ibaraki opened in 1990, and in 1997 the line was completed from Osaka Airport in Itami to Kadoma, north east of central Osaka. The 21 kilometer journey takes 35 minutes. A branch line running from Banpaku Kinen Koen to Saito Nishi was completed in two stages. First to Handai-byoin-mae in 1998 and on to Saito in 2007. The network has a total of 18 stations, with some having connections to either the Osaka subway or other rail lines.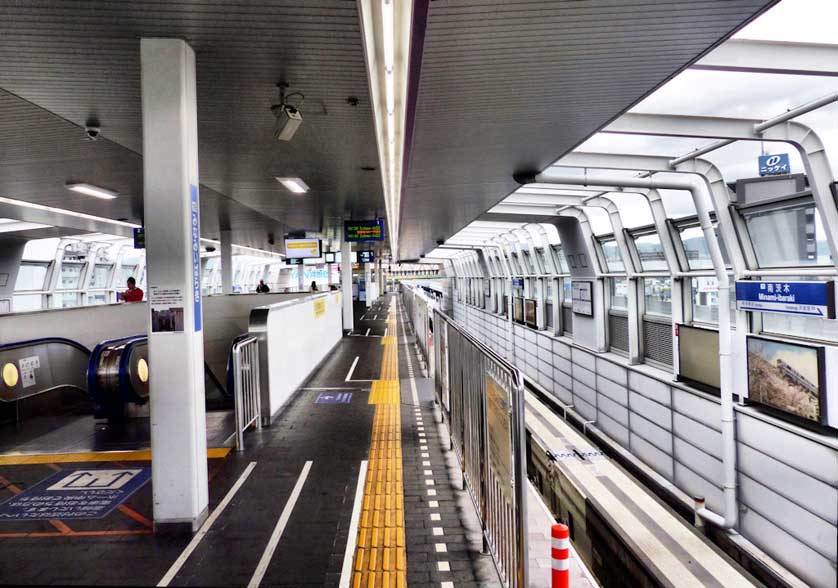 Minami Ibaraki Monorail Station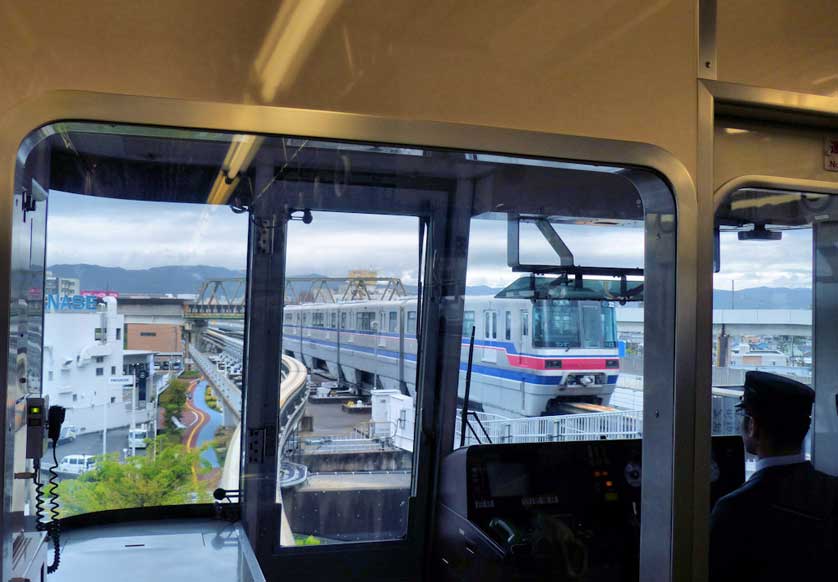 Osaka Monorail Trains
Osaka Monorail Stations
Main Line
Osaka Airport - station for Itami Airport.
Hotarugaike - connects with the Hankyu Takarazuka Line for Umeda Station and Takarazuka.
Shibahara
Shoji
Senri-Chuo - connects with the Kita-Osaka Kyuko Railway Namboku Line which is an extension of the Midosuji subway line from Esaka.
Yamada - connects with the Hankyu Senri Line from Tenjimbashisuji Rokuchome to Kita Senri.
Banpaku-Kinen-Koen - connects with the Osaka Monorail Saito Line.
Unobe
Minami-Ibaraki - connects with the Hankyu Kyoto Line running between Umeda Station and Shijo Kawaramachi Station in Kyoto with stops at Saiin, Omiya and Karasuma Hankyu stations in Kyoto.
Sawaragi
Settsu
Minami Settsu
Dainichi Osaka - connects with Tanimachi subway line.
Kadoma-shi - connects with the Keihan Main Line between Sanjo Station in Kyoto and Yodoyabashi Station in Osaka.
Osaka Monorail Train at Banpaku Kinen Koen Station
Saito Branch Line
Banpaku-Kinen-Koen - connects with the Osaka Monorail Main Line.
Koen-higashiguchi - convenient for Banpaku Kinen Koen (Osaka Expo Park).
Handai-byoin-mae - convenient for Osaka University Hospital.
Toyokawa
Saito-nishi - close to Osaka University, Minoh Campus.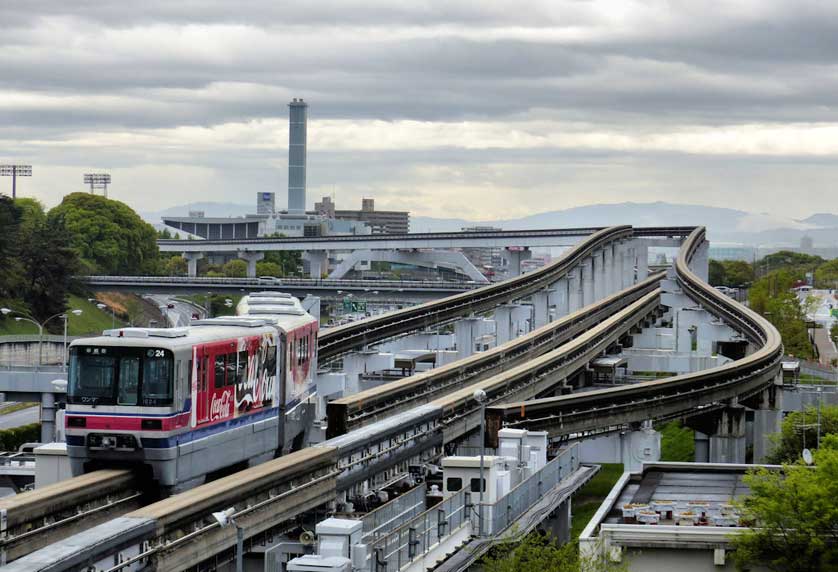 Osaka Monorail Train
Fares
Fares range from a minimum of 200 yen to a maximum of 550 yen. The system operates from 5:30 am until about midnight. The automatic ticket machines can be operated in English, and onboard train announcements are also in English.
The Kansai Thru Pass is valid on the Osaka Monorail. Commuter and student passes can also be bought along with coupon tickets: A Normal Coupon offers 11 tickets for the price of 10. A Staggered Time Coupon (between 10 am-4 pm on weekdays and all day at weekends and public holidays) is 12 tickets for the price of 10.
The Osaka Monorail takes 36 minutes to travel the entire length of the line.
For visiting Osaka Itami Airport, the Expo 70 Park and J-League soccer team Gamba Osaka's Suita City Football Stadium at Banpaku-Kinen-Koen, the monorail is most convenient.
The first departure from Osaka Itami Airport is at 5.38 am daily with the last train at 11.49 pm to Minami-ibaraki on weekdays and at 11.38 pm on weekends and public holidays to Bampaku-kinen-koen. See the official site below for a full timetable and fares.
Japanese Railways
Osaka Monorail (osaka-monorail.co.jp Official Site)
Iwami Kagura Line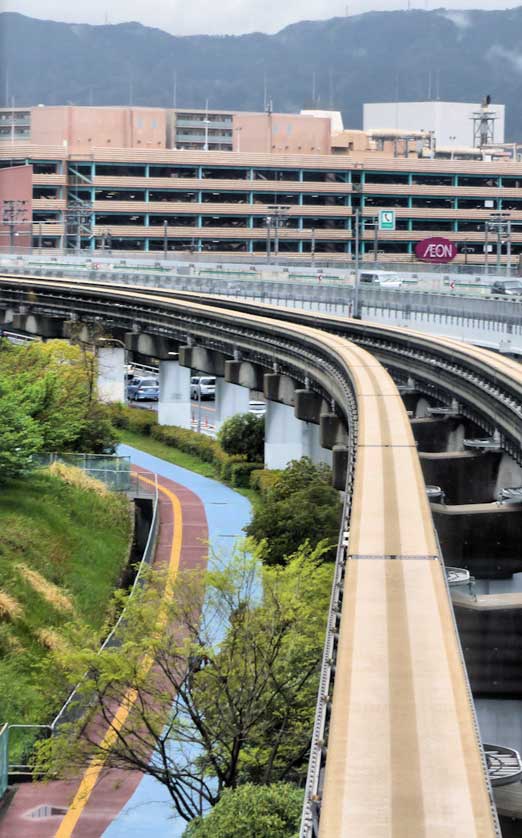 Osaka Monorail Track
Map
Book Hotels in Osaka
All the themes of the city