Anrakuji Temple Shikoku
Anrakuji Temple (安楽寺) is number six on the 88 temple, 1400 kilometer Shikoku Pilgrimage. The current main hall was built in 1966, replacing the one that burned down in 1955.
Anrakuji Temple, Tokushima 安楽寺
Anrakuji Temple is number six on the 88 temple, 1400 kilometer Shikoku Pilgrimage. Anrakuji is a little over 5 km from temple five, Jizoji, and about 17 km from Ryozenji, the first temple, and therefore a place that many pilgrims stop on their first day of walking.
Anrakuji Temple is entered through a big, white, Chinese-style gate, and if you happen to be there either early of late in the day you may well see white-clad pilgrims climbing the stairs up into the gatehouse, because it is what is known as a tsuyado. Tsuyado are free lodgings for walking pilgrims.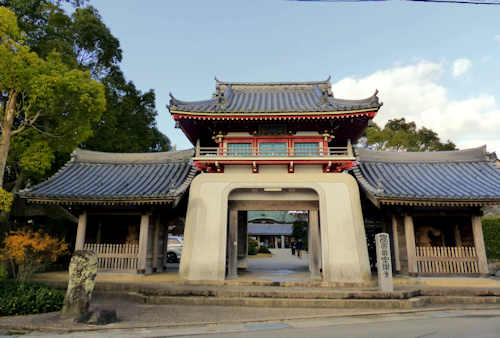 Main gate of Anrakuji Temple. The first floor is a space for walking pilgrims to sleep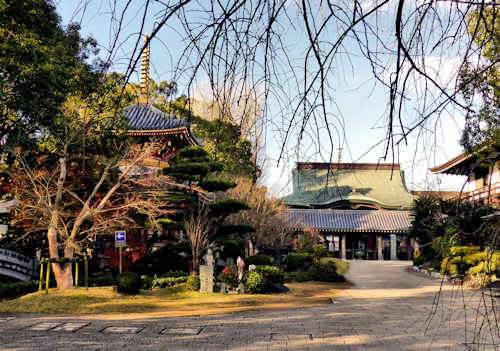 The grounds of Anrakuji Temple, Shikoku
They are usually fairly primitive, but are at least dry, with blankets and electricity. Many temples along the pilgrimage route have them, and some have more facilities. The vast majority of pilgrims do not walk though, most are on fully guided bus tours, and for those, as well as walking pilgrims with adequate funds, Anrakuji also offers a shukubo, temple lodgings.
For about the same price as a standard ryokan you get similar facilities: tatami room, TV, AC, etc, though the evening meal and breakfast are shojin ryori, Buddhist cuisine, and contain no meat or fish.
The meals are at fixed times, the breakfast being quite early, so that guests can attend ceremonies in the temple as part of the experience. However, it's not as austere as it may sound and beer and coffee and such is available from vending machines.
Anrakuji's shukubo has 80 rooms and generally gets good reviews. Actually the temple has a long history as a place of lodgings.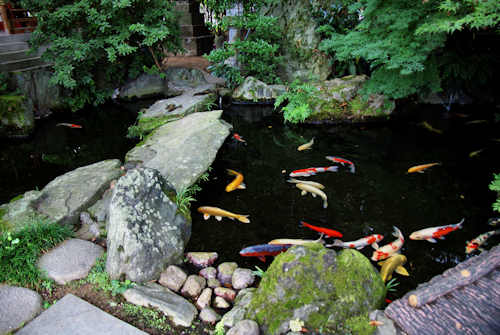 Koi carp swimming in the Benten Pond at Anrakuji Temple, Shikoku

Anrakuji History
Anrakuji Temple's origins lie about 2km north of its present location. Here there was a hot spring, supposedly created by Kobo Daishi himself, that became renowned for its healing properties.
According to the legend Kobo Daishi carved a small statue of Yakushi Nyorai, the Healing Buddha, and enshrined it and a fairly large temple complex grew up around it.
However, the temple was razed to the ground, like very many others in the area, by the warlord Chosokabe Motochika in the 16th century. Later, it was rebuilt at its present location and later still Hachisuka Iemasa, the daimyo of the province, made it into an Ekiroji, a roadside temple that provided lodgings for pilgrims and other travellers while at the same time functioning as a base for spies to monitor travellers entering the province.
The current main hall was built in 1966, replacing the one that burned down in 1955. The statue of Yakushi Nyorai was donated in 1962 and the original small statue was placed inside it.
Anrakuji has, like all the 88 temples on the pilgrimage, a Daishi-do. A hall enshrining Kobo Daishi, the focus of the pilgrimage. There is a nice Japanese-style two-storey pagoda, a Benten Pond filled with colorful koi carp with a Benzaiten shrine in the middle, and scattered throughout the bamboo grove more than 30 different Buddhist statues.
A pine tree of note, named Yakuyoke No Sakamatsu, has two different legends associated with it, both involving a hunter and Kobo Daishi. In one version a hunter accidentally shot an arrow towards Kobo Daishi, and even though there was no wind, a branch of a tree moved and deflected the arrow.
Kobo Daishi told the hunter that if he planted the branch upside down and it took root and grew then it would become a place granting protection from misfortune. The simpler version of the story is that the tree grew up from where a hunter left a bow, and as it grew the tree took on the shape of Kobo Daishi in training.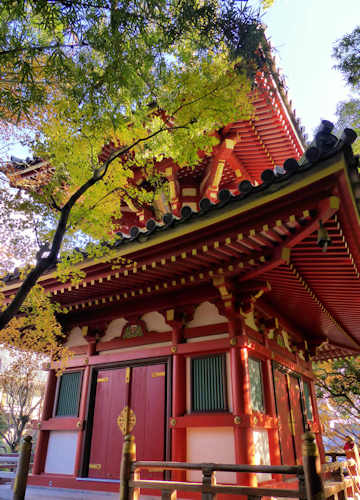 The Pagoda at Anrakuji Temple, Shikoku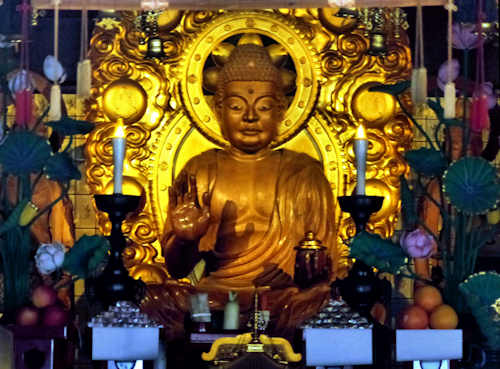 Modern statue of Yakushi Nyorai, the Healing Buddha in the main hall of Anrakuji Temple, Shikoku

Anrakuji Temple Access
Anrakuji TempleHikino, Kamiita-choItano-gun, Tokushima 771-1311Tel: 0886 94 2046
Anrakuji is a 10 minute walk from the Higashihara bus stop on Kajiyahara bound buses from Tokushima Station or Itano Station.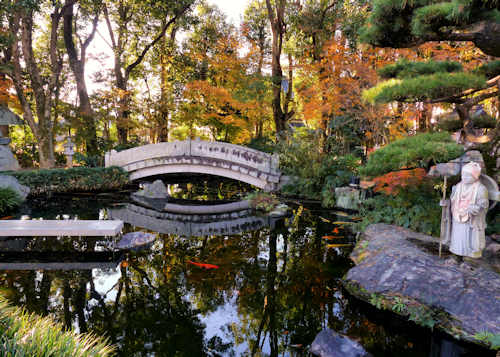 Benten Pond at Anrakuji Temple, Shikoku
Book Hotel Accommodation in Shikoku
All the themes of the city