Fujiidera Temple
Fujiidera Temple: Fujiidera Temple is the 11th temple along the famous 88 temple Shikoku Pilgrimage.
Japan Temples & Shrines: Fujiidera Temple, Yoshinogawa City, Tokushima, Shikoku 藤井寺
The 11th temple along the famous Shikoku Pilgrimage known as Ohenro is Fujiidera, which means "wisteria temple."
If you happen to visit during May you will likely see the wisteria in full bloom. Fujiidera is more than 37 kilometers from the start of the pilgrimage, and 10 kilometers from the previous temple, Kirihataji, the route from there heads south across the wide Yoshino River plain and crosses the river before heading up a narrow valley at the base of the mountains.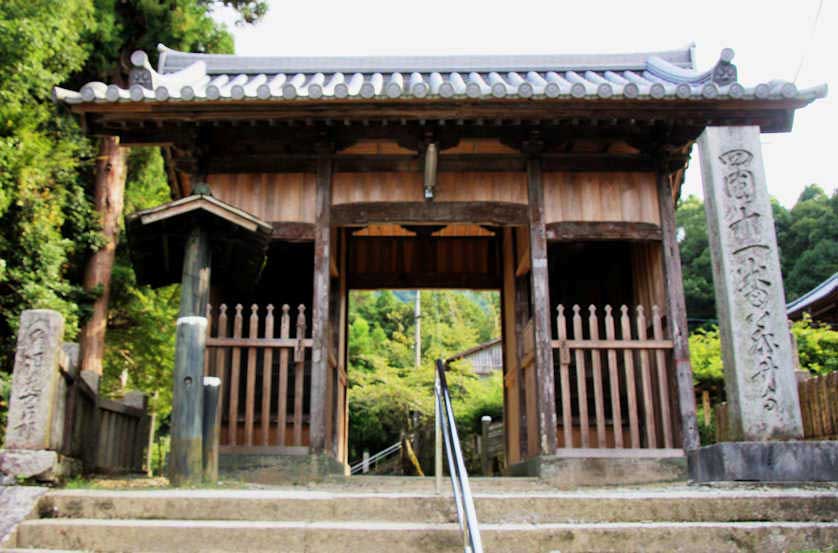 Niomon, the guardian gate, to Fujiidera Temple in Tokushima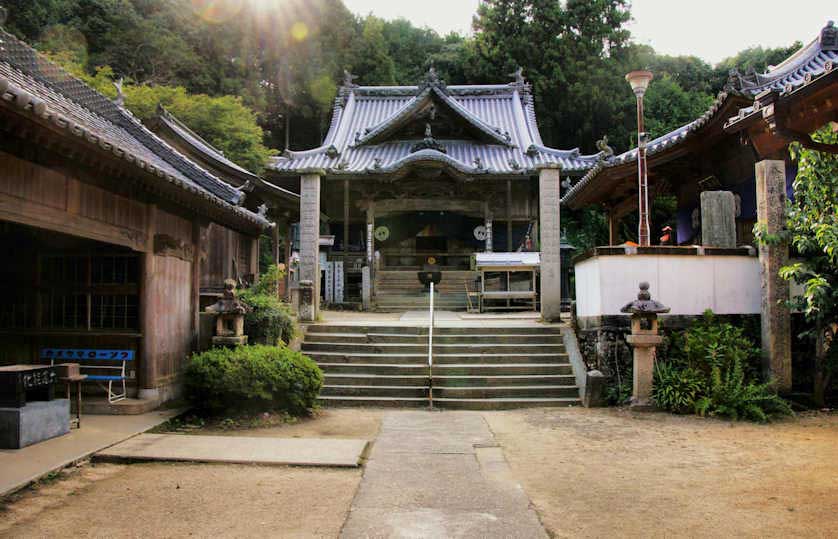 The Hondo, main hall, constructed in 1860 at Fujiidera Temple
Fujiidera History
It is said that Kobo Daishi founded the temple in 815 and that he carved the statue of Yakushi Nyorai, but a much later date and name is carved into the statue, nevertheless it is registered as a National Treasure.
Fujiidera Temple became a Rinzai Zen temple in the Edo Period, and is one of only three Zen temples among the 88 of the pilgrimage.
The majority of temples are Shingon, the sect founded by Kobo Daishi. Like most temples, Fujiidera has burned down numerous times, but the honzon, the statue of Yakushi, has always survived and so has become known for protection from disasters.
The current buildings date from 1860. Behind the temple is a miniature version of the pilgrimage with 88 statues representing the 88 temples, the first part of this miniature pilgrimage is along the trail that heads up the mountain to temple 12, Shosanji.
There is no shukubo (temple lodging) at Fujiidera but many pilgrims choose to spend the night nearby as there are several minshuku and ryokan as well as a hot spring and the next section of the pilgrim path is the long, steep climb up the mountain.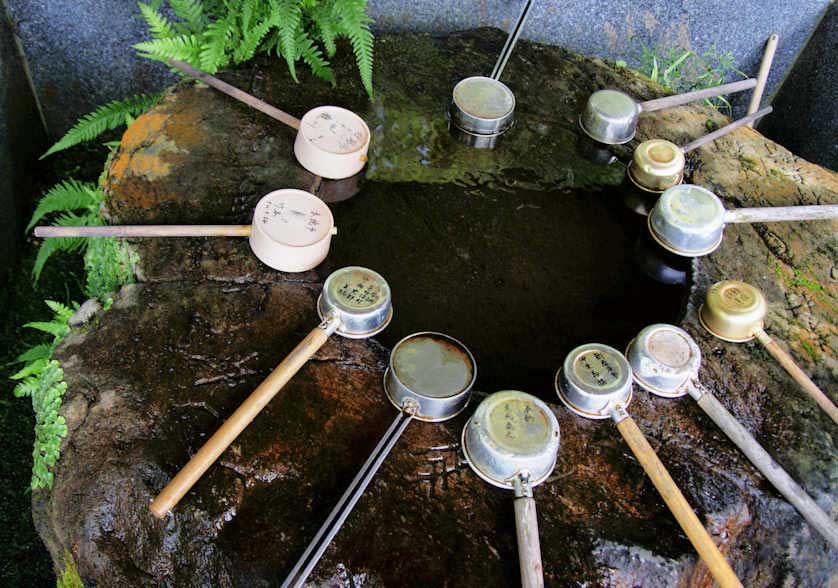 Temizuya, purification basin at Fujiidera Temple, Tokushima, Shikoku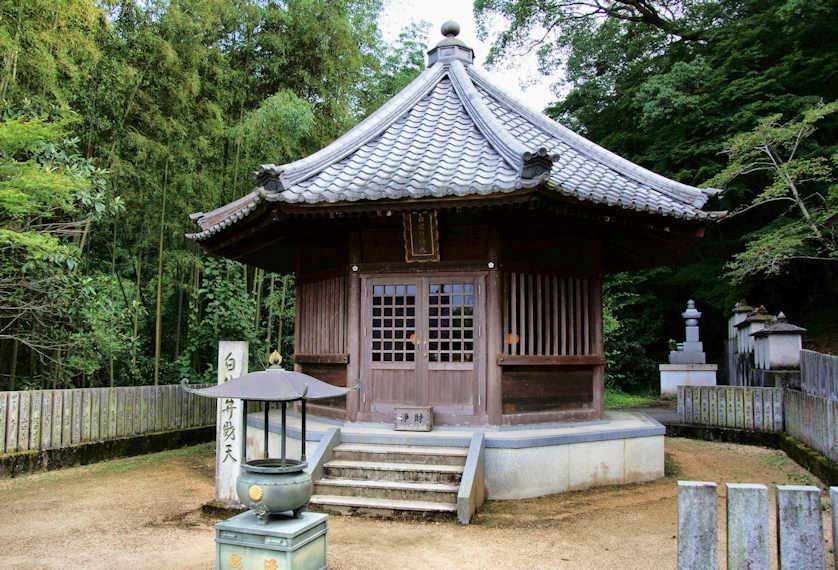 A small hall to the goddess Benzaiten behind the main hall of Fujiidera Temple

Fujiidera Temple Access
Kirihataji Temple1525 Kamojima-cho-iio Yoshinogawa-shiTokushima 776-0033Tel: 0883 24 2384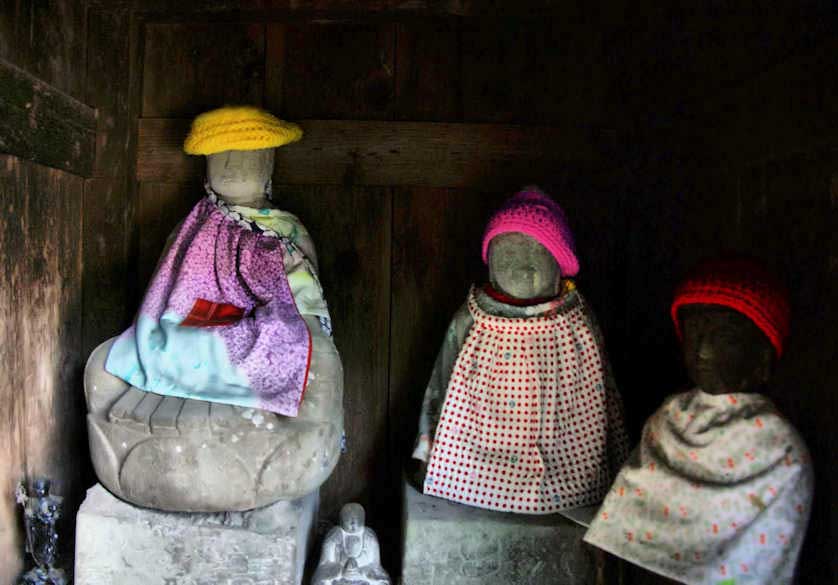 One of the small wayside shrines along the miniature 88 pilgrimage path at Fujiidera Temple
The nearest public transport to Fujiidera is Kamojima Station on the JR Tokushima Line, a little less than 3 kilometers. Kamojima Station is 20 kilometers, about 30 minutes from Tokushima Station.
Book Hotel Accommodation in Shikoku
All the themes of the city