Architecture Books
Japanese architecture and design showcases the best titles on Japanese and Japan-related architecture.
Books on Japan - Japanese Architecture & Design
Please note if you purchase something through a link displayed on the website we may earn commission.
New Bar and Club Design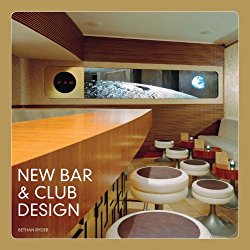 by Bethan Ryder
Laurence King
ISBN: 1-85669-429-1
192 pages, 200 illustrations (150 in color)
The modern club-devotee is no longer satisfied with just a large pubic space set aside for raving, drugs, and sex. Instead, we have come to expect the unexpected, the serendipitous, the odd, and even the divine to surround and please us as we revel. To meet that need, design and architectural firms have sprung up that specialize in club and bar design--imagine telling an interior designer or architect in 1983 that he would do nightclubs for a living--and some of that work is truly spectacular.
New Bar and Club Design highlights the best of that oeuvre. It showcases work from around the globe, but with heavy doses of New York, London, and the rest of Europe. There are however also visits to spots in Beirut, Kuala Lumpur, and other cities a bit off the beaten path.
For Japanophiles, the firms Zokei Shudan Design and Yasumichi Morita (and his Glamorous team) get special mention. Located in of all places Shinbashi, a dull Tokyo business quarter, two clubs merit attention: Ashibina and So-An, both by the Okinawa native Yusaku Kaneshiro of Zokei Shudan.
Of So-An, Kansehiro notes: "The owner wanted us to create a woman-friendly bar and had already decided upon the name, so we chose a feminine 'grass and flower' theme for the interior." And thus was born a masterpiece, replete with Okinawan influenced touches, such as caves, the liberal use of the color red, and the bar's tempered glass.
New Bar and Club Design is a coffee table book for those serious about design. It features a total of 47 "projects" from around the world, from boutique clubs to nightspots that offer comfort and luxury. A wonderful read, a fabulous peek into the some of the most elegant bars and clubs at which you will ever hope to get past the bouncer.
Samurai Castle (Bilingual Guide to Japan)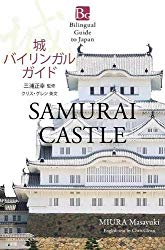 by Masayuki Miura
Shogakukan
ISBN: 4-0938-8543-5
126 pages, paperback
Castle geeks will love Masayuki Miura's 2017 bilingual guide to Japanese castles. Non-castle otaku can also enjoy and learn.
At only 122 pages with plentiful half-page pictures, it is more of a Samurai Castles 101 rather than a graduate level book. Not many people want a graduate level book on Japanese castles, so even those with a passing interest in castles will be sated.
The book is divided into three sections: Building a Castle, History of Castles and Visiting Samurai Castles. The distinctions between the second and third sections are fuzzy at best.
The first section focuses on the physical building of Japanese castles, with sections on castle positioning and layout, moats and various styles of walls (ie ishigaki), features of castle defenses, turrets, gardens and samurai houses. It can be jargon heavy.
The second section on the history of castles reaches back to the Iron Age Yayoi period (300 BC to 300 AD) when the first kanko shuraku (moat-surrounded villages) first appeared. By the later part of the middle ages, castles were changing in their construction, ownership and reason for existence.
The later half of the second section focuses on the castles of Azuchi, Osaka, Edo, Nagoya, Nijo, Himeji,  Matsue and Goryokaku.
The third section covers 12 more castles, including Nakijin Gusuku, an Okinawan castle which has become a World Heritage site.
In the back of the book are a glossary and a list of castle festivals to visit. The glossary takes up 12 pages of the 122-page book.
The list of festivals includes 55 festivals with their proper castle names, the approximate dates of the festivals and the city and prefecture where the castles are located.
What is unclear in the book is the current state of most of the castles referenced. Of the 5,000 castles that originally stood in Japan, there are only a little more than 100 standing today. Some castles are original, some are rebuilt or partially rebuilt close to the original design and some are rebuilt with only passing resemblance to the original castles.
As mentioned, the book is completely bilingual, and with a number of half-page pictures this isn't a book that will take a lot of time to read. Its size is only 4.8 x 7.2 inches (10.7 cm by 18.3 cm).
There is a fair amount of technical jargon, so take notes or be ready to flip back to check on the specialized vocabulary.
Marshall Hughes
New Hotel Design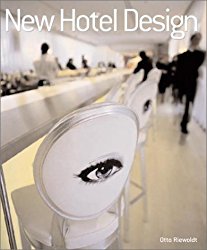 by Otto Riewoldt
Laurence King
ISBN: 1856694798
229 pp
This is one of those books that sets one to thinking terrible, unreasonable, and expensive thoughts. Divided into five sections - Land of the Pure, a.k.a., designer and art hotels; City Chic, business hotels; Lust de Luxe, grand hotels; Worlds of Fun, resort and entertainment hotels; and Relax in Style, hideaway hotels - New Hotel Design is the Lust de Luxe of coffee table books. Imagine yourself, drink in hand, reclining by the pool at the Grand Hyatt Berlin, or in the neo-pharaonic style "relaxation area" of the Burj al Arab, in Dubai. Aside from the small issue of room rates, which author Otto Reiwoldt is kind enough to spare the reader, the rich photos and precise descriptions make one wonder, What if, perhaps, someday?
Among our favorites were the Atlantis on Paradise Island in the Bahamas, with its scalloped pillars in the lobby; the Rajvilas, in Jaipur, India, with its dreamscape setting of pavilions, fountains, and illuminated pools; the subtle interior of the Mojiko Hotel, in Fukuoka, Japan; and Philippe Starck's bar at the St. Martin's Lane, in London.
The work is well written and beautifully photographed. It features the work of a grand cast of architects and interior designers. According to the introduction, recent design reflects four themes: ascetic modernism, nostalgic opulence, extravagant fantasy, and exotic exclusivity. Designers and hotel chains have employed these concerns to create spectacular establishments.
According to one of the founders of the modern hotel chain industry, Conrad Hilton, "In a hotel, guests should find what they dream of at home." This lavish book is certainly a start.
Discovering the Arts of Japan: A Historical Overview
by Tsuneko S. Sadao and Stephanie Wada
Kodansha International
ISBN: 4-7700-2939-X
283 pp
Sadao and Wada have created a lovely book that, in the space of fewer than 300 pages, lays out the history of Japanese traditional arts. Handsomely appointed with photos representing the finest pieces from the prehistoric era through to modern times, the arts are organized into Architecture, Sculpture, Painting, Calligraphy, Textiles, Lacquer, Ceramics, and Metalwork subheadings. Richly illustrated, the authors discuss the pieces themselves and set them in historical context. Chronological maps are included; even those new to Japanese arts will have little trouble following and comprehending the artifacts discussed in the text.
The presentation is highly visual: photographs tell the story, with text to aid the reader. It shows us how "successive waves of imported ideas and artifacts were assimilated and synthesized into a new interpretation." As author Wada notes in the Preface: "The aim of this book, then, is to present a concise but comprehensive survey of the arts of Japan from pre-history to the start of the modern era." This text succeeds in that, and can be read for its historical interest or skimmed through to enjoy the profound beauty of the photos. A lovely coffee-table book - but much more than that.
Castles of the Samurai: Power and Beauty
by Jennifer Mitchelhill, photos by David Green
ISBN 4-7700-2954-3
110 pp
Japanese castles served as both defensive fortresses and as centers of administrative control. In addition, they are "aesthetic marvels" that convey an extraordinary beauty. Why were they so built? When? By whom?
The late 16th and early 17th centuries witnessed a boom in castle building in Japan. Under the leadership of Oda Nobunaga, Toyotomi Hideyoshi, and Tokugawa Ieyasu - strong military leaders who strove to unite the nation - more than 100 castles went up in a period of only forty years.
This handsomely appointed book goes over the era in which the castles were built, the details of castle construction - location, layout, moats, towers, storehouses, shooting holes, etc. - and illustrates all of the above.
Finally, the authors raise the question of why the samurai who built them did not just build utilitarian fortresses for fending off an enemy. Beautifully photographed.
Japanese Castles 1540-1640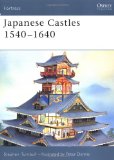 by Stephen Turnbull, illustrated by Peter Dennis
Osprey Publishing
ISBN 1-8417-6429-9
64 pp
Stephen Turnbull is a military historian specializing in East Asia who has written widely and well on the samurai, shogun and castles of a medieval Japan wracked by civil war and bitter conflict.
Beautifully illustrated in color by Peter Dennis with both bird's eye and cutaway views of the imposing architecture, the book also contains some lovely black and white as well as color photographs of Japan's many castles covered in the text.
Japanese Castles 1540-1640 is the perfect introduction to the subject for the lay person explaining the design and development of the medieval fortresses, common elements and features of Japan's castles and their operational history under siege.
The book also provides a useful glossary of the technical terms connected with Japanese castles and a good bibliography for further reading. Related books on Japan's castles in the Osprey Fortress series include Japanese Castles AD 250-1540, Japanese Castles in Korea 1592-98 and Strongholds of the Samurai: Japanese Castles 250-1877.
The Very Small Home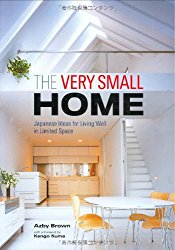 by Azby Brown
and foreward by Kengo Kuma
Kodansha International
ISBN: 4-7700-2999-3
111 pp
Whether architect Kengo Kuma's claim that "The small abode has become all the rage in Japan" has more to do with cost and the number of people competing for limited urban space or, rather, that it is actually "a rage" is debatable. More important though is the beauty of this text. Architectural critic and long-time Japan resident Azby Brown shows 18 case studies - residential buildings - in this work. All of the buildings are recent. Most were designed by well-known architects, Tadao Ando and Shigeru Ban among them. Other, lesser-known (in the West) designers are introduced. For an American or even European reader, the floor space of the houses is tiny: from 540 sq. ft. to 1,730 sq. ft. (50 m2 to 160 m2). However, the ideas for using that space are grand indeed.
The use of light and space is breathtaking in its creativity. Whether in actual fact or in the illusion of space, the design of these homes renders them comfortable and livable.
Ando's 4 x 4 house, with its signature use of ferro-concrete and lush wood flooring is spectacular. Overlooking the Inland Sea, it is spare but warm. Mutsue Hayakusa's House in Moto-Azabu is a swirl of glass and wood, replete with spiral staircase and glassed-in garage visible from the interior of the house. Kunihiko Kishimoto's Sora no Katachi (the shape of the sky) is perhaps the most overtly "Japanese" house in the collection. Simple lighting and a rustic feel with its interior garden bathes the house in warmth and a soft glow.
A wonderful book.
Small Houses
by Nicolas Pople
Laurence King
ISBN: 0789309742
204 pp
In architecture, small now evokes something other than poverty and want. Rather, it brings to mind a second home, an urban dweller's compact and efficient homestead, and even the culturally loaded term minimalism. Small Houses discusses the socio-historic background of smaller homes, from sacred buildings to Greek and Roman architecture, Gothic structures to the projects in Potsdam, the influence of urbanization and of Japanese on Frank Lloyd Wright.
The book is organized into three chapters: Rural Retreats; Urban and Suburban Bases; and Small Clusters and Multiples. It includes works by well-known architects Toyo Ito, Herzog and de Meuron, Simon Ungers, Enric Miralles, LOT/EK, and Kazuyo Sejima. There are more than 300 full-color photographs illustrating the houses' interiors and exteriors as well as detailed plans.
The Ching Cabin - in Washington State - and Swiss Sky House are stunning. In Japan, Kazuyo Sejima's Small House, in Tokyo, and Jun Tamaki's Villa Tofu, in Kyoto, represent the best of Japanese minimalism.
What is Japanese Architecture?
Edited by Kazuo Nishi and Kazuo Hozumi
Kodansha International
ISBN: 4-7700-1992-0
144 pp
Traditional Japanese architecture - ranging from Buddhist temples, Shinto shrines, private residences, castles, or teahouses - ranks as among the most beautiful in the world. From the great temples, such as Horyuji and Todaiji, to private homes, classic Japanese building is world famous.
Beyond this, though, few people can distinguish Japanese architecture from Chinese or Korean or even Southeast Asian architecture. Things get more muddled when comparing two different types of Japanese buildings.
This text, however, goes a long way towards rectifying that problem. Construction, design, carpentry, and the background of Japanese architecture, from prehistory to midle of the nineteenth century, are laid out concisely in one book.
In addition, there are more than 300 drawings that help the novice to have a better understanding of the buildings. Moreover, there is a section on religious structures, residences, castles, and places of entertainment.
The writers go over the details that distinguish buildings, and also discuss the historical conditions and the people that influenced them.
Japan's three capitals - Nara, Kyoto, Edo (Tokyo) - are discussed. In addition, the following building types are highlighted: the mansions of the court nobility, the castles and residences of the samurai aristocracy, the homes of village elders, dwellings of the common people, educational institutions, and places of entertainment such as theaters, red-light districts, teahouses, and country villas.
A wonderful primer.
Architects Today
by Kester Rattenbury, Rob Bevan, Kieran Long
Laurence King
ISBN: 1856694925
240 pp
This is just the work for those looking for a primer on the heavy hitters working in architectural design today. It spans the globe, featuring architects from Oscar Niemeyer to Peter Eisenman to Tadao Ando.
Each architect or firm is given roughly two pages: a picture or design of one of his/her best known works, and a page of text that explains in a bit of detail who s/he is and what kind of work s/he has accomplished.
The book is in short an introduction to the most influential living architects.
For those with an interest in Japanese architects, they are all here: from Kenzo Tange to Shigeru Ban. Tange, the giant of post-war Japanese architecture, designed the Tokyo Olympic complex and Tokyo's "Tocho" City Hall, and influenced a generation of foreign architects.
Today that baton has been passed to a group of world famous architects, including the self-taught Tadao Ando, Shigeru Ban (Museum of Modern Art in New York), Arata Isozaki (Barcelona's Olympic complex), Fumihiko Maki (Spiral Building), and other younger artists.
For brevity and clarity, this work cannot be beat.
Create Your Own Japanese Garden
by Motomi Oguchi & Joseph Cali
Kodansha International
ISBN: 4770028040
128 pp
Create Your Own Japanese Garden is a coffee table book/DIY book all in one. Landscape designer Motomi Oguchi has prepared a step-by-step approach to creating Japanese gardens. And among his examples are gardens that he himself created.
Oguchi and Joseph Cali begin with front gardens, the first "garden" you come upon when entering a home. From there they move on to "tsubo niwa" (courtyard gardens) and "kare sansui" (dry gardens) that are more likely to be in the middle or rear of a home.
From there we move on to tea and tree gardens, which are found in larger gardens. And, unusual for such a beautiful book, the writers argue for the importance of post-planting maintenance.
I can remember doing plantings while I worked for a landscape designer in Philadelphia during summer holidays. The clients were often thrilled the day of the planting, but we would then get the "What do I do now?" phone call a week later. Bravo to Oguchi and Cali for being both artistic and realistic.
C. Ogawa
Wabi Sabi: The Japanese Art of Impermanence
by Andrew Juniper
Tuttle
ISBN: 0804834822
176 pp
Wabi Sabi: The Japanese Art of Impermanence is Juniper's take on a traditional Japanese aesthetic. Beginning with a definition of wabi sabi: "If an object or expression can bring about, within us, a sense of serene melancholy and a spiritual longing, then that object could be said to be wabi sabi", Juniper continues by examining different aspects wabi sabi, such as its historic origins in Zen, its development within Japanese culture, and its expression in Japanese arts and crafts. Finally, he lists design criteria, identifies suitable materials, and sketches out ethical principles that are required for the creation of objects that have wabi sabi.
The book is a primer and a cry from the heart for an aesthetic that senses increasing beauty, loveliness and value in things with the progress of time. All but lost in Japan itself where, for example, old buildings are torn down without a thought for any architectural merit they may possess, it is hoped that this book may help inspire something of a revival of this old aesthetic.
C. Ogawa
Super Potato Design: The Complete Works of Takashi Sugimoto: Japan's Leading Interior Designer
by Mira Locher
Tuttle
ISBN: 0804837376
256 pp
With a name like "Super Potato Design," you better have talent. Lots of it.
And Takashi Sugimoto indeed does. His design firm, based in Tokyo, is the internationally recognized and oddly named Super Potato Design (SPD).
SPD has done scores of restaurants, shops, hotels, and cafes around the world, thus securing its well deserved reputation.
Super Potato Design: The Complete Works of Takashi Sugimoto: Japan's Leading Interior Designer is the first book in English that documents these achievements.
It is essentially a handsomely photographed coffee table book with commentary and interviews by the author, Mira Locher.
The firm's emphasis on stone, steel, and wood give a beautiful sense of form, a casual sense of the unexpected, to the interior of any site they work on.
Moreover, the use of exposed concrete imparts an almost rustic sense to this most urban and urbane of designers.
Some of Sugimoto's work appears almost to be that of someone who has collected materials from a junkyard - and then created a beautiful composition out of them.
Among his most interesting works is the Shunju Tameike Sanno, a restaurant in a large downtown Tokyo building. In it Sugimoto incorporates traditional Japanese design elements with modern touches.
This is a wonderful - and beautiful - work that is worthy of Sugimoto himself.
C. Ogawa
Houses and Gardens of Kyoto
by Thomas Daniel
Tuttle
ISBN: 480531091X
224 pp
Houses and Gardens of Kyoto is a beautifully written and photographed book that is a must have for anyone with an interest in Japanese architecture, gardens, or the city of Kyoto.
Architect and Kyoto resident Thomas Daniel is one of those people easy to envy: in addition to practicing architecture and holding down a job as a professor at an elite university in Kyoto, he writes very, very well.
Houses introduces traditional houses and gardens from every major period of the city's history. These range from monumental Buddhist temples and summer villas to personal homes and small inns.
All of these structures have a garden - whether a "borrowed landscape" or "dry landscape" - that complements it.
Kyoto was the capital of Japan for more than a millennium, and in spite of war, fire, and modernization still retains an inexhaustible trove of Japanese cultural history.
A wonderful work.
C. Ogawa
New Japan Architecture
by Geeta Mehta & Deanna MacDonald
Tuttle
ISBN: 4805309482
224 pp
New Japan Architecture (Tuttle, 2011) by Geeta Mehta and Deanna MacDonald traces recent works in Japan by the world's leading architects.
Forewords by Cesar Pelli (one-time Dean of Yale University's School of Architecture) and Fumihiko Maki, winner of the Pritzker Prize, relate the historical development of architecture in Japan from wabi-sabi through to modernism and beyond. These provide the context for a presentation of architectural highlights from recent years.
One recent trend in Japan has been the pursuit of the white cube, a zen-inspired, pure, uninterrupted form. House N by the architect Sou Fujimoto seems inspired by this ethic and features three white boxes of reinforced concrete nestled one inside the other. The design also attempts to confuse interior and exterior space in a positive way by incorporating an L-shaped garden (exterior space) within the largest box.
Another modern influence has been the rise of the "Wow Factor". Buildings such as the iconic Mode Gakuen Cocoon Tower are examples of this influence. The tower was designed by Tange Associates and completed in 2008. The building was designed as an experiment in educational architecture and houses three schools including a school of fashion.
A third important modern influence has been the greening of architecture. Buildings such as the Nezu Museum designed by Kengo Kuma & Associates aim for an "unassertive architecture" which emphasizes the relationship of the structure with its natural environment. The building is designed to maximize the use of natural materials and to provide a comfortable environment without the need for air-conditioning.
All of the above influences can be seen in numerous instances throughout the 48 projects reviewed by the book. The book illustrates well the excitement and beauty to be found within recent Japanese architecture.
John Westby
Note To Authors & Publishers
If you wish to have your title reviewed by JapanVisitor's team of Japan-specialist reviewers please contact us to arrange for a review copy to be sent to the editors.
JapanVisitor provides a thorough and professional review.
JapanVisitor works in cooperation with the following publishing houses: Kodansha International, Rough Guides, Lonely Planet, Penguin, Oxford University Press, Vertical, APA Publications, Columbia University Press, University of Hawaii Press, Dark Alley, ME Sharpe Inc., Tokyopop, Trafalgar Square Books, Houghton Mifflin Company, Grove/Atlantic Press, Tuttle Publishing, Yale University Press, Intercultural Press, Pantheon Books, Pan Macmillan, Faber & Faber, University of California Press, Harvard University Press.
All the themes of the city