Kitakyushu Literature Guide
Japan Culture: Kitakyushu Literature 北九州
For much of the twentieth century Kitakyushu was heavily industrialized and for a time was even one of the most polluted places on the planet.
Thankfully that time has passed, and while a little of the heavy industry still remains, the area has been reinvigorated and re-imagined as a shopping and cultural center more akin to earlier times when it was a castle town and thriving port. Surprisingly, perhaps, Kitakyushu has quite a literary heritage.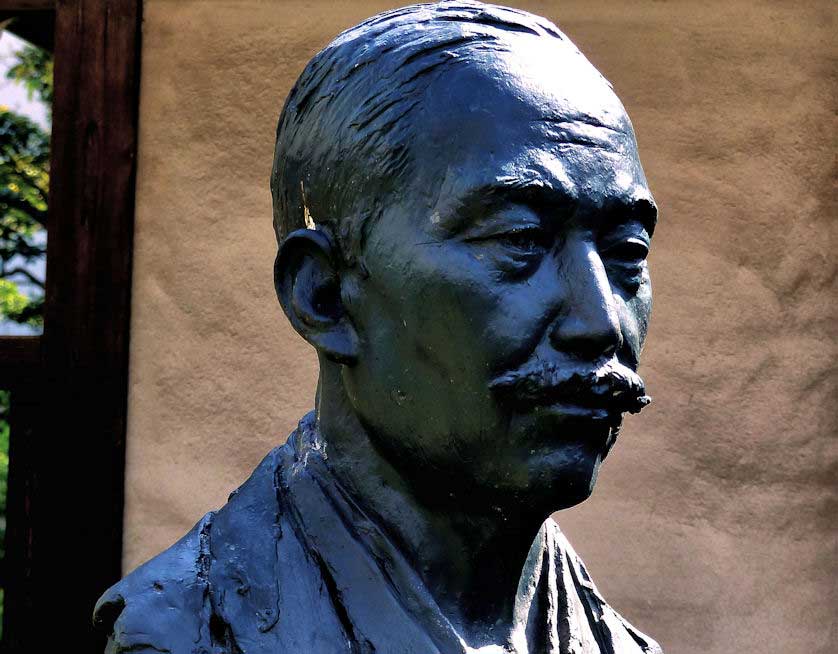 A bust of Japanese writer Mori Ogai in front of his former home in Kokura, Kitakyushu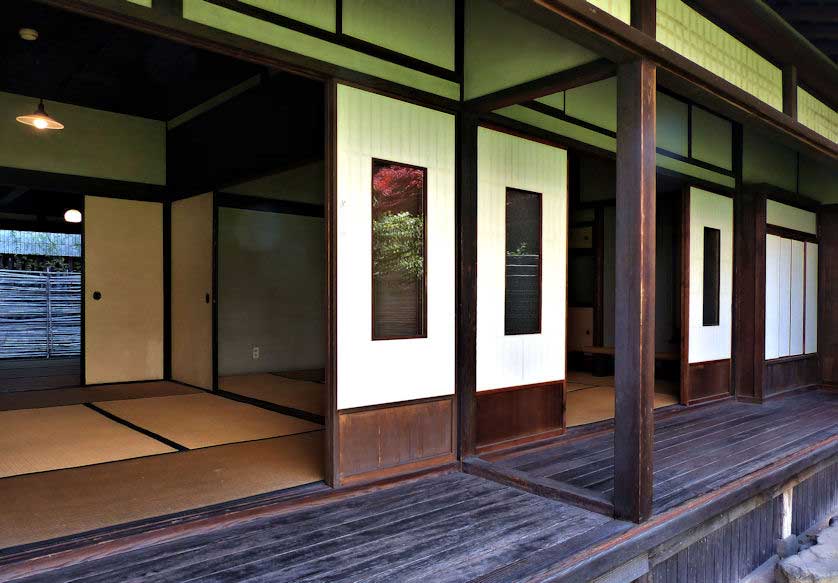 The exterior of writer Mori Ogai's former home in Kokura
Mori Ogai
Probably the most famous literary figure connected to Kitakyushu is Mori Ogai (1862-1922) who is known as much for his influence on Japanese literature as he is for his actual writings.
Ogai is his pen-name, his original family name being Rintaro. Born in Tsuwano in what is now Shimane Prefecture, his family were hereditary physicians to the local daimyo and as the eldest son he was expected to follow suit.
After the Meiji Restoration the family moved to Tokyo and he attended university there. In 1881 Ogai became the youngest ever person with a medical license in Japan at the age of 19. He joined the army and eventually became Head of the Army Medical Corps.
His interest in Japanese literature began while a student in Tokyo, and while studying in Germany from 1884 to 1888 he also became interested in European literature.
On his return from Germany he started his own literary journal and published his first book of poetry, though he did little writing until the twentieth century he did translate a lot of European works.
During the Russo-Japanese War (1904-1905) he started keeping a poetic diary. His later novels were based on his own experiences and led to his most popular novel The Wild Geese (1911-1913).
His later works were mostly historical fiction, and at the end of his career his work was mostly biographies of Edo Period doctors.
He also produced a literary magazine and is considered influential in introducing modern literary criticism into Japan.
Ogai was based in Kokura from 1899 to 1902 and the house he lived in is now open to the public. It was built in 1897 and is a fine example of a traditional Japanese house. While living here he wrote Kokura Diary.
Mori Ogai Former Residence
1 Chome-7-2, Kajimachi
Kokurakita-ku, Kitakyushu-shi,
Fukuoka 802-0004
The Mori Ogai Former Residence is a five minute walk from Kokura Station.
Open 10 am to 4.30 pm. Closed Mondays and over the New Year. Entry is free.
Ogai's hometown of Tsuwano in Shimane Prefecture has a museum dedicated to him as well as his original family home, and his tomb is located in nearby Yomeiji Temple.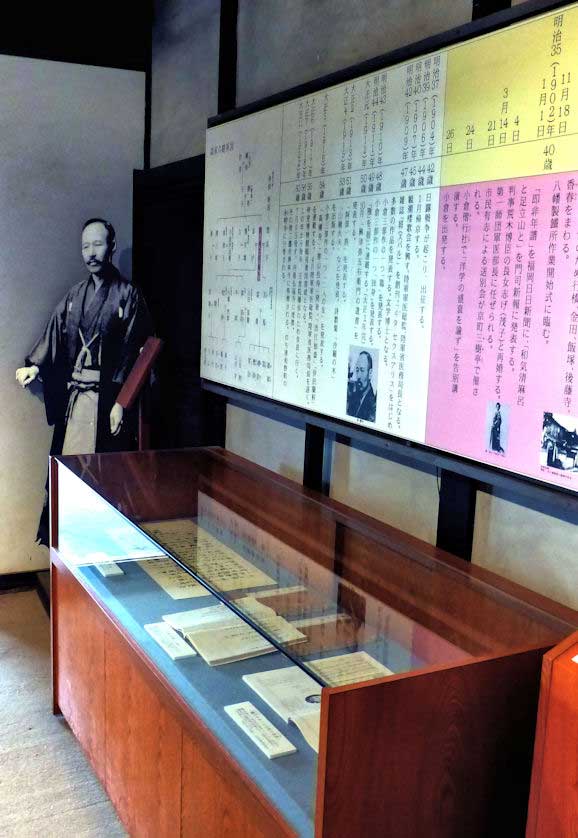 Inside Mori Ogai's former home in Kokura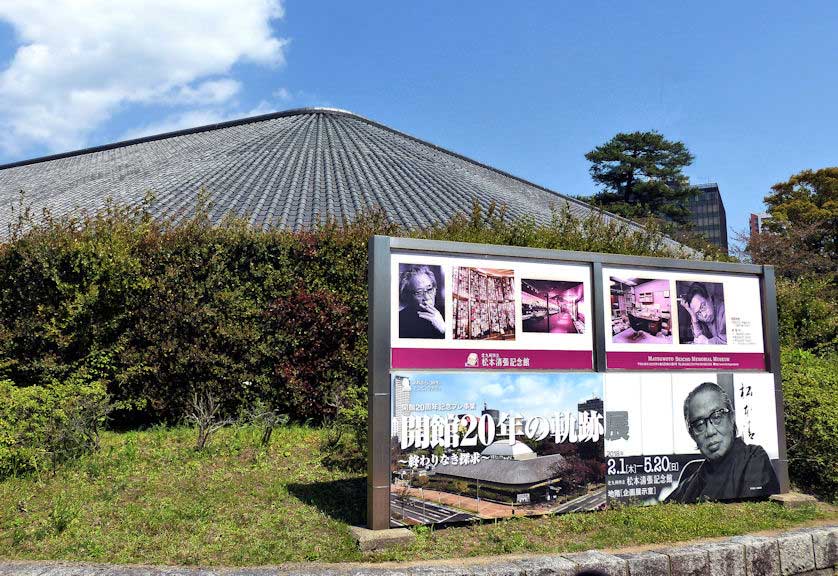 Seicho Matsumoto Memorial Museum
Seicho Matsumoto Memorial Museum
Born in Kokura, Seicho Matsumoto (1909-1992) was Japan's best-selling and highest-earning author in the 1960's. Largely self-taught, he was an avid reader, and after graduating from elementary school he eventually found work in the advertising department of a newspaper.
He returned to the newspaper following his military service in World War II which he spent mostly in Korea.
His first publishing break came in 1950 when a short story of his won third prize in a newspaper literary competition. Encouraged by fellow writers in 1956 he quit his job at the newspaper and devoted himself to writing full-time.
Matsumoto is most well known for writing crime fiction and many of his detective stories and mysteries have been translated into English and other languages.
He eschewed the standard conventions of the genre and wrote in a gritty, sometimes noir-ish style, and was very prolific, publishing more than 450 books in his career.
The author was also known for his work ethic, working concurrently on as many as five stories at the same time. He later published some non fiction works, mostly on ancient Japanese history.
His museum is quite large, and at first it is hard to know how such a large space could be filled but a large part of the museum consists of a replica of his house, and though one cannot enter, the walls have been replaced with glass so that the visitor can look inside at room after room piled high with manuscripts and reference materials.
Seicho Matsumoto Memorial Museum
2-3 Jonai, Kokurakita-ku
Kitakyushu-shi, Fukuoka 803-0813
Tel: 093 582 2761
Located adjacent to Kokura Castle.
Hours: Open from 9 am to 6 pm . Closed over the New Year
Entry: Adults 500 yen, High School & Junior High School students 300 yen, younger kids 200 yen.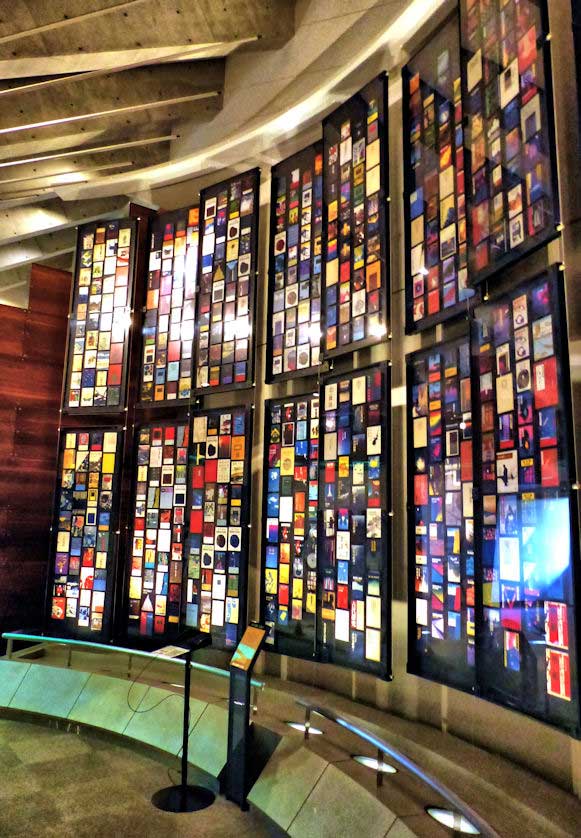 A display of book covers of the celebrated mystery writer Seicho Matsumoto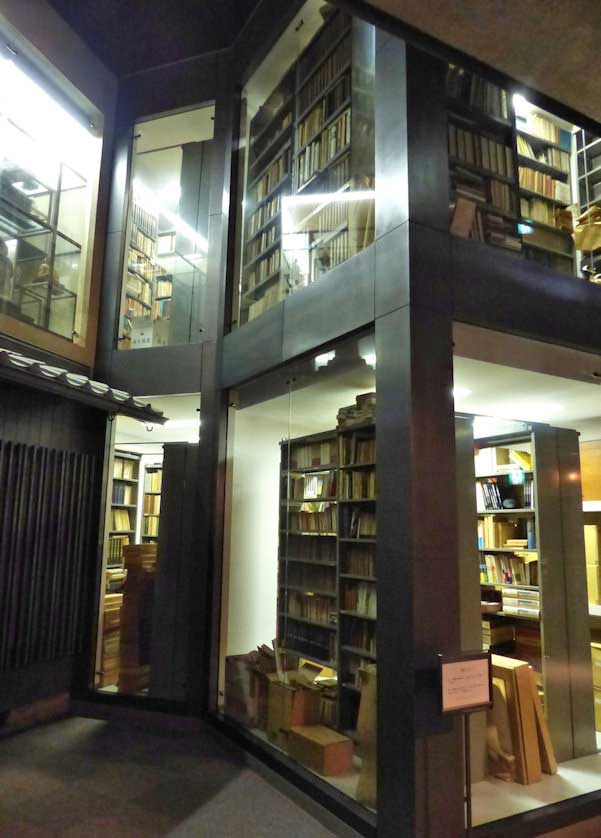 A reconstruction of Seicho Matsumoto's house with walls of glass to show the interior
Kitakyushu Literature Museum
Not far away from the Seicho Matsumoto Memorial Museum, in an unusual building designed by the famed North Kyushu architect Arata Isozaki, is the Kitakyushu Literature Museum.
The other building in the complex is the Prefectural Library. On the first floor are changing exhibitions with a literature theme, and on the second floor is the permanent exhibition devoted to more than 30 writers, poets, playwrights and translators who were either born in Kitakyushu or lived there.
Mori Ogai and Seicho Matsumoto are, of course, included but most of the others are not so well known although the feminist writer Fumiko Hayashi (1903-1951) is probably the most familiar. The museum is worth visiting if only for the unusual architecture.
Kitakyushu Literature Museum
4-1 Jonai, Kokurakita-ku
Kitakyushu-shi, Fukuoka 803-0813
Tel: 093 571 1505
Hours: Open from 9.30 am to 6 pm. Closed Mondays and over the New Year.
Entry to the permanent exhibition is 200 yen. Special exhibitions vary in price.
All three sites are a short walk from each other.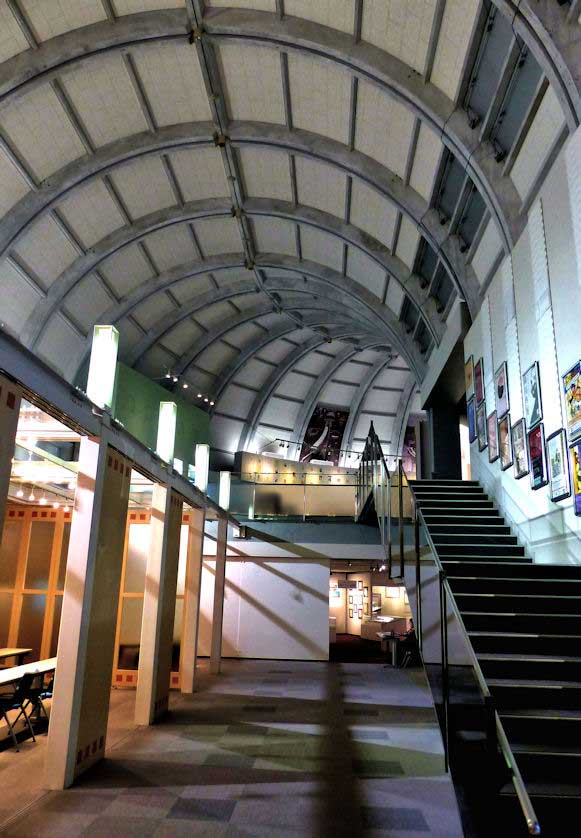 Interior of the Kitakyushu Literature Museum, designed by Arata Isozaki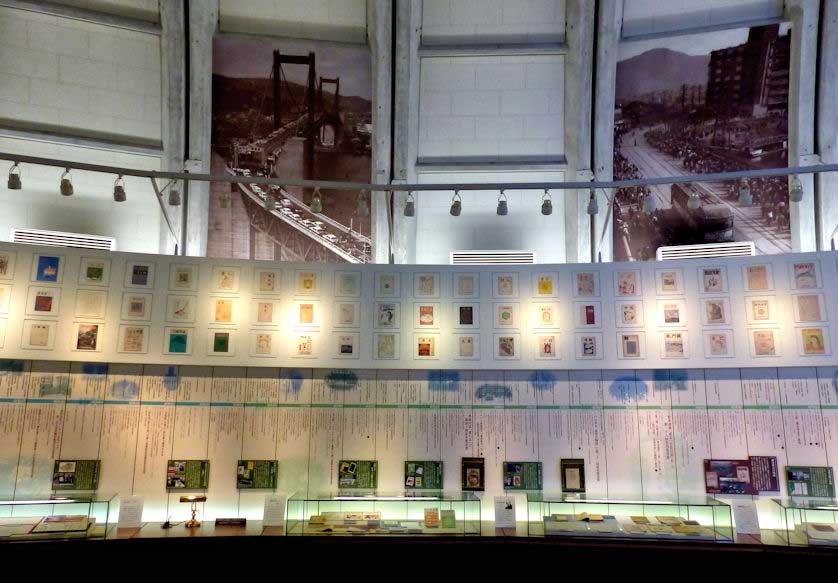 Part of the permanent exhibition at the Kitakyushu Literature Museum
Accommodation in Kitakyushu
Much of the available accommodation in Kitakyushu is situated around Kokura Station. Places include the three star Daiwa Roynet Hotel Kokura Ekimae, the Hotel Relief Kokura Station, also three star, the JR Kyushu Hotel Kokura, three star again and the Hotel Crown Hills Kokura.
Kitakyushu Access - Getting To Kitakyushu
Air
Kitakyushu Airport is a new airport built on an an artificial island and is unusual in that it operates 24 hours a day. Several airlines run scheduled flights to and from Tokyo Haneda Airport, but Fukuoka Airport is less than 30 minutes away by train and has flights from many more domestic and international airports.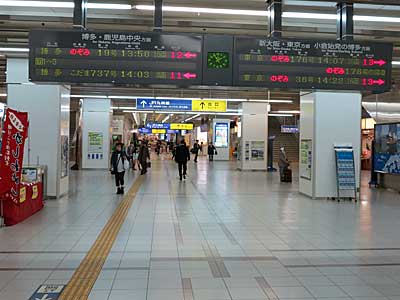 Kokura Station concourse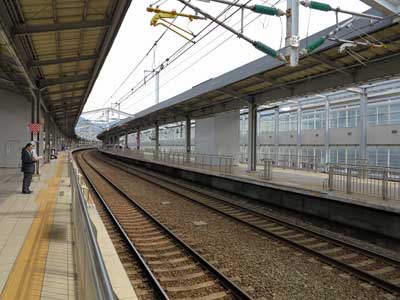 Kokura Station shinkansen platform
Train
Kokura is the first station of the Sanyo Shinkansen in Kyushu and all trains stop here. It takes less than 5 hours from Tokyo, 3 hours from Nagoya, and a little over 2 hours from Osaka. The newly opened Kyushu Shinkansen connects to Kumamoto in less than an hour and  Kagoshima in just over 100 minutes. From Kokura take the Sonic Limited express to Kunisaki, Oita & Beppu.
The Sanyo Line runs a fast shuttle to and from Shimonoseki. The Kagoshima Line and the Nippo Line connect to all areas of Kyushu. Within Kitakyushu the Monorail runs about 9 km from Kokura Station to Kokura Minami.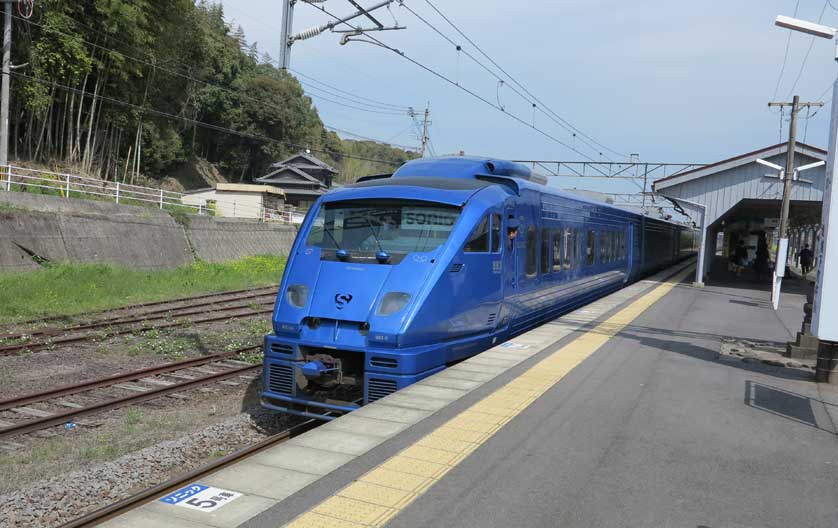 Sonic Express from Hakata & Kokura stations at Kitsuki Station
Ferry
Kitakyushu is served by several long distance domestic car ferries. A daily ferry from Tokyo stops at Tokushima on Shikoku, There are several ferries from Osaka and one from  Kobe, and a direct ferry from Matsuyama on Shikoku. There are also small passenger ferries across the narrow straits to Shimonoseki and also to some smaller nearby islands. There is a high-speed speed ferry to Ulsan in Korea.
Book Accommodation in Fukuoka
Kitakyushu has a literary heritage. There are museums dedicated to Mori Ogai, Seicho Matsumoto as well as the more general Kitakyushu Literature Museum.
All the themes of the city