Japan Festivals - December
December Japan Festivals 12月の祭り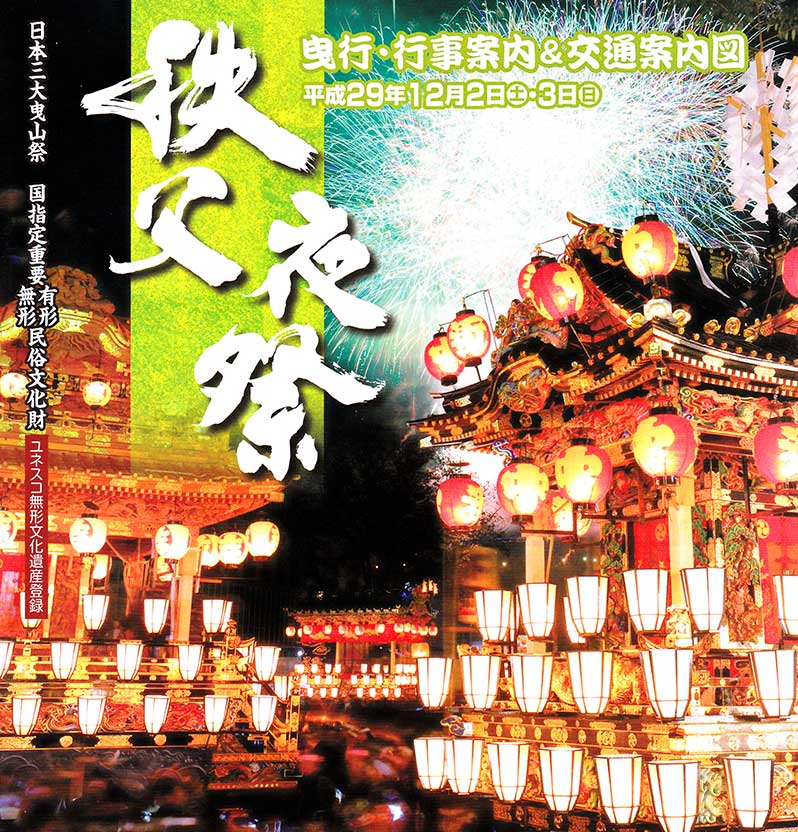 Chichibu Night Festival
Oshiroi Matsuri
2 December
Fukuoka
In this 400-year-old festival, oshiroi, a white paste made from rice flour and water, is smeared on villagers' faces as a prayer for good harvests in the coming year.
Chichibu Yomatsuri
2-3 December
Musashikunishinomiya Chichibu Shrine, 1-3 Banbamachi, Chichibu City, Saitama Prefecture
The Chichibu Night Festival (Chichibu Yomatsuri) is a famous night festival dating back three centuries in which lantern-lit floats weighing more than 10-tons each are pulled through the town. The second night is the climax, when huge multi-story floats are carried up Danshi-zaka (Men's Slope), with participants egged on by musical troupes and with fireworks illuminating the cold, dark night sky. Although in the backblocks of Saitama prefecture, it is considered one of Japan's major three float festivals. A nationally-designated Important Folk Cultural Asset.
Morotabune Shinji
3 December
Mihonoseki, Shimane Prefecture
Action-packed Shinto ceremony in which teams of nine men board two boats in Miho Harbour and proceed to vigorously splash each other with cold sea water.
Takata no Inoko
3 December
Sakurai, Nara Prefecture
Village youths carry food and torches in procession to offer to the gods for peace and good harvests in Sakurai, Nara.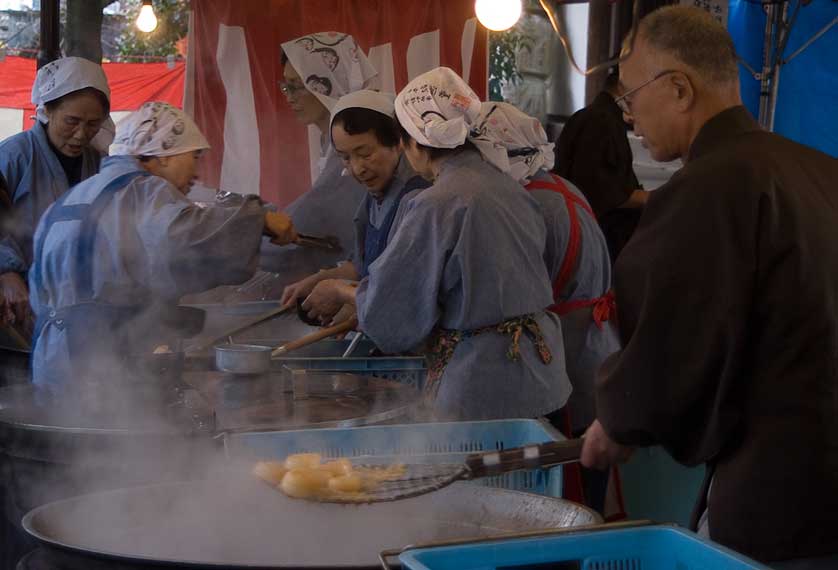 Daikon festival at Sanpoji Temple, Kyoto
Hata Festival
1 December
Towa, Fukushima Prefecture
Historical festival in which large brightly-coloured flags are carried in a procession through rice paddies and mountain paths accompanied by conch-blowers.
Akibasan Gongen Hibuse Matsuri
6 December
Ryokaku-in Temple, Odawara, Kanagawa Prefecture
Mountain Priests offer thanks for water and fire by lighting fires, giving demonstrations of their axe, sword and archery skills and offering rice cakes to visitors.
Misogi Matsuri
9 December
Katsuragake Shrine, Gifu Prefecture
Naked men purify themselves in the freezing Nagara River in Gifu three times during the day at 3pm, 7pm & 10pm.
Sanpoji Daikon Festival
9 & 10 December
Sanpoji Temple, Narutaki, Kyoto
Daikon festival at Sanpoji Temple (三宝寺) in Kyoto. Daikon radish becomes available in late autumn and is associated with the seasonal cuisine of winter. The radish festival takes place annually in December, usually on 9th & 10th December, when boiled radish is served to about 10,000 people over the two days, when eating the hot radish is believed to be good for health. To get to the festival take a Kyoto bus #8 to Narutaki honmachi bus stop from Shijo Karasuma or Shijo Omiya.
Hiwatari Shinji
Second Sunday in December
Fukugon Temple, Nishihora, Komaki, Nagoya, Aichi Prefecture
Priests walk over burning embers in a purification rite at Fukugon Temple in Komaki, just north of Nagoya city. Read more on the Fukugonji Fire Festival.
Akou Gishisai
14 December
Ako, Hyogo Prefecture
Traditional dances and warrior parades as an annual memorial to the legendary '47 ronin' (wandering samurai) who commited suicide to avenge their master.
For an account of the Ako festival click here
47 Ronin Festival
14 December
Bishamon Temple, Yamashina, Kyoto
A procession commemorating the 47 Ronin with people in traditional costume walking from Bishamon Temple to Oishi jinja in eastern Kyoto.
Gishisai Festival
14 December
Sengakuji Temple, Minato-ku, Tokyo
A festival commemorating the 47 Ronin at Sengakuji Temple in Tokyo where the graves of the 47 Ronin are located.
Iwatsuta Shrine Fire Festival
14 December
Iwatsuta Jinja, Ishizugawa, Osaka
108 wooden bundles are set alight and young men run through the flames in a purification ceremony in Ishizugawa, Osaka. 8pm start.
Akiba Taisai Hiwatari Shinji Festival
16 December
Entsuji Temple, Nagoya
100 ascetics run through flames at Entsuji in Nagoya before the general public joins in. 7pm start.
Setagaya no Boro Ichi
15-16 December
Setagaya-ku, Tokyo
Countless stalls and shoppers crowd the streets at this flea market in Tokyo that dates back to 1578. A huge range of items to browse and buy including antiques, second-hand goods and food.
Akutai Cursing Festival
mid-December
Atago Shrine, Mt. Atagoyama, Iwama-cho, Kasama, Ibaraki Prefecture
Priests dressed in white and impersonating tengu goblins are cursed and abused. Participants attempt to steal the goblins' offerings, while the goblins attempt to ward off their abusers with bamboo staves.
Previously held on November 14. Atago Shrine Tel: 0299 45 5637
Akiba no Himatsuri
15-16 December
Akiba, Shizuoka Prefecture
Fire festival held to pray for protection against fire held at Akiba Jinja, a Shinto shrine that enshrines Hifuse, the god of fire prevention.
Kasuga Wakamiya Festival
17 December
Kasuga Taisha, Nara
A chance to see rarely performed traditional dances at a festival that has been observed every year since it began in 1136. A two-hour procession (owatarishiki) through central Nara begins at noon from the Prefectural Office followed by around seven hours of dances at Kasuga Taisha.
Izumi Kannon Daruma-ichi
17-18 December
Izumi Kannon Temple, Odawara, Kanagawa Prefecture
This temple has been holding daruma (a manifestation of the Buddha) fairs for every year over 400. Attracts large crowds.
Asakusa Kannon Hagoita-ichi
17-19 December
Senso-ji Temple, Asakusu, Tokyo
Festive market selling hagoita, the paddles used in hanetsuki, a game traditionally played at New Year. Around 50 stallholders crowd into the grounds of Sensoji Temple in Asakusa over the two days.
Shimai Kobo
21 December
To-ji Temple, Kyoto
The last festive market of the year honoring the renowned Buddhist priest Kobo Daishi at Toji Temple in south Kyoto with over 1600 stalls selling antiques, foods and just about everything else.
Read more on Toji market
Shimai Tenjin
25 December
Kitano Tenmangu Shrine, Kyoto
The last festive market of the year at the large Kitano Tenmangu Shrine in north-west Kyoto.
Kotohira-gu Shukiku
Late December
Kotohira-gu Shrine, Kagawa Prefecture
Shinto shrine festival featuring kemari, a ceremonial game of kick-ups said to be a forerunner of the sport of soccer.
Namahage
31 December
Oga Peninsula, Akita Prefecture
An ancient folk tradition still observed in villages all over the peninsula in which young men dressed in frightening namahage costumes visit the homes of children to warn them not to be lazy in the coming year.
Hagurosan Shoureisai
31 December - 1 January
Mt. Haguro, Yamagata Prefecture
A famous fire festival in which two giant chiggers are set alight and pulled about with ropes. Forms part of the winter rituals of the Shugendo sect of mountain ascetics.
Mabuni Hi to Kane no Matsuri
31 December - 1 January
Itoman-city, Okinawa
Held in remembrance of those who died during the second world war. Participants light torches from a sacred flame (hi) and then pray for peace as the bell (kane) announces the beginning of the New Year.
DISCLAIMER Festivals may be cancelled or postponed without much warning. Check with your local tourist office for confirmation.
Toji Temple Flea Market
Japanese Festivals December. See a list of the main festivals in Japan in December.
All the themes of the city