Japan Festivals - February
February Japan Festivals 2月の祭り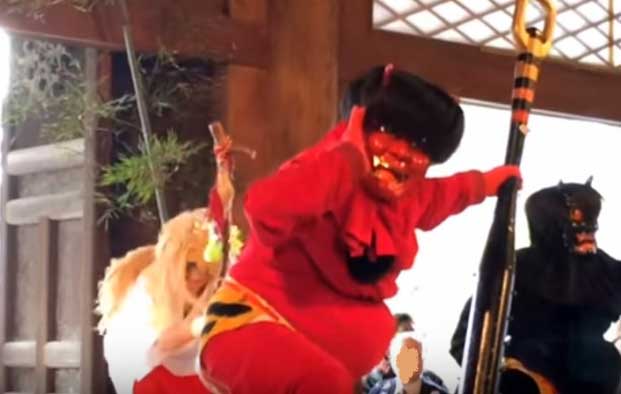 Shiretoko Fantasia 2003
1 February - 8 March
Shiretoko, Hokkaido
A nightly aurora borealis-inspired laser light and music show illuminates the drift ice and the crashing waves of the Okhotsk Sea.
Kaki Matsuri
February
Various locations, Hiroshima Prefecture
Hiroshima is famous for its oysters and throughout February, oyster festivals are held in Hiroshima city, Miyajima Island and fishing towns along the coast where you can sample a range of oyster and fresh fish dishes.
Otaru Snow Light Path Festival
Early February
Otaru, Hokkaido
Usually held at the same time as the more famous Sapporo Snow Festival, the Otaru Snow Light Path Festival features lanterns and snow sculptures in the historic Canal area of Otaru.
Abashiri Okhotsk Drift Ice Festival
Early February
Abashiri, Hokkaido
Son et Lumiere events, ice sculptures and fireworks feature at this frosty winter festival.
Read more about Abashiri Drift Ice
Mombetsu Drift Ice Festival Early to Mid February
Mombetsu, Hokkaido
Attractions include a giant slide made from natural ice, an endurance competition and a bobsled race in Mombetsu, Hokkaido.
Iwate Yukimatsuri
Early to Mid February
Shizukuishi-cho, Iwate Prefecture
A "bewitching winter wonderland" of snow and ice statues illuminated at night. One of the biggest snow festivals in the Tohoku region.
Toka-machi Yukimatsuri
mid February
Tokamachi, Niigata Prefecture
Japan's longest-running snow festival featuring many sculptures. Also showcases the work of Niigata Prefecture's renowned kimono makers. Read more about the Tokamachi Snow Festival
Snowball Festival
Mid-February
Koide, Uonuma, Prefecture Prefecture
Niigata is home to a bizarre, fancy-dress, free-for-all snowball fight in the town of Koide in Uonuma city. There's lots of snow, lots of fun and lots of sake.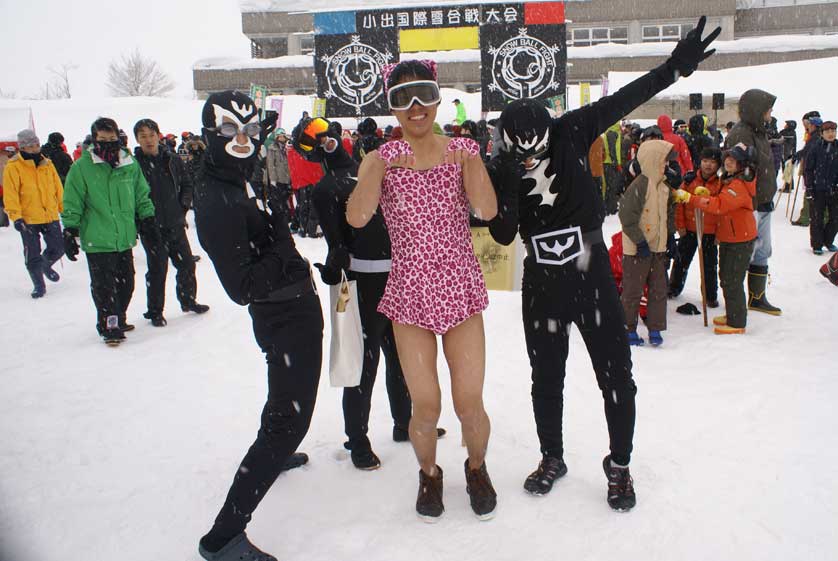 Bizarre fancy dress is de-rigueur at the Snowball Festival in Koide Niigata Prefecture.
Kurokawa Noh
1-2 February
Kasuga Shrine, Kushibiki, Yamagata Prefecture
Ceremonial parades and seven sacred noh plays mark the beginning of the new year, traditionally celebrated a month later in this area.
Hakodate Yuki no Saiten
1-2 February
Hakodate, Hokkaido
Ice sculptures and illuminations as well as winter sports in the port city of Hakodate in Hokkaido.
Owase Ya-ya Matsuri
1-5 February
Owase, Mie Prefecture
In the evenings of the 2nd to the 4th, young men dressed only in loincloths, parade around the streets, jostling each other before diving into the sea to purify themselves. Lively parades, archery events and street dancing add to the excitement.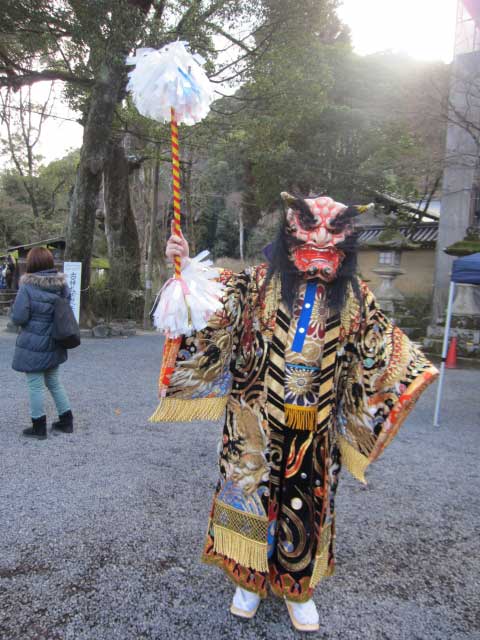 Devil at Setsubun Festival at Matsuo Taisha Shrine, Kyoto
Setsubun Festival
2-3 February
Shogo-in Temple, Kyoto
Setsubun ceremony from 1pm and Shogo-in Temple's principal deity (Fudo Myo-o) is open to the public. Take bus #206 to the Kumano Jinja-mae stop.
Setsubun Festival
2-3 February
Senbon Enma-do Temple, Kyoto
Special konnyaku (devil's tongue) on sale along with kyogen drama from 7.30pm. Take Kyoto bus #206 to Senbon Kuramaguchi stop.
Setsubun Festival
2-3 February
Suga Shrine, Kyoto
From 3pm on February 2, bean scattering and charms distributed by men in Heian Period attire.
Setsubun Festival
2-3 February
Yasaka Shrine, Kyoto
Setsubun festivities with ritual bean-throwing by Kyoto maiko and amulet offering and sweet sake (amazake) at Yasaka Shrine in downtown Kyoto. Bus #206.
Setsubun Festival
2-4 February
Mibu-dera, Kyoto
Processions, prayers, clay plate name-writing ceremony and a prayer-stick (goma) burning fire ritual at Mibu Temple in Kyoto. Mibu kyogen dramas are performed daily from 1pm. Ride bus #26 and get off at Mibudera-michi. See also April festivals and October festivals.
Setsubun Festival
2-4 February
Yoshida Shrine, Kyoto
Setsubun festivities with procession, bean-throwing and large purification fire on the evening of 3rd February at Yoshida Shrine near Kyoto University Hyakumanben campus.
Naritasan Setsubun-e
3 February
Shinsho-ji Temple, Narita, Chiba Prefecture
Major bean-throwing festival held at the head temple of the Shingon Buddhist sect. Attracts top sumo wrestlers and famous entertainers every year.
Takisanji Oni Festival
3 February
Takisan-ji Temple, Okazaki, Aichi Prefecture
Three goblins dressed as grand-father, mother and child are chased by young men with torches in Okazaki, central Japan.
Nishiarai Daruma Kuyo
3 February
Nishiarai Daishi Temple, Adachi, Tokyo
One of Japan's largest daruma burning festivals in Adachi, Tokyo.
Tsuina Ceremony
3 February
Nagata Jinja, Kobe, Hyogo Prefecture
Seven youths dressed as demons and wielding torches dance to the sound of conches and drums at Nagata Jinja in Kobe.
Kasuga Taisha Mandoro
3 February
Kasuga Taisha Shrine, Nara
At this twice-yearly festival at Kasuga Taisha in Nara, the shrine's thousands of stone lanterns as well as it's famous bronze hanging lanterns are all lit to magical effect.
Ushikae Shinji
3 February
Hofu Tenmangu Shrine, Hofu, Yamaguchi Prefecture
All Tenmangu shrines are associated with bulls and at this major shrine festival, local business donate many cow-related prizes made from gold, copper and silver. Top prize though is live bull that the winner has to look after until the autumn.
Konaki Zumo
3 February
Saikyo-ji Temple, Hirado, Nagasaki Prefecture
About 200-300 1-year-old babies take part in this competition every year in Hirado. Competing babies sit opposite each other while a gyouji (referee) tries to surprise them into crying. The first baby to cry is the winner.
Dai-no-gi at Heian Jingu
3 February
Heian Jingu, Kyoto
Large scale setsubun festival held at Heian Jingu in the Okazaki district of Kyoto. There is a re-enactment of a Heian period ritual, kyogen dramas, amazake and bean throwing plus a setsubun bonfire. Begins at 1pm. Arrive earlier to get the best views as the festival draws large crowds.
Setsubun Devil Dance
3 February
Rozanji Temple, Kyoto
Devil dance (oni-odori) by four costumed devils, ritual purification rites and stylized archery at Rozanji Temple near Demachiyanagi Station in Kyoto. The dance starts at 3pm but the small temple's grounds fill much earlier. Old amulets are burned in a fire ritual from 5pm.
Setsubun Festival
3 February
Kitano-Tenmangu Shrine, Kyoto
Kyogen comic plays are performed and bean-scattering by maiko from the Kamishichiken geisha district from 1pm at Kitano-Tenmangu Shrine. Take a Kyoto City Bus #50 to Kitano Tenmangu-mae stop.
Setsubun Festival
3 February
Shimogamo Shrine, Kyoto
Arrow shooting ritual, bean-throwing and old amulet burning ceremony at the main hall of Shimogamo Jinja from 10am. Take bus #205 to the Shimogamo-jinja-mae stop in northern Kyoto.
Yuki no Carnival
5-6 February
Unazaki Onsen, Toyama Prefecture
Local winter festival featuring snow and ice sculptures, fireworks and 100 torch-bearing skiers forming a night time procession down the slopes.
Tako-ichi
6 February
Oji Inari Shrine, Kita-ku, Tokyo
Annual kite market dating back to the Edo Period (1603-1867) when kites were said to "cut the wind" and thus stop fires from spreading.
Otomatsuri
6 February
Shingu, Wakayama Prefecture
Fire festival in Shingu in which hundreds of men dressed all in white, run down the steep steps of the mountain carrying flaming torches.
Hatsu-umasai
6 February
Yutoku Inari Jinja, Kashima, Saga Prefecture
A parade of hundreds in festival dress led by horses with colourful headgear and saddles. Horses and people alike dance mambo-fashion while thousands look on.
Matsushima Kaki Matsuri
6 February
Matsushima, Miyagi Prefecture
Celebrates the local speciality of kaki (oysters) with Buddhist ceremonies and 100m long grill in the beachside park in Matsushima Bay for visitors to cook fish bought at the market. Oysters usually sell out by the afternoon.
Shusho Oni-e
6 February
Tennen-ji Temple, Bungo Takada, Oita Prefecture
Men dressed as oni (demons) act wildly and prod people's backs with burnt out torches. This is said to expel evil spirits and townspeople bend over to receive the demons' blessing until late at night.
Asahikawa Fuyu Matsuri
7-11 February
Asahikawa, Hokkaido
Asahikawa hosts the world's foremost ice sculpture competition and holds the record for the largest snow statue in the world. Many sculptures and snow slides all illuminated at night.
Sapporo Yukimatsuri
7-13 February (dates may vary)
Odori Park, Sapporo, Hokkaido
The largest of Hokkaido's winter snow and ice festivals. Teams from all over the world come to Sapporo to build snow statues for the International Snow Statue Contest held during the festival.
For more information on the Sapporo Snow Festival click here
Onda Matsuri
Second Sunday in February
Asukaniimasu Shrine, Asukamura, Nara Prefecture
Though formally known as the O-tauesai, or rice-planting festival, this is also a celebration of fertility. After the rice-planting ceremony involving a kagura performance and song by a shrine maiden, a ritual dance simulates a couple having sexual intercourse. Masked goblins also hand out ritual smacks with bamboo sticks to "drive the devil out" of those smacked.
Hari Kuyo
8 February
Kokuzo Horinji Temple, Kyoto, Kyoto Prefecture
The deity of needlework is enshrined here and on this day seamstresses and others stick their used needles in a jelly followed by prayers at 1pm.
Takewari Matsuri
10 February
Kaga-shi, Ishikawa Prefecture
To recreate the legendary killing of snakes in ancient times, young men, half-naked, half-dressed in white beat the ground with 2m lengths of bamboo in order to smash them to pieces.
Hatsu Uma Daikon Radish Ceremony
10-13 February
Sanzen-in Temple, Ohara, Kyoto Prefecture
A locally-grown, organic, boiled white radish is offered to visitors at Sanzen-in Temple in the village of Ohara with prayers for health from 9am.
Yuki Toro Matsuri
10-13 February
Hirosaki, Aomori Prefecture
Yuki toro (snow lanterns) are snow sculptures in the shape of traditional Japanese ishidoro (stone lanterns). At this festival in Hirosaki in Aomori Prefecture in northern Japan, around two hundred yuki toro and 300 miniature igloos grace Hirosaki Park with the snow-covered castle in the background.
Agon Shu Hoshi Matsuri
11 February, Yamashina,
Kyoto
New Buddhist sect (established 1978) Agon Shu's Hoshi Matsuri or "Fire Rites Festival" in Yamashina, eastern Kyoto, involves the lighting of two huge bonfires of millions of prayer sticks - gomagi and the procession of supposed relics of the historic Buddha.
Access: Shuttle buses from Kyoto Station's Hachijoguchi exit or Keihan Bus #82C, #83, #83A, #84, #84B, #86, #86B, #87, #87B.
Kigen Matsuri
11 February, Kamigamo Shrine
Kyoto
Celebrates the reign of the Emperor Kanmu (737–806) with children's karate display and kemari (ancient soccer) game. Starts at around 10am.
Kawa o Wataru Bonden
11 February
Hanadate-chiku, Omonogawa, Izusan, Omagari-chiiki, Daisen City, Akita Prefecture
A bonden is a kind of folk song particular to Akita prefecture, and this Bonden festival is special in that, after participants having done the rounds of the town from early morning singing bonden, they cross the Omono River on boats decorated with huge lantern-like decorations then climb Mt. Izu to pray at the shrine at the top.
Near Omagari Station.
Daito Ohara Mizukake Matsuri
11 February
Iwate Prefecture
The ages of 25 and 42 are considered unlucky ages for men and so at this festival, men of those ages take this opportunity to run around the town wearing only loincloths while townspeople throw water over them to wash away the bad luck. Recently men of other ages have been joining in in the hope of making their wishes come true.
Sominsai
11 February
Kokuseki-ji, Iwate Prefecture
Men of unlucky ages (25 and 42) dressed only in loincloths take part in purification rituals throughout the night, climaxing in a vigorous struggle for wooden charms.
Shinwa no Takachiho Kenkoku Matsuri
11 February
Takachiho, Miyazaki Prefecture
Celebrates the mythical 'founding of the nation' day with a 'goddess' contest and a beard contest. The winners lead a parade of 800 people dressed as Japanese gods.
Chousho-ji Aragyo
12 February
Chousho-ji, Kanazawa, Kanagawa Prefecture
Priests chant sutras and pray for peace while dousing themselves in cold water at Choushiji Temple in Kanazawa.
Hatsu Uma Festival
12 February
Fushimi Inari Shrine, Kyoto, Kyoto Prefecture
People pray for success in business to Inari (guardian of grains, especially rice and therefore business in general) Starts at 8am at Fushimi Inari Shrine.
Namahage Sedo Matsuri
13-15 February
Akita Prefecture
Blending Shinto and local folk traditions, this festival starts with ceremonial kagura dances and continues with namahage dancing around a bonfire and a torch-lit procession down the mountain.
Iwatsuka Kinekosa Festival
14 February
Shichishosa Shrine, Nakamura-ku, Nagoya
A dozen naked men plant a bamboo pole in the Shonai River, one man ascends the pole until it breaks. The direction of the broken bamboo foretells the year ahead.
Kariwano Otsunahiki
15 February
Kariwano, Akita Prefecture
Annual tug of war contest between the people of the 'lower' and the 'upper' towns. Thousands take part pulling on each end of a rice-straw rope over 50m in length.
Kamakura Festival
15-16 February
Yokote, Akita Prefecture
Local people build kamakura (snow houses) all over the town and offer food and drink to guests.
Kuromori Kabuki
15 - 17 February
Kuromorihie Shrine, Sakata City, Yamagata Prefecture
For 250 years, local performers have been performing colorful, often comical kabuki on an outdoor stage. The families of actors make up much of the audience which gives the event an especially festive atmosphere.
Chinese New Year
February
Chinatown, Yokohama, Kanagawa Prefecture
The biggest Chinese New Year celebrations take place in Chukagai, the Chinatown in downtown Yokohama. There are colorful and noisy lion and dragon dances, Chinese fire crackers and lots of people visiting the local temples.
Hadaka Matsuri
Mid February-early March
Konomiya Shrine, Inazawa, Aichi Prefecture
Dating back 1,200 years, this festival involves semi-naked men battling to touch the 'god-man', a ritual practice that is said to rid each man of evil. This ancient festival with its roots in the 8th century is held on the 13th day after the lunar new year, which changes every year.
Read more about the Konomiya Hadaka Festival
Mount Omuro Yamayaki Festival
Second Sunday in February (weather permitting)
Mount Omuro, Izu Peninsula, Shizuoka Prefecture
Yamayaki Matsuri (Mountain Burning Festival) takes place on the 2nd Sunday of February. The old grass covering the dormant volcano of Mount Omuro is burnt off allowing new shoots to grow.
Akiyoshidai Yamayaki
16 February
Akiyoshidai, Yamaguchi Prefecture
Dry grass on the slopes of the mountain plateau of Akiyoshidai in Yamaguchi is burned to signal the beginning of spring.
Hachinohe Enburi
17-20 February
Chojasan Shinra Shrine, Hachinohe Shichomae Hiroba, Kojokaku, Hachinohe City, Aomori Prefecture
Local folk dance festival that dates back when people with no experience of farming were taught how to work in the fields through dancing with a tool called an eburi (later enburi).
Tanigumi Odori
18 February
Tanigumi-mura, Gifu Prefecture
A celebration dance first performed during the Kamakura Period (1192-1333) by victorious samurai of the Minamoto clan. Dancers wearing long, brightly-colored plumes on their backs and beat large drums while parading in the streets.
Nentosai
18 February
Kamigamo Shrine, Kyoto, Kyoto Prefecture
Festival based on a recreation of ancient Heian Period rite performed by the Kyoto nobility. Begins at 2pm.
Dondo Festival
19 February
Tsukioka, Niigata Prefecture
The Tsukioka Dondo Festival sees about sixty young men and about a dozen young women will run through town before starting a bonfire with burning torches. Despite extreme cold, possibly snow, the men wear white, cotton loincloth-like garments only. The women don thin, colorful Japanese robes. A sideshow is the Geta Olympics - hurling a clog as far as you can.
Saidaiji Eyo
Third Saturday of February
Saidai-ji, Okayama Prefecture
Spectacular and atmospheric naked festival at Saidaiji Kannon-in Temple dating back to the 14th century, in which up to 10,000 loincloth-wearing (and sometimes drunk) men battle for sacred wooden sticks (shingi) tossed into the air by priests. Can be dangerous with a fatality in 2007.
Sata no Misaki Matsuri
3rd weekend in February
Cape Sata, Minami-osumi-cho, Kimotsuki-gun, Kagoshima Prefecture
This festival starts from the southernmost tip of Kyushu, Cape Sata, from the Misaki Shrine there and makes its way 20 km north-east to Chikatsu-no-miya Shrine over two days. In the process it traverses seven different local hamlets. The end of the first day is the most thrilling, when the shrine is taken down a steep rocky slope in what is called the Donhirazaka-kudari.
Godai Rikison Ninno-e
23 February
Daigoji Temple, Kyoto
Participants compete to lift huge mochi rice cakes, weighing 150kg for men and 90kg for women. Starts around noon.
Godai Rikisan
23 February
Sekizen-in Temple, Kyoto
A sub-temple of Shogo-in Temple where the images of Five Forceful Bodhisattvas are on display to the public just for one day each year. The worship is led by yamabushi with free soup on offer made from sake lees. Starts from 1pm.
Baikasai
25 February
Kitano Tenmangu Shrine, Kyoto
An outdoor tea party hosted by Kyoto maiko and geiko is held amongst the blossoming plum trees at Kitano Tenmangu Shrine.
Katsuyama Sagichosai
Last weekend of February
Katsuyama, Fukui Prefecture
Traditional music is performed almost continuously on 12 stages set up in different locations to showcase talent from each part of the town but the highlight of the festival is the closing dondo-yaki ceremony at which the town's new year decorations are burned.
Some-no-Komichi Festival
Last weekend of February
Nakai and Ochiai in western Shinjuku, Tokyo
The Some-no-Komichi Festival celebrates the area's heritage of kimono dyeing in very colorful ways. For a length of 300 meters, long strips of patterned cloth are hung over the river, more than 100 local businesses also display custom-made norencurtains outside their doors to announce their participation in the festival.
DISCLAIMER Festivals may be cancelled or postponed without much warning. Check with your local tourist office for confirmation.
Konomiya Hadaka Matsuri
Japanese Festivals February. See a listing of the main festivals in Japan in February.
All the themes of the city