Gunma Prefecture
Gunma Prefecture: read a guide to Gunma Prefecture, a mountainous prefecture north of Tokyo known for its mountains, ski resorts and onsen.
Japan's Regions: Gunma 群馬県
Gunma Prefecture, located north of Tokyo in the Kanto, is south of Fukushima Prefecture and also borders Saitama, Niigata, Nagano, and Ibaraki prefectures.
Gunma is a mainly rural and mountainous prefecture with its main urban centers the prefectural capital Maebashi, and Takasaki. Around 14% of the total area of Gunma Prefecture is protected land including the Nikko and Oze National Parks, as well as Joshin'etsu-Kogen National Park and Myogi-Arafune-Saku Kogen Quasi-National Park.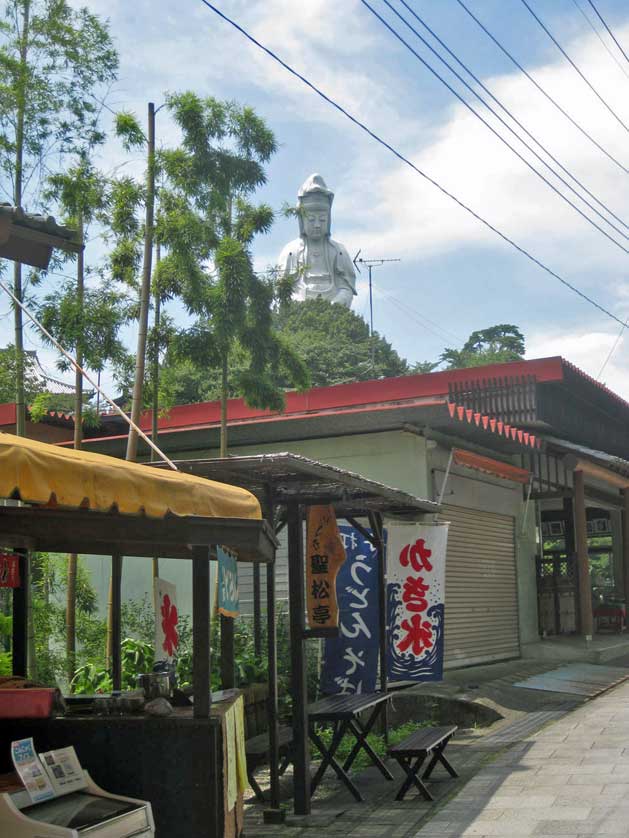 Shopping street with Byakue Kannon in the background, Takasaki, Gunma
Takasaki is the largest city in Gunma Prefecture with a population of over 370,000 inhabitants and is just larger than Maebashi, the capital of the prefecture, which is located less than 10 km away from Takasaki.
Other important towns and cities in Gunma Prefecture are Annaka, Fujioka, Isesaki, Kiryu, Midori, Numata, Ota, Shibukawa, Tatebayashi and Tomioka.
Gunma has slightly cooler weather in the summers than areas further to the south in Honshu, though temperatures can still top 30 degrees Celsius (86 degrees Fahrenheit) or more in July and August. Snowfall in the mountains can be heavy in winter.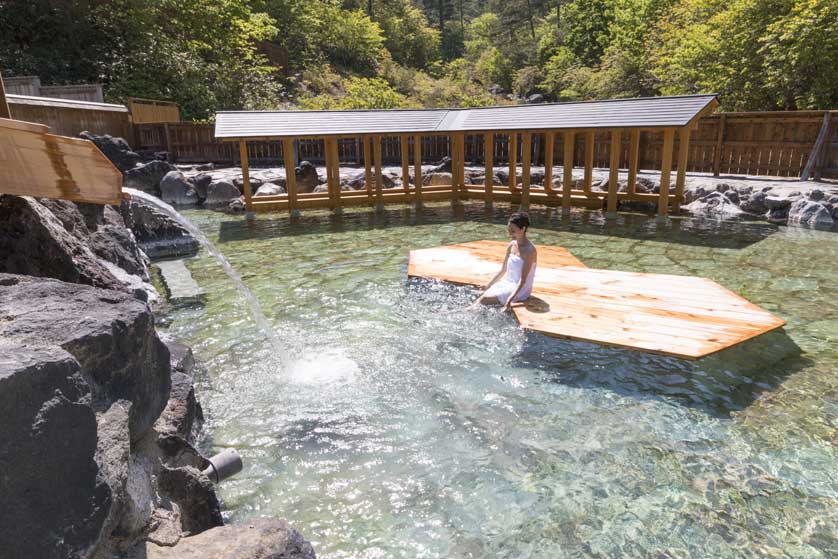 Kusatsu Onsen, Gunma Prefecture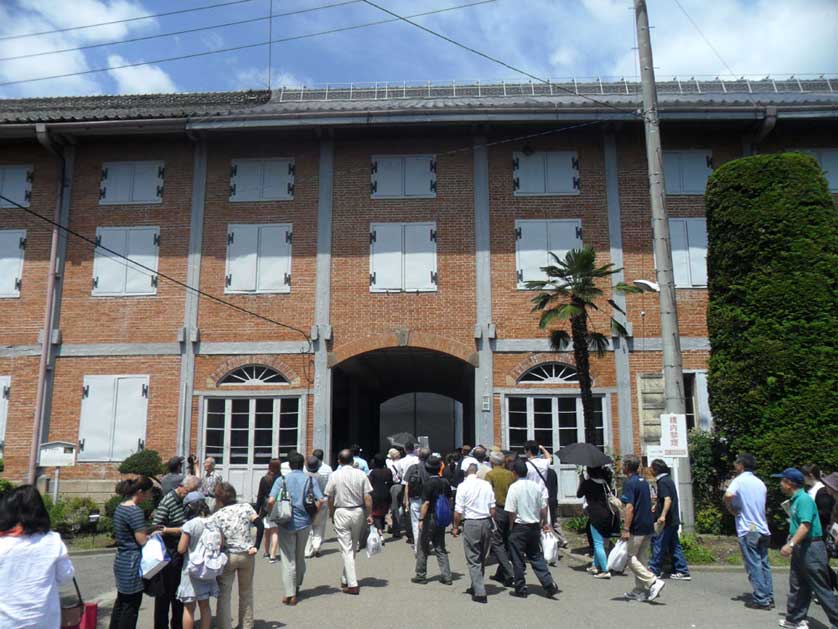 East Cocoon Warehouse, Tomioka, Gunma Prefecture
Gunma Attractions
Takasaki has a number of attractions including Byakue Kannon (White-Robed Kannon), a huge statue of Buddha in Kannonyama. Takasaki is also the main production center of Daruma dolls in Japan.
Kusatsu Onsen is a a favorite weekend retreat for people to escape the busy life of Tokyo, so the main reason to come to Kusatsu Onsen is to chill out and take it easy in one of the town's hot springs (onsen).
Tomioka Silk Mill, a UNESCO World Heritage Site, was Japan's first mass-production silk mill, using techniques and experts brought over from France.
Arts Maebashi is a public art gallery in Maebashi. Exhibitions at this stylish urban renewal project are noted for their creativity and topicality. Maebashi's association with the arts, especially poetry, is a distinguished one, with some of Japan's most prominent modern poets coming from here, including Sakutaro Hagiwara (1886-1942), Shinkichi Ito (1906-2002), and the anarchist poet, Kyojiro Hagiwara (1899-1938).
Gunma has a number of mountains including Mount Kusatsu-Shirane, Mount Haruna, Mount Tanigawa, Mount Akagi and Mount Myogi. Akagi Shrine on the edge of the crater lake of Mt. Akagi venerates the mountain and is the parent shrine of numerous other Akagi shrines throughout Japan. Myogi Shrine on Mount Myogi in an ancient shrine dating from the 6th century and is known for its brilliant fall colors.
Gunma's ski resorts include Minakami, Kusatsu and Tsumagoi all within easy reach of the capital.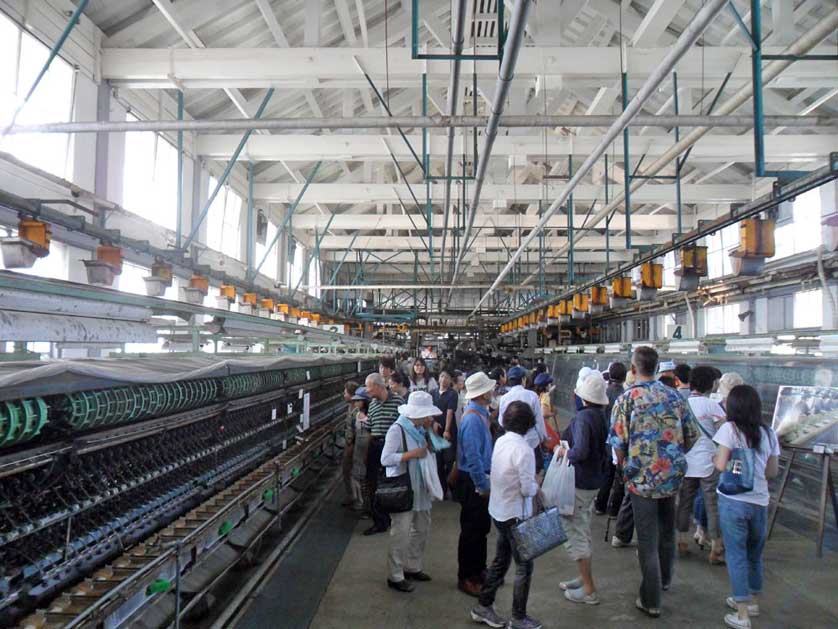 Silk-reeling Mill, Tomioka, Gunma Prefecture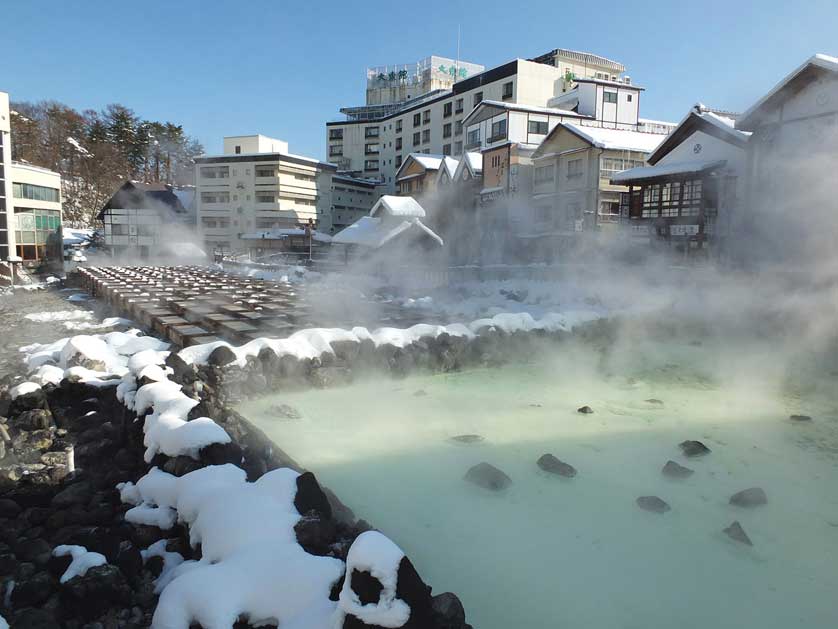 Kusatsu Onsen, Gunma Prefecture
Gunma History
During the Edo Period, Gunma was known as Kozuke province aka Joshu or Jomo. During the Meiji Period, Gunma Prefecture became a center of silk production, an industrial heritage preserved in Tomioka.
Access
Train
Takasaki is on the Joetsu Shinkansen line from Tokyo Station (1 hour).  Cheaper standard trains also operate from Ueno Station (100 minutes).  You may need to change at Urawa station or Omiya station on the way. From Shinjuku Station take the Shonan-Shinjuku Line to Takasaki. Karuizawa is one stop westbound from Takasaki.
From Takasaki Station there are trains on the Agatsuma Line to Shin-Maebashi, Shibukawa, Naganohara-Kusatsuguchi for buses to Kusatsu Onsen and Manza-Kazawaguchi. The Ryomo Line has trains to Shin-Maebashi, Maebashi, Kiryu and Oyama. The Shinetsu Main Line runs trains to Annaka and Yokokawa.
The Joshin Line, operated by Joshin Dentetsu runs nearly 34km between Takasaki Station and Shimonita Station.
Bus
From Narita Airport there are limousine highway buses to Takasaki taking about 3 hours. There are also limousine buses from Haneda Airport, Tokyo's other main airport.
There are also highway buses from Shinjuku Station, Shizuoka, Nagoya and overnight buses from Sendai, Osaka Nara and Kyoto run by Nippon Chuo Bus.
Book Hotel Accommodation in Gunma Prefecture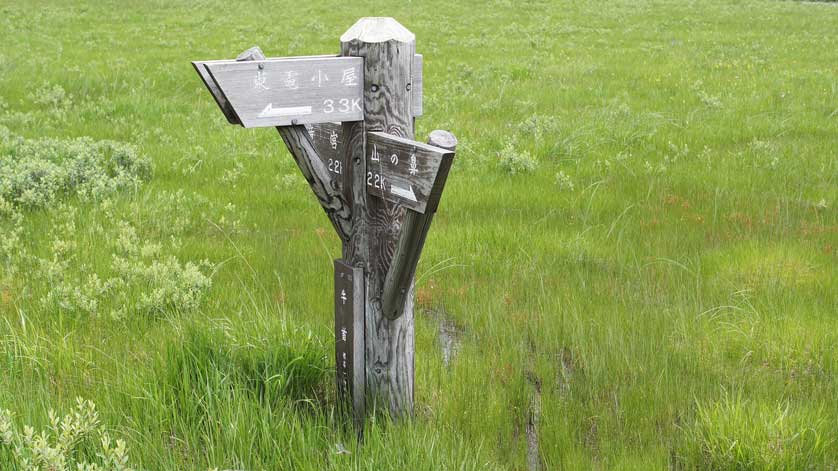 Signpost in Oze Marsh, Gunma Prefecture
All the themes of the city