Sasaguri Pilgrimage
The Sasaguri Pilgrimage is a very popular pilgrimage in northern Kyushu that visits 88 Buddhist temples along a 50 kilometer route set in the countryside and mountains near Fukuoka.
Sasaguri Pilgrimage 篠栗
Jake Davies
The Sasaguri Pilgrimage is a very popular pilgrimage in northern Kyushu that visits 88 Buddhist temples along an approximately 50 kilometer route set in the countryside and mountains near Fukuoka.
The pilgrimage route is visited by up to a million people a year who come for spiritual and religious reasons, or simply to enjoy walking and exploring in a rural setting.
It is particularly useful for anyone who is thinking of trying any of the more famous, but longer pilgrimages in Japan.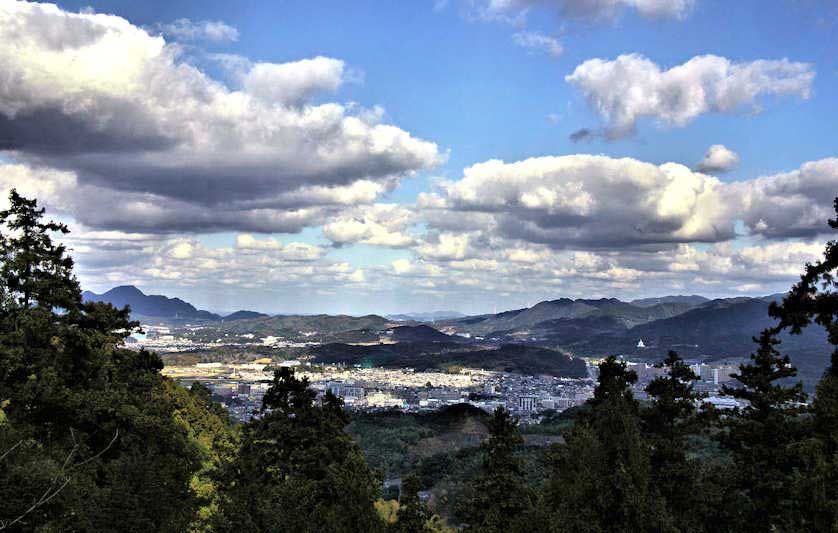 Sasaguri, home to an 88 temple pilgrimage, is a rural and mountainous area near Fukuoka

Pilgrimages in Japan
Japan is home to some ancient "circuit" type pilgrimages where the aim is not to simply travel to one particular holy spot, but rather to visit a series of sites often laid out in a roughly circular pattern.
The most famous of these ancient pilgrimages are the Saigoku Kannon Pilgrimage that visits 33 temples in the Kansai region, and the Ohenro 88 temple pilgrimage that circles the whole of Shikoku. Both pilgrimages are more than a 1,000 kilometers in length.
Copies of these major pilgrimages have sprung up all over Japan in sizes that vary between those that take weeks to complete down to ones that are no more than a collection of statues within the grounds of a single temple.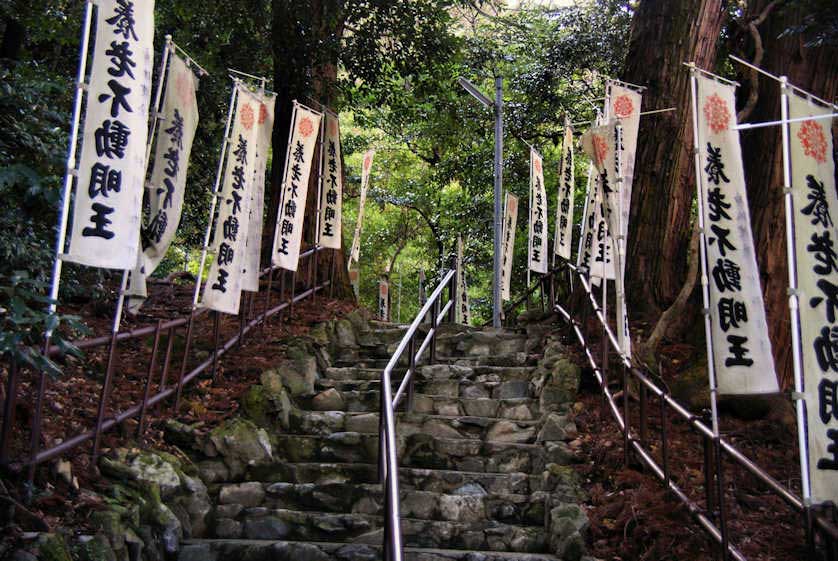 The entrance to pilgrimage temples are usually quite well marked by banners
Sasaguri Route
The Sasaguri Pilgrimage is one of the medium sized versions of the 88 temple Shikoku Pilgrimage and is about 50 kilometers in length and takes between 3 to 7 days to walk depending on various factors.
It was established in about 1835 by a monk who had returned from walking the Shikoku Pilgrimage and wanted to give the chance to follow the pilgrimage  to local people who might not be able to do the full pilgrimage.
Of the 88 temples of the Sasaguri Pilgrimage, about 20 are full size temples with multiple buildings and with resident priests and other staff.
The rest are smaller sites that you could call chapels maybe, but at even the smallest of them there are plenty of statues both in the grounds and inside.
Unlike many temples in Japan where the main statues are hidden from view, here all can be seen, and combined with the huge number of statues in the grounds, you can experience a massive range of diverse statuary.
The area encompassed by the pilgrimage is bisected east to west by a railway line and a main road. Most of the route walked is along either quiet, country lanes, or narrow forest roads, neither of which have much, if any, traffic.
There are many footpaths to walk, and a little bit of urban and main road. The highest point in the northern half is about 450 meters above sea level, but it is approached gradually.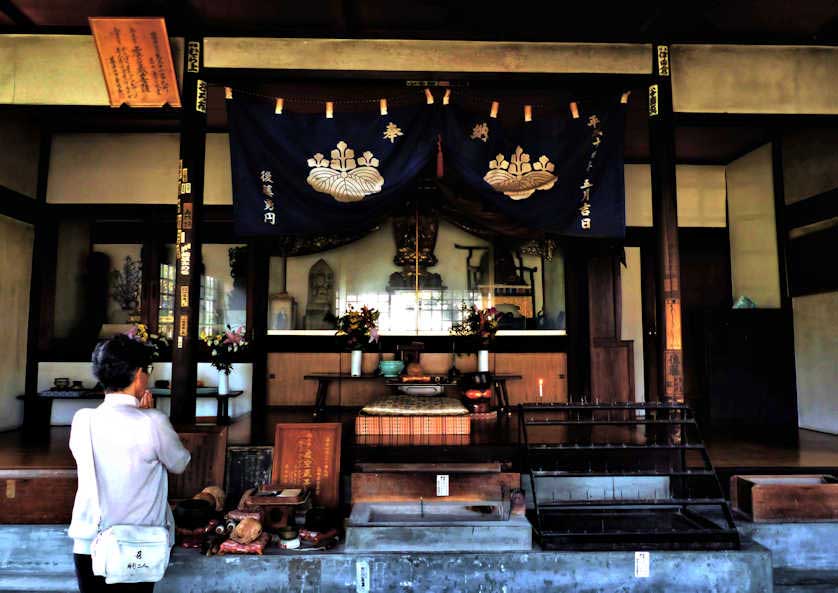 Many of the temples are quite small, but they are all open to visitors and only one, Nanzoin, has an entry fee
The highest point of the whole pilgrimage is on top of Mount Wakasugi in the southern half. The 650 meter mountain does have some steeper sections. There are plentiful signs along the route and lots of other pilgrims to ask for directions if you are in doubt.
There is a suggested route to follow that starts and ends at Sasaguri Station, but you can visit the temples in any order you wish.
There is also no necessity to take part in any religious activity. Most people however buy a book called a nokyocho in which to collect stamps from each of the temples visited.
For most of the temples this involves finding the stamp and ink pad and stamping the book yourself, but at the temples that are staffed someone there will do it for you and also, for a small donation, will add  calligraphy on top of the stamp.
These books make for unique souvenirs. Many pilgrims also carry small candles to light at each temple and a set of osamefuda, paper slips upon which you write your name, date, and a prayer and that you leave at each temple.
Many pilgrims you see will also be wearing a white jacket. All of these items can be bought at any of the pilgrimage supply shops scattered across Japan, usually near major pilgrimage temples, or they can be bought online.
At the first temple, numbered 33 and located near Sasaguri Station, all these things can be purchased when you start, but none are necessary.
The suggested route starts and ends at Sasaguri Station. At the station is a Tourist Information Office that can help with maps, etc.
Though the maps are only in Japanese, they are simple enough to follow, especially in combination with the maps on any smart phone.
About 500 meters from Sasaguri Station is Honmyo-in, temple number 33 of the pilgrimage but the most common starting point for most pilgrims. They have a complete set of supplies and maps etc.
Honmyo-in65 Tanaka, SasaguriFukuoka 811-2416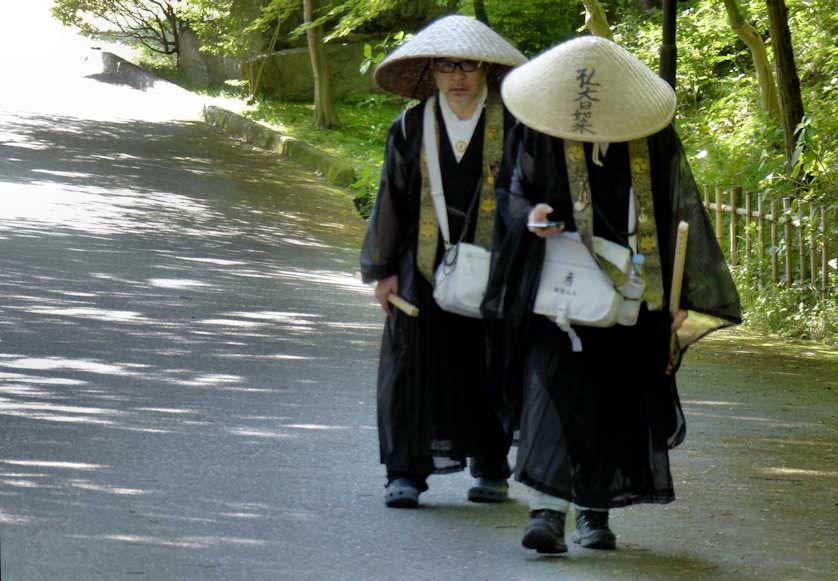 Two young monks walking the Sasaguri Pilgrimage
Highlights
The biggest temple on the pilgrimage and officially temple number 1 is Nanzoin.
It is a massive complex with many buildings and shrines within its grounds, but is probably most famous for the giant bronze statue of the Reclining Buddha, possibly the biggest in the world. If you only want to walk one day of the pilgrimage then this would probably be the best place to start.
The highest point of the pilgrimage, and the steepest ascent, is Mount Wakasugi. Near the summit at 650 meters is a shrine and several temple buildings, but the actual pilgrimage site, Okunoin, is in a cave just below the top. It is said that Kobo Daishi, the eminent 9th century Buddhist saint to whom the pilgrimage is dedicated, spent time in the cave after he returned from China. There are steps leading down to the cave, but the best way is through a narrow cleft in the rock aided by a chain.
At many of the temples in the mountains you will find small waterfalls. Usually marked by a shimenawa, sacred rope, and with numerous statues around, these falls are still used today for ascetic training by reciting prayers while standing under the falling water.
Many sections of the mountain paths followed pass through groves of Giant Bamboo and are quite magical to be in. Quite unlike the fenced paths with thousands of tourists such as in Arashiyama in Kyoto.
Though most of the temples are quite small, the primary statues are usually not hidden away like at many big temples. Also there are many statues in the other small shrines and buildings as well as around the grounds. These range in size and materials and represent a massive range of Buddhas, Bodhisattvas, and other deities. You will see hundreds and hundreds of statues of all shapes and sizes, a virtual master class in Buddhist art.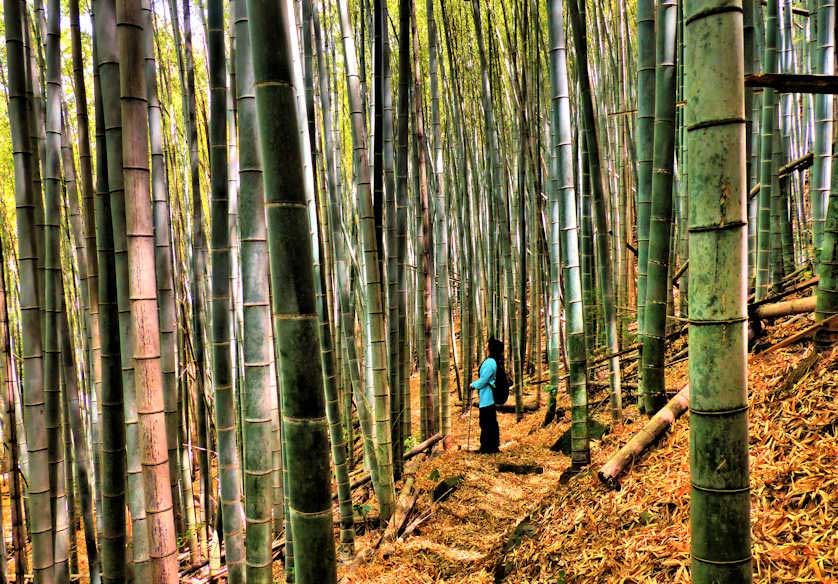 Magical groves of Giant Bamboo are walked through along the Sasaguri Pilgrimage
Practicalities
The pilgrimage can be walked at any time of the year, though the highest points may have a little snow occasionally in the winter.
Obviously good walking shoes and a walking stick will help. There are restaurants, cafes, and shops at several points along the route, and of course drink vending machines are ubiquitous, but long sections of the route are without anywhere to buy food, so some planning is required and it would be best to carry some food and drink with you.
Toilet facilities are numerous and easy to find. There are various kinds of accommodation in the area, but with downtown Hakata being less than 30 minutes away it is probably easier and cheaper to commute from there each day.
Sasaguri Station is at the western end of the pilgrimage route, Kidonanzoin-Mae Station is at the eastern end, and Chikuzen Yamate Station is in between. Sasaguri Station is just 18 minutes from Hakata Station on the Fukuhokuyutaka Line.
If the pilgrimage has whetted your appetite, the island of Shodoshima in Okayama has another 88 temple pilgrimage, the Shodoshima Pilgrimage, that is also very popular with walking pilgrims and is only about 150 km in length.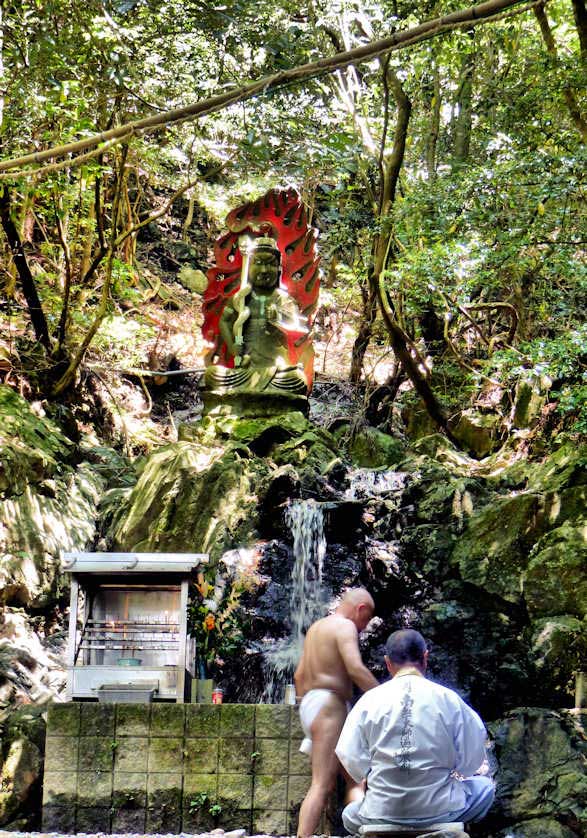 A priest about to undergo ascetic purification under a waterfall
All the themes of the city