Scuba Diving in Izu
Scuba-diving in Japan: read an article on scuba-diving in Japan with information on good dive sites in the Tokyo area on the Izu peninsula.
Scuba Diving - Japan from a New Angle - Underwater! Alice Gordenker takes us Scuba Diving at the Izu Peninsula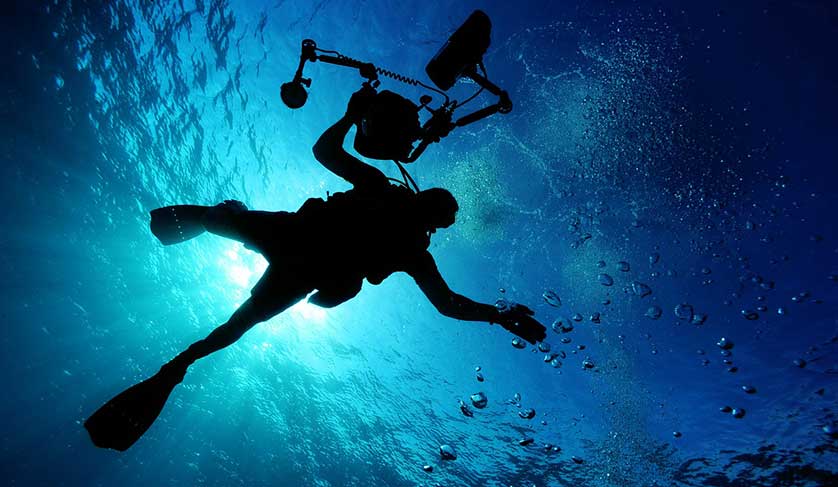 Want to deepen your understanding of Japan? Get a fresh view of the country? Try heading underwater. That's right - try scuba diving in Japan!
Although people tend to think of tropical countries like Thailand and the Maldives for diving, Japan is in fact a terrific country for underwater adventure.
Consider this - it is a narrow archipelago with 34,000 kilometers of coastline and more than 2,000 diving points. And Japan has more certified divers than any country except the United States, which means diving is a great way to make Japanese friends.
Scuba Diving Near Tokyo
Fortunately, some of the best diving in Japan is within easy striking distance of Tokyo. One of the top diving destinations in the country is the Izu Peninsula in Shizuoka Prefecture, a beautiful neck of mountainous land where north- and south-flowing currents meet, bringing both tropical and cold-water fish to the waters around its rocky shores.
In addition to superior fish and coral watching, Izu also offers cave diving and shipwreck exploration, providing an exciting range of opportunities for divers of all levels. What's more, it's possible to dive at Izu as a day trip from Tokyo and even Nagoya.
But if you've got the time, why not stay overnight? Izu has all kinds of accommodation options ranging from glitzy resorts and traditional ryokan to simple minshuku. Either way, you're sure to enjoy a post-dive soak in a hot-spring bath and some incredibly fresh seafood.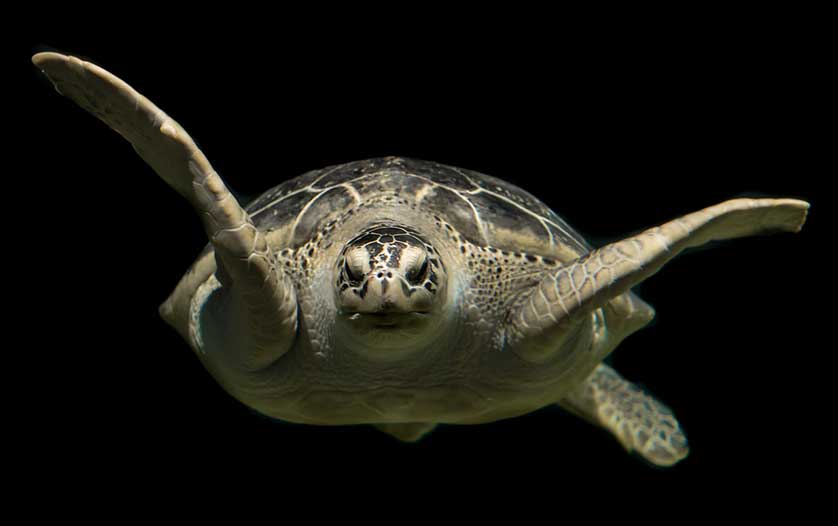 The main diving season around mainland Japan is July to November, when the ocean is at its warmest, usually 23 to 29 degrees. But with the right equipment, it's possible to dive year round at Izu. Even in January and February, when you need warm coats and mittens on land, water temperatures don't fall much below 15 degrees, which is perfectly comfortable if you wear a dry suit. And there are some real advantages to winter diving - no crowds, stable weather, better visibility, and sea life you won't see in other seasons.
Diving in Atami
For accessibility, you can't beat Atami, a seaside resort on the eastern
side of the Izu Peninsula, and one of the closest dive sites to Tokyo. I recently went diving there as a daytrip, leaving my apartment in central Tokyo around 6:30 on a Saturday morning to catch a bullet train from Shinagawa Station. I did two great dives and was home again before 6 pm. A business
traveler staying at one of the downtown hotels could easily dive at Atami during the day and still be back in tokyo in time for dinner with clients. The bullet train to Atami takes only 43 minutes from Shinagawa, 50 minutes from Tokyo Station, and 80 minutes from Nagoya Station.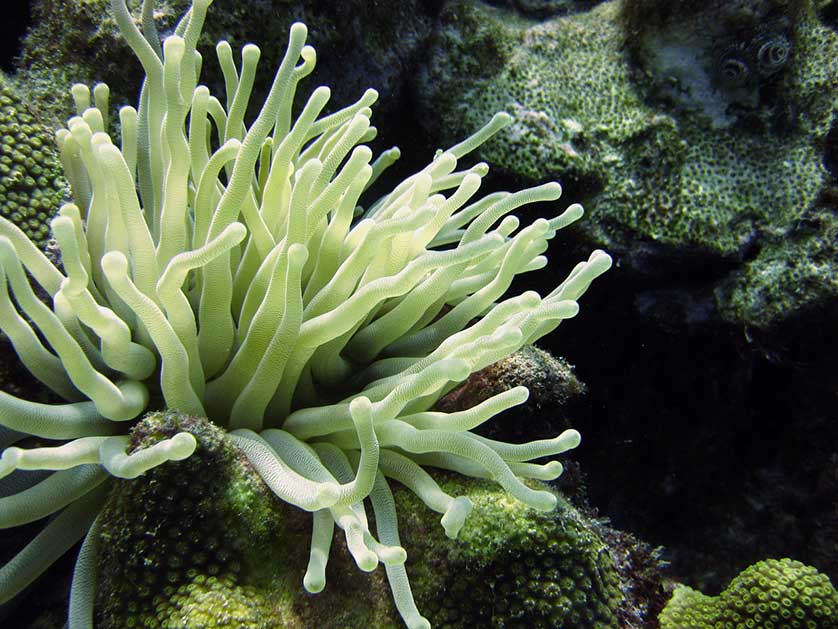 I made my arrangements with Japan Underwater Explorers/TokyoScuba, a Tokyo-based international diving company that provides guided dives, PADI certification, and advanced technical training in both English and Japanese. Manager Thomas Jonsson met me at Atami Station and provided me with all the gear I needed, including a dry suit to keep me warm.
We started out in YGM harbor, a private inlet that provides services to divers, including boats to the dive sites. The water temperature was 15 degrees that day in late January.
I'm a beginner diver, so the sheltered harbor was a good place for me to refresh my skills and learn how to use a dry suit, but it isn't the most exciting dive spot. Nevertheless, in a 20-minute dive through swaying kelp, I saw a large hermit crab, boxfish, a big kawahagi (threadsail filefish), and lots of bearded himeji (goatfish).
After a box lunch by the water, we took a speedboat five minutes to a dive spot called Bitagane, where we descended 22 meters to an underwater rock outcrop covered with anemones and soft corals. Visibility was about 10 meters, which is only fair for Atami in winter - visibility around Izu in winter averages about 20 meters in winter and 10 in summer.
During the 35-minute dive around beautiful coral formations, we spotted squirrelfish, a spider crab, a "scrambled egg" sea slug, and several moray eels, one of which bared his teeth in an impressive show of mock aggression when I swam up to get a better look. During our ascent, the sun broke through and lit up the water just as we went through a school of shimmering sardine.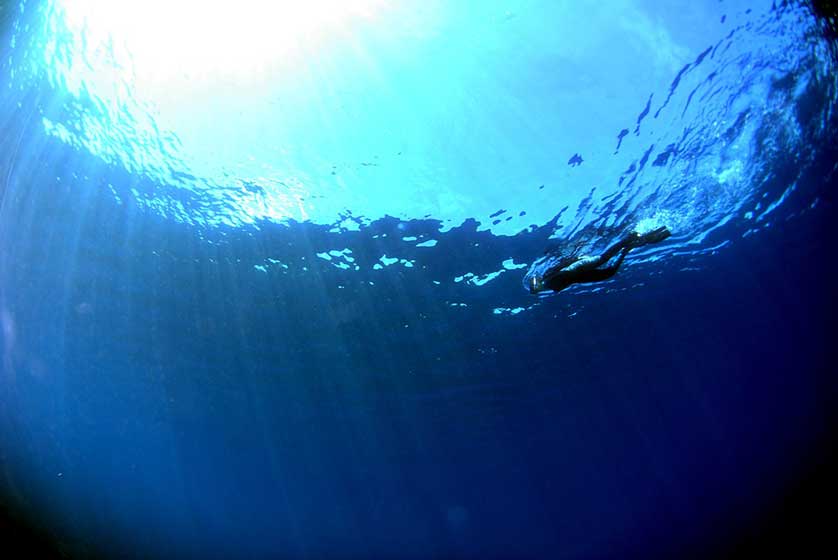 Aside from easy access, another advantage to diving in Atami is that most of the dive spots are within a sheltered bay, which means dives rarely have to be cancelled due to rough water. And there's enough variety to warrant multiple trips. Other popular dives spots in Atami include the Chinsen, a 85-meter cargo vessel that lies broken in two pieces under 30 meters of water, and Kosaga Dokutsu (cave), which is only open November to March. There's a submerged sea arch there, providing even novice divers with the chance to explore a 40-meter tunnel through the rock of the point.
Diving is possible from more than three dozen other towns all around the Izu Peninsula, but many sites, particularly those along the eastern side, get crowded in high season.
If you want to dive on a weekend during the busiest months (July to October), and have the time and budget to stay one or two nights, you might try heading to some of the less-visited sites on the western side of the peninsula. One good example is Kumomi, which offers some exciting dives, including cave, cavern, and tunnel diving. There are lots of fish to be seen here, including parrotfish, surgeonfish, goby, squid, and filefish. Another less crowded spot on the west coast is Ita.
You have to enter from the beach, making your way over big rocks, but once you're in, you can swim to the sandy bottom at the base of the drop off where you've got a good chance of spotting lionfish, frogfish, and seahorses.
Experienced divers with at least two days to spare shouldn't miss Mikomoto,
an island 9 kilometers off the southern tip of the Izu Peninsula, near Shimoda.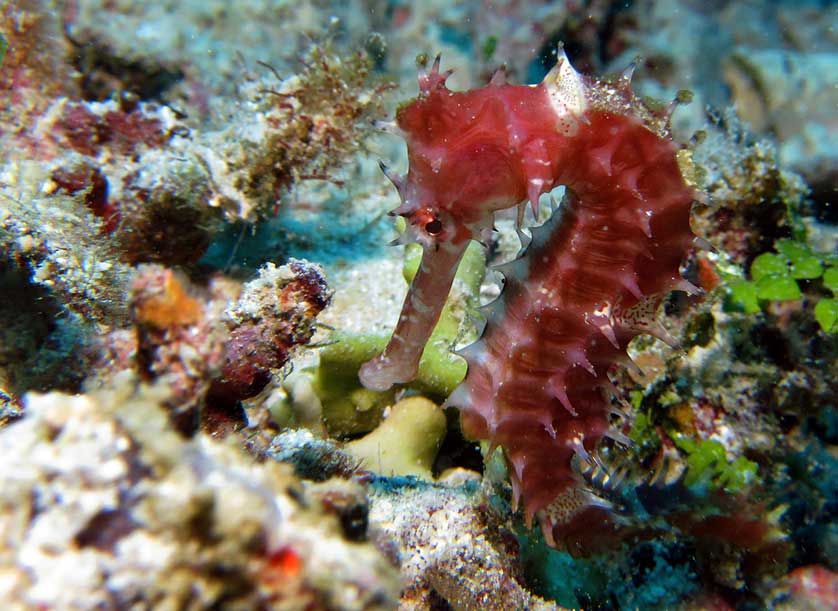 The diving here is challenging because of ocean swell and currents up to 3 knots, but visibility is excellent and the coral is more colorful here than anywhere else in Izu. It's also a great place to see larger fish like tuna, rays, and sharks. Between the months of July and October, you've got a very good chance of swimming with dozens of hammerhead sharks. This dive spot offers world-class diving for the advanced diver.
For more information, contact Japan Underwater Explorers/JUE at Tel 03-3447-0530 or visit their Facebook site. Two guided dives at Atami, including pick up at the station, lunch, and use of showers and changing facilities are priced at 8,000. In the winter, on "Dry Suit Trial Days", the company waives the rental fee for a set of dive gear, including a dry suit. Reservations are required and taken by JUE.
Text by Alice Gordenker Images courtesy of JUE
All the themes of the city