The Maneki Neko, Japanese lucky cat
招き猫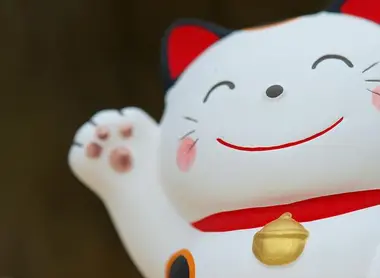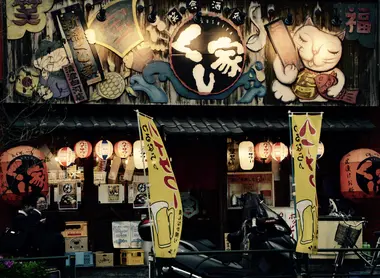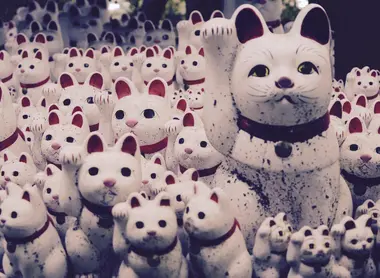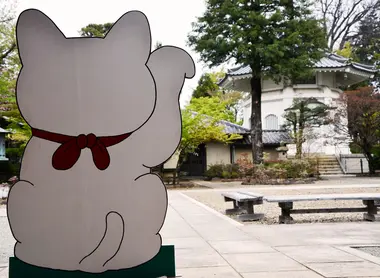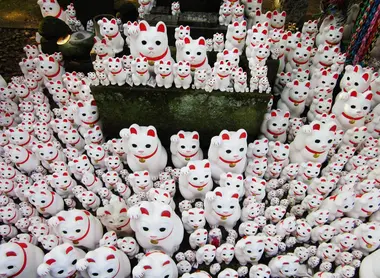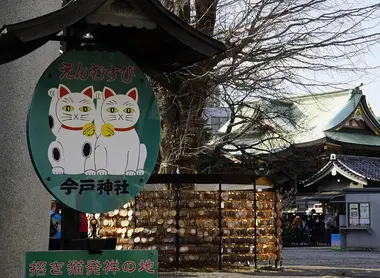 The lucky Japanese cat from Japan
With a stoic or laughing air, a malicious cat invites you, with a sign of the paw, to enter such a shop or a restaurant. This iconic feline of Japanese storefronts is none other than the maneki-neko , an essential lucky charm supposed to bring luck and wealth.
In Japanese popular culture, maneki-neko comes in the form of a piggy bank, socks, patterns for noren (Japanese curtains), and other items. This cheerful looking little cat is everywhere. But where does this fascination come from and what are the benefits of this charming statuette?
The Origins Of The Myth Of The Maneki-Neko
Like any legend, the origin of maneki-neko is uncertain and multiple versions justify its workship. One of them takes place in the Edo period, between 1603 and 1868.
On a stormy evening, a lord named Li Naotaka takes shelter under a tree, near a temple. This dilapidated building is guarded by a monk with a modest income. After a few moments, the lord notices a cat on the steps. Absorbed in his toilet, it conscientiously rubs his ear. Puzzled, Naotaka thought as it beckons her to enter the humble abode. Because if in the West we invite people by bringing the palm towards us, in Asia, the gesture is reversed, palm lowered down. Without being asked, the lord goes towards the temple and narrowly avoids the lightning which strikes his abandoned shelter. Extremely grateful to the monk and his cat, he donates this sum of money to them.
This is how not one, but two legends are born: that of the maneki-neko and that of Gotoku-ji in the suburbs of Tokyo. This peaceful and discreet temple has a hundred statues, placed on the ground by visitors in search of money.
In another version, it is about an old lady who lived in the district of Asakusa with her cat around the year 1060. The latter, too poor, was forced to sell her animal. The day of their separation, the feline would have appeared to him in a dream and asked him to replace it with a statuette, so that it would bring him luck. The old woman did as the cat had asked her to and sold the first statuette. Faced with the success of its realization, it continued to manufacture and sell it and ended up amassing a small nest egg. Thanks to the idea of her cat, misery was nothing more than a bad memory for her. This legend is very much alive in the Imado-jinja shrine in the Asakusa district of Tokyo, dedicated, among other things, to maneki-neko.
There are still other legends that explain the origin of this lucky cat, whatever the versions, they all have a happy ending: the maneki-neko uproots its master or mistress from poverty, and it brings them, contrary to the adage which says that "money does not buy happiness", a lot of money and… the happiness that goes with it!
In Japan, Cats Are Honored
The maneki-neko enjoys such popularity that the Japanese have dedicated a day to it, that of September 29. It is also said that he would have inspired many authors of manga, novels or creators of characters. If you have kids, they'll definitely love this lucky cat and its multiple derivatives.
More broadly, the cat is a cherished animal in Japan. It is therefore naturally celebrated on February 22 of each year, during Neko no hi.
Why a cat with one or two paws in the air?
Maneki comes from the verb maneku , which means "to invite" or "to greet", and neko means "cat". The maneki-neko is therefore literally a "cat that invites" . With his left paw raised, he invites customers, while with his right, he invites fortune and luck to come to him. At least, in the most widespread belief, because there is also a contrary version ! Nevertheless, the most effective lucky charm would be the two -legged maneki-neko : it would bring good luck and good luck to both business and home.
This paw (s) in the air, palm facing forward and fingers folded inward describes the gesture that Japanese people make when they call someone in a familiar way (most often a child or an animal). It is therefore natural that this lucky cat holds its raised paw.
It is also believed that the higher the cat lifts its paw, the more it attracts fortune . This is how over the centuries, the maneki-neko have raised their paws higher and higher!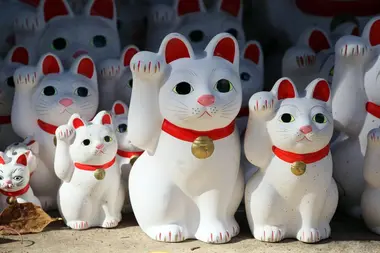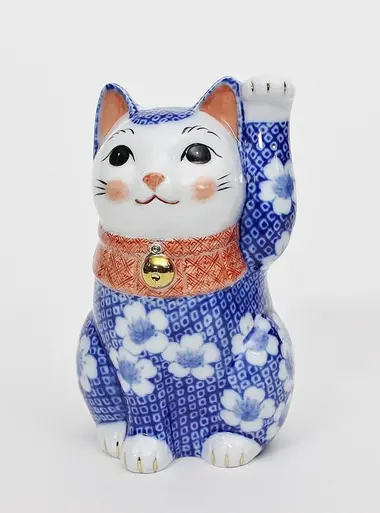 The Other Attributes Of Maneki-Neko
Symbol of fortune , this cat carefully keeps a gold coin or koban in one of its paws. He most often wears a red ribbon around his neck which holds a bell , like those worn by cats from wealthy families. Sometimes the collar is associated with a red bib.
Most maneki-neko are porcelain or ceramic and more recently plastic. Some, made of plastic, are powered by a battery and their erect paws keep calling customers.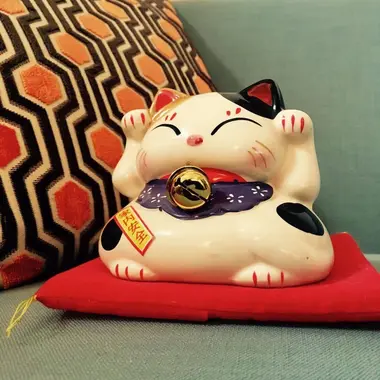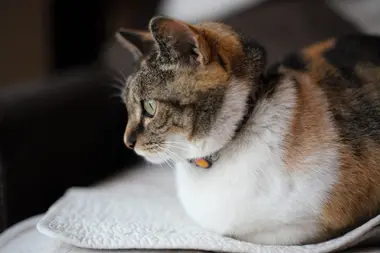 Every Color Has Its Happiness
Côté couleurs, here again the choice is wide. If white, the traditional color, symbolizes purity, go for green if you hope to be successful in your studies . The black cat will fight evil spirits while the red will ward off diseases . Another possibility for successful business is the blue color reserved for the quarry .   Pink will be preferred for those who wish happiness in love. As for the gold-colored cat , it would be a Chinese adaptation of this product of Japanese origin. All these colors would only be secondary, because there reigns over the kingdom of the maneki-neko an absolute master: the tricolor cat called in Japanese mi-ke neko , "triple fur cat": with white hair with caramel and black spots. Onle is often seen in the flesh on the streets of Japan and he would be, quite simply, the most powerful amulet of all, bringing good luck and success in all fields.
All the themes of the city