Gotoku-ji temple
豪徳寺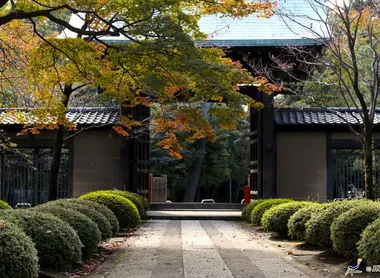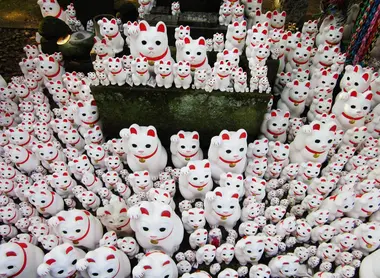 Le chat aux vœux d'or
Le centre de Tokyo s'éloigne et le ciel s'élargit. Lesmaisons remplacent les buildings, le train de banlieue se vide lentement de sesvoyageurs. C'est dans le quartier lointain de Setagaya qu'est né le maneki-neko, l'une des icônes de la culture japonaise.
You've probably already seen it on the front of a Chinese takeaway or a sushi shop. Literally a cat (neko) who beckons (maneki), it's supposed to bring fortune and prosperity. According to legend, Gotoku-ji Buddhist temple is the birthplace of this star of takeaway counters.
The raised paw
Several centuries ago, a monk lived in poverty. Yet he refused to part with his ​​cat, with whom he shared his meager meals. One stormy night, the old monk was busy praying at home, his feline companion busy grooming itself on the porch. A rich lord came to seek refuge under a large pine tree nearby.
Attracted by the light from their residence, his gaze fell upon the cat, who was busy rubbing his paw over his ear. Thinking that it was a sign to come in, the man approached the animal. No sooner had he set foot in the old building, that lightning struck the pine tree, reducing it to ashes. Grateful to have survived, the nobleman gave part of his fortune to the monk, and Gotoku-ji was founded.
Today, the maneki-neko cult is minimal. It's a fairly large complex, but the famous cat statuettes are gathered together in one display. However, it remains an essential pilgrimage for all those hoping to make their fortune.
All the themes of the city