Pachinko
パチンコ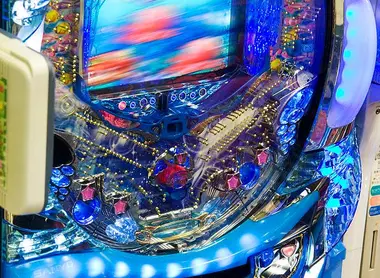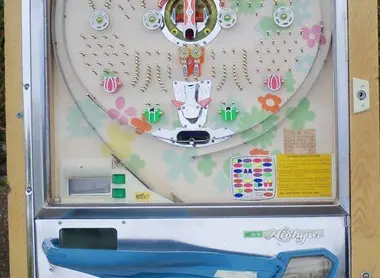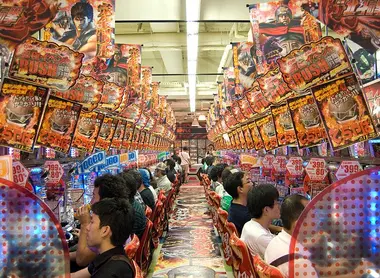 Psychedelic
Just as rowdy as the famous Love Hotels, pachinko gambling halls are a major social phenomenon of contemporary Japan.
Visiting a pachinko parlour is as exhilarating as attending a heavy metal concert. Loud music, smoky atmosphere, the deafening noise of the rattling balls, visual explosions of animations scrolling on each game screen... Pachinko has literally everything to "electrify" its players!
What is pachinko?
Pachinko is a hybrid between a slot machine and pinball, invented in Japan before the war and popularized in Nagoya, a game which continues to entice new generations of Japanese even today. Sat in front of one of these machines, the player inserts the balls one by one, then uses a side handle to send the balls in all sorts of directions on the vertical, slot machine-esque board. The balls ricochet and fall in a totally unpredictable way along the ramps and shelves, before being swallowed up in the gaping mouth at the bottom. The goal is to have the balls fall into the slots along the way. A lucky shot will generate a shower of balls that fill the ball bins placed at the foot of the player. These balls can then be re-inserted into the machine to keep playing, or exchanged for prizes (soft toys, cigarettes and more).

An industry of its own
The pachinko industry itself generates billions of yen turnover. This popular pastime is the third largest economy of Japanese leisure pursuits, behind catering and tourism. It is estimated that there are more than two million machines in operation. Shockingly, one in four Japanese people is said to play pachinko!

The secret of pachinko
All this enthusiasm just to win a few prizes? Appearances can be deceiving... as is often the case in Japan, the best truths are hidden ones! The reason pachinko generates so much money is because the prizes can actually be exchanged for money. Casinos are officially banned in Japan, so the pachinko industry has had the clever idea of creating "trade offices" for lots of players, always conveniently located near the pachinko parlours themselves. Of course, any suggestions that the two may be linked are always denied. Today 90% of the pachinko industry is believed to be controlled by the Zainichi Korean community, one of the local mafias. 
An undeniable success
Pachinko continues to attract gamblers from all countries, including younger generations, thanks to technical innovations which now combine it with real pinball, video games and animated sequences from successful series as Dragonball Z, Hokuto no Ken, or One Piece. Pachinko truly feels like a separate universe, worthy of "Lost in Translation"!
All the themes of the city