Kyoto International Exhibition Hall
The Kyoto International Exhibition Hall, Miyako Messe in Okazaki is a large convention center which includes the Kyoto Museum of Traditional Crafts, Fureaikan, which exhibits a wide range of Kyoto's arts and crafts.
Miyako Messe & Kyoto Museum of Traditional Crafts - Fureaikan みやこめっせ
Kyoto International Exhibition Hall Miyako Messe is a large, modern exhibition and convention center near Heian Shrine in the Okazaki museum district of Kyoto.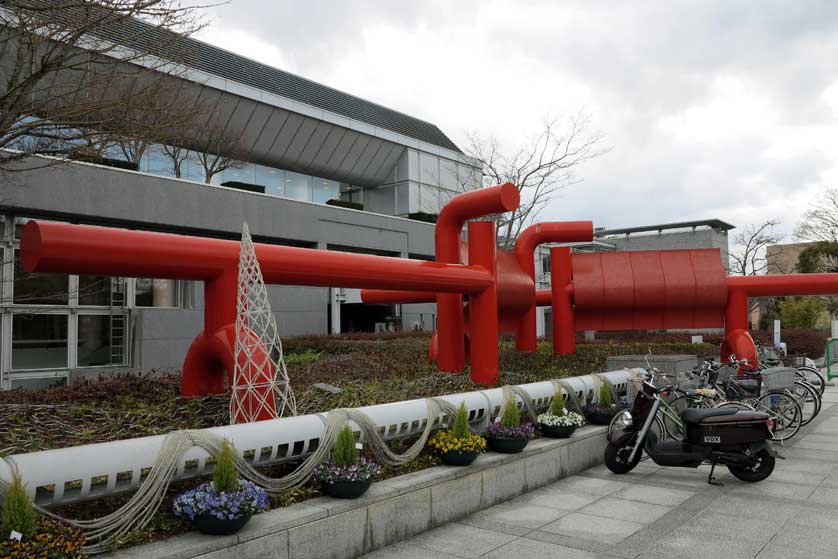 Kyoto International Exhibition Hall Miyako Messe
The Miyako Messe has three spacious exhibition halls and a special exhibition hall.
Many of the exhibitions and trade fairs are put on by traditional Kyoto industries such as kimono and other Kyoto-based arts and crafts manufacturers. More contemporary Kyoto industries are also prominent.
The Miyako Messe also has a restaurant/cafe on the first floor.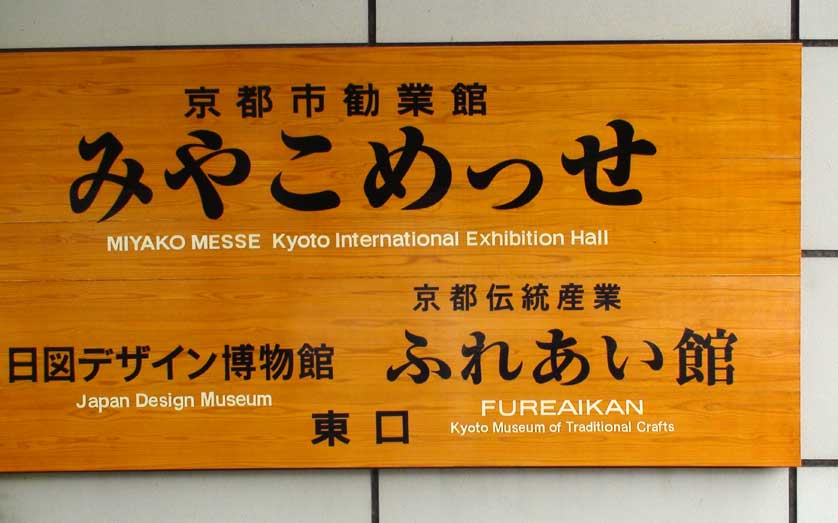 Miyako Messe, Okazaki, Kyoto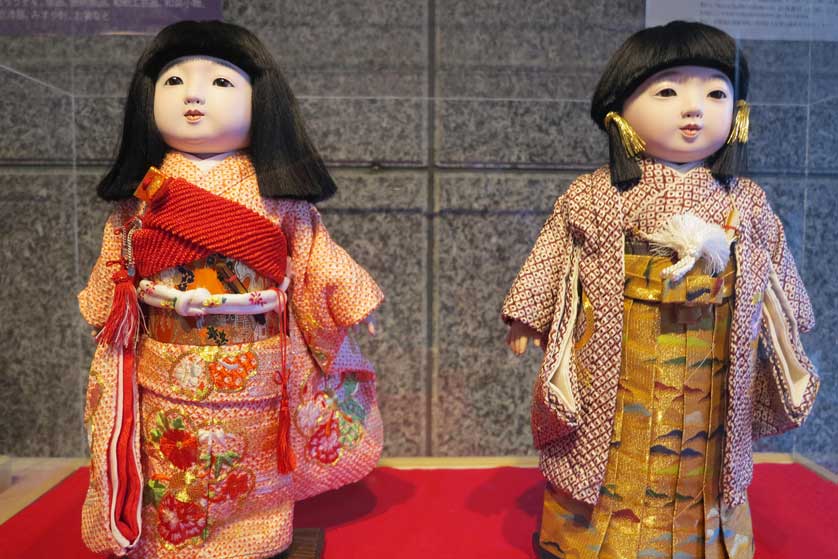 Traditional Japanese dolls - ningyo - Miyako Messe
Kyoto Museum of Traditional Crafts - Fureaikan
The Kyoto Museum of Traditional Crafts - Fureaikan (京都伝統産業ふれあい館) in the basement of the Miyako Messe is a superb display of literary hundreds of Japanese crafts. Free to enter, the museum's exhibits are explained in both Japanese and English.
On display are examples of bamboo crafts, stone lanterns, landscape gardening, stone work, roof tiles, braid tassels, weaving, embroidery, kimono, tabi socks, wigs (katsura), kanzashi hair decorations, wooden combs (kushi), paper umbrellas, chochin lanterns, kiseru pipes, dolls (ningyo), masks, tatami mats, sudare blinds, lacquerware, karuta (cards), ceramics, fans (both folding fans, sensu and the paddle-shaped uchiwa), byobu folding screens and traditional Japanese wooden toys such as koma spinning tops.
The list of exhibits continues with mizuhiki, sake, temple and shrine goods such as mikoshi portable shrines, gold leaf, tansu chest of drawers, butsudan Buddhist altars, juzu and nenju rosaries, candles, incense, Japanese swords and suits of armor and musical instruments including flutes.
The Fureaikan is a superb introduction to Japanese arts and crafts and crafts people are on hand giving demonstrations of their skills (except Mondays). The adjacent museum store also has many of these arts and crafts for sale.
Photography is prohibited within the museum.
There are occasional performances by maiko (trainee geisha) on Sundays.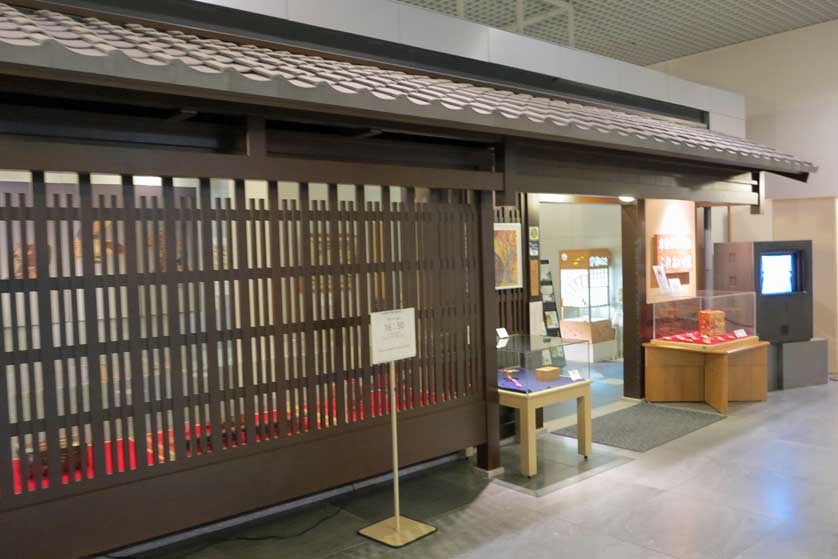 Kyoto Museum of Traditional Crafts - Fureaikan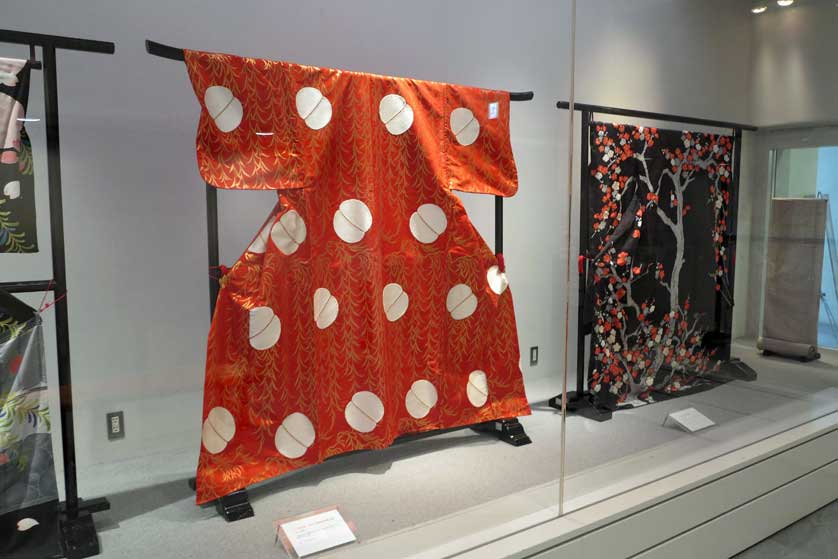 Kyoto International Exhibition Hall Miyako Messe
Japan Design Museum
Also in the basement is the Japan Design Museum established by the Japan Designers Association. The museum stages design related events such as a design festival and design shows with participation by the general public. The kid's art show shows the work of children from all over the country.
Access - how to get to the Miyako Messe
Miyako Messe (miyakomesse.jp)9-1 Okazaki Seishoji-choSakyo-ku, Kyoto 606-8343Tel: 075 762 2630Hours: 9 am-5 pm
The nearest stop on the Kyoto subway to Miyako Messe is Higashiyama Station on the Tozai Line.
Kyoto city buses #5 and Raku bus #100 depart from Kyoto Station; from Shijo Kawaramachi Station on the Hankyu Line take buses #5, #32 or #46; Get off the #5 and #100 buses at the Okazaki Koen/Bijutsukan, Heian Jingu-mae stop. The #32 and #46 buses stop at the closer Okazaki Koen/ROHM Theatre, Miyakomesse-mae stop. Buses #201, #202, #203 and #206 stop at the Higashiyama Nijo, Okazaki Koen-guchi stop a little to the west.
Miyako Messe is across the street from the Rohm Theater and close to a number of other attractions including Heian Shrine, The National Museum of Modern Art Kyoto, the Kyoto Municipal Museum of Art, the Kyoto Zoo, Kyoto Prefectural Library, Kumano Jinja, Kyoto Budo Center, Shogoin Temple and Kyoto Handicraft Center.
For a full listing of Kyoto Museums & Art Galleries click here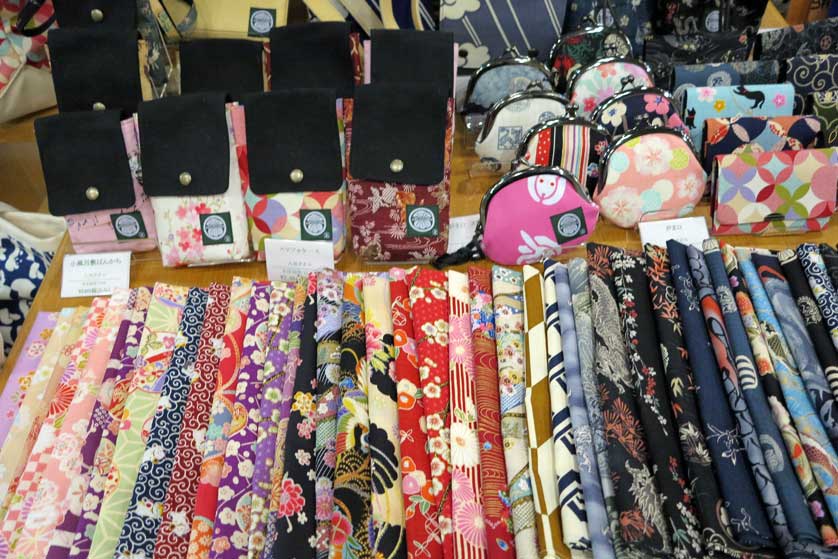 Kyoto Museum of Traditional Crafts - Fureaikan Shop, Kyoto International Exhibition Hall Miyako Messe
Book Hotel Accommodation in Kyoto Near the Miyako Messe
All the themes of the city