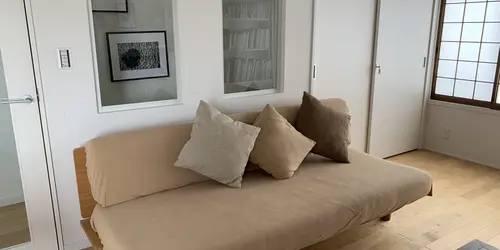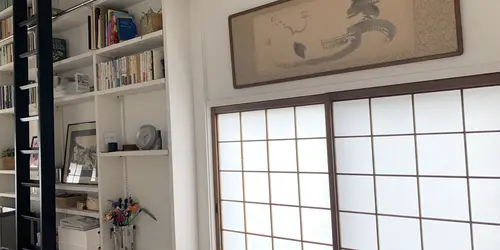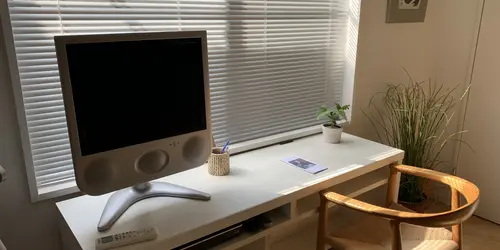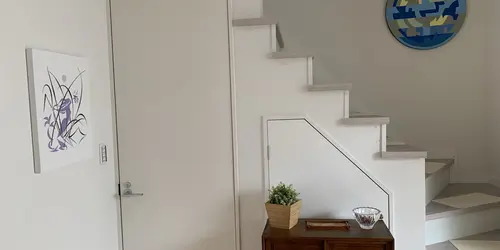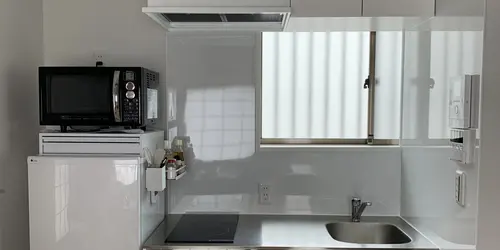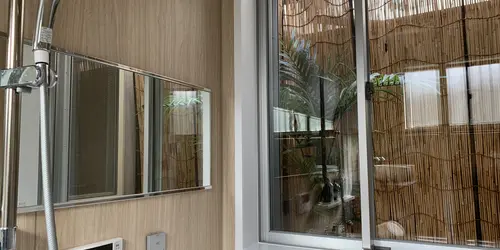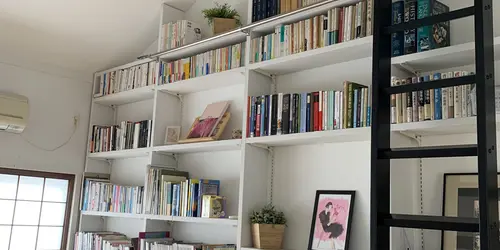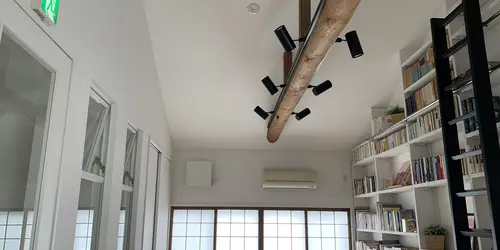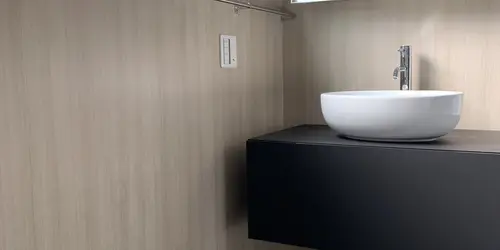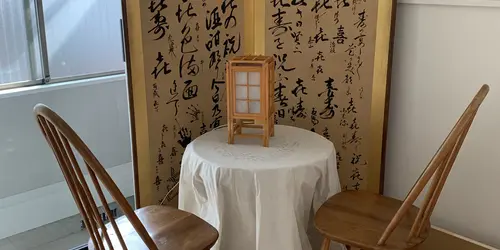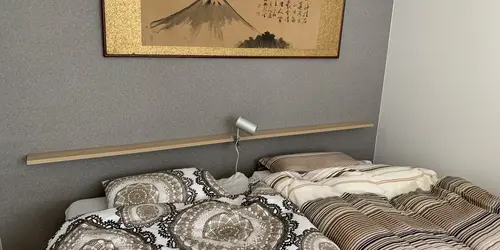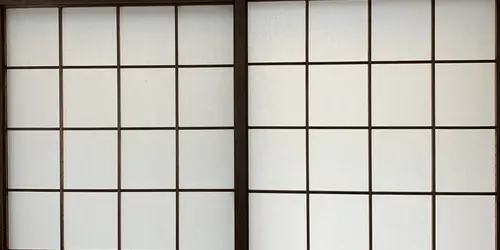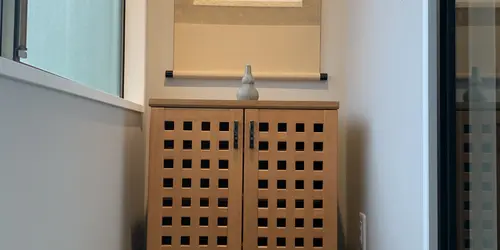 Gion Jizo
This lovely vacation rental in Kyoto is ideal for a young couple, friends or family looking for a modern Japanese house in the most prestigious district of the city, Gion.
Description of the house
Entering off a main street, down a Kyoto-style alley, a Buddhist Jizo statue awaits you in front of the house. Entering Gion Jizo, the ground floor consists of a relaxing open space, two single beds, desk, bathtub and a shower with a garden view, and restroom.
The upstairs has a kitchen, stylish library, sofa bed, futons, television and balcony. From cooking meals to enjoying a relaxing time in Kyoto, Gion Jizo house is a great stay.
The neighborhood
Gion is the oldest best preserved example of traditional Kyoto architecture. Our typically Kyotoite house is located 200 yards from the famous Hanamikoji street, which crosses Gion. This street is bordered with restaurants, accessories shops, craft shops, ochaya shops (tea houses). Spirituality is also two steps away from the house, in the enclosure of Kuenning Temple where the Zen Buddhism is practiced.
Amenities, transport and supermarkets are all not far from the house
Plans and equipments
Equipment
Bathtub
Shower
Kitchen
Fridge
Washing Machine
Coffee Machine
Toaster
Table Ware
Kitchen Ustensil
Microwave
Electric Kettle
---
Floor plan
---
Location of the house
Gion
This several centuries old district is famous for its entertainment reserved for Kyoto's intellectual and artistic elite. Find yourself immersed in a maze of small streets lined with beautiful Japanese architecture, in a sophisticated timeless universe where small shopkeepers, craftsmen, monks, rich clients and of course maïko and geïko all rub shoulders with each other.
Pluses: A unique ambience. Pass maïkos and geïkos everyday at any time of the day. Near the city centre and the main historical sites of East Kyoto.
Minuses: This very lively district is not conducive to lazy holidays.
Shops : Fresco supermarket open 24 hours a day - Many Konbini - Post offices - Bicycle rental
Transports: Bus service to easily connect to the city's other tourist areas. - Keihan train line to Osaka and Hankyu train line to Arashiyama and Katsura
Restaurants: Jojo, cuisine is centred on vegetables from Kyoto - Izuju, sushi - Kezako, Modern good quality French cuisine - Oku Café
Attractions: The Gion Corner, a theatre in the heart of Gion, gives a taste of the variety of arts (dances, floral arrangement, tea ceremony…). - Kennin-ji temple - Yasaka sanctuary - Kiyomizu-dera temple
In the area
License number
: M260012647
---
Frequently asked questions