Warasse Nebuta House Aomori
Wa Rasse Nebuta House ねぶたの家ワ・ラッセ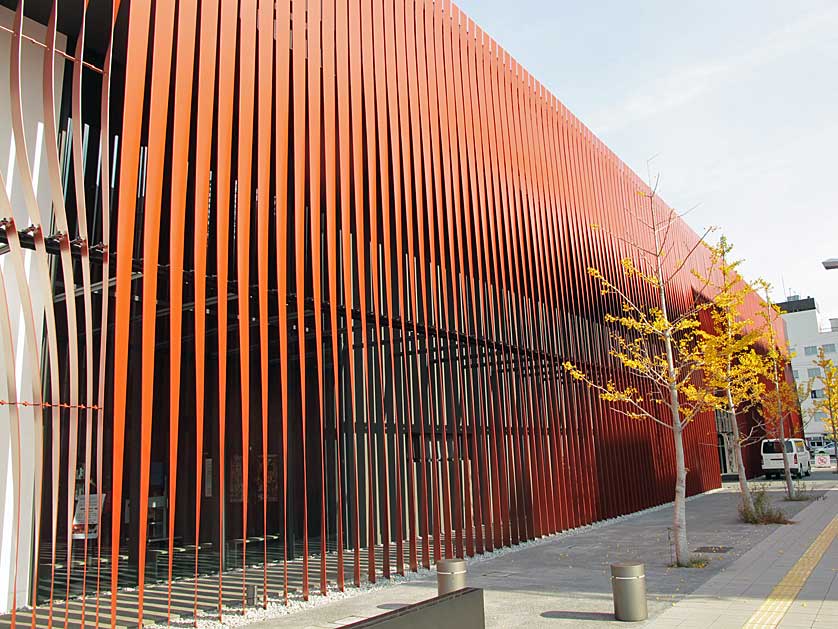 The striking exterior of Warasse Nebuta House, Aomori city, Aomori Prefecture
Wa Rasse Nebuta House is a distinctively-designed arts and cultural center in Aomori. This strikingly modern center, opened in 2011, is dedicated to Aomori's famous Nebuta Festival.
The Aomori Nebuta Festival is one of Japan's largest festivals (and the largest of Japan's nebuta festivals), and takes place annually in early August.
A nebuta is a float bearing paper and bamboo constructs colorfully and powerfully depicting warrior figures. Lit from within, they make for a vibrant nighttime spectacle, in a boisterous atmosphere of crowds chanting "Rasserah! Rasserah!" and doing the stomping nebuta dance, called the haneto.
The Wa Rasse Center is dedicated to preserving and showcasing the Aomori Nebuta Festival, and displays five of the huge floats from the previous year's festival along with modern video installations, festival sounds, photographs and introductions to some of the famous artists who have painted the warrior figures on the nebuta floats over the years.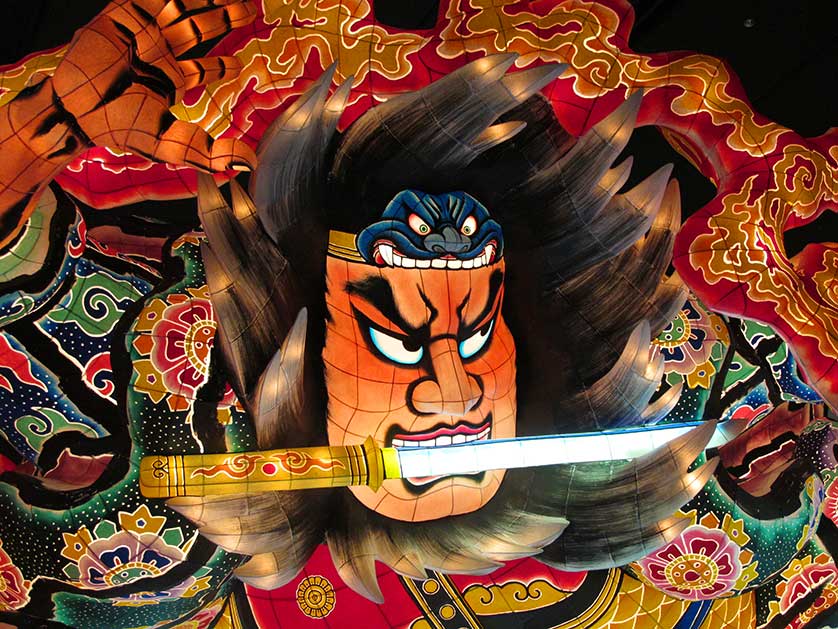 Nebuta Festival Float at Warasse, Aomori city, Aomori Prefecture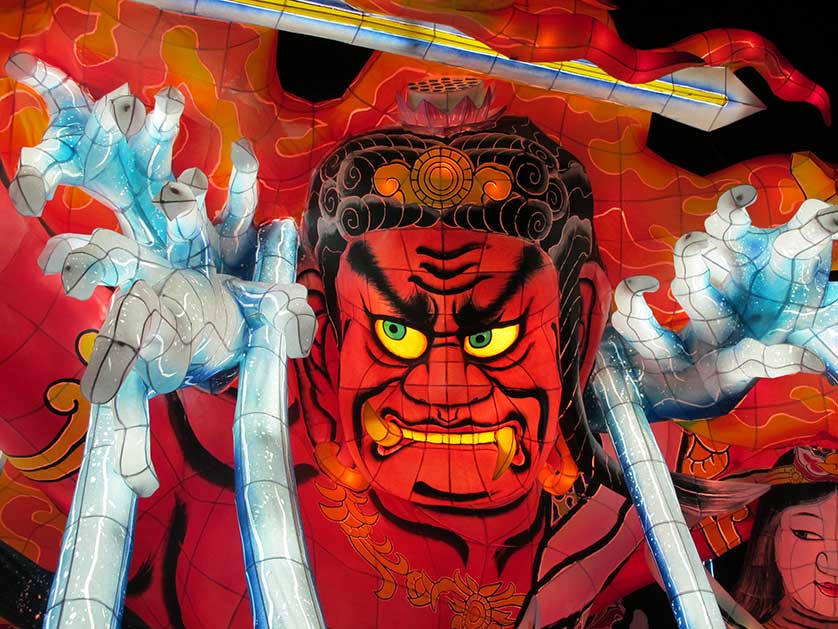 Nebuta Festival Float at Warasse, Aomori city, Aomori Prefecture
Warasse has two floors with conference rooms and a study center for Nebuta-related crafts on the first floor. The Wa Rasse restaurant is also on this floor along with a shop selling local speciality goods from Aomori prefecture.
Visitors enter the Nebuta Hall on the first floor, which features five Nebuta floats, changed after each year's festival. There are Nebuta touch exhibits and live performances of haneto dancing and music on weekends and public holidays, three times a day. Also on display are a series of Nebuta masks with profiles of their creators. Insights are provided into the everyday lives of the people involved in the Nebuta Festival. Also, the Four Famous Nebuta Artists who left a lasting impression on the event are showcased. There is also information on all the winners, since 1962, of the Tamura Maro Prize and Nebuta Grand Prize.
The second floor of Wa Rasse has an auditorium and an observation deck providing a bird's eye view of the floats on the first floor. Movies of the Nebuta Festival and picture panels are there for the visitor's perusal. From the second floor lobby look out over Aomori Bay and the Memorial Ship Hakkoda Maru.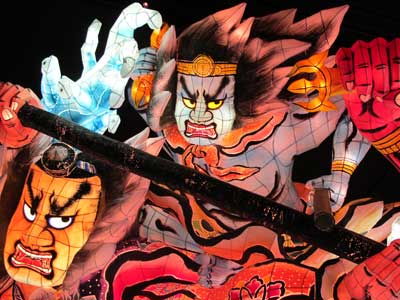 Nebuta Float at Wa Rasse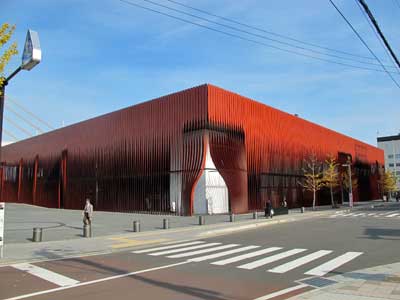 Wa Rasse Museum exterior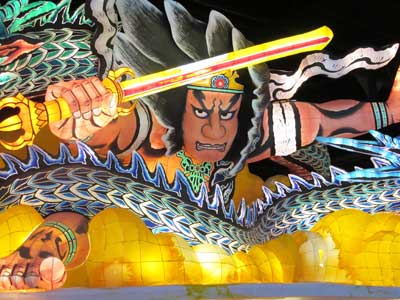 Wa Rasse, Aomori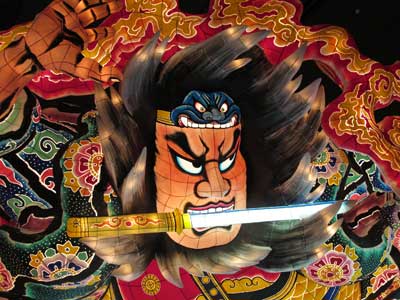 Wa Rasse, Aomori
Access - Getting to Wa Rasse
Wa Rasse (www.nebuta.or.jp/warasse)
1-1-1 Yasukata
Aomori
030-0803
Tel: 017 752 1311
Admission: 600 yen for adults
Wa Rasse is located on the waterfront in Mutsu Bay close to Aomori Station, A-Factory, and Aomori Bay Bridge. It is a short stroll from almost equally strikingly designed Aomori Prefecture Tourist Center (ASPAM).
Turn left out of Aomori Station and you will see the red Wa Rasse Nebuta House ahead of you, draped in a dense curtain of red vertical beams.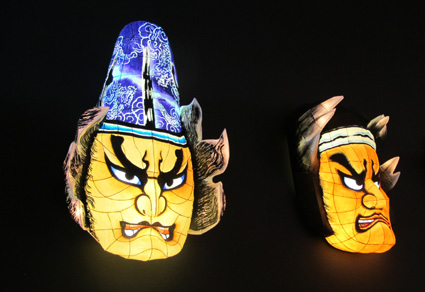 Nebuta masks at Warasse designed by local artists.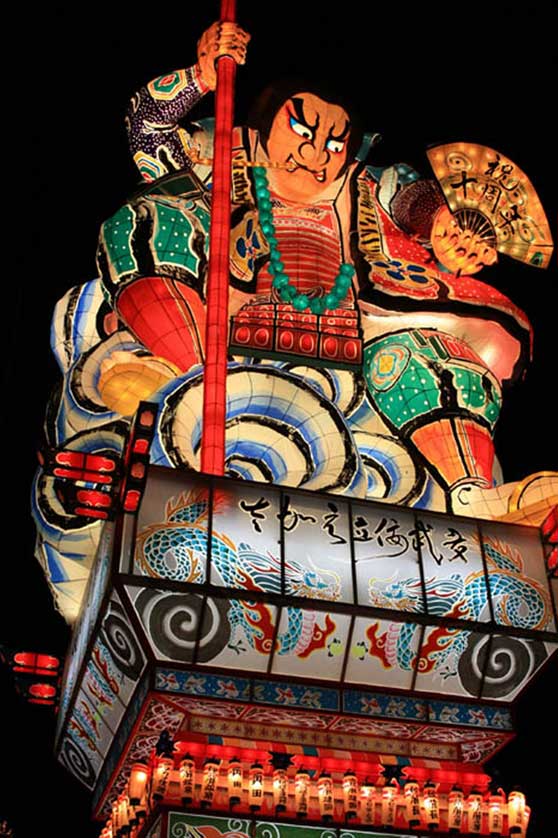 Nebuta floats at Warasse, Aomori City, Aomori Prefecture.
Maps of Aomori
Aomori's other big Nebuta museum was at Nebuta-no-Sato (Nebuta Village) about 30 minutes out of town (now closed).
Wa Rasse Video
Book Hotel Accommodation in Aomori
Warasse Nebuta House in Aomori: read a guide to the modern Warasse Nebuta Museum introducing Aomori's famed Nebuta Festival.
All the themes of the city