Kyushu Railway History Museum
Kyushu Railway History Museum, Mojiko, Kitakyushu, 九州鉄道記念館
Entrance to the Kyushu Railway History Museum in Mojiko, Kitakyushu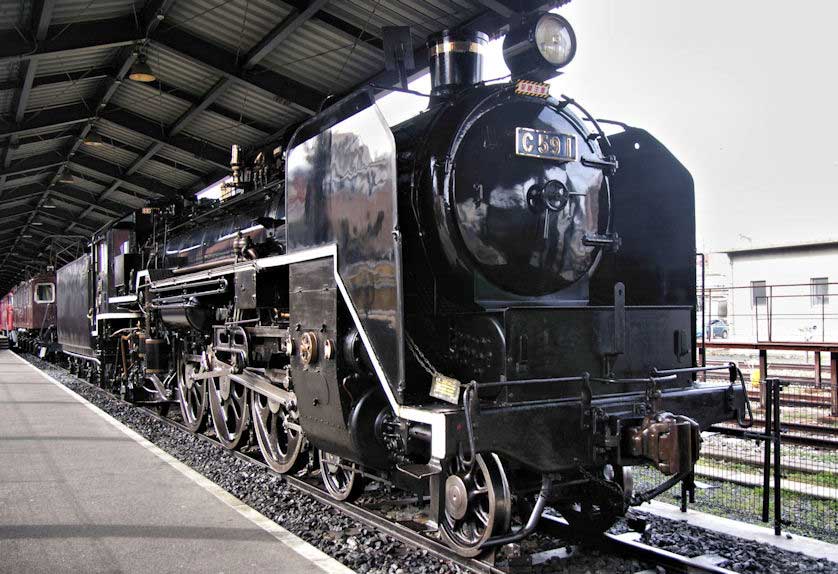 A 9600 class steam locomotive built in 1922 at the Kyushu Railway Museum
The Kyushu Railway History Museum is a must see spot for train buffs and a great place to visit for families.
It is located right next to the picturesque Mojiko Station in Mojiko, itself built in 1914 and recently restored, and across from the new Mojiko Retro Scenic Railway, all part of the popular historic district known as Mojiko Retro.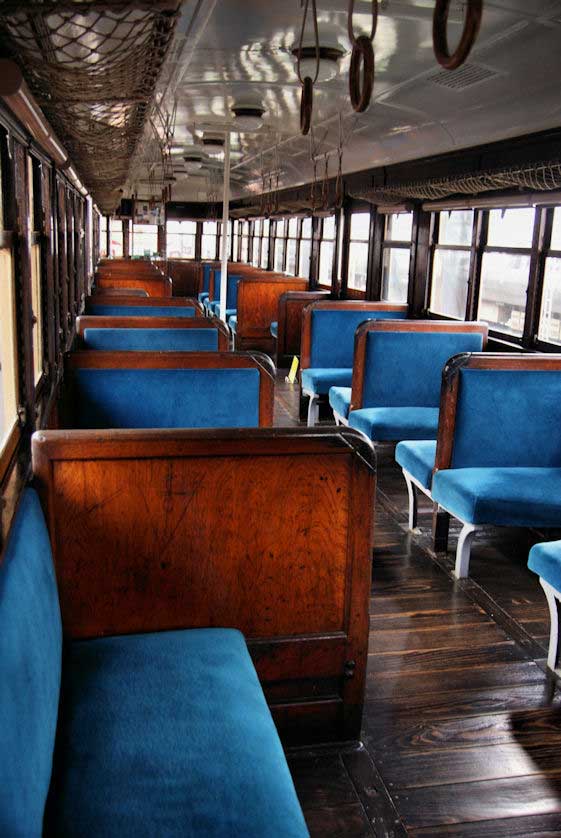 One of the historic railway carriages you can board at the Kyushu Railway History Museum in Mojiko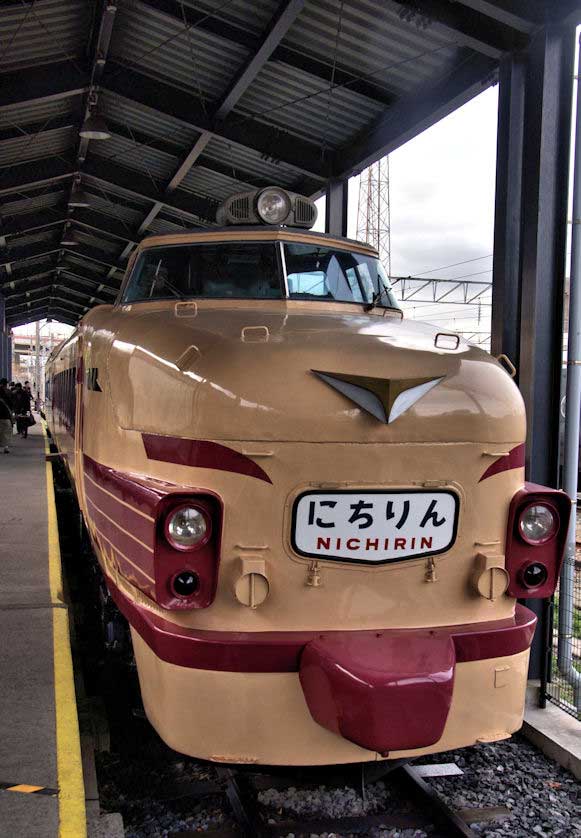 Nichirin, a Limited Express train from 1969
Exhibits
The stars of any railway museum are obviously the locomotives themselves, and while the collection here is not huge, it is quite diverse.
The oldest is a 9600 steam locomotive manufactured in 1922.
This was the first domestically mass produced steam engine in Japan. This particular engine was one of the last steam engines operating in the Kitakyushu area of Fukuoka Prefecture in northern Kyushu.
The other steam engine on display is a C59 class, operating during the 1940's and designed as an express engine. The most modern is from 1969 and is a KuHa 481 series.
Other trains include EF 10 35, an early electric train from 1942, a KiHa 07 41 that originally ran on gasoline rather than diesel, and a Kuhane 581 8.
There are plenty of carriages that can be entered including a sleeping car that saw service until 2009. For those who want an unusual accommodation experience, a similar set of sleeper cars are used as lodgings in Taragi in the mountains of Kumamoto.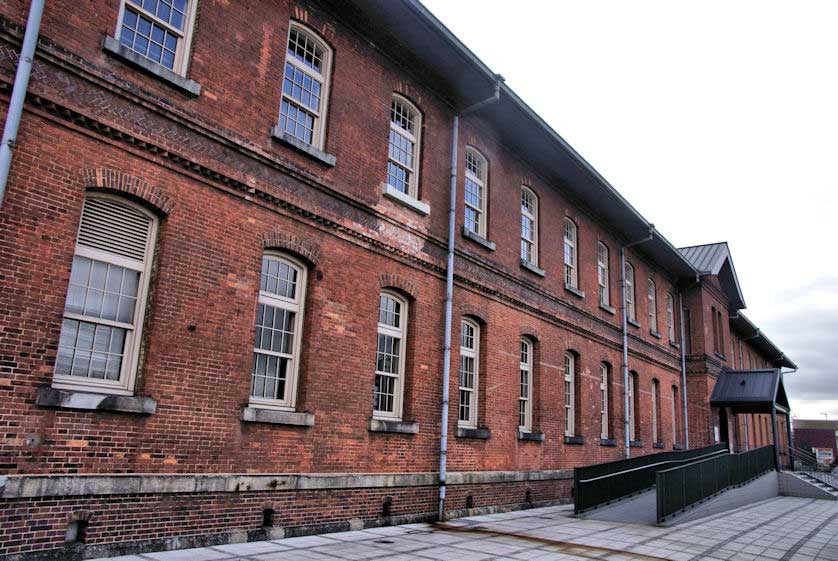 Formerly the headquarters of Kyushu Railway Company, now housing the Kyushu Railway Museum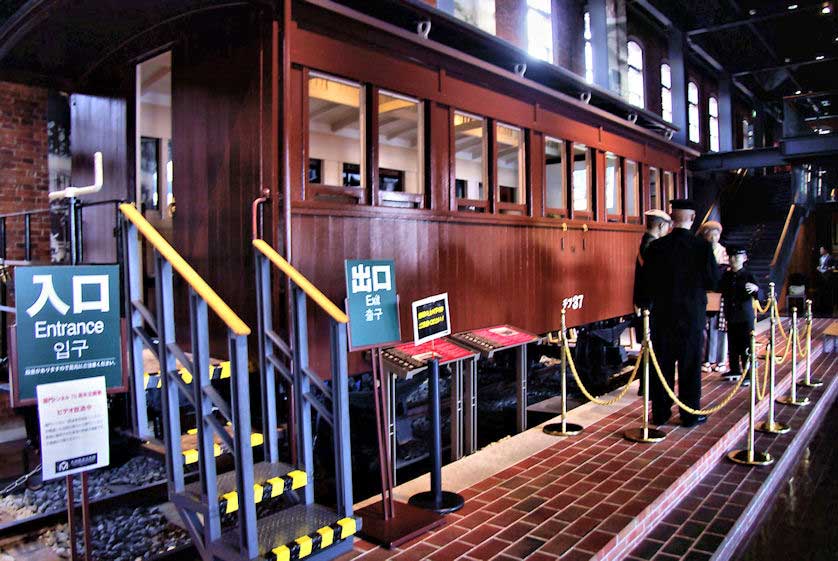 A Meiji Period train carriage with tatami seating at the Kyushu Railway History Museum
Indoor Exhibits
The trains are all exhibited in the outdoors section, though the area is covered for protection against inclement weather. The indoor exhibitions are housed in the former headquarters of Kyushu Railway Company, a huge red-brick structure dating from 1891.
Two floors of exhibits and displays include lots of photos, models, and a variety of memorabilia and historical artifacts, as well as a train driving simulator.
You can also enter an old carriage from the Meiji Period that includes tatami seating. It is set among mannequins wearing uniforms and clothing of the time.
For the young kids there is a play area, and of course there is a shop where all kinds of railway themed souvenirs can be had.
Outside there is one more attraction, a miniature railway, though not the usual kind. Each train is modeled on the cab of a series of different, modern trains. You can drive yourself and each can carry three people.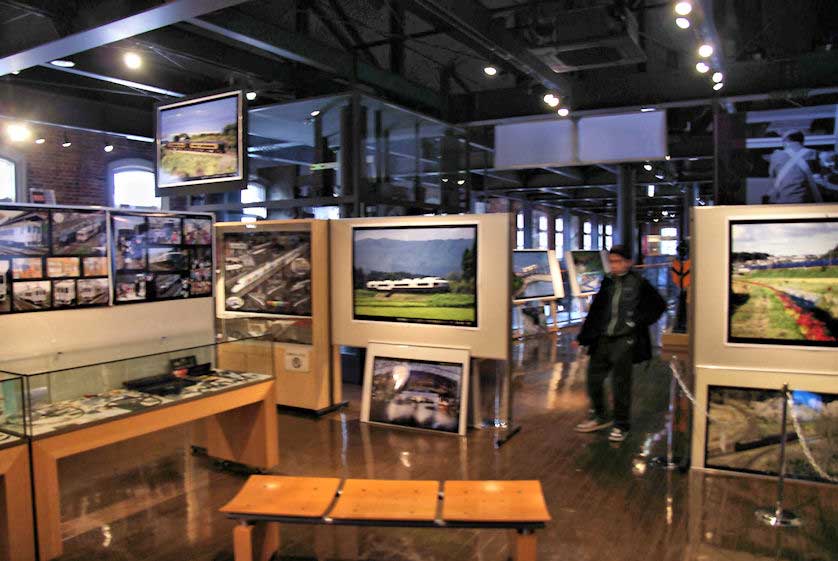 Part of the exhibits at the Kyushu Railway History Museum changes with the seasons
Details
Kyushu Railway History Museum
2 Chome-3-29 Kiyotaki, Moji-ku, Kitakyushu-shi, Fukuoka 801-0833
Tel: 0933 22 1006
Hours: Open from 9 am to 5 pm; closed the second Wednesday of the month, except August.
Entry is only 300 yen for adults and 150 yen for kids over 4 years old.
The Mini train is 300 yen per car.
Japan's railways were a large part of the rapid modernization and industrialization that took place in the latter part of the 19th century and early 20th century.
A good source to learn more about this fascinating part of Japanese history is Early Japanese Railways 1853-1914: Engineering Triumphs that Transformed Meiji-era Japan, by Dan Free, published by Tuttle Publishing.
Kitakyushu Access - Getting To Kitakyushu
Air
Kitakyushu Airport is a new airport built on an an artificial island and is unusual in that it operates 24 hours a day. Several airlines run scheduled flights to and from Tokyo Haneda Airport, but Fukuoka Airport is less than 30 minutes away by train and has flights from many more domestic and international airports.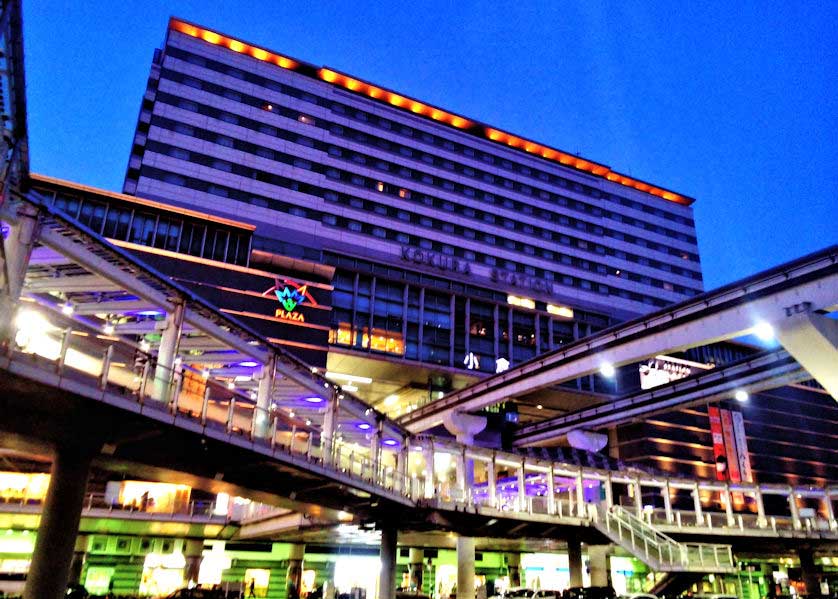 South side of Kokura Station
Train
Kokura Station is the first station of the Sanyo Shinkansen in Kyushu and all trains stop here. It takes less than 5 hours from Tokyo, 3 hours from Nagoya, and a little over 2 hours from Osaka. The newly opened Kyushu Shinkansen connects to Kumamoto in less than an hour and Kagoshima in just over 100 minutes. From Kokura take the Sonic Limited express to Kunisaki, Oita & Beppu. Mojiko is 12-13 minutes by train (270 yen) from Kokura on the Kagoshima Line.
The Sanyo Line runs a fast shuttle to and from Shimonoseki. The Kagoshima Line and the Nippo Line connect to all areas of Kyushu. Within Kitakyushu the Monorail runs about 9km from Kokura Station to Kokura Minami.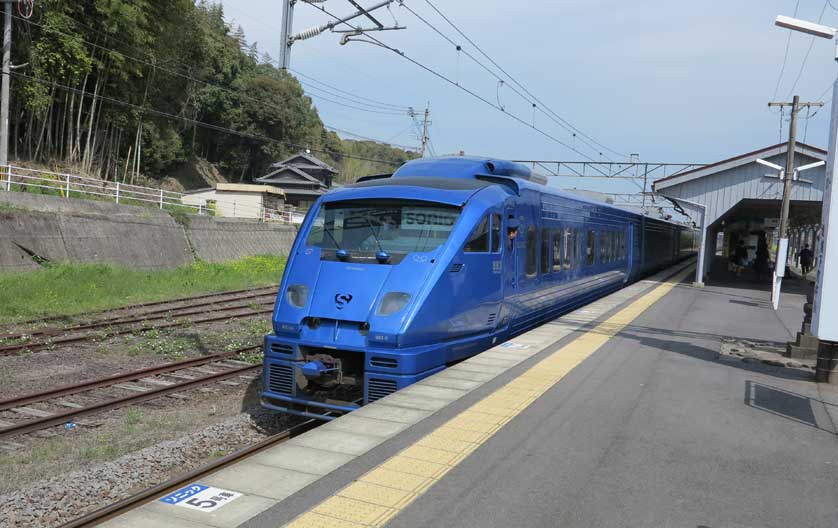 Sonic Express from Hakata & Kokura stations at Kitsuki Station
Ferry
Kitakyushu is served by several long distance domestic car ferries. A daily ferry from Tokyo stops at Tokushima on Shikoku, There are several ferries from Osaka and one from  Kobe, and a direct ferry from Matsuyama on Shikoku. There are also small passenger ferries across the narrow straits to Shimonoseki and also to some smaller nearby islands. There is a high-speed speed ferry to Ulsan in Korea.
Book Accommodation in Fukuoka
Kyushu Railway History Museum in Mijiko, Kitakyushu has a diverse collection of trains including a 9600 steam locomotive and an EF 10 35, an early electric train from 1942.
All the themes of the city