Okazaki Castle
Okazaki Castle: read a guide to Okazaki Castle in Aichi Prefecture, the birthplace of Ieyasu Tokugawa.
Okazaki Castle 岡崎城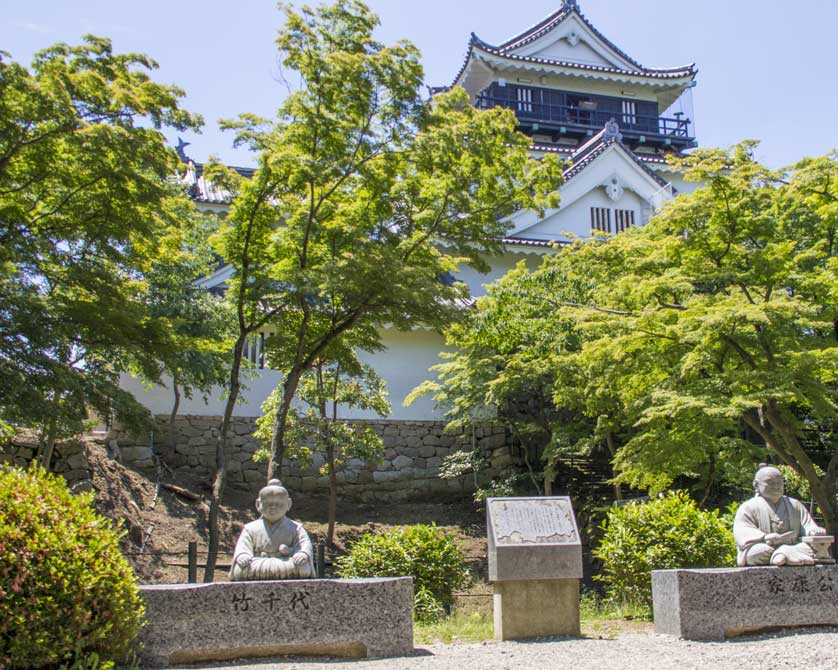 Okazaki Castle (Tel: 0564 22 2122) is located in Okazaki Park, a 15-minute walk west from Higashi Okazaki Meitetsu station over the Otogawa River.
Okazaki Castle is known as the birthplace of one of the most influential men in Japanese history, Tokugawa Ieyasu (1543-1616).
Okazaki Castle History
The original Okazaki Castle, most likely a wooden fort, dates from 1455 and was built on the grounds of Myodaiji Temple by Saigo Tsugiyori. Okazaki Castle was moved to its present location by Ieyasu's grandfather in 1531.
After Ieyasu was able to take control of the whole of Japan following the Battle of Sekigahara and the defeat of his rivals the Toyotomi clan in 1600, he moved his base of operations to Edo (present-day Tokyo). Okazaki Castle was then occupied by vassals of the Tokugawa until 1868.
Okazaki Park is a peaceful place to wander among the stone walls, moats, eateries and shrines that dot the area. There are a number of statutes in the park as well as wells, one of which is called Ieyasu's Well, as it was thought the water for the great man's first bath was drawn here. Okazaki Park also contains a Noh theater.
Okazaki became a prosperous castle town during the Edo Period, due to its location on the Tokaido highway between Kyoto and Edo and the favor of the Tokugawa regime. Numerous inns and shops selling the local tofu and Okazaki's famous Hatcho miso ("the food of warriors") grew up.
Okazaki Castle was demolished in 1873 on the orders of the new Meiji government leaving only the foundation stones (now incorporated into the modern castle), moats and stone walls, but was reconstructed in its original style and size in 1959 along with the annex and well house.
The castle is a ferro-concrete, three-tiered, five-floor donjon and the interior has some interesting exhibits of roof tiles from the original castle including its shachi, samurai battle swords, armor, and reproductions of Edo Period fireworks - another industry in which Okazaki has a long history. There are also video displays, dioramas of previous battles and information on Okazaki's history as a castle town on the Tokaido and its industries.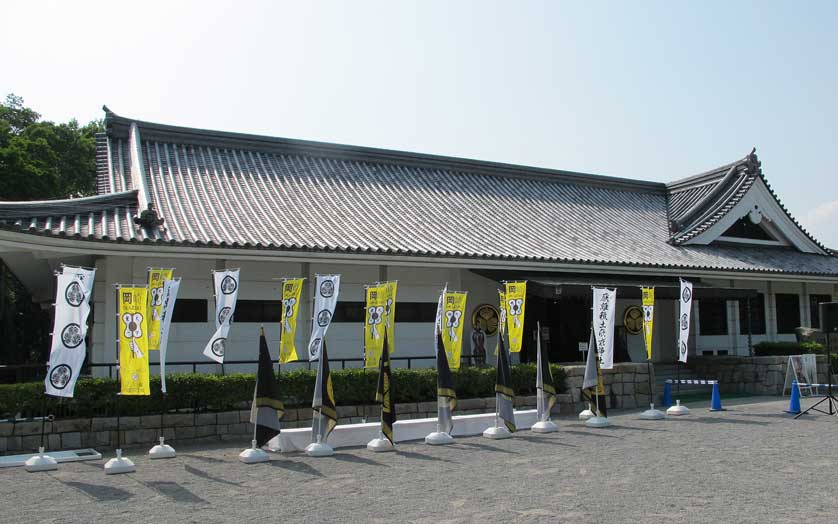 Iyeyasu and Mikawa Bushi Museum, Okazaki Castle, Aichi Prefecture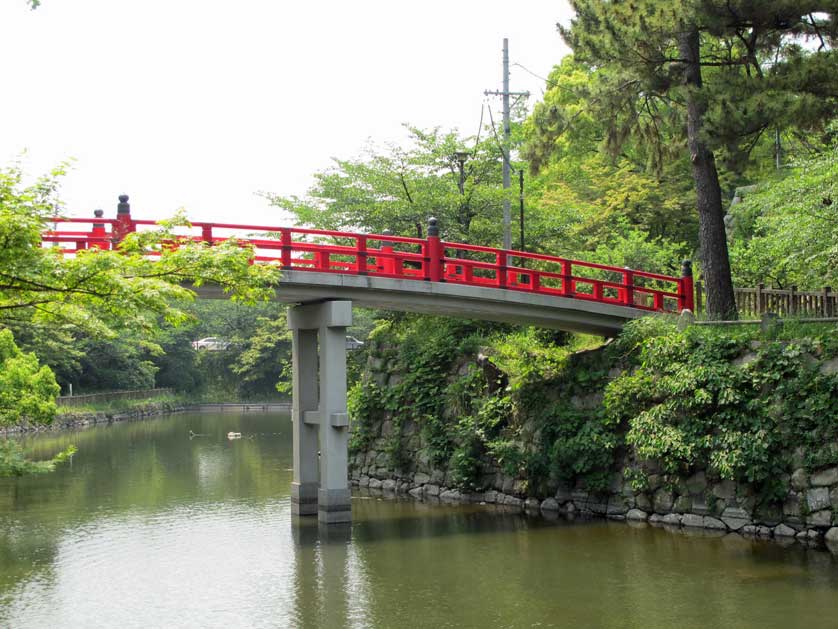 Okazaki Castle Park with castle moat and bridge
The top floor of Okazaki Castle has a viewing gallery with tremendous views over the city and the Mikawa Plains below.
The Otemon Gate, which was the main gate to the castle and stood near to the old Tokaido, was rebuilt using local stone in 1993.
Okazaki castle park contains the Iyeyasu and Mikawa Bushi Museum (Tel: 0564 24 2204) which outlines the local history of the area and its most famous son - Ieyasu.
On display at the excellent Iyeyasu and Mikawa Bushi Museum are replicas of Ieyasu's armor as well as original swords. There is also a collection of other weapons, an amazing bear-fur helmet that once belonged to Matsudaira Chikatada (1431-1501), wooden portrait sculptures, and documents as well as videos detailing Ieyasu's life. A highlight is a moveable diorama of the decisive Battle of Sekigahara in 1600 featuring figurines of the important warlords.
Visitors to the museum can try on samurai armor including a set modeled on Ieyasu's gold plated helmet, breastplate and leg-guards and have their picture taken sitting in a mounted samurai's saddle.
Okazaki Park, which surrounds the castle, is a popular cherry blossom-viewing spot in spring and also stages part of the summer fireworks festival which takes place in August.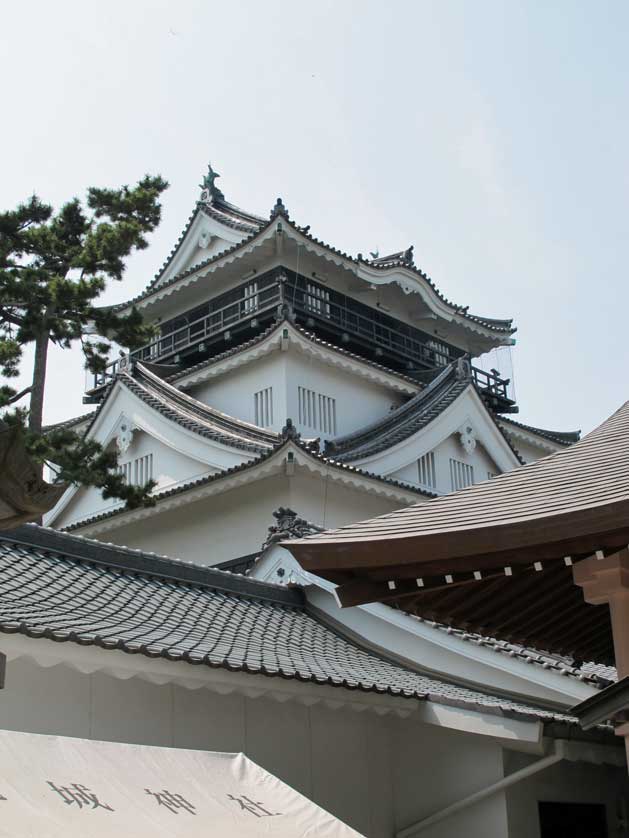 The modern keep (tenshu) at Okazaki Castle, Aichi Prefecture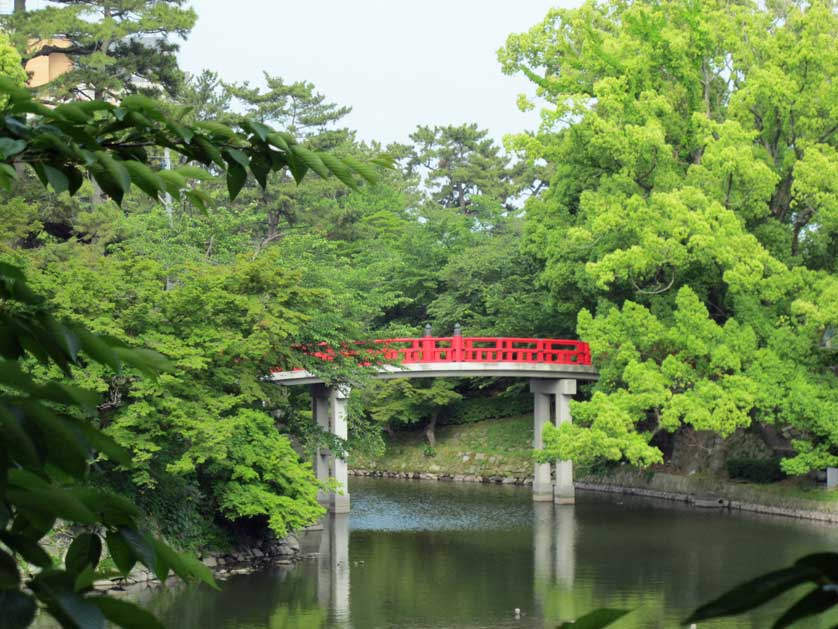 Okazaki Park is an oasis of green surrounding Okazaki Castle
Okazaki Castle Access
Take a Meitetsu Express train to Higashi Okazaki Station from Nagoya Station (28 mins) or from Toyohashi (20 mins). The nearest station to Okazaki Park is actually Okazaki Koen-mae one stop west on a local Meitetsu train or Naka Okazaki on the Aichi Loop Line.
From Higashi Okazaki Station take the north exit and turn left, then take the right at the first traffic light and walk over the Tono Bridge, then take the first left and walk along the river to the entrance to the park just past the Okazaki New Grand Hotel (Tel: 0564 21 5111).
The main JR Okazaki Station is a distance south of the downtown area so change to the JR Aichi Loop Line and take a local train two stops north to Naka Okazaki, if you do not want to walk.
By car exit the Tomei Expressway at Okazaki Interchange or take National Highway Route 1.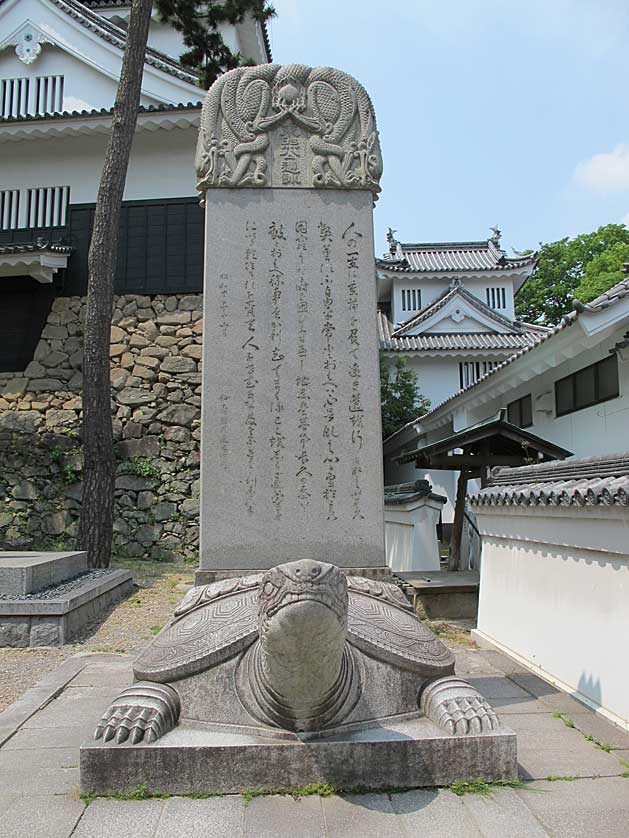 Stone stele commemorating Ieyasu Tokugawa, who was born at Okazaki Castle in 1543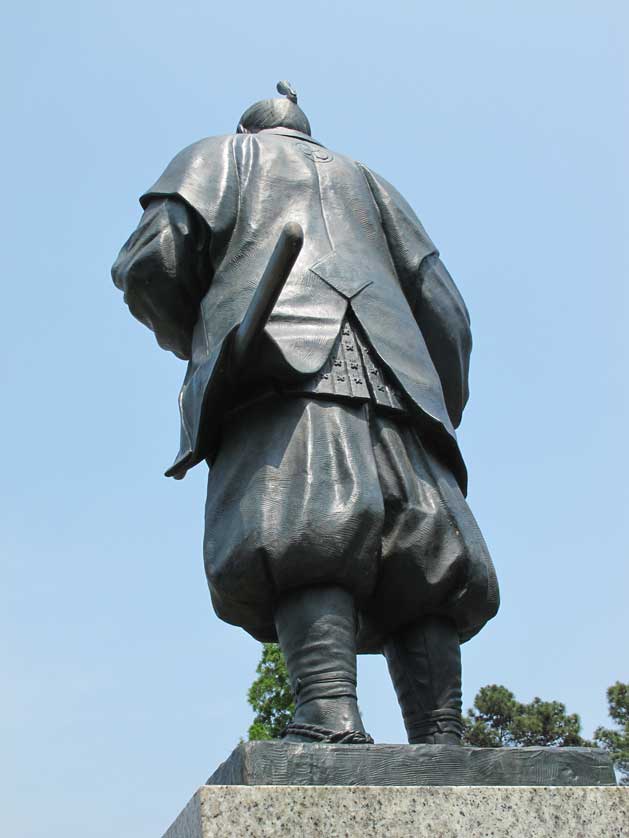 Statues of Ieyasu Tokugawa, Okazaki's most famous son abound in Okazaki Koen
Okazakai Castle Video
Okazaki Castle561, Kosei-choOkazaki, Aichi
444-0052
Hours: 9 am-5 pm dailyAdmission: 200 yen or 500 yen for a combined ticket with the Iyeyasu & Mikawa Bushi Museum.
Chubu Area Castles
Other castles in the Chubu area of central Japan include Nagoya Castle, Kiyosu Castle, Gifu Castle and Inuyama Castle.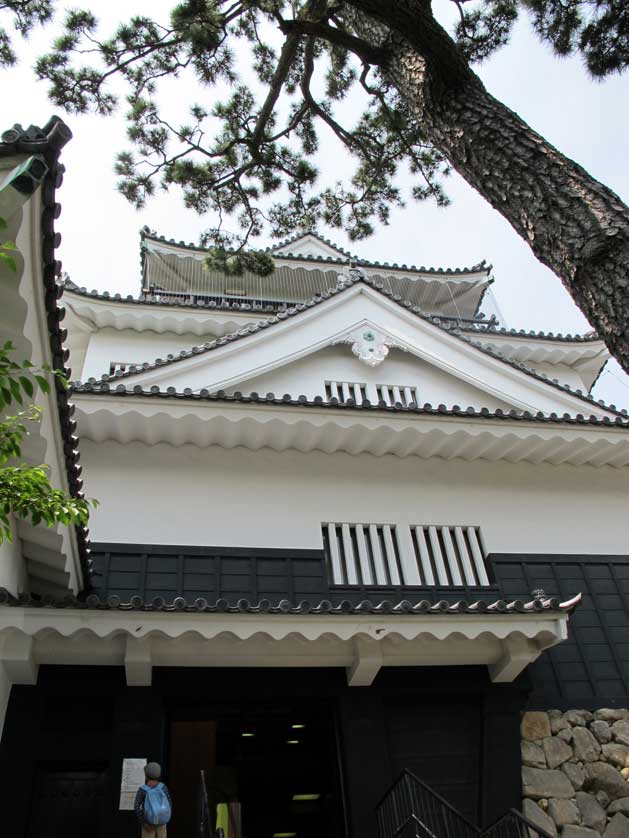 The first Tokugawa shogun Ieyasu (1543-1616), the founder of the Tokugawa shogunate, was born here at Okazaki Castle in present-day Aichi Prefecture
Book Budget Hotel Accommodation in Japan
All the themes of the city