Shikina-en Garden Naha
Shikina-en Garden, Naha: read a guide to Shikina-en Garden, Naha, in Okinawa, a palace of the Okinawan royal family.
Shikinaen Royal Garden, Naha - World Heritage Site
Jake Davies
Located about 3 km south of Shuri Castle, Shikinaen is one of the few tourist sites in Naha that cannot be reached by the Yui monorail, and coupled with the fact that it is about 42,000 sq meters in size, a large part of which is woodland, it offers a rare chance to escape the crowds and concrete of Okinawa's largest city.
The Shikinaen gardens and palace were constructed at the end of the 18th century as a second home for the Okinawan royal family and to entertain important guests. A section of the old stone pavement that ran from the Shuri Palace to Shikinaen still exists.
The Shikinaen garden is a stroll garden, meant to be walked around rather than viewed from one particular point, and has features both Japanese and Chinese, to make it uniquely Okinawan.
Shikina-en Garden in Naha was completely restored after damage in World War II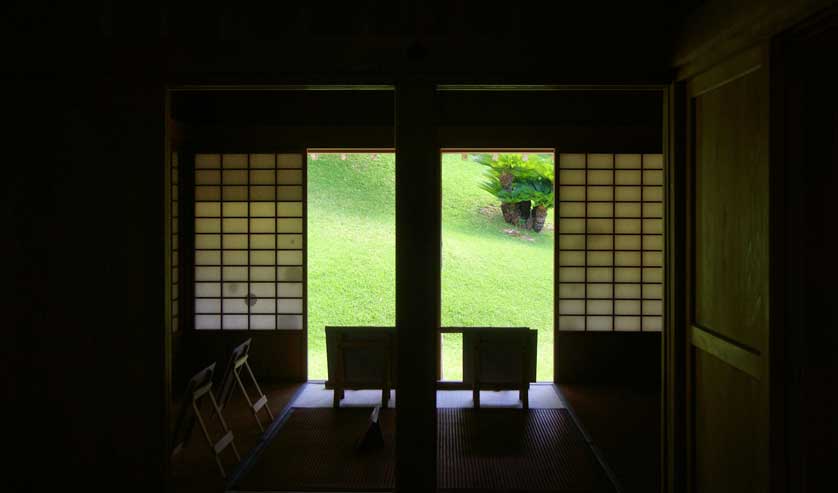 Shikina-en Garden, Naha, was used as a palace by the Okinawan royal family
From the entrance one follows a winding stone path past the guardhouse and through woodland that is composed of sub-tropical species, past a walled spring to the edge of the pond and the palace (udun), though villa might be a more accurate word.
The palace was built in the 17th century, well before the pond and gardens, and great views of the garden can be had from many of its 15 rooms.
After passing through the palace the route crosses the pond via two stone bridges, one of which is made using unshaped limestone boulders and looks most unusual. From here another smaller bridge hewn from a single piece of rock takes you to the Rokkaku-do, a Chinese-style hexagonal pavilion.
Two small, artificial hills offer views over the pond and garden and the last section of the walk gives a view over Naha and then passes through groves of various unusual, sub-tropical trees and shrubs and back to the entrance.
Shikinaen was completely destroyed during the Battle of Okinawa in 1945. A 20 year restoration program began in 1975. In 2000 it was registered as a UNESCO World Heritage Site.
Hours: Open 9 am-5:30 pm (Apr-Sep), 9 am-5 pm (Oct-Mar). Closed Wednesdays, or the following day if a Wednesday is a National Holiday.
Admission: 400 yen for adults, 200 yen for children.
Tel: 098 855 5936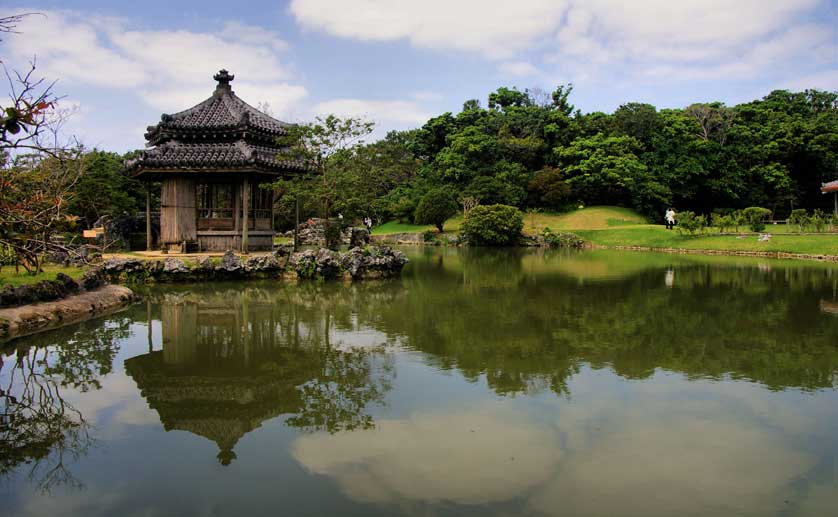 Shikina-en Garden, Naha, Okinawa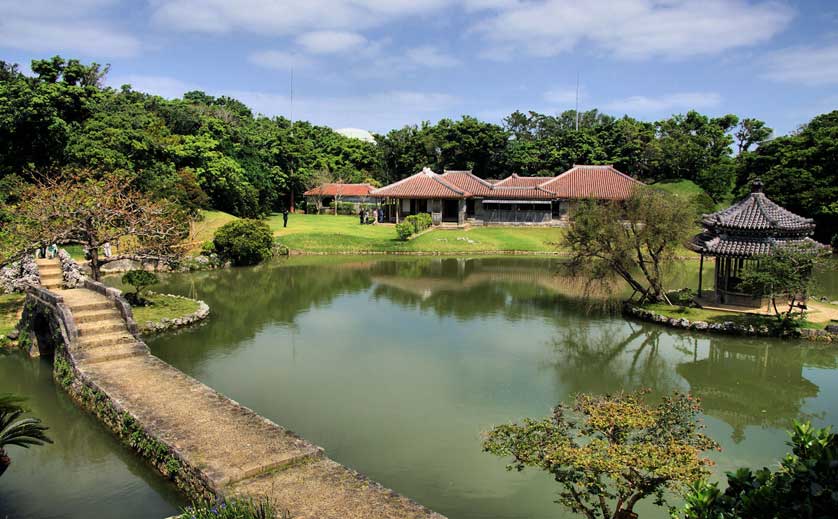 A Stone Bridge & Pavilions at Shikina-en Garden, Naha, Okinawa

Shikina-en Access
Shikinaen is reachable by buses 2, 3, and 5 from downtown Naha.
Images by Jake Davies
Book Discount Hotel Accommodation in Okinawa
All the themes of the city