Tamaki-jinja shrine
玉置神社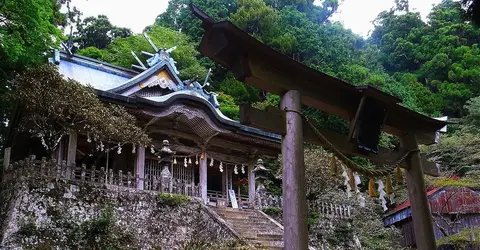 Pilgrimage to the top
Nestled at altitude, in the heart of the Kii peninsula, in the south of Nara prefecture, the Tamaki-jinja sanctuary is part of a site of more than 500 hectares classified as a UNESCO World Heritage Site.
You have to climb the slopes of Mount Tamaki (1,076 meters) and make your way through the mist, among century-old cedars, to reach Tamaki-jinja . This remote Shinto shrine, located in the village of Totsukawa , has been a stopover on the Kumano Kodo , an ancestral network of pilgrimage routes, for more than a thousand years.
Sacred and classified routes
These trails connect Nara and Osaka to the three major Kumano Sanzan shrines (Hongu Taisha in Tanabe, Hayatama Taisha in Shingu, and Nachi Taisha in Nachikatsuura), one of Japan's holiest sites .
More specifically, the Tamaki-jinja shrine is on the Omine Okugakemichi road (between Yoshino and the Hongu Taisha shrine) where the disciples of shugendo (this set of ultra-rigorous rites practiced by mountain monks) came - and still come - to form.
In 2004, the shrines and pilgrimage routes of the Kii Mountains were listed as a Unesco World Heritage Site . " They reflect ," reads the United Nations website, " the fusion between Shinto, rooted in the ancient Japanese tradition of nature worship, and Buddhism from China and the Korean peninsula ."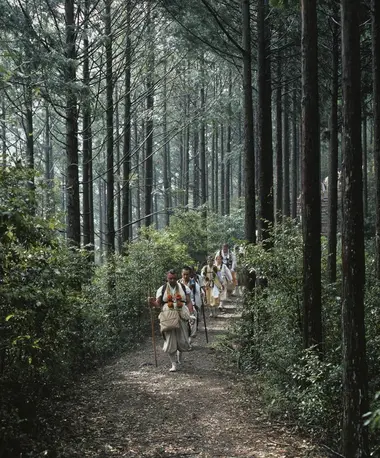 A spiritual forest
Located in the heart of this lush and sacred nature , the Tamaki-jinja shrine is known for its cedar forest . Gigantic trees that have been designated a " natural monument" , including a jindai-sugi , said to be 3,000 years old.
The shrine, whose main building is made of wood, is said to have been founded by Emperor Sujin, tenth emperor of Japan, around 37 BC .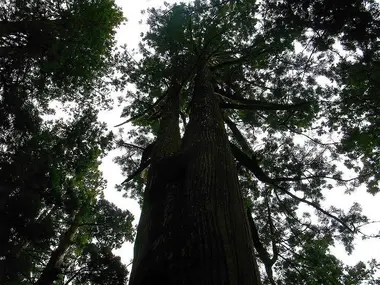 Once you have climbed the stairs, the site bathed in a mysterious mist reveals some hidden treasures. Its fusuma , these sliding panels which separate the rooms from each other, are decorated with decorative paintings representing peacocks or flowering trees.
---
Address, timetable & access
Address

Phone

+81 (0) 746 640 500

Timetable

Accessible by car or bus, then a 15-minute walk from the car park

Price

300 yen (2.50€)

Access

Open daily from 8 a.m. to 5 p.m.
All the themes of the city