Admiring Lotuses in Japan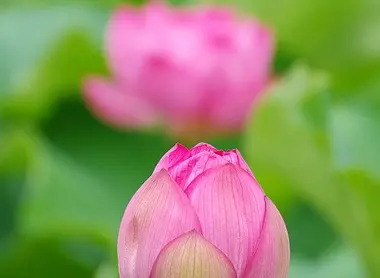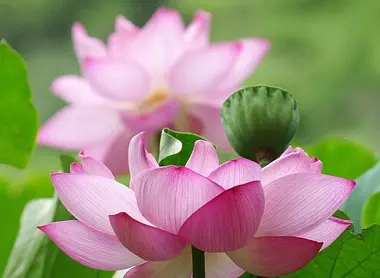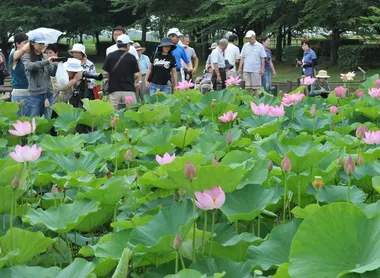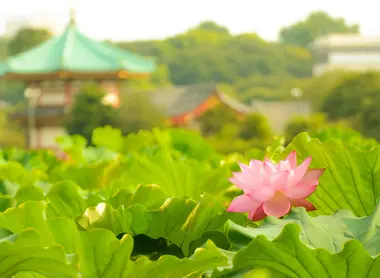 The sacred flowers of Buddhism
Japanese lotuses are unique with their huge round leaves and flowers having pink, red, or white petals. Open or closed, they are magnificent and give off an intoxicating fragrance. Lotuses are plants that thrive in wetlands and are grown in ponds and lakes. Their flowering period is from mid-July to mid-August, and early September.
The lotus is an important plant in Japanese culture and has been used for hundreds of years in traditional Japanese gardens. Having become a religious symbol, lotuses can be found in many ponds near temples and shrines. The lotus is the symbol of purity, its roots being deep in the mud but their flower blooming above the water.
In Tokyo itself and throughout Japan, there are many places where lotuses can be admired while they are in bloom. We have prepared a selection of places with water bodies full of lotuses.
Shinobazu Pond, Tokyo
Shinobazu Pond is located in Ueno Park, in central Tokyo. It is divided into three sections, and one of them called Hasu no Ike (or Lotus Lake), houses one of Japan's largest lotus collections. When they bloom in August, the pond fills with beautiful pink and white flowers.
The pond is also home to several dozen species of migratory and stationary birds, the number of which sometimes exceeds ten thousand. Very easy to access, it is also an opportunity to discover all the riches of the Ueno district.
Address: 5-20 Uenokoen, Taito, 110-0007 Tokyo
Access: Ueno Subway Station, easily accessible with the Yamanote Line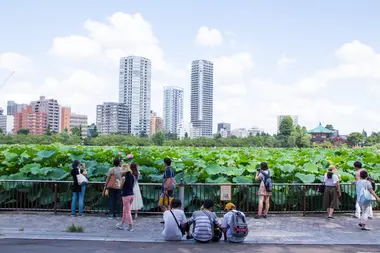 Tsurugaoka Hachimangu Shrine, Kanagawa Prefecture
Tsurugaoka Hachimangu, originally founded in 1063 by Minamoto Yoriyoshi, is Kamakura City's main Shinto shrine. At the entrance to the shrine, a lotus pond sits on either side of the path leading to its main building.
The morning view of the water bodies is more photogenic than in the afternoon as most lotus flowers open their petals early in the morning and close in the evening
Address : 2-1-31 Yukinoshita, Kamakura
Access: A 10 min walk from the east exit of JR station. Kamakura
To read: Top 5 of Kamakura in summer by our Travel Angel, Isabelle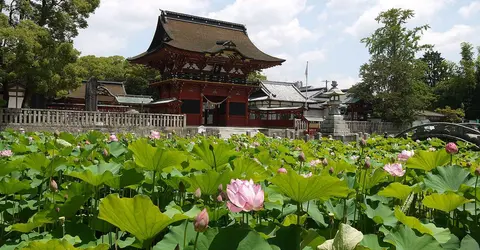 Hanahasu Park, Fukui Prefecture
Located along the Sea of Japan, in the center of the archipelago, Fukui is a prefecture centered around its nature. Indeed, 15% of its total area is designated as natural parks or protected areas and is managed by the Japanese Ministry of the Environment.
To read: Discover Fukui
Nanjo District of Minami Echizen City is the premier lotus production and harvesting site in Japan. It produces more than 60% of Japan's lotus flowers which will then be sent to the rest of the archipelago.
In July and August, Hanahasu Park holds a "Lotus Festival", where visitors can see hundreds of beautiful lotus flowers blooming all over the park's water bodies. During the festival, you can try lotus wine (fruity white wine with lotus extract), lotus noodles, or lotus ice cream, to try and beat the summer heat. The park usually asks visitors to pay 200 yen to enter the park during the lotus season as a maintenance fee.
Address : 64-41 Nakagoya, Minamiechizen, 919-0214 Nanjo
Access : Nanjo station, on the JR Hokuriku Line.
Sankeien Garden, Kanagawa Prefecture
The lotus was the favorite flower of Tomitaro Hara, known as Sankei Hara, founder of the Sankeien garden.
This garden, located in the city of Yokohama, is one of the most beautiful places to admire the blooming lotuses. What makes this garden special is that when the sea breeze from Yokohama Bay blows over its body of water, the lotus flowers seem to dance in the wind.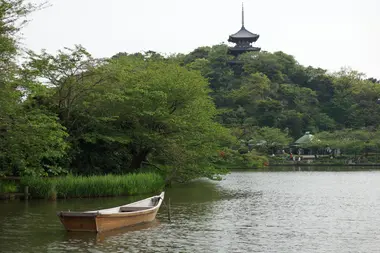 During the lotus season, the Sankeien Garden opens at 6 a.m. to allow visitors to view the flowers in full bloom in the cool morning air. The best time of day to see the flowers in full bloom is around 7 am. The flowers begin to close from around 9 am and are completely closed by noon.
Address : 58 Honmokusannotani, Naka, 231-0824 Yokohama
Access: Take bus 8 or 148 from the east exit of Yokohama Station to Sankeien-Iriguchi and then walk 5 min.
Kodaihasu-no-sato or "ancient lotus village", Saitama Prefecture
Two hours north of Tokyo, in the town of Gyoda, Kodai Hasu no Sato is home to one of the oldest surviving lotus plants in the world. Indeed, ancient lotus seeds, thought extinct for 1,400 years, were discovered in the city of Gyoda in 2000.
It was an incredible and rare find. These lotuses thus flower earlier than their modern variants, usually in June and July, with some remaining until August.
Around 120,000 lotus flowers of 42 types can be seen at Kodai Hasu no Sato. You can admire them from above if you climb the park's observation tower. Don't forget to also visit the museum which provides information about these ancient lotuses and their characteristics.
Address: 2375-1 Kobari, 361-0024 Gyoda
Access: From Gyoda Station on the JR Takasaki Line, take the City Loop bus (Nishi Junkan bus counterclockwise) and get off at the "Kodaihasu-no-sato" bus stop.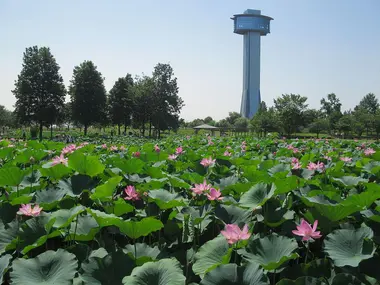 All the themes of the city