Musashi-Kosugi Station
武蔵小杉駅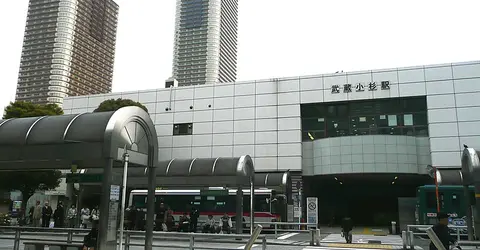 Musashi-Kosugi Station is a major railway station in Kawasaki on the Yokosuka Line, Nambu Line, Toyoko Line, Shonan-Shinjuku Line and the Meguro Line.
Musashi-Kosugi is located in Kawasaki, south of central Tokyo just across the Tama River in Kanagawa Prefecture, midway between Tokyo and Yokohama and directly west of Shinagawa.
Musashi-Kosugi Station is actually made up of two stations belonging to different railway companies, and one of those stations comprises two different buildings.
The Japan Rail "two-building station" has a north-east ground-level building, and a south-west elevated building serving different lines, both buildings being joined by a 400 meter walkway. Tokyu Railway's "Musashi-Kosugi Station" is right next to the north-east station building and serves the Tokyu Toyoko and Tokyu Meguro lines.
JR's ground-level north-west station building, with platforms 1 and 2, serves the Nambu Line. JR's elevated south-eastern station building, with platforms 3 and 4, serves the Yokosuka Line (the Yokosuka Line being another name for this section of the Tokaido Main Line) on which the Shonan-Shinjuku Line and Narita Express run.
Musashi-Kosugi Connections
Musashi-Kosugi is a busy, major rail station in the greater Tokyo area serving commuters between Kawasaki and Tokyo. Musashi-Kosugi Station is on the Yokosuka Line, and Shonan-Shinjuku Line, the Nambu Line, the Toyoko Line and the Meguro Line.
The Yokosuka Line runs from Tokyo Station to Kurihama in Yokosuka, Kanagawa Prefecture.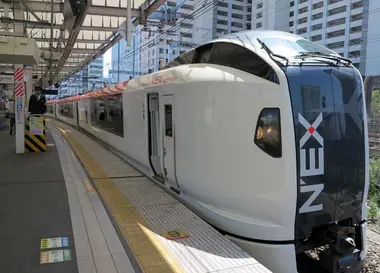 The Shonan-Shinjuku Line provides a direct line between Shinjuku Station and Yokohama Station.
The Nambu Line connects Tachikawa Station in Tachikawa, Tokyo with Musashi-Kosugi.
The Tokyu Toyoko Line connects Shibuya Station in Shibuya, Tokyo with Yokohama Station.
The Tokyu Meguro Line runs from Meguro to Den-en-chofu with most trains continuing on to Hiyoshi.
The Narita Express is also serviced at Musashi-Kosugi Station.
Musashi-Kosugi Station was first opened in the 1920's.
Buses from Musashi-Kosugi
Musashi-Kosugi Station is a local bus terminus for Kawasaki City Buses and Tokyu Buses to various destinations in the Kawasaki area.
Buses run from Musashi-Kosugi Station to the Todoroki indoor arena, Musashi-Nakahara Station, Takatsu Station, Mizonokuchi Station, Kawasaki Station, Saginuma Station, and Mizonokuchi Station.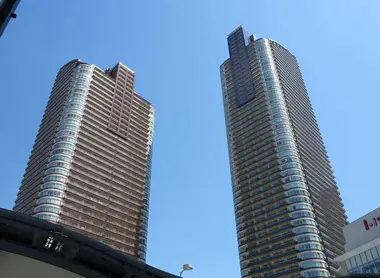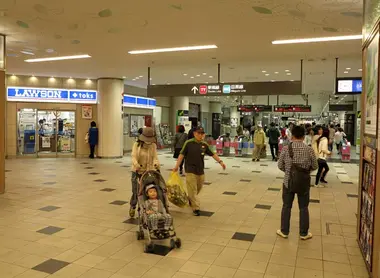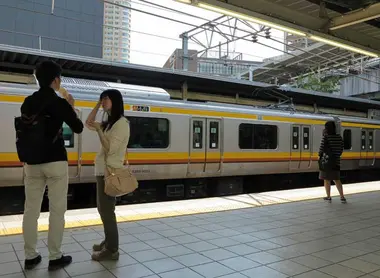 Musashi-Kosugi Shopping
The area in and around Musashi-Kosugi Station is a major shopping and entertainment district. The Tokyu Square shopping mall has multiple shopping outlets and restaurants.
Tokyu Square has branches of Mister Donut, a Lawson convenience store, a drug store, a Tokyu supermarket, a bagel cafe, KFC, Uniqlo, ABC Mart, a specialist wine store, Tokyu Hands, Skinfood, Starbucks, and Freshness Burger.
Daei's Foodium also nearby has several clinics, a hairdresser's, a drug store and a bakery.
Musashi-Kosugi Station has several banks of coin lockers available for storing luggage.
Musashi-Kosugi Hotels
There are several hotels close to Musashi-Kosugi Station: places to choose from include the 4-star Richmond Hotel Premier Musashikosugi, the Flexstay Inn Tamagawa, and the Toyoko Inn Musashi-Nakahara Ekimae at nearby Musashi-Nakahara Station.
All the themes of the city