Kawasaki Station
川崎駅

Kawasaki Station is a major rail station in Kawasaki, Kanagawa Prefecture on the Tokaido Main Line, the Keihin-Tohoku Line and the Nambu Line.
Kawasaki Station is located in Kawasaki, south of central Tokyo across the Tama River in Kanagawa Prefecture, midway between Tokyo and Yokohama.
Kawasaki Station Connections
Kawasaki Station is a busy, major rail intersection. Kawasaki Station is on the Tokaido Main Line, the Keihin-Tohoku Line and the Nambu Line.
The Tokaido Main Line runs from Tokyo Station all the way to Maibara in Shiga Prefecture. From Tokyo Tokaido Main line trains are useful to visit Odawara and Atami.
The Keihin-Tohoku Line runs from Omiya (in Saitama Prefecture) through Tokyo, down to Yokohama.
The Nambu Line connects Tachikawa Station in Tachikawa, Tokyo with Kawasaki Station.
Keikyu-Kawasaki Station is a short walk away and is on the Keikyu Line which connects Senkakuji and Shinagawa stations in Tokyo via Yokohama Station to Uraga in Kanagawa Prefecture. Keikyu-Kawasaki Station is also a terminus for the short Keikyu Daishi Line that runs out to Kojimashinden via Kawasaki-Daishi, the station to get off to visit Kawasaki Daishi Temple.
Kawasaki Station was first opened in 1872 on the route of Japan's first railway from Shimbashi to Yokohama.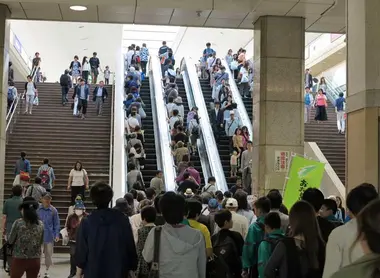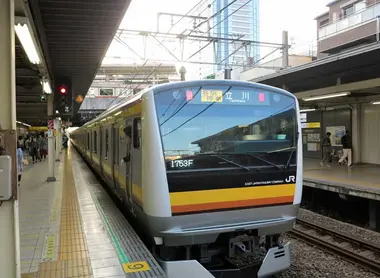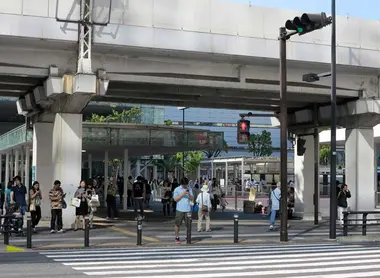 Keikyu Buses and Nitto Kotsu Buses both run to Umihotaru (海ほたる) and Kisarazu in Chiba Prefecture through the Tokyo Wan Aqua-Line tunnel (Tokyo Bay Aqualine).
There are bus stations at both the West and East exits. There are local buses to Kamata, Haneda Airport, Kawasaki Racecourse, Kashimada Station, Tsunashima Station, Shin-Maruko Station and Musashi-Kosugi Station.
(This page in Japanese bus.ekitan.com shows all the local routes from both bus stations at Kawasaki Station).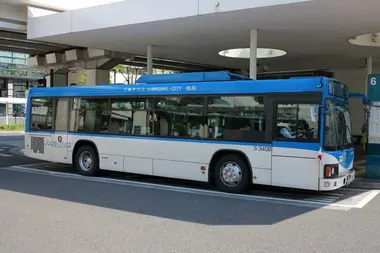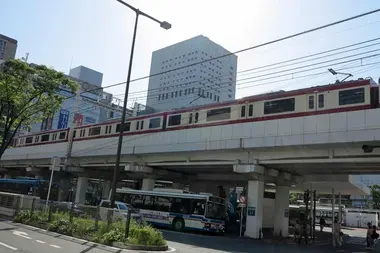 Kawasaki Station Shopping
The area around Kawasaki Station is a major shopping and entertainment district. The West Exit of Kawasaki Station is quieter with more office space, whereas the East Exit has more shops and restaurants and is the livelier with many of Kawasaki's major hotels and malls grouped here.
At the West Exit is the Toshiba Science Museum - a free museum, that is fun for kids, Kawasaki bus terminal and the Lazona Kawasaki Plaza mall which contains a branch of Bic Camera.
The East Exit gives access to Atre Kawasaki mall, the underground Azalea mall and another bus terminal. To the south is the huge Cittadella mall, built to resemble an Italian town, with the concert venue Club Citta', cinema Cinecitta' and Citta Arena with a futsal court built into the complex.
A large circular space "Pizza Centrale" is the venue for frequent festivals featuring regional cuisine and live entertainment. There's a multitude of restaurants and cafes to choose from here including the excellent Osteria Galileo (Tel: 044 222 8100), an authentic Neapolitan restaurant.
To the north of La Cittadella are three more large malls: Paseos, Kawasaki More's and Kawasaki Dice. Paseos has numerous ladies' fashion outlets along with cafes and restaurants. Kawasaki More's has also mostly fashion stores on its eight floors above ground and two basement floors with branches of Aoyama, Book Off, Daiso, Game Pia game center and Starbucks. Kawasaki Dice has nine floors above ground and two basement floors: the complex includes a Toho cinema, Uniqlo, Tsutaya and a branch of Tokyu Hands.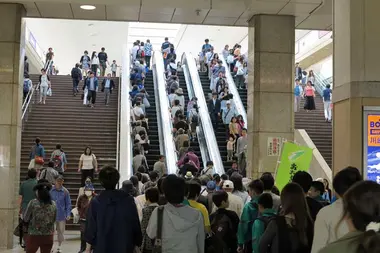 Purchase now your japan Rail Pass!
All the themes of the city