Funai Castle Oita Prefecture
Funai Castle: read a guide to Funai Castle in Oita city in Oita Prefecture a fortress strongly associated with Otomo Sorin.
Funai Castle 府内城
Jake Davies
Funai was a domain, han in Japanese, that roughly corresponded with the province of Bungo in Kyushu.
Domains and provinces were abandoned when the Meiji government created the modern system of prefectures in 1871, but the old names still survive in some places.
Funai Castle is located in Oita city in Oita Prefecture and is most strongly associated with Otomo Sorin, as is nearby Usuki Castle.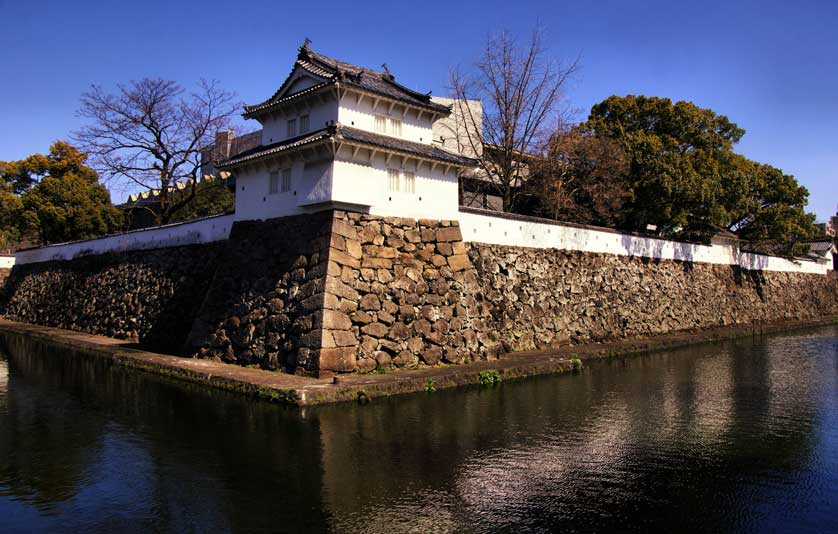 Funai Castle in Oita city, Oita Prefecture
History of Funai Castle
The Otomo were a powerful clan in Kyushu who during the first half of the 16th century gradually expanded their control over neighboring warlords. When Otomo Sorin became the 21st Otomo Daimyo in 1550 he continued to expand Otomo territory and eventually the family were known as the Lords of Seven Provinces.
To the north the Otomo had to contend with the Mori whose power extended over much of western Japan and into the north of Kyushu, and to the south lay the Shimazu, lords over southern Kyushu from their base in Kagoshima.
With these two powerful enemies, and dissent within his own ranks, Otomo had maybe bitten off more than he could chew, and following defeat by the Shimazu he retreated into Funai Castle in 1586 and called on Hideyoshi Toyotomi for help. Hideyoshi arrived in 1587 but not before the Shimazu had taken Funai Castle.
Hideyoshi and his allies, including the Otomo, finally defeated the Shimazu. The Otomo were given back control of their territories lost to the Shimazu, though now they were held under the fief of Hideyoshi. Later, in 1600 Funai was confiscated from Sorin's son, Yoshimune, for an act of cowardice during the Korean campaign, and given to Takenaka Shigetoshi.
At least some of the difficulties encountered by Otomo Sorin can be attributed to his embrace of Christianity which caused problems with his own vassals. Sorin was one of the few Japanese lords who actually met Francis Xavier, who had stopped in at Funai on his way from Kagoshima to Yamaguchi.
Xavier had to seek permission from Sorin to meet up with some Portuguese ships in the harbor there, and Sorin was interested in building a relationship with the powerful foreigners. Sorin eventually became a Christian himself in 1568, having previously baptized his son.
It is not known for sure how much conviction prompted his conversion or how much political astuteness. Portuguese warships assisted Sorin in the Battle of Moji, and he, along with two other Christian daimyo sent a delegation to Europe in 1582, who met with various Heads of State as well as the Pope.
Sorin's wife was fiercely anti-Christian and so was divorced by Sorin. However, the behavior of the Portuguese missionaries, for instance destroying shrines and temples, antagonized many of his allies as well as some of those he ruled.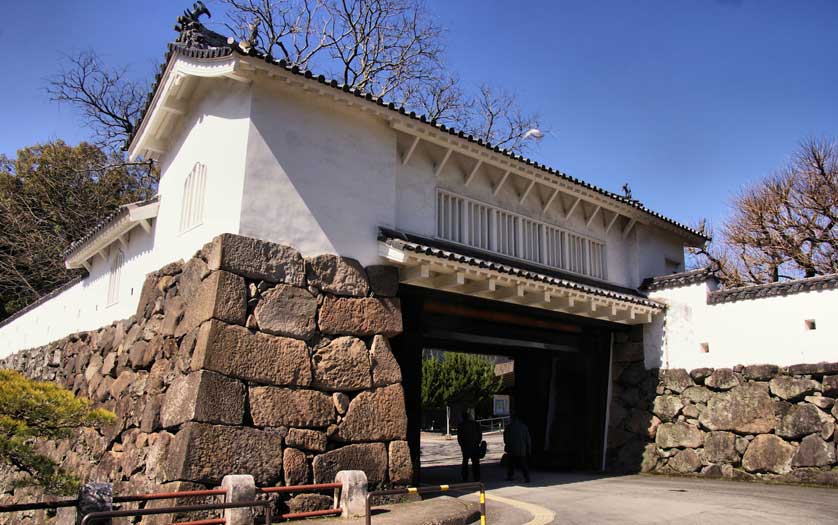 Funai Castle gate, Oita-shi, Kyushu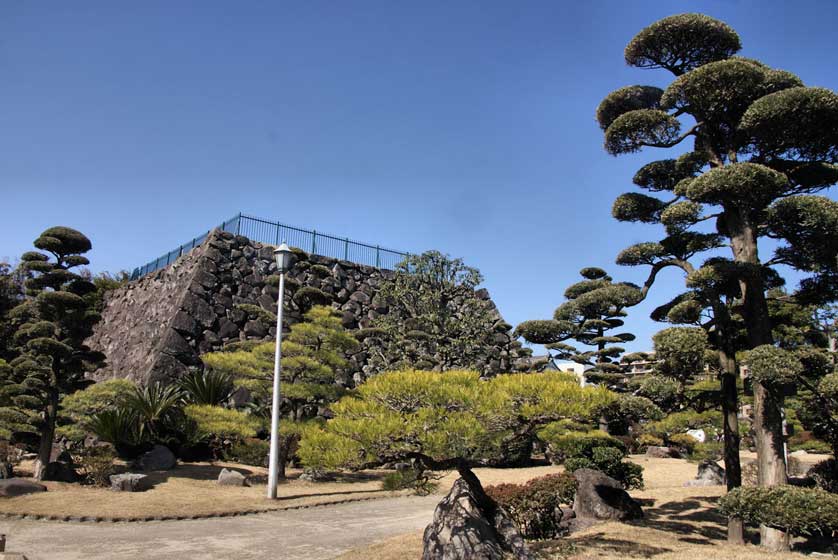 Funai Castle is now a park famous for its cherry blossoms in spring
A castle was built at Funai in 1562, but many sources credit Fukuhara Naotaka with its construction in the last few years of the 16th century, but the main keep was built by Takenaka Shigetoshi in 1602.
In 1656 a branch of the Matsudaira took control of the castle and remained there until the Meiji Period.
Most of Funai Castle burned down in 1743 and the castle was decommissioned in 1872.
All that remains today is the moat and outer walls, two towers that were reconstructed in the early 1860's, and the stone base of the keep. In 1965 the main gate and turrets were restored, and in 1996 the covered bridge was reconstructed.
Funai Castle Access
Entry to Funai Castle ruins is free and there is no museum or displays. The small park next to the castle is popular during cherry blossom season and for wedding photographs.
Funai Castle is located about a ten minute walk from Oita Station.
Niagemachi, Oita City, Oita 870 0046Tel: 097 534 6111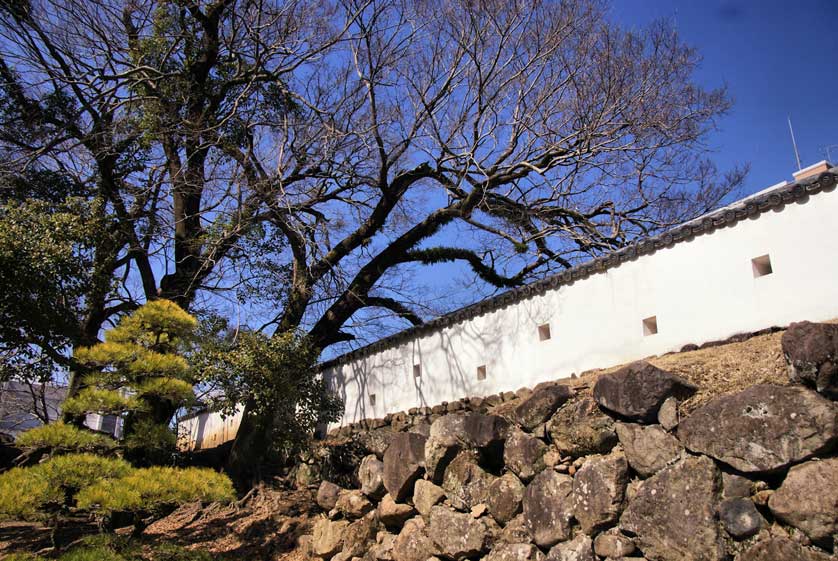 Walls of Funai Castle in Oita Prefecture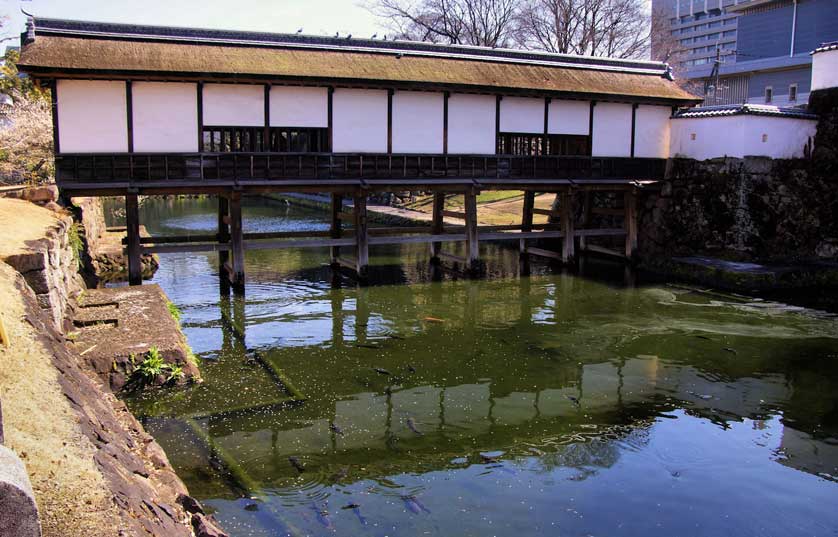 Funai Castle, Kyushu, South West Japan
All the themes of the city