Jigoku Meguri, Visiting the "Eight Hells"
地獄めぐり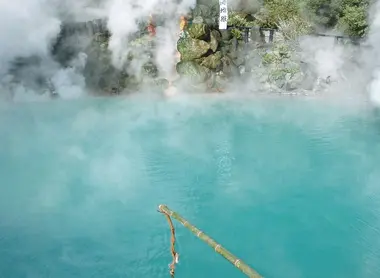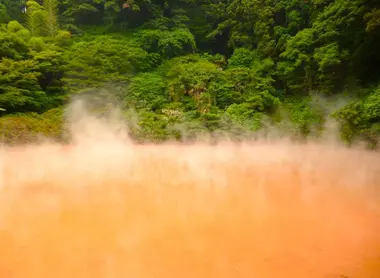 A steamy stroll
With cooking, horticulture and a crocodile farm, there are many benefits to this micro-climate.  The hot springs of Beppu are not just for relaxation. Welcome to hell!
This diabolical trip in the Kannawa neighborhood - which also includes a dozen public baths - is an "invitation to hell": eight small theme parks for another perspective on the hot springs of Beppu:
Umi Jigoku ("Sea Hell"), referring to the main pool whose milky blue waters make you want to dive right in. On a secondary pond, giant water lilies can support the weight of a child up to 20 kilos, and nearby shops offer a taste of the pudding and eggs cooked on site in the hot water and steam.
Oniishibozu Jigoku ("Oniishi Monks Hell"), just across the way, bubbling shapes form on the surface of this pond like grayish mud circles, like the shaven heads of monks. An adjacent onsen is available (600 yen/adult and 300 yen/child).
Yama Jigoku ("Mountain Hell"), on the way down, it would be a shame not to check out the small zoo nearby.
Kamado Jigoku ("Cauldron Hell"), delicious eggs cooked in sulfur steam baths are on offer here, as well as an onsen for hands and feet. Sample with caution!
Oniyama Jigoku ("Monster Mountain Hell"), also known as Wani Jigoku ("Crocodile Hell") is a reptile farm raising over 80 different species of crocodiles and alligators.
Shiraike Jigoku ("White Pond Hell") is home to a garden and a populated tropical fish tank.
Discover the Eight Hells, a video from Beppu Tourist Office.
---
Address, timetable & access
All the themes of the city