Yufuin Temples & Shrines
Shrines & Temples of Yufuin 由布院
Jake Davies
Yufuin, an increasingly popular destination for foreign visitors, is a rural hot spring resort in the mountains of Oita Prefecture.
Obviously many people come for the hot springs, and some come for the stunning scenery but most probably come for the town's reputation as an art destination, as it is home to numerous galleries and small museums.
Probably nobody comes to Yufuin for its shrines and temples, as none of them are particularly famous, but on a visit to Yufuin there are a few worth looking for, especially as they are usually quiet and not crowded like most of the town.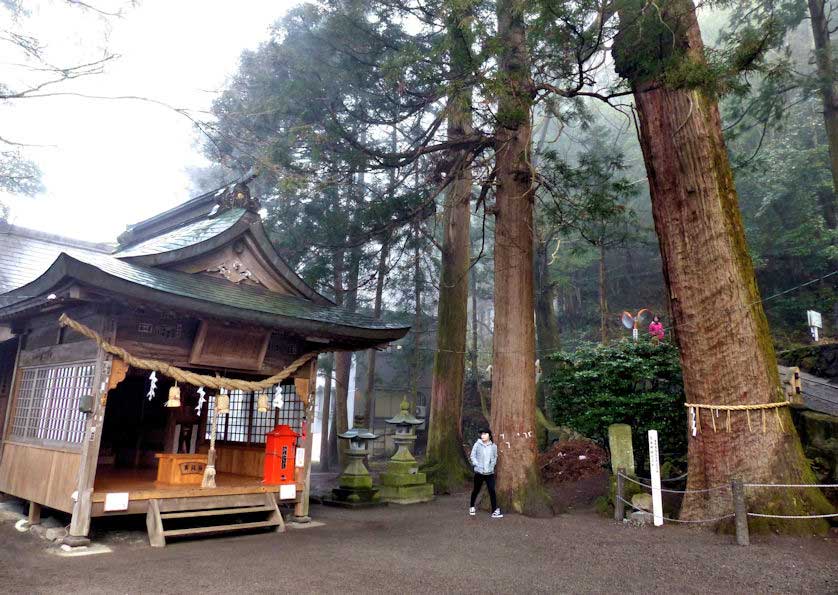 Tenso Shrine, a small but pretty Shinto shrine on the banks of Lake Kinrinko in Yufuin, Oita Prefecture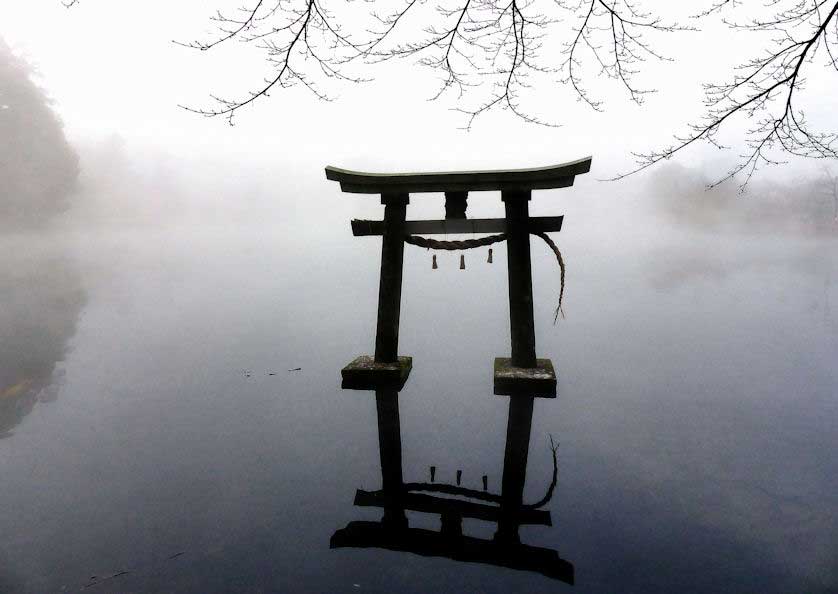 The "floating torii" of Tenso Shrine in Lake Kinrinko, Yufuin, Oita Prefecture
Tenso Shrine
Tenso Shrine is probably the most visited shrine in Yufuin. It is located on the banks of Lake Kinrinko, a very popular scenic spot in Yufuin, which also has an onsen on its banks as well as the Chagall Museum.
Tenso Jinja is not a very big shrine but is nonetheless very atmospheric. The small main hall faces the lake, which is actually more a large pond, and just offshore is a "floating torii", a Shinto gate set in the water, the most famous example of which is at the World Heritage site of Miyajima near Hiroshima.
The small grounds have a couple of secondary shrines and some stately Japanese cedar trees wrapped with sacred ropes. The shrine is particularly atmospheric early in the morning when the lake is covered in mist and also in the evening light.
Tenso Shrine
1757 Kawakami, Yufuin-cho, Yufu-shi, Oita 879-5102
The thatched gate at Bussanji, a Rinzai Zen temple in Yufuin, Oita Prefecture
Bussanji Temple
A few minutes walk away from Tenso Shrine is Bussanji, the nicest temple to visit in Yufuin. Most people just stop and take photos of the pretty thatched gate, but inside the grounds it is very peaceful. There are a few statues scattered among the bamboo and trees.
Now belonging to the Rinzai Zen sect, the temple's origins lie a thousand years ago. Following an oracle received at the great Kirishima Shrine in the south of Kyushu, a monk came here and carved a statue of Kannon, the Goddess of Mercy. He then founded a great monastery higher up on the mountain. In 1591 the monastery was destroyed by an earthquake and the statue was moved here and this new temple built.
Bussanji Temple
1879 Kawakami, Yufuin-cho, Yufu-shi, Oita 879-5102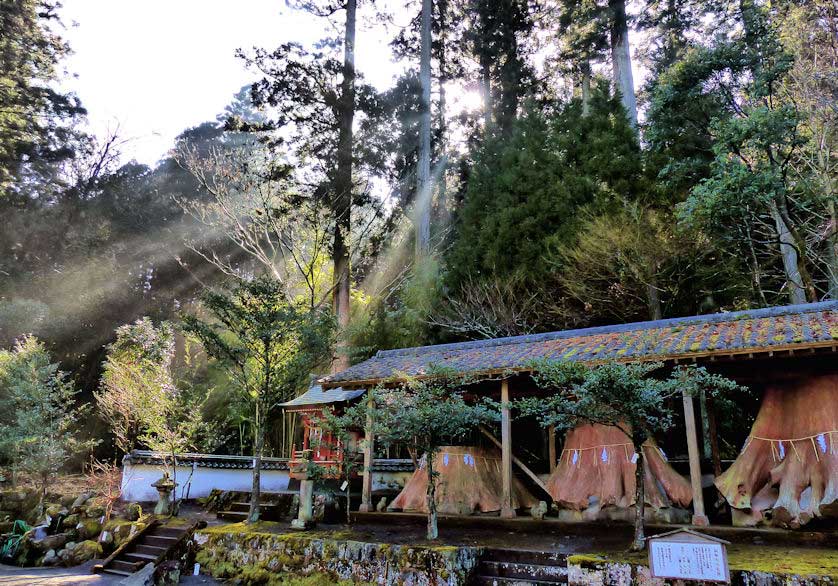 Three huge stumps of giant Sugi trees that were blown down in a major typhoon at Unagihime Shrine in Yufuin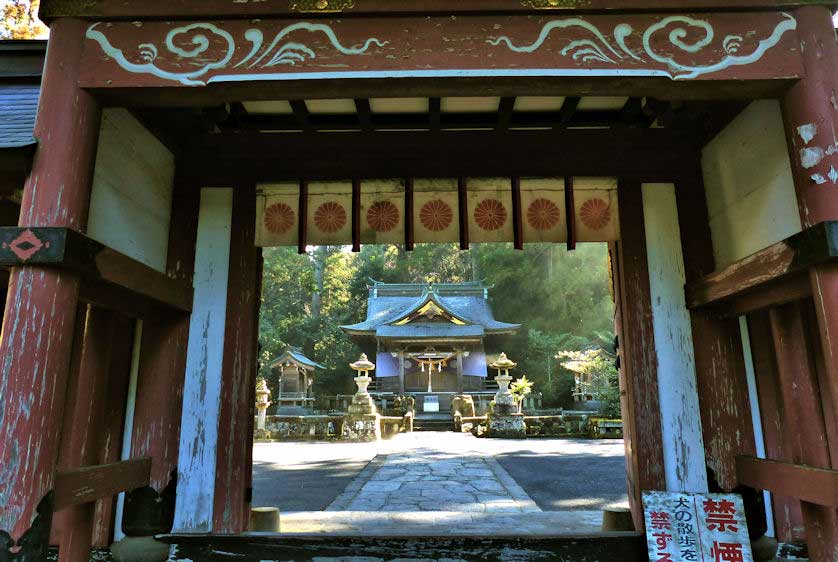 The main gate of Unagihime Shrine (Rokusho-gu), the main shrine of Yufuin
Rokusho-gu
The main shrine for Yufuin is known locally as Rokusho-gu, which refers to the six kami enshrined here. However, it's official name is Unagihime Shrine. Unagihime means Eel Princess, but there seems to be no definitive answer as to why this should be. Although it is believed that this area was marshland in ancient times and probably eels were considered kami of marshes.
The horse carriages that are a popular means of touring the area stop here. The shrine has large precincts set within more than 33,000 square meters of sacred forest. Many of the trees from the grounds were used to build the highest-ranked shrine of the province, Yusuhara Hachimangu.
After a long approach visitors pass into the main precinct that has ponds, bridges, and numerous secondary shrines. There are three huge tree stumps that now enshrine the spirits of the massive trees, said to be at least 600 years old, that stood here until a major typhoon in 1991.
Rokusho-gu
2220 Kawakami, Yufuin-cho, Yufu-shi, Oita 879-5102 Tel: 0977 84 3200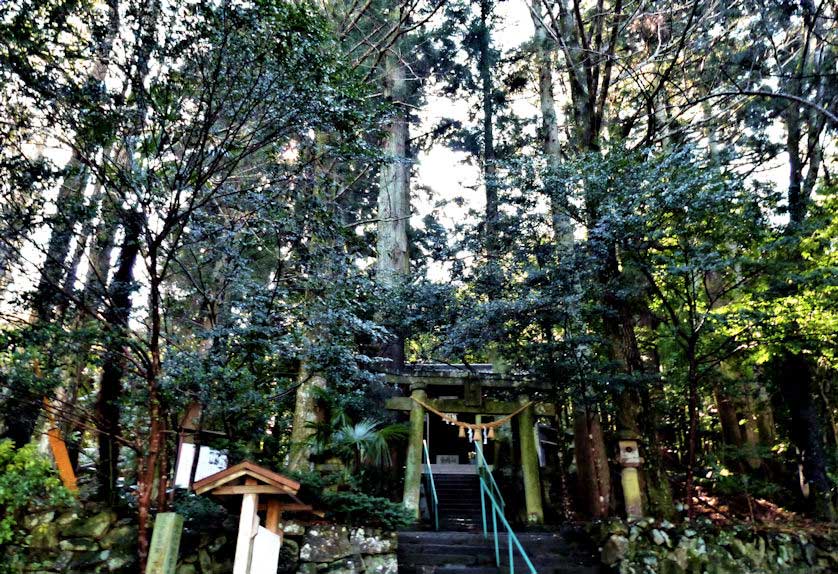 Deep within the forest is Ogosha Shrine in Yufuin
Ogosha Shrine
Unagihime Shrine has six subsidiary shrines scattered around the area, and of these, Ogosha Shrine is well worth a visit.
It's on the hillside about 1.5 kilometers directly south of the train station, and a few local buses pass nearby. To reach it you head up some narrow lanes that wind up between old houses away from the main road and finally come to the steps leading up to the torii.
Ogosha Jinja is a small shrine set in the forest, with a couple of smaller shrines also, but the focus is a giant Japanese cedar, believed to be the biggest in all of Oita. Over a thousand years old, 35 meters high, and 13.5 meters around the base, it has been a nationally registered Important Cultural Property since 1934. Few people come here and the silence in the dark forest only adds to the atmosphere.
Ogosha Shrine
753 Kawaminami, Yufuin-cho, Yufu-shi, Oita 879-5103 Tel: 0977 84 3111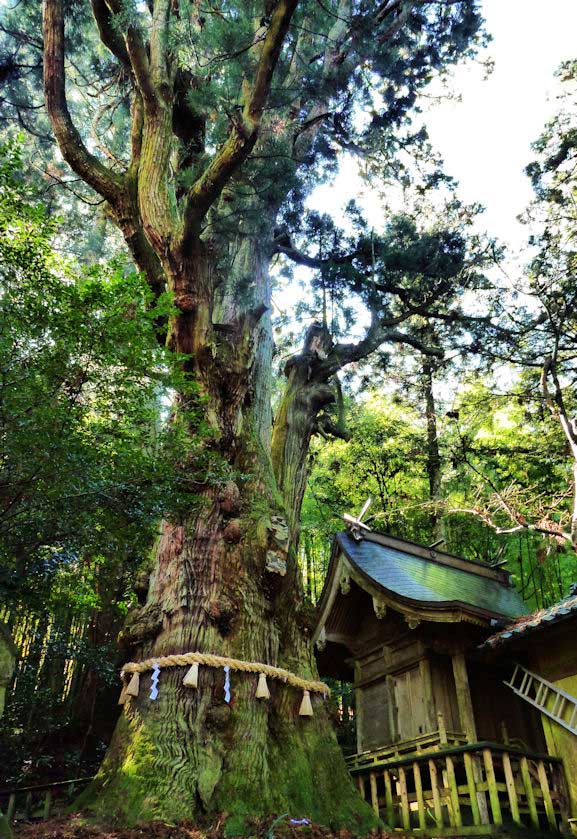 Over a thousand years old, a giant Sugi tree enshrined at Ogosha Shrine in Yufuin, Oita Prefecture
Accommodation in Yufuin
Like most Japanese towns and cities, the area around the main railway station is dotted with a variety of hotels. Some recommended places to stay in Yufuin include the two star Etavia Yufuinekimae, the four star Yufuin Kotobuki Hananosho, the four-star Ryokan Jo-no-yu and the Yufuin Sansuikan also with four stars. See here for a full listing of hotel accommodation in Yufuin.
Access - Getting to Yufuin
Local JR trains on the Kyudai Line take 1 hour and 15 minutes from Beppu via Oita to Yufuin Station. Limited expresses do the same journey in 60 minutes.
From Hakata Station in Fukuoka, Yufuin is 2 hours, 16 minutes by Limited Express. From Kokura take the sonic Limited Express to Oita (90 minutes) and change to the Kyudai Line.
Book Hotel & Hostel Accommodation in Japan
Yufuin Temples & Shrines: see a guide to the shrines and temples of Yufuin in Oita Prefecture. These include Tenso Shrine, Bussanji Temple, Rokusho-gu (Unagihime Shrine) and Ogosha Shrine.
All the themes of the city