Kinryuzan Rinsai Kappa Temple
Kinryuzan Rinsai: the Temple of Kappa 金龍山 臨済寺, 大分
Located just a little south of downtown Oita city, Kinryuzan Rinsai Temple is set in fairly large grounds fronted by a large two-storey gate housing a pair of fierce-looking Nio guardians.
Kinryuzan Rinsai Temple is a relatively popular temple with visitors coming here from far away because it is a Yakuyokedera, a temple to visit for protection against yakudoshi, the years of misfortune according to the Chinese calendar used also in Japan.
Those years are usually at ages 25, 42, & 61 for men, and 19, 33, & 37 for women, although there are also other ages that are considered yakudoshi according to differing sources.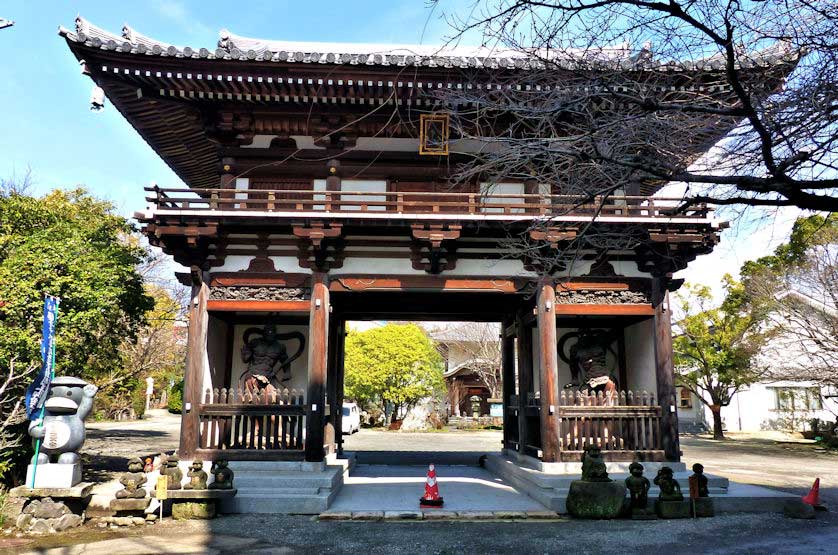 The view from the balcony of the main hall of Kappa Temple Temple, Oita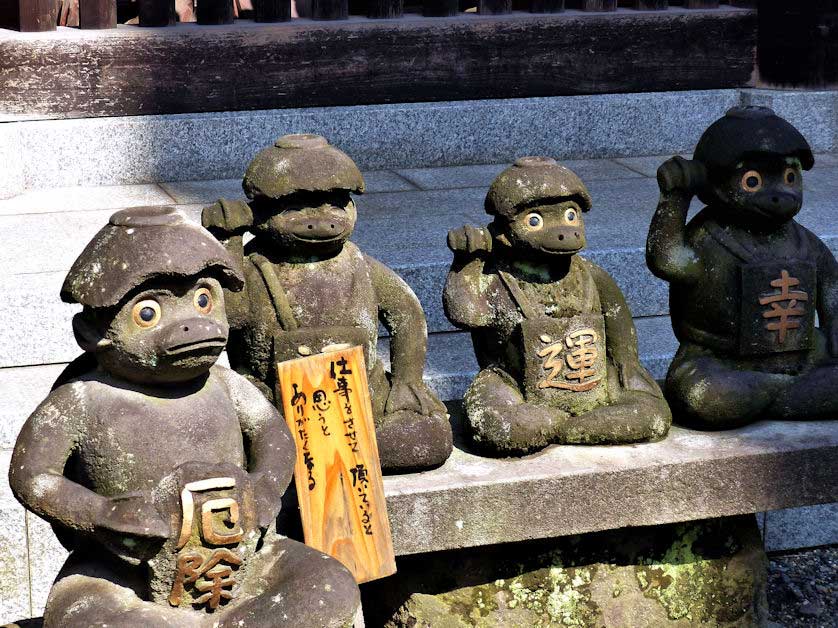 A group of kappa statues, each one dedicated to protection from different forms of misfortune. Some have a beckoning hand in the pose of Manekineko
Kappa
The temple has made a name for itself by expanding its services to protect against misfortune. This has been done by adding a whole slew of deities, rituals and amulets etc to protect against all manner of misfortune and disaster. There are amulets and deities for road safety, easy childbirth as well as protection against the many forms of natural disaster that occur in Japan.
Many temples across the country do the same thing of course, but what makes Kinryuzan somewhat unique is that many of the deity statues are in the form of a Kappa!
Kappa are sometimes called "water imp" or "water sprite" and belong to a category of creatures known as yokai. Yokai are a very broad range of supernatural creatures that include ghosts, spirits, poltergeists, demons, ogres, shape-shifters, tricksters, etc, all kinds of monsters you could imagine and many more you could not.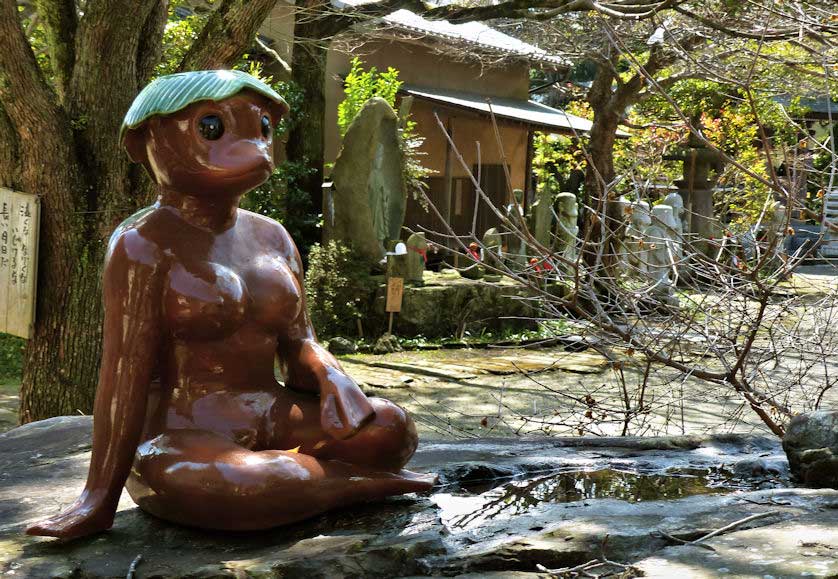 Female kappa are very often represented as very buxom in appearance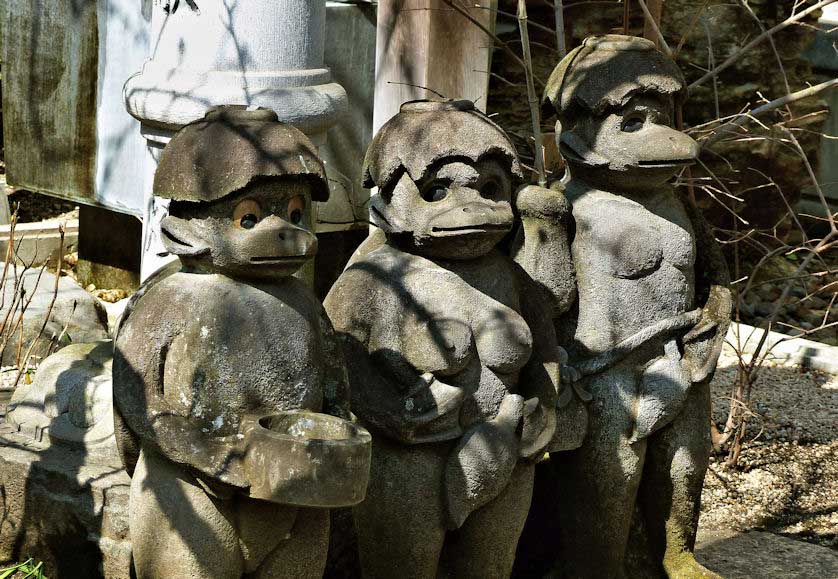 A group of portly, female kappa
Kappa Characteristics in Japan
Kappa can be found all over Japan, in rivers, ponds and drainage ditches though some areas call them by different names.
Details vary a little, but basically they are the size of a human child, green, with webbed feet, a turtle shell on their backs, and a beak-like mouth.
The most distinctive feature is a bowl-like depression in the top of their head surrounded by a circle of hair. This depression is filled with water when the kappa come out onto land and enables them to retain their great strength.
If you happen to meet a kappa, the best thing to do is bow deeply so that when it returns the bow the water empties out and leaves it weakened.
Kappa, like all yokai, are feared as they represent the dangerous, the mysterious, the powerful, but they are not pure evil. Absolute good or absolute bad don't really exist for yokai, rather it is on a continuum so that while yokai in general do bad things, they are also capable of doing good and helping people.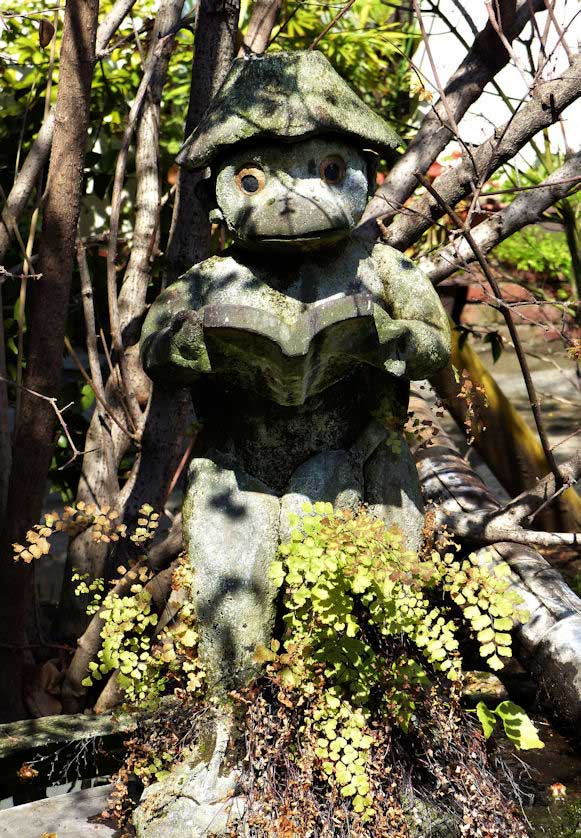 A statue of a kappa representing Ninomiya Sontoku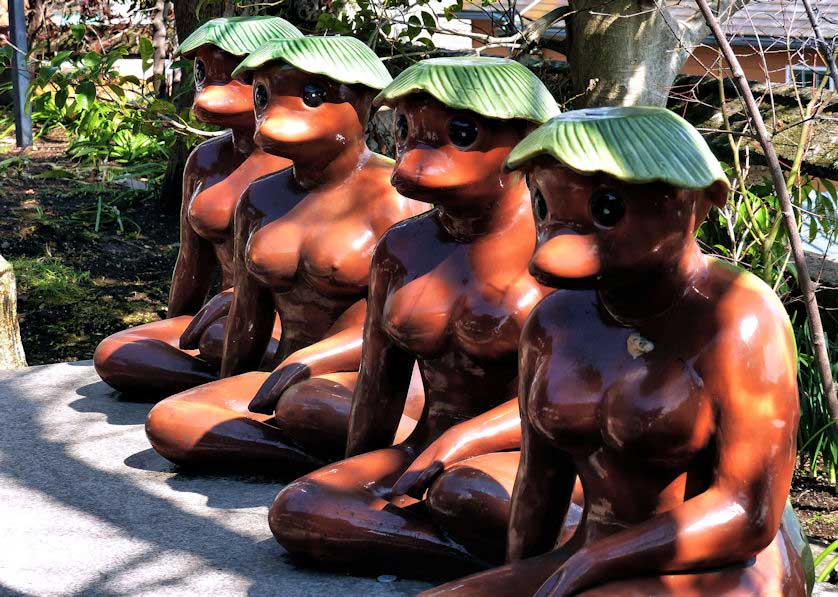 A bevy of kappa beauties
Kappa have been known to engage in all kinds of trickery, but they are most known for drowning people and animals, not surprising of a water spirit! There are preventative steps that can be taken though. Kappa are known to love cucumbers, and offerings of them left at the waterside will protect your kids swimming in a river for instance. Thus, kappamaki is the name given to a sushi roll with cucumber.
The idea of a dangerous water spirit is hardly unique to Japan. The kelpie of Scotland being an obvious equivalent, but Japan has incorporated a lot of Chinese culture over the millennia and so some of kappa lore most probably came from there.
The most intriguing theory of the origins of kappa is that they are a representation of Portuguese monks in Japan in the 16th century. The monks' hairstyle resembles the kappa's, and the monks' large hoods might look like a shell hanging on their backs. The robe was called a Capa (cape) in Portuguese.
In many areas of Japan the kappa is strongly connected to Suijin, a god of water and rivers. With the beginnings of Japan's modernization in the late 19th century, the influence of science, psychology etc coupled with the governments campaign against "superstitions", led to the kappa, and other yokai, leaving the realm of nature and becoming part of culture and folklore.
In the latter half of the twentieth century the kappa was tamed further becoming imbued with kawaii culture, becoming a cartoon character and mascot and used commercially to sell many products. It also became a metaphor for humans, and it is this form that it is most prevalent in contemporary Japanese culture.
At Kinryuzan you start to see kappa even before entering the temple grounds as there are some sitting in front of the main gate. Marked with characters for "luck" and "happiness" as well as "Yakuyoke", inside the grounds dozens and dozens of kappa statues occupy every nook and cranny.
There are the Seven Lucky Gods in kappa form, one representing Ninomiya Sontoku, the boy whose statue can be found in front of many elementary schools in Japan. There are also statues of kappa, both male and female, engaged in numerous activities and in various poses.
Perhaps the most incongruous in the fierce deity Fudo Myo in Kappa form. There are not just kappa figures though - as well as several renditions of the Seven Lucky Gods, there are numerous Kannon and Jizo statues, and multiple statues of Fudo Myo. The temple is one of the pilgrimage temples on the Kyushu Fudo Myo Pilgrimage.
In the main gate is a fine, detailed statue of Fujin, the god of the wind. One can quite easily spend an hour wandering the grounds seeking out the statuary both kappa and otherwise.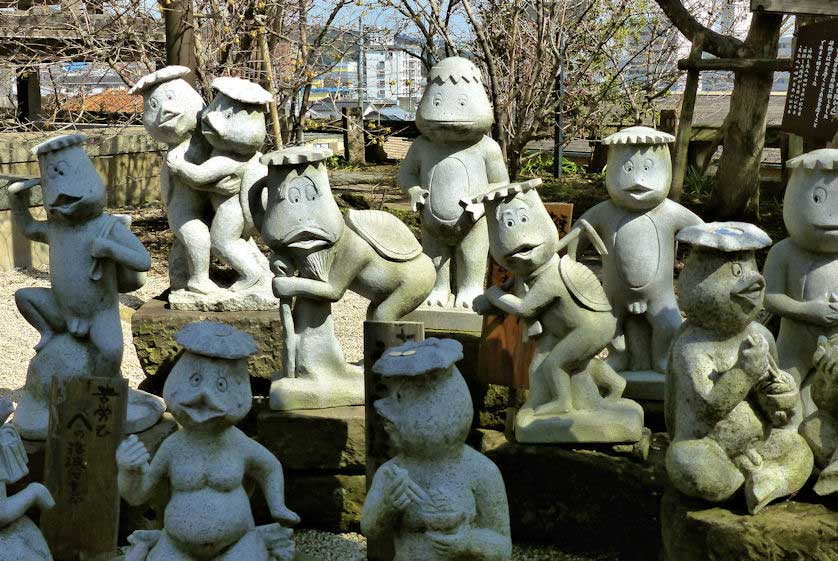 A collection of cartoonish kappa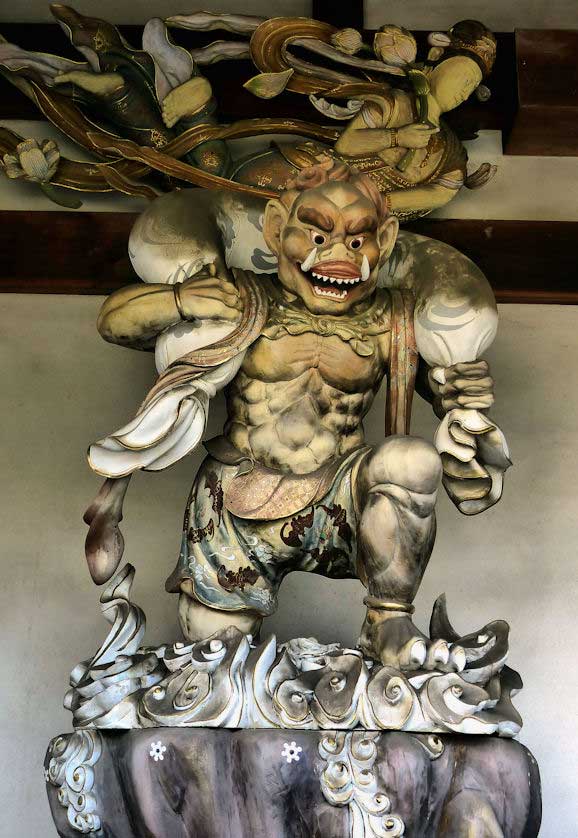 Statue of Fujin the Wind God at Kinryuzan Rinsai Temple
Kappa Temple Access
Kinryuzan Rinsai Temple
10 Ryogo, Oita-shi, Oita 870-0883
Tel: 097 543 4330
Kinryuzan Rinsai Temple is about 800 meters from Minami Oita Station on the JR Kyudai Line, or 8 minutes by taxi from Oita Station.
Recommended Reading
To learn more about Kappa and other yokai we recommend Japandemonium Illustrated: The Yokai Encyclopedias of Toriyama Sekien by Dover Publications, including illustrations from Sekien's four famous books on Yokai from the Edo Period, and The Book of Yokai: Mysterious Creatures of Japanese Folklore, by Michael Dylan Foster, which has many folk stories about yokai.
Kinryuzan Rinsai Temple in Oita is famous for its collection of kappa (water sprite) statues. It is also a Yakuyokedera, a temple to visit for protection against yakudoshi, the years of misfortune.
All the themes of the city