Shikabe Geyser Park
鹿部間歇泉公園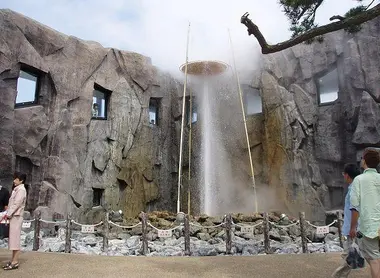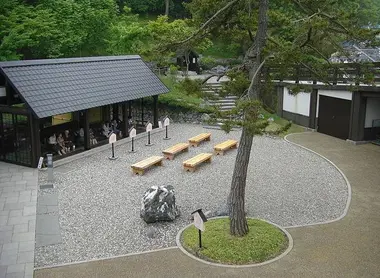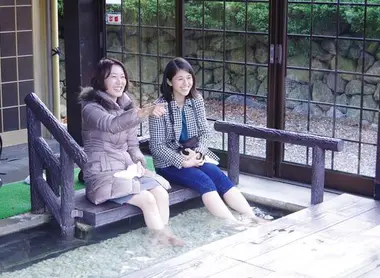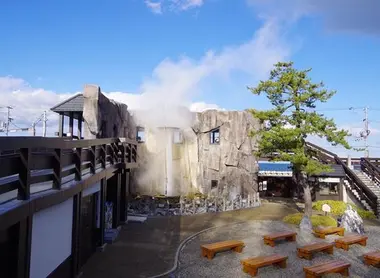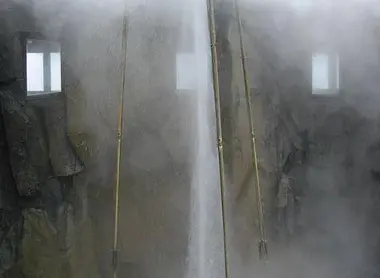 Awsome nature
In southern Hokkaido, the Shikabe Geyser Park (Kanketsusen Park) offers visitors the opportunity to discover an astonishing natural phenomenon!
Shikabe Park
In the small town of Shikabe, on the edge of the ocean, the park "Kanketsusen" ("geyser" in Japanese) allows you to discover with your own eyes natural geysers gushing from the ground. Regulated like a clock, a column of water at a very high temperature (100°C) emerges from the ground every ten minutes. It rises more than 15 meters high, with an impressive flow of 500 liters. Coming from the earth's bowels at a depth of more than 26 meters, this column of water comes up against a cover installed to protect the surroundings from the hot water - particularly the nearby road. The spectacle is striking and surprising, geysers being rare phenomena worldwide, especially in Japan.
The false wall installed just behind conceals a platform and has windows from which one can observe the geyser more closely. It's also a good vantage point to admire the Pacific Ocean - you can use the binoculars to pass the time between two geyser bursts.
Discovered in 1924 during the search for thermal springs, this geyser has only been on public display since the park opened in 1999. The water contains a large amount of sodium chloride - that is, it is salty. Unlike more well-known geysers, especially those in Iceland, it is also odorless.
Read also: Noboribetsu, a volcanic city.
This small park also offers its visitors the opportunity to relax by providing a free foot bath ( ashiyu ), located in the courtyard, just in front of the geyser. Its hot water, praised for its circulatory properties, comes from the same source as the geyser. It is thus possible to wait for the next appearance of the water column while enjoying a well-deserved moment of relaxation.
What are geysers?
Geysers are hot springs in volcanic land. Several meters deep, the water is heated in contact with the rocks themselves to more than 200°C. Thus pressurized, it springs from the ground by convection effect. Steam often precedes the phenomenon. The overpressure is then released at this moment: this is why it is necessary to wait a specific time (10 minutes in Shikabe) so that the cycle repeats itself, that the pressure is too great underground and that the water arises at new. But where does the word "geyser" come from? It comes from the Icelandic verb "geysa," which means "to spring up" in English.
To discover: Japanese volcanoes.
Geysers are rare phenomena on Earth: there are very few areas on the globe where they can be observed: in Iceland, the United States, Kenya, Thailand... or even Japan. More surprisingly, there are three other much more inaccessible places with geysers: these are the satellites of Neptune, Jupiter, and Saturn!
---
Address, timetable & access
Address

Phone

(+81) 01372-7-5655

Timetable

From JR Shikabe station, take a Hakodate bus and get off at "Shikabe Kanketsusen Park" station.

Price

Adult: 300 yen ($2.50/2.25€)Child: 200 yen ($1.75/1.50€).

Access

April to September: 8:30 am - 6 pm. October to March: 9 am - 5 pm.

Website

http://shikabe.jp/skk/
All the themes of the city